Colina, Moran Combine for No-Hitter
Kernels crush Cubs, 10-0, to open three-game series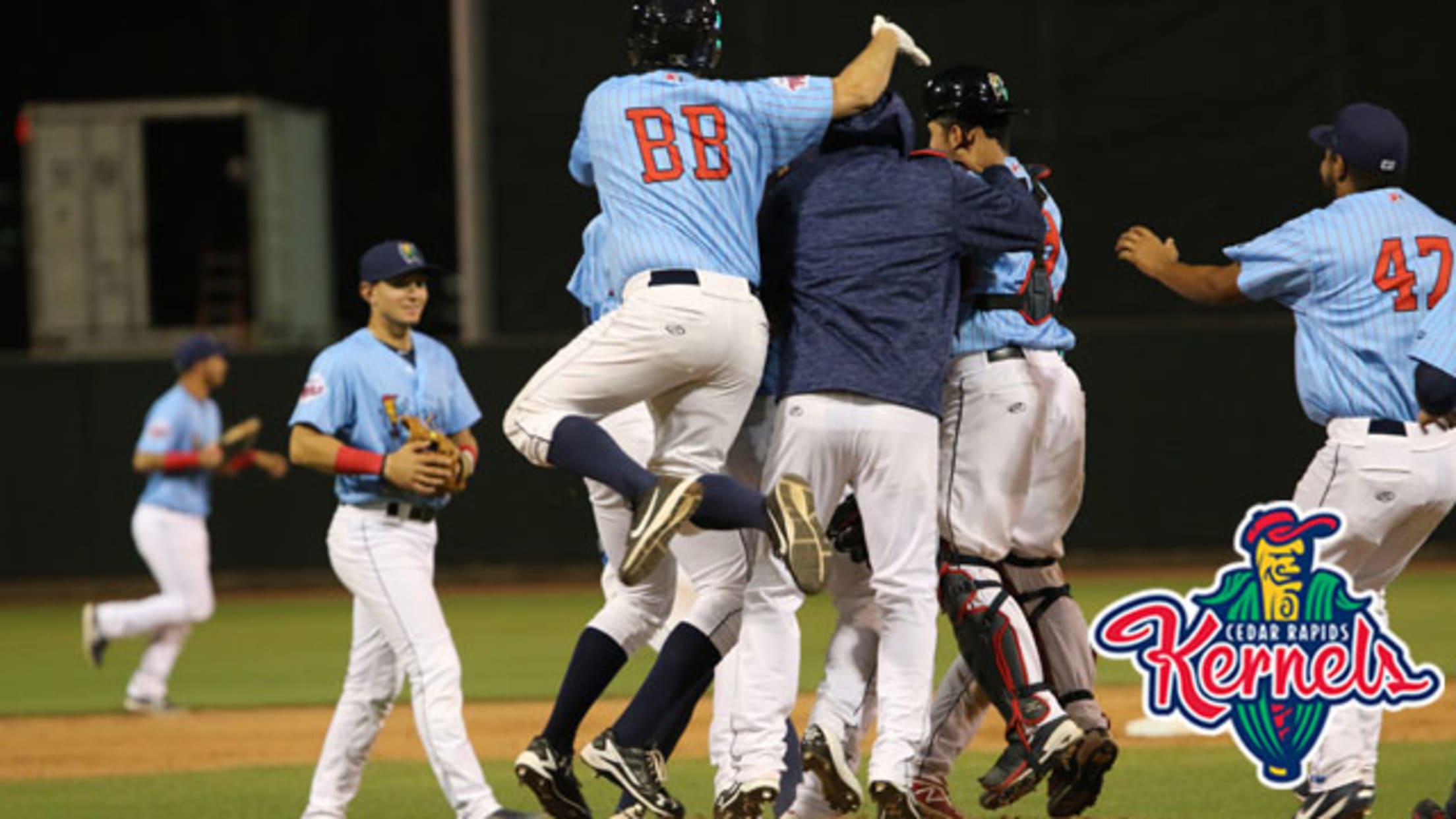 Kernels celebrate a combined no-hit game by Edwar Colina and Jovani Moran in a 10-0 win over South Bend. (Lakin Goodman / Cedar Rapids Kernels)
CEDAR RAPIDS, IOWA - Edwar Colina and Jovani Moran pitched a no-hitter for the Cedar Rapids Kernels in a 10-0 triumph Tuesday against the South Bend Cubs at Perfect Game Field at Veterans Memorial Stadium. It was the eighth no-hitter in the ballpark's 17-year history, the fourth tossed by the
CEDAR RAPIDS, IOWA - Edwar Colina and Jovani Moran pitched a no-hitter for the Cedar Rapids Kernels in a 10-0 triumph Tuesday against the South Bend Cubs at Perfect Game Field at Veterans Memorial Stadium. It was the eighth no-hitter in the ballpark's 17-year history, the fourth tossed by the Kernels, and the first no-hitter of any kind since exactly three years ago when Daniel Missaki, Kody Kerski, and Troy Scott fired a 2-0 no-hitter for the Clinton LumberKings back on May 1, 2015.
Colina (2-0) tossed a season-high six scoreless innings for the win to start the no-hitter. He escaped a jam in the third inning when Zach Davis was thrown out at home plate and the Cubs left the bases loaded at the end of the frame. Colina faced the minimum over his last three innings of work.
Moran notched his first official save by completing the final three frames. He induced double plays to close the seventh and eighth innings before retiring the side in order during the ninth. Miguel Amaya's groundout to Royce Lewis officially secured Cedar Rapids' no-hitter.
The Kernels (11-8) opened Tuesday's scoring with early solo home runs. Jean Carlos Arias blasted his first Midwest League round-tripper to lead off the second inning. Akil Baddoo opened the third with a solo shot of his own.
In the fourth, Cedar Rapids plated seven runs to increase its lead to 9-0. Ben Rodriguez hit a three-run home run, and Baddoo scored later in the stanza due to a two-out error. Andrew Bechtold added a three-run double to cap the fourth-inning rally.
One final tally within the eighth inning pushed the Kernels to their winning margin of 10-0. Alex Kirilloff bounced a two-out double down the left-field line that drove in Baddoo.
Cory Abbott (1-1) was the losing pitcher for South Bend (9-12) in the opener of this three-game series. Abbott allowed a career-high 11 hits, eight runs, five earned runs, and three home runs.
The second contest in the series is scheduled for 6:35 p.m. Wednesday. Kernels left-hander Tyler Watson (1-1, 3.00) will face Cubs right-hander Erich Uelmen (1-2, 9.75), and Chris Kleinhans-Schulz will call Wednesday's tilt on 1450 KMRY AM and 93.1 KMRY FM and also online at www.kmryradio.com, www.kernels.com, and MiLB.TV.
Featured promotions this homestand include Nick Jr. Night featuring Paw Patrol & Rubble T-Shirt Giveaway, Kentucky Derby Night with Procter & Gamble Postgame Fireworks, and a Kernels Baseball Card Set Giveaway presented by Perfect Game USA. Fans can purchase tickets for all Cedar Rapids home games by visiting www.kernels.com, going to the Kernels Ticket Office, or calling (319) 896-7560. The Kernels Ticket Office is open Monday through Friday from 10:00 a.m. to 5:00 p.m. and Saturdays from 10:00 a.m. to 2:00 p.m. On Sundays when the Kernels have a home game, the Kernels Ticket Office will open at 11:00 a.m.
---
No-Hitters at Veterans Memorial Stadium (2002-present)
April 20, 2005 - Peoria's Sean Gallagher, Walt Nolen, Jon Hunton - 3-2 (10 inn.) Peoria win
April 30, 2010 - Cedar Rapids' Fabio Martinez, Kyle Hurst, Mike Kenney - 3-0 win versus Kane County
July 12, 2010 - Cedar Rapids' Stephen Locke - 10-0 (5 inn.) win versus Peoria [Game 1 of doubleheader]
August 24, 2010 - Wisconsin's Jake Odorizzi, Adrian Rosario - 3-0 Wisconsin win
May 28, 2011 - Kane County's Sugar Ray Marimon, Chas Byrne - 2-0 Kane County win
April 7, 2013 - Cedar Rapids' Tyler Duffey, Josue Montanez, Tim Atherton - 9-1 win versus Beloit
May 1, 2015 - Clinton's Daniel Missaki, Kody Kerski, Troy Scott - 2-0 Clinton win
May 1, 2018 - Cedar Rapids' Edwar Colina, Jovani Moran - 10-0 win versus South Bend
The Cedar Rapids Kernels are the Midwest League affiliate of the Minnesota Twins.