Cron Cracks Chattanooga With Walk-Off
Generals take series lead after tight 5-4 win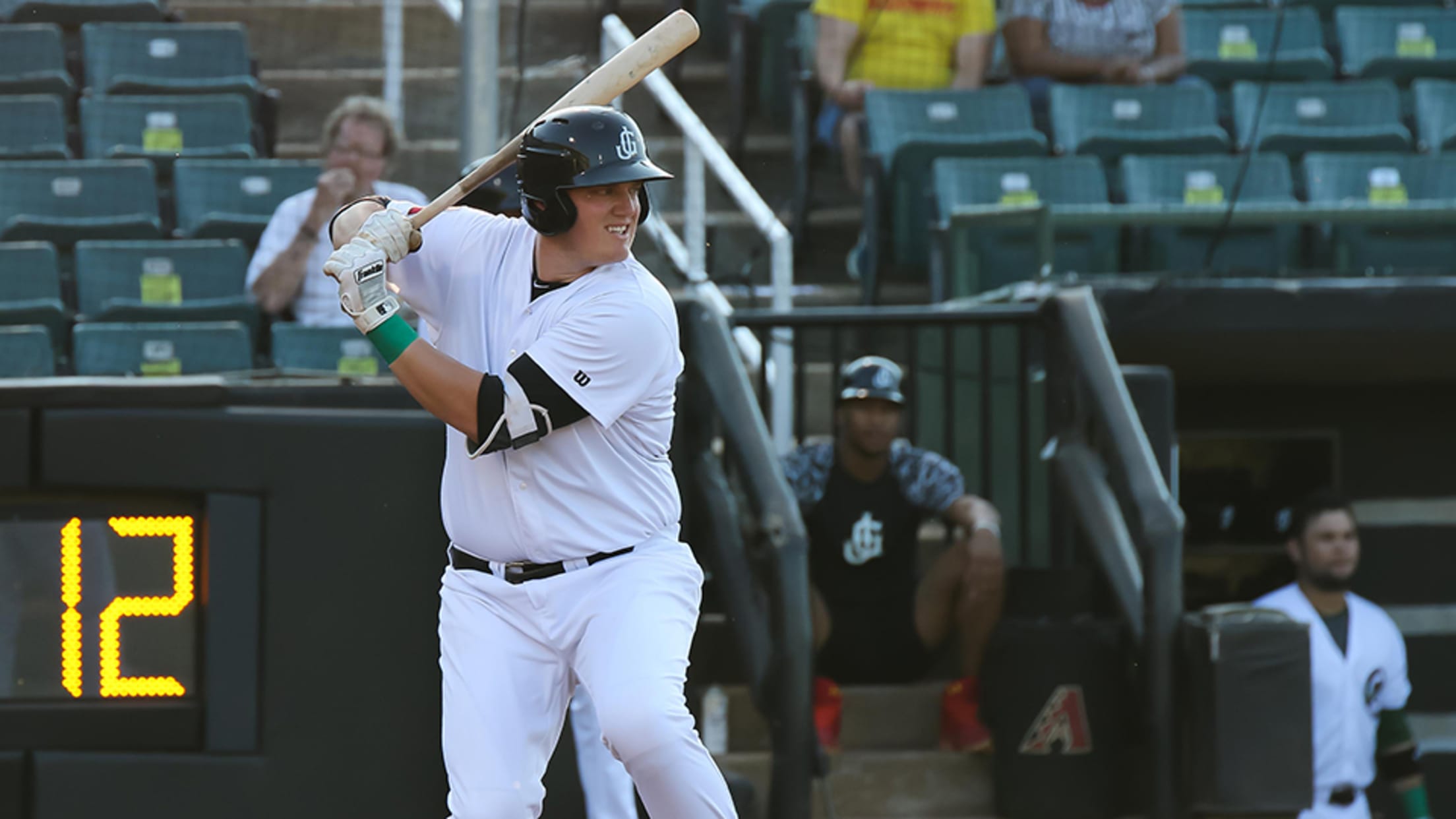 Kevin Cron's two-out, full-count, bottom-of-the-ninth single plated the winning run in the Generals' 5-4 victory over Chattanooga on Monday. Cron leads the league with 87 RBI. (Cody Cunningham)
Jackson, Tenn. - Eye to eye against Chattanooga right-hander Todd Van Steensel (4-3, 1.41 ERA) with the game on the line, Kevin Cron didn't blink. The Jackson Generals' first baseman and MVP candidate punched a single through the middle of the infield, scoring Kelly Dugan from second base to give
Jackson, Tenn. - Eye to eye against Chattanooga right-hander Todd Van Steensel (4-3, 1.41 ERA) with the game on the line, Kevin Cron didn't blink. The Jackson Generals' first baseman and MVP candidate punched a single through the middle of the infield, scoring Kelly Dugan from second base to give the Generals a 5-4 walk-off win on Monday. The victory was Jackson's first walk-off of the Second Half, and it gave the Generals (30-33, 67-66) a 2-1 edge on the Lookouts (43-20, 85-48) in their final home series of the year.
Cron's heroics finished a back and forth game between Jackson and the league-leading Lookouts that featured four lead changes. The Generals' offense snapped a seven-game streak of three or fewer runs scored, using a dozen base hits to get the job done.
Entering the bottom of the ninth with the score knotted up at 4-4, Marty Herum led off with a walk against Van Steensel to put the tying run on base. Dugan, pinch-hitting for Galli Cribbs Jr., walked on seven pitches despite falling behind 0-2 to begin the at- bat. Looking to trade an out for a runner at third base, Emilio Bonifácio laid down a bunt attempt, but Chattanooga catcher Brian Navarreto pounced on the dribbler and fired to third base to record a force-out on Herum. Dugan went to second base while Bonifacio reached first, but Travis Denker flew out to center field next for the second out of the inning, bringing Cron to the plate.
Playing in his 115th straight game and 130th overall, Cron shook off an 0-1 disadvantage to work a full count against Van Steensel. On the 3-2 offering, the reliable first baseman cast a looping liner over second base, but Chattanooga second baseman Alex Perez was able to put leather to it, knocking it down in shallow center field. Dugan, who was running on the two-out payoff pitch, cornered third base at full speed and raced home, beating the throw from Perez by two full strides for the game-winning run. The walk-off was Jackson's first since a game-winning double by Rudy Flores beat Tennessee on June 12th.
Jackson took the game's first lead off of Chattanooga starter D.J. Baxendale with a run in the third inning. Daniel Lockhart began the frame with a single, and a perfectly executed hit-and-run with Herum helped Lockhart move up two bases on a single. Galli Cribbs flew out to Edgar Corcino in left field next, but Lockhart tagged up and beat the throw home with a nifty hand-swipe of home plate ahead of the tag.
Starter Frank Duncan locked down Chattanooga through 3.2 innings, but a pair of two-out walks in the fourth set up the dangerous Andy Wilkins with men on base. The designated hitter belted his second three-run blast of the series 405 over the center field wall, giving Chattanooga the lead at 3-1.
After a scoreless fifth inning, the Generals responded in the sixth with a three-run rally. Travis Denker began the inning by singling, and Cron followed with a walk, upping his career-high season total to 55. Two batters later, Jamie Westbrook whipped a double off the left field wall, scoring Denker and moving Cron to third base. Victor Reyes served a single into center field next to score Cron with the tying run, and Lockhart grounded out to second base afterward to bring home Westbrook for the 4-3 lead. It was Lockhart's second RBI groundout in as many games.
The Lookouts didn't wait long to fight back, as Wilkins singled and TJ White doubled him home to begin the seventh inning. Duncan was removed in favor of J.R. Bradley, and the right-hander struck out each of the two right-handed hitters he faced.
Kirby Bellow took Bradley's place against left-swinging Alex Perez, and Bellow struck him out to maintain the tie. Bellow and Andury Acevedo (2-0, 1.61 ERA) completed the eighth and ninth innings without hiccups, setting the stage for Dugan and Cron.
The Generals went 4-for-12 with runners in scoring position, leaving eight men on base. Denker had a three-hit night, while Herum and Cron collected two knocks apiece. Duncan recorded his third start with the Generals that featured a double-digit total of groundball outs, with ten coming on Monday.
The Generals continue their final homestand with a 6:05 pm start on Tuesday, as southpaw Alex Young (9-8, 3.88 ERA) takes on Chattanooga right-hander Randy LeBlanc (3-4, 4.81 ERA). Fans can hear all the action starting with the Pregame Show at 5:50 pm CT on Willie 94 FM & 1390 AM, as well as the Jackson Generals Baseball Network via TuneIn Radio!
Only two home games remain in the Generals' 2017 season-Tuesday and Wednesday! Make sure to get your tickets now to see the 20th season of professional baseball in Jackson, and the first for the team as an affiliate of the Arizona Diamondbacks! Call the team at (731) 988.5299, stop by The Ballpark or go online to jacksongeneralsbaseball.com to secure your seats now!