Cueto and bullpen combine to shut out Grizzlies
D'Arnaud's three-run homer lifts River Cats to 4-0 victory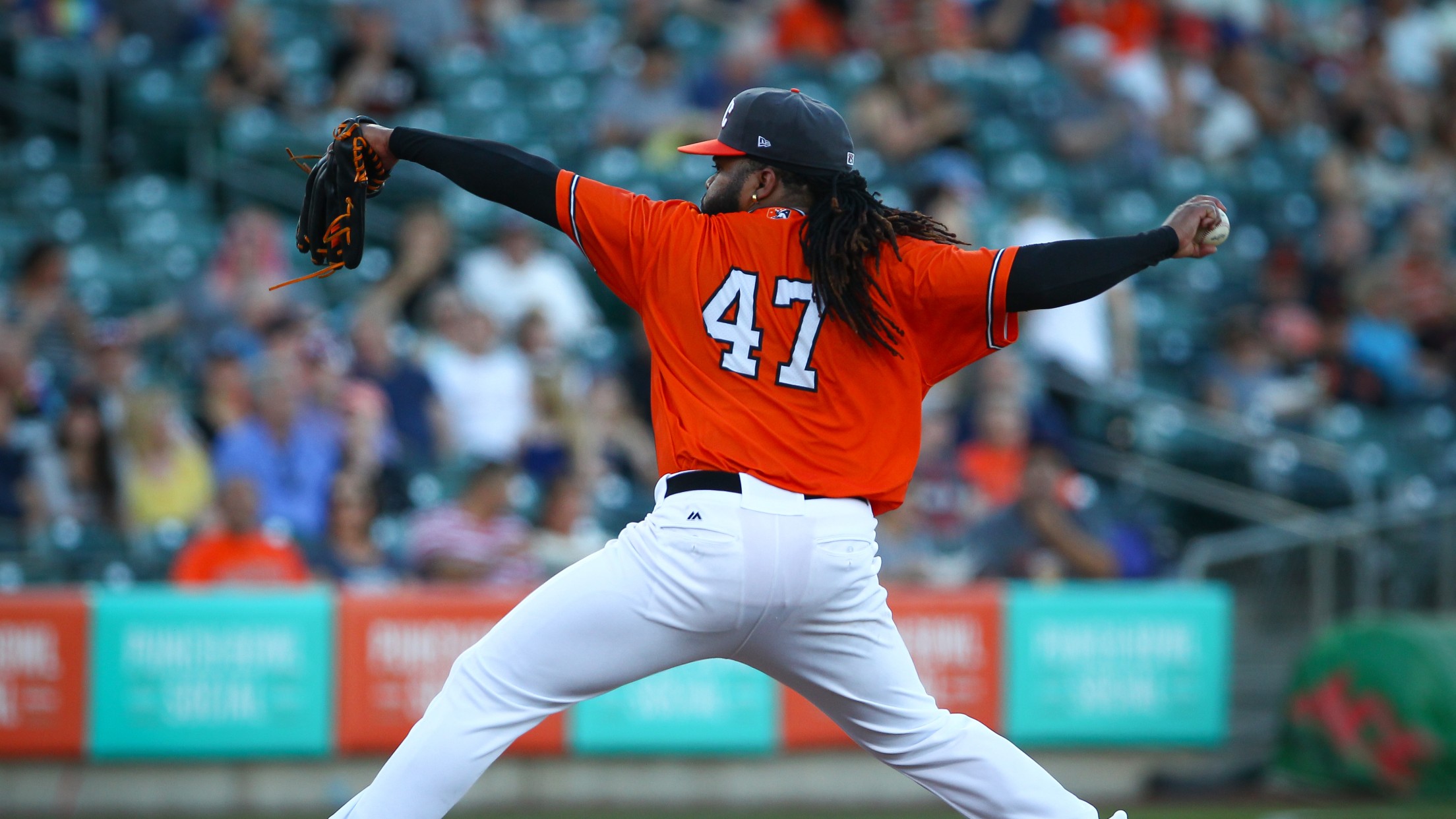 Johnny Cueto made a rehab start in Sacramento against Fresno on June 29, 2018. Photo: Reid Thompson/River Cats (Reid Thompson)
WEST SACRAMENTO, CA - Johnny Cueto and the Sacramento River Cats (36-45) put together a complete performance to shut out the Fresno Grizzlies (47-32) 4-0 on Friday night. Cueto was solid in his second rehab start and the bullpen was excellent, they were backed by a number of slick defensive
WEST SACRAMENTO, CA - Johnny Cueto and the Sacramento River Cats (36-45) put together a complete performance to shut out the Fresno Grizzlies (47-32) 4-0 on Friday night. Cueto was solid in his second rehab start and the bullpen was excellent, they were backed by a number of slick defensive plays, and Chase d'Arnaud's homer provided the necessary offense.
Cueto took the ball on Friday with the goal of pushing his pitch count and sharpening his pitch repertoire. The San Francisco Giants' right-hander did just that, throwing 69 pitches (44 strikes), tossing four shutout innings while allowing four hits and a walk and striking out six. In his first rehab start on June 23 against El Paso, Cueto threw 48 pitches (33 strikes) in 3.2 innings.
Grizzlies' starter Trent Thornton was perfect through three innings on Friday, but the River Cats jumped on him in the fourth. First it was Chris Shaw, who picked up the team's first hit and broke a scoreless tie when he singled home Kelby Tomlinson. Then, after a double by Miguel Gómez, d'Arnaud smoked a line drive which just cleared the left field wall for a three-run homer to push the lead to 4-0.
The River Cats bullpen came in to relieve Cueto in the fifth, and allowed just one hit over the final five innings. Manny Parra, Tyler Rogers, and Derek Law combined to retire the final 13 batters of the game to finish off the shutout.
The River Cats are back at it tomorrow as they try for two in a row versus the Grizzlies. Right-hander Casey Kelly (7-5, 5.09) will take the mound for Sacramento, and Fresno will counter with righty Rogelio Armenteros (5-0, 3.29). First pitch is set for 7:05 p.m. (PT). Catch all of the action live online at rivercats.com, on the MiLB First Pitch app, and on the air on Money 105.FM.
Additional Notes
• The Pacific Coast League announced its All-Star team on Thursday, and among the 2018 participants will be River Cats infield Chase d'Arnaud and right-handed reliever Tyler Rogers. Both made their presence felt on Friday, as d'Arnaud hit his 12th homer of the season and Rogers tossed 1.2 perfect innings of relief.
• Steven Duggar's fifth inning double tied him with Austin Slater for the team lead at 24. They are tied for third in the PCL.