D-backs Prospect Primer: Banda shines on
Left-hander, flamethrower Sherfy approach Majors as Arizona rebuilds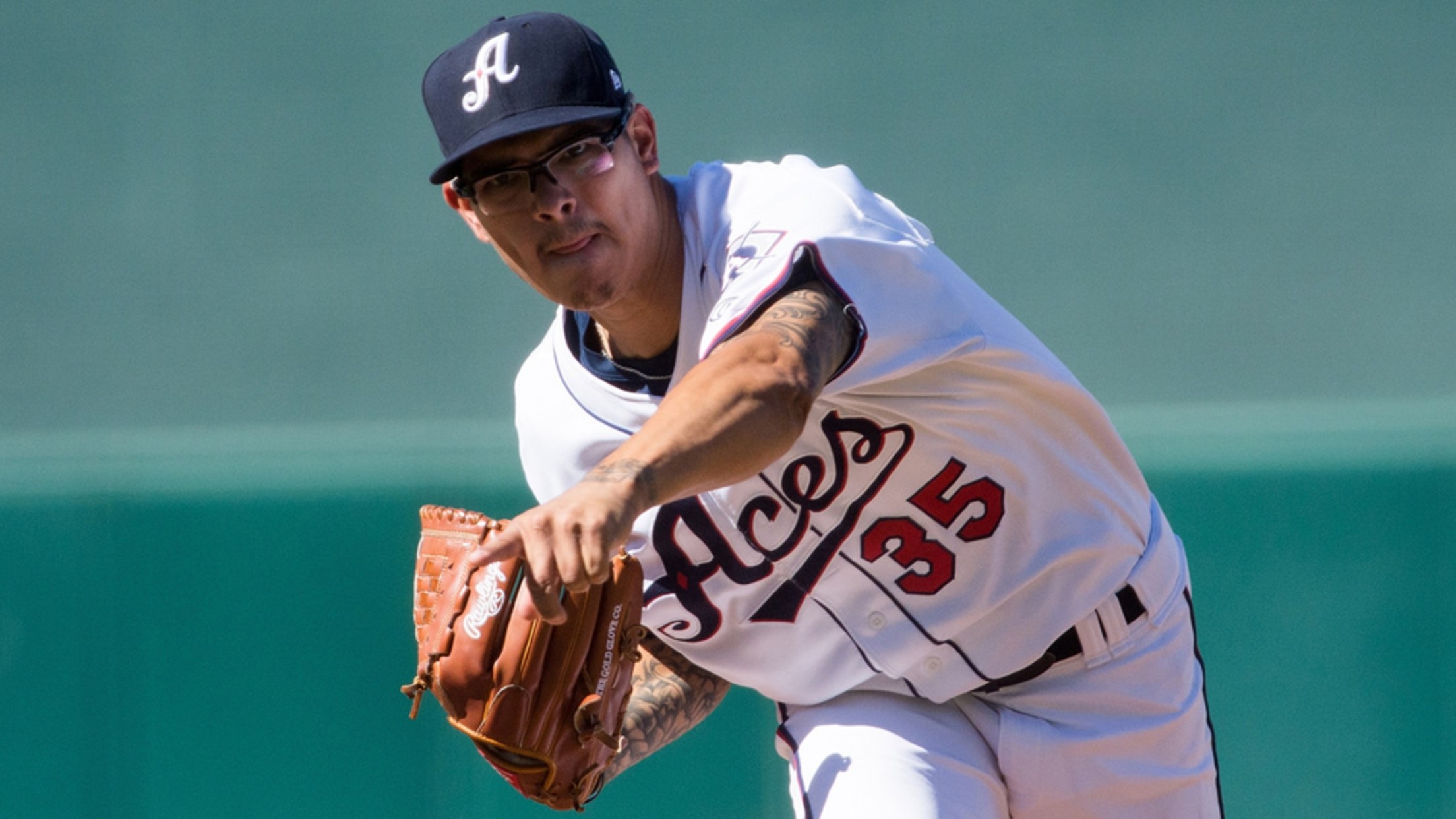 Over five Minor League seasons, Anthony Banda has a career 3.46 ERA with 509 strikeouts. (David Calvert/Reno Aces)
Some players are on the verge of stardom, others are entering a crucial phase of their development and still others are getting their first tastes of full-season ball. With the 2017 season approaching, MiLB.com takes a look at the most intriguing prospects from each MLB organization.Shining Star: Anthony Banda, LHPNo
Some players are on the verge of stardom, others are entering a crucial phase of their development and still others are getting their first tastes of full-season ball. With the 2017 season approaching, MiLB.com takes a look at the most intriguing prospects from each MLB organization.
Shining Star: Anthony Banda, LHP
No matter where Banda plays, he's a shining star for the D-backs. The club's top prospect has a 2.94 ERA over 336 2/3 innings since being traded from the Brewers in 2014. For the second season in a row, Banda led the system with exactly 152 strikeouts, this time in 26 starts across Double-A Mobile and Triple-A Reno.
"He has good fastball command -- that's where it starts. He has good feel for a curveball and a changeup," said Mike Bell, Arizona's vice president of player development. "He continues to grow and mature as a pitcher. He came in in great shape this year, he's throwing the ball well here and he just continues to get better. I don't think he's done yet."
At big league camp this year, Banda worked around a hit and walk with five strikeouts in four scoreless innings over two outings before being reassigned to Minor League camp.
"He's a great teammate -- that's easy to see," Bell said. "He's a very hard worker, he's disciplined, he studies the game, he has a plan when he goes out there and he keeps growing in that area as well."
Full-season debutant: Jasrado Chisholm, SS
Arizona signed Chisholm in 2015 and had to wait until 2016 for his pro debut, but he did not disappoint when he finally got on the field. As an 18-year-old, Chisholm led Rookie-level Missoula with 13 stolen bases in 17 attempts and, while he is not known for his power, the left-handed hitter's nine homers ranked third for the Osprey.
Chisholm's fielding is his best tool, though he showed room for improvement when he made 34 errors in 60 games at short. The club's No. 3 prospect also played an inning at second base.
"He's got a great swing," Bell said. "Offensively [he] had success in Missoula. He's going to have the ability to hit for average, he showed some power last year and at shortstop and he can make all the plays. He's got a strong arm and can make the plays from deep in the six-hole. He's athletic enough to stay at short."
A native of the Bahamas, Chisholm went 2-for-7 with a run scored for Great Britain in the World Baseball Classic qualifiers.
Loudest tool: Jimmie Sherfy, RHP
The D-backs' potential closer of the future is nearing the Majors, and he's bringing his well-above-average fastball with him. Sherfy reached the Pacific Coast League in his third full season, registering 79 punchouts in 55 1/3 innings.
"He's a smaller right-handed pitcher, but it's big power; it's a power fastball and slider," Bell said. "He gets a lot of swings and misses, has pitched in key roles for us throughout his time in the Minor Leagues and he's coming off a really good year and has a lot of confidence right now."
After a tumultuous 2015 campaign, going 1-6 with a 6.52 ERA in 44 games, Sherfy showed his resilience in 2016. With his 70-grade fastball, the University of Oregon product converted 30 of 33 save opportunities to lead the organization while notching a 2.77 ERA in 52 appearances as he continued to fool hitters in the big innings.
Getting a taste of big league camp this spring, Sherfy yielded a hit and a walk with three strikeouts over three innings as he secured two saves.

At the crossroads: Ildemaro Vargas, 2B/SS
Nine seasons after his pro debut and two seasons after the D-backs picked him up from independent ball, Vargas has been an everyday player at big league camp. The Venezuela native hit his stride in early March as he fights for a spot on the Opening Day roster.
The Cardinals signed Vargas in 2008, but after he hit above .300 in only one of seven seasons, they released him. Following a couple months away from affiliated baseball, the switch-hitter was signed by the D-backs on May 26, 2015. Since joining the Arizona system, Vargas is hitting .311 with 76 RBIs across four levels and three seasons.
"He has some of the best at-bats in the system. His pitch recognition is incredible, he can hit for an average and he'll run into a home run every now and then. He has some doubles power and is very good defender," Bell said. "He can play second, third, outfield; he can do a lot of different things."
At 25, Vargas enters his 10th professional season, hungry for his Major League debut. Bell said opportunity is his biggest road block at this point, noting that he is "talented enough to help us in the big leagues."
Major League-ready: Matt Koch, RHP
Koch got off to a strong start in his fifth season last year, notching an 0.61 ERA through his first three outings with the BayBears before hitting the disabled list. After the Louisville product battled through a blister and two trips to the DL, the D-backs could tell he was ready for the next level.
With the Aces, Koch flourished, going 4-2 with a 3.09 ERA in 46 2/3 innings over seven starts. Arizona called him up on Sept. 6 for his big league debut and there, he only got better. Mostly as a reliever, the 26-year-old posted a 2.00 ERA with 10 strikeouts and four walks in 18 innings over seven games (two starts).
"The way he pitches, his maturity level, mentally he is strong. He's not real reactive when it comes to a bad inning or a bad pitch. He's able to bounce back quickly," Bell said. "In Reno, you have to be able to do that because it is a hitter's park, and he went there and did a great job."
A hamstring injury limited Koch to one inning through the first two weeks of Spring Training, but Bell has confidence the right-hander will be pitching in the Majors in no time.


"He just needs to wait his turn. He just needs to keep doing what he's been doing, can't take it for granted," Bell said. "There's a right time for everybody and we'll see when Matt's is, whether it's out of Spring Training or during the year sometime. But I look for him to help us this year in the big leagues and for a long time to come."
Others to keep an eye on: The D-backs' Double-A affiliate made the move this offseason from Mobile to Jackson. In 2016, the BayBears led the Southern League with 109 homers, headlined by Kevin Cron, Travis Denker and Stewart Ijames, who combined for 49 long balls. Versatile infielders Domingo Leyba and Dawel Lugo made the midseason leap from the California League to the Southern League, where both highly ranked prospects posted career numbers. After a scoreless pro debut, 2015 third-round pick Taylor Clarke continued to twirl strong starts as he climbed to Class A Advanced Visalia in his first full season.
Kelsie Heneghan is a contributor to MiLB.com. Follow her on Twitter @Kelsie_Heneghan.