Red-hot Dariel Lopez leads offense in Hoppers win
Lopez' grand slam leads 16-hit effort in Greensboro's 14-10 victory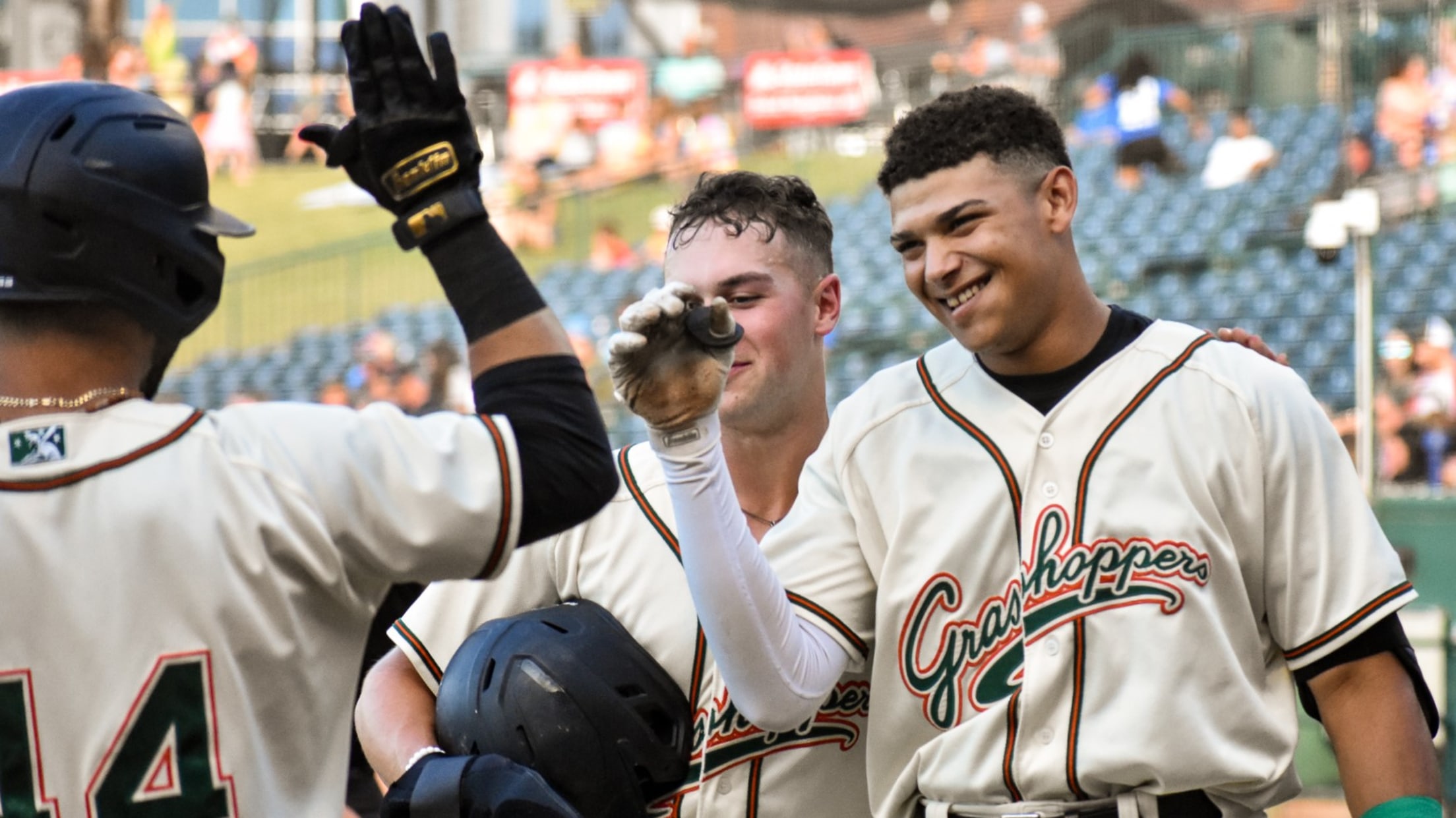 Greensboro's Dariel Lopez (right) celebrates his grand slam with Fabricio Macias (left) and Sammy Siani. (Kaylen Ayres/contributed photo)
GREENSBORO ― Dariel Lopez went 2-for-5 with a grand slam and six RBIs, and the Greensboro Grasshoppers pounded out 16 hits on the way to a 14-10 victory over the Asheville Tourists at First National Bank Field on Saturday night. Ernny Ordonez went 3-for-5 with a solo home run, and
GREENSBORO ― Dariel Lopez went 2-for-5 with a grand slam and six RBIs, and the Greensboro Grasshoppers pounded out 16 hits on the way to a 14-10 victory over the Asheville Tourists at First National Bank Field on Saturday night.
Ernny Ordonez went 3-for-5 with a solo home run, and Abrahan Gutierrez was 3-for-5 with a two-run double.
The Hoppers (28-39 overall) evened their record at 1-1 as the second half of the South Atlantic League season began Friday night.
"We've been developing, man," Hoppers manager Callix Crabbe said. "And I know it's hard for spectators and some outside people to see the things taking place. There's been a lot of teaching up to now by the coaching staff, and a lot of development by the players. The things that are improving don't always show up from a statistical standpoint, and the stats are what people see. But we've been trending in the right direction. Winning games is awesome and fun, but we're also looking for wins within the game."
Lopez has certainly trended in the right direction.
The grand slam in the first inning was his 10th home run of the season. He added a run-scoring single and an RBI grounder later in the game, flourishing with men on base.
"His pitch-to-pitch focus has been outstanding, and that's something he struggled with early on," Crabbe said. "As a whole, his focus has been good in between each pitch, in between each inning. What you see in the trend with him is real, and it's because he's put in a lot of hard work. I look forward to seeing him continue to develop. He's an intriguing player."
Lopez, an infielder who was the designated hitter Saturday, has hit safely in 10 of his last 12 games, going 19-for-52 (.365) with four home runs, three doubles, 13 RBIs and 14 runs scored. He has seven multi-hit games in that span.
And Lopez has showed his versatility, playing third base, second base and shortstop. His defense is noticeably better than at the start of the season.
"There's a lot that's been going on with Dariel," Crabbe said. "He's spent quite a bit of time with the coaching staff, and we've been intentional with the things he's needed to work on. He's on an arm-care program with our trainer Matt (McNamee), working on his arm pattern. And since he's been doing that, the throws have started to come out cleaner and more consistent."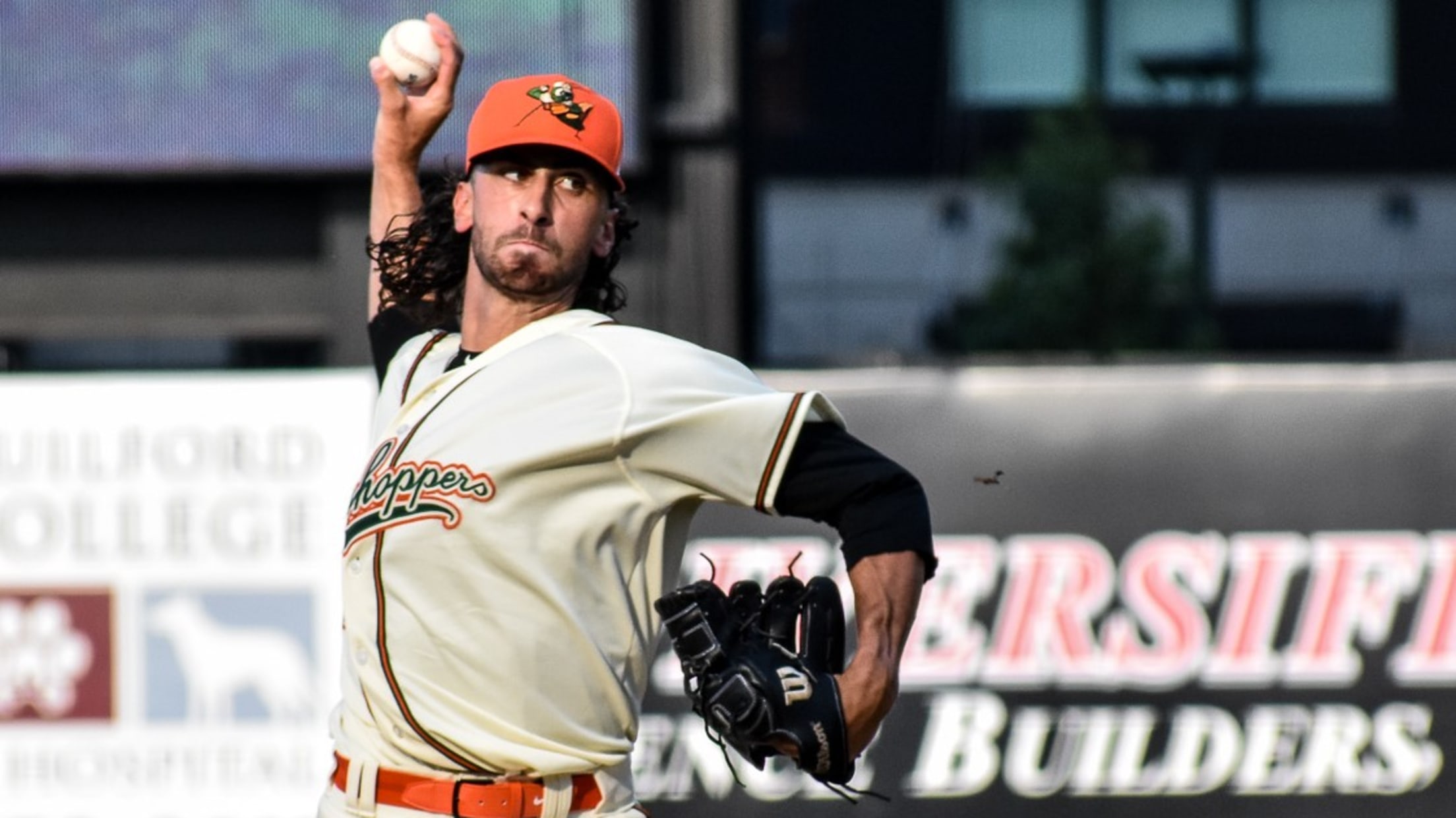 Endy Rodriguez, Yoyner Fajardo and Jackson Glenn all had two hits apiece for the Hoppers on Saturday.
Right-hander Ricky DeVito, a hard-throwing reliever, made his first start of the season. He worked two innings as an opener, striking out five.
"We saw a different demeanor with DeVito opening this game," Crabbe said. "It's almost like he sensed ownership, and that was good to see because DeVito has plus stuff. When you see the ball come out of his hand, you're baffled and ask yourself, 'Why is he not successful all the time?' The way he battled tonight, getting through mistakes we made behind him, was really great."
Domingo Gonzalez (4-2) picked up the win in relief, striking out six in 2⅓ innings. Eddy Yean pitched the final three innings for his first save of the season.
NOTES
Since June 1, utility player Ernny Ordoñez has hit safely in 10 of 13 games, with six home runs, two doubles and 16 RBIs in that span. Ordoñez's long solo shot Saturday, his ninth home run of the season, landed on the concourse atop the hill beyond the left-field fence. … Ordoñez also made the best defensive play of the game, spearing a ground ball with his bare hand near the third-base line and throwing a strike to first base to get the runner by half-a-step.
Leadoff hitter Sammy Siani, a 21-year-old outfielder, doubled, walked twice, scored three runs and stole two bases. Siani ranks sixth in the Sally League with a team-high 19 stolen bases. He was the 37th overall pick in the 2019 draft, a high school player selected between the first and second rounds.
Endy Rodriguez went 2-for-3 with a double, two walks, two RBIs and two runs scored. Rodriguez has hit safely in nine of his last 13 games, going 13-for-44 (.295) with six doubles, a home run and 10 RBIs. Rodriguez started at catcher Saturday. The versatile 22-year-old is rated by MLB Pipeline as Pittsburgh's No. 7 prospect, and he has played four positions ― catcher, first base, second base and left field ― this season.
In his career at the News & Record, journalist Jeff Mills won 10 national and 12 state writing awards from the Associated Press Sports Editors, the Society for Features Journalism, and the N.C. Press Association.