Dash drop Salem 8-6 in ninth inning rally
Benge homers in loss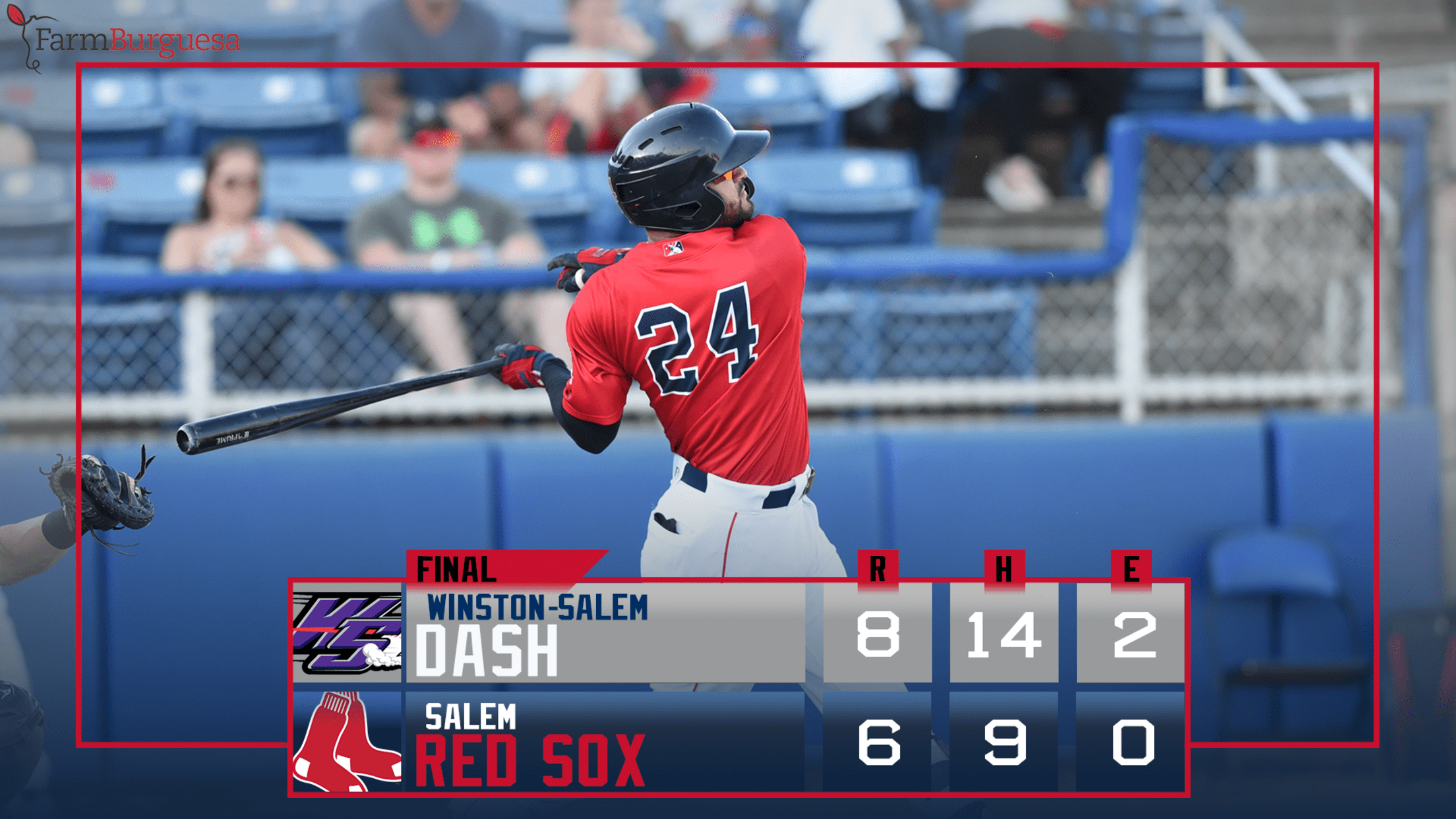 SALEM, Virginia (July 24, 2019) - Garrett Benge homered as Salem cruised along but a ninth-inning rally from Winston-Salem dropped the Red Sox 8-6 Wednesday afternoon at Haley Toyota Field.How it Happened * Winston-Salem snagged an initial 1-0 lead in the second on a passed ball.* The Red Sox pushed
SALEM, Virginia (July 24, 2019) - Garrett Benge homered as Salem cruised along but a ninth-inning rally from Winston-Salem dropped the Red Sox 8-6 Wednesday afternoon at Haley Toyota Field.

How it Happened
* Winston-Salem snagged an initial 1-0 lead in the second on a passed ball.
* The Red Sox pushed a two-out rally in the bottom of the frame as Nick Sciortino doubled and scored on a single from Korby Batesole. Garrett Benge destroyed a home run to boost the Sox 3-1.
* Pedro Castellanos and Edgar Corcino dropped back-to-back singles in the third inning and both scored with a double from Nick Lovullo to mark a 5-1 lead.
* Consecutive doubles in the sixth inning for Winston-Salem cut the lead 5-2.
* Keith Curcio scratched a run on an error to reclaim the lead, 6-2.
* The Dash erupted in the final two frames. Two scored on a fielder's choice to cut the lead 6-4 after eight innings. JJ Muno knocked a bases-loaded single in the ninth to push two more home and draw even. Winston-Salem advanced 8-6 on a bases-loaded walk and balk to cement victory.
Standout Sox
* Nick Lovullo: 1-for-4, 2 RBI, 2B
* Garrett Benge: 1-for-5, 2 RBI, R, HR
* Keith Curcio: 2-for-4, R, 2B, SB
* Thaddeus Ward: 5.0 IP, 5 H, 1 R, 0 ER, 2 BB, 4 K
* Nick Sciortino: 2-for-3, R, 2B
What's Next
Salem Red Sox vs Winston-Salem Dash Thursday, July 25, 2019. First pitch is scheduled for 7:05 PM EST.
LHP Enmanuel DeJesus vs. RHP Jorgan Cavanerio
Listen: SalemSox.com, TuneIn Radio, ESPN Blacksburg WKEX 1430 AM/94.1 FM, WGMN 1240 AM/93.3 FM
Watch: MiLB.TV
The Salem Red Sox are the Advanced-A affiliate of the Boston Red Sox and call Haley Toyota Field in Salem, Virginia home. The team was founded in 1968 and purchased by Fenway Sports Management in December of 2007. For more information on the Salem Red Sox, please visit SalemRedSox.com or contact Melanie Newman at [email protected].