Dash open series against Red Sox with 6-4 win
Winston-Salem wins for sixth time in last seven games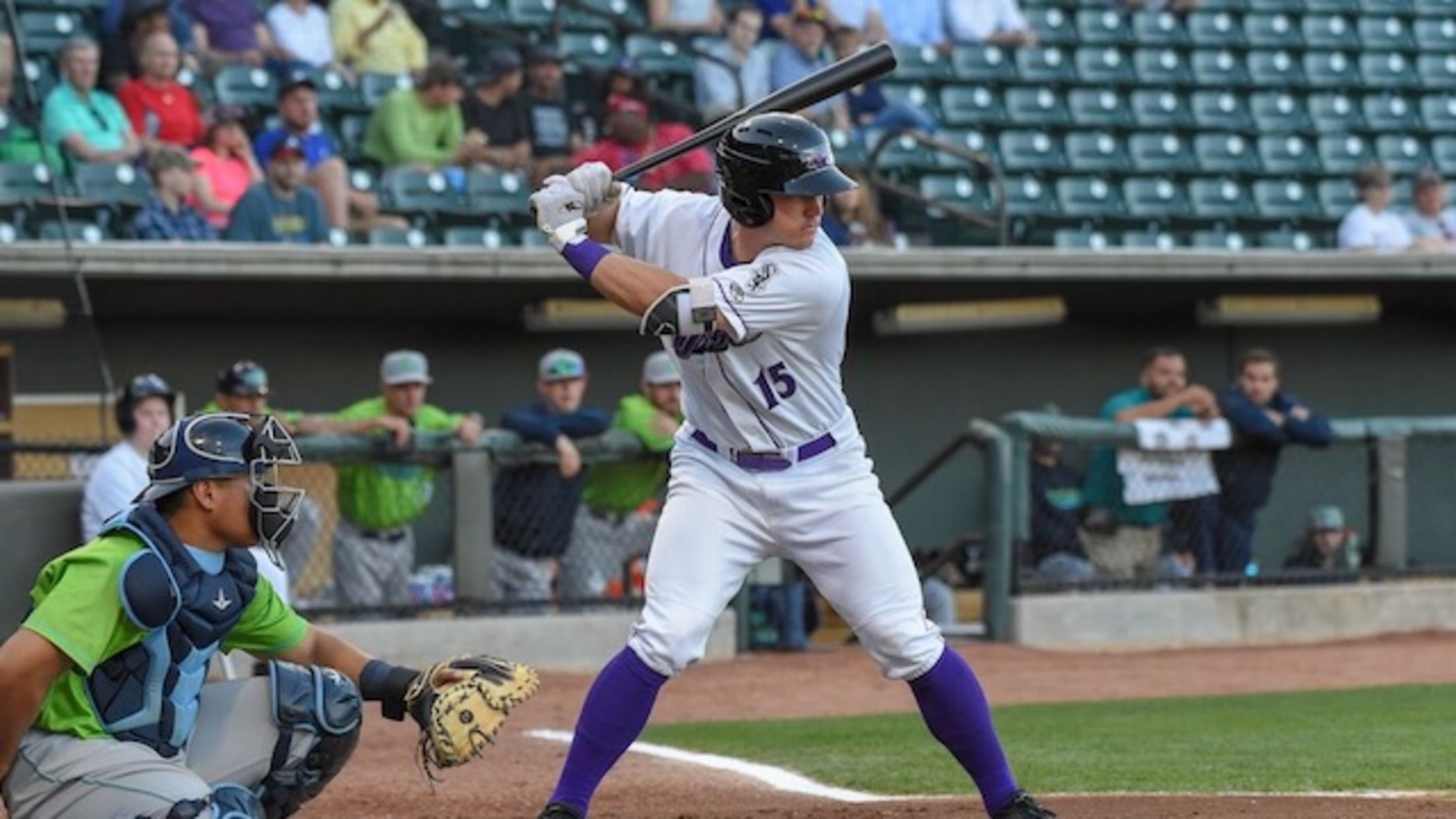 Nate Nolan's third home run of the year gave the Dash an early 3-0 lead over the Red Sox. (Robert Hill/Winston-Salem Dash)
SALEM, Va. (May 7, 2018) - Nate Nolan smacked a three-run home run and Ti'Quan Forbes went 2-for-4 with two RBIs to lift the Dash to a 6-4 win over the Red Sox on Monday night at Haley Toyota Field. Nolan's blast came in the top of the second inning. First, Micker Adolfo led off the frame
SALEM, Va. (May 7, 2018) - Nate Nolan smacked a three-run home run and Ti'Quan Forbes went 2-for-4 with two RBIs to lift the Dash to a 6-4 win over the Red Sox on Monday night at Haley Toyota Field.
Nolan's blast came in the top of the second inning. First, Micker Adolfo led off the frame with a fly ball to right field that Tyler Hill misjudged, leading to a triple. Then, following a Gavin Sheets walk and back-to-back strikeouts, Nolan came to the dish with runners on second and third and two outs. The Dash backstop drove a 2-2 pitch from Red Sox (17-14) starter Tanner Houck (1-4) over the centerfield fence for his third homer of the season to give Winston-Salem (18-13) a 3-0 lead.
The Dash tacked on another run in the top of the third. Mitch Roman struck out, but reached first on a wild pitch. He then stole second base and moved to third on a groundout before scoring on an RBI single from Adolfo to make it 4-0. Adolfo notched his 26th RBI of the season, tying him for first place in the Carolina League in that category.
That would be enough support for Luis Martinez (2-1). The right-hander allowed just two hits and two runs (unearned) on the night, striking out four and walking five over his five frames to pick up his second straight win.
Both runs charged to Martinez came in the fifth. With a runner on first and two outs, Santiago Espinal bunted up the third base line. Martinez fielded it bare-handed, but his throw to first was wide and up the right-field line, allowing Chris Madera to score all the way first and Espinal to reach third. Espinal later scored on a wild pitch to cut the Dash lead in half.
Forbes' first RBI of the night came in the sixth inning. Alex Call led off the frame with a double, and then, with two outs, Forbes punched a single through the right side to bring Call around.
Salem responded in the sixth when Jerry Downs hit his third home run of the season.
But, Winston-Salem bounced back in the eighth. Leading 5-3 and looking for insurance, Forbes came to the plate with Yeyson Yrizarri on first and two outs. He bashed the first pitch he saw off the centerfield fence for a double to bring home Yrizarri.
Drew Hasler allowed a run in the ninth, but picked up his first save of the season.
Winston-Salem continues its series with the Salem Red Sox on Tuesday at Haley Toyota Field. Right-hander Jimmy Lambert (2-2, 3.66 ERA) starts for the Dash against Red Sox right-hander Roniel Raudes (2-2, 3.54 ERA). First pitch is set for 7:05 p.m., with coverage beginning at 6:50 p.m. Fans can catch all of the action on wsdash.com/broadcast, MiLB.tv and the TuneIn Radio App.
Following its three-game series with Salem, Winston-Salem returns home on Thursday, May 10, to begin a four-game series against the Down East Wood Ducks. Promotions during the homestand include Lowes Foods Thirsty Thursday with select beers for $1 through the seventh inning, a Fireworks Friday, a Chick-fil-A Four Pack offer for Saturday and a Mother's Day celebration on Sunday. Following Friday, Saturday and Sunday's contests, kids can run the bases, powered by New Balance Winston-Salem. For tickets and more information, call the Dash at (336) 714-2287 or visit wsdash.com.