Dash rallies late to beat Hoppers, ties Battle of I-40
Grant Koch's grand slam leads productive offense, but Hoppers can't hold a pair of 4-run leads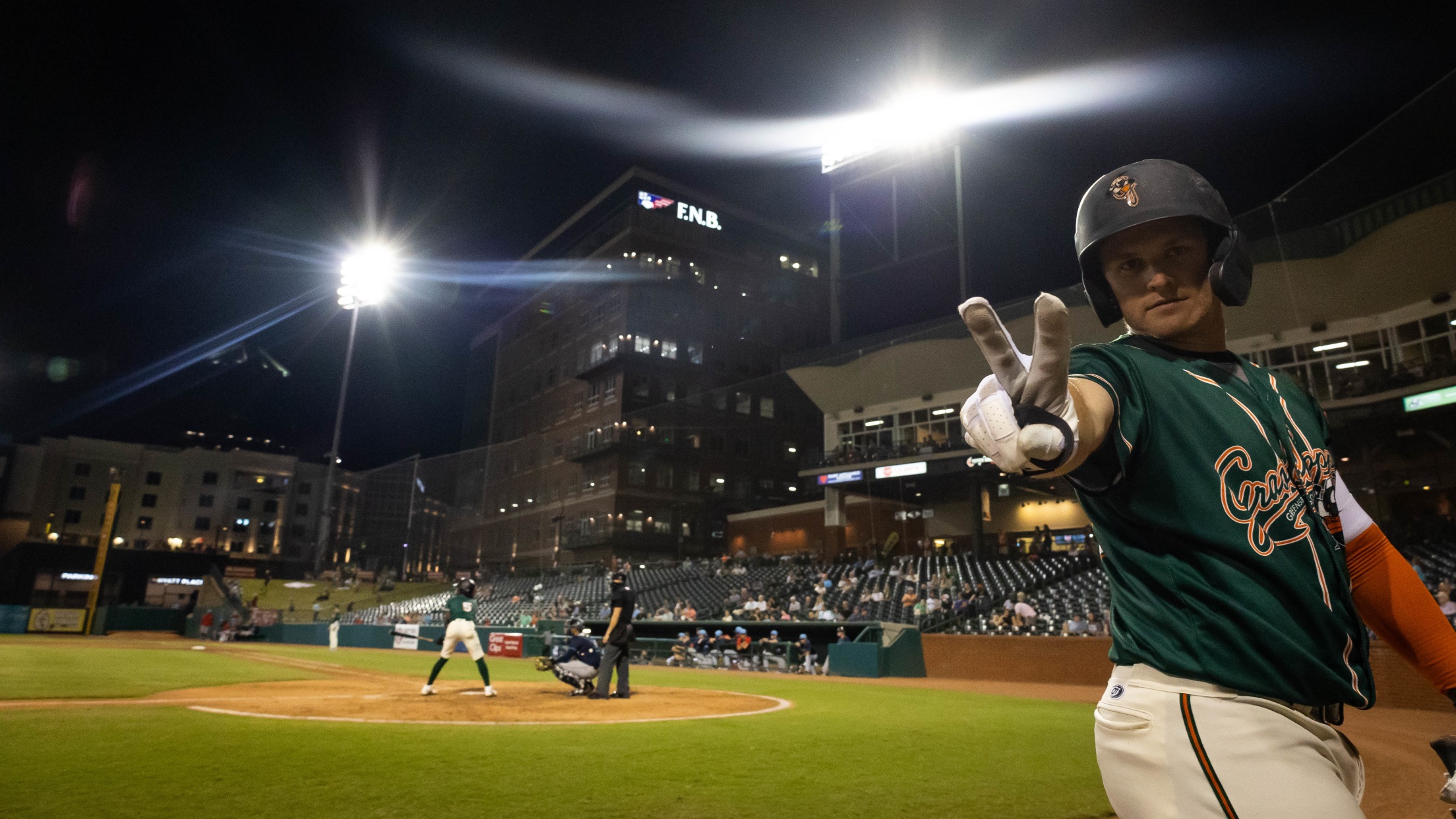 Greensboro catcher Grant Koch hit a grand slam in Wednesday's loss to the Winston-Salem Dash. (Jak Kerley/Greensboro Grasshoppers)
GREENSBORO ― Alex Destino hit a three-run home run in the seventh inning, and his one-out single in the eighth drove in the tie-breaking run as the Winston-Salem Dash rallied for a 9-8 victory over the Greensboro Grasshoppers at First National Bank Field on Wednesday night. Destino finished 3-for-4 with
GREENSBORO ― Alex Destino hit a three-run home run in the seventh inning, and his one-out single in the eighth drove in the tie-breaking run as the Winston-Salem Dash rallied for a 9-8 victory over the Greensboro Grasshoppers at First National Bank Field on Wednesday night.
Destino finished 3-for-4 with four RBIs for the Dash, who had 12 hits and drew 10 walks from four Greensboro pitchers.
The Dash's victory tied the season series at 7-7 in the renewed rivalry called "The Battle of I-40." Teams from Greensboro and Winston-Salem are playing in the same league this summer for the first time since 1968.
The Hoppers led this game 4-0 through five innings and 8-4 through six before the lead slipped away in the late innings.
Hoppers catcher Grant Koch hit a grand slam, and Matthew Fraizer hit his league-leading 19th home run of the season as every batter in Greensboro's lineup finished with at least one hit in the loss.
Blake Sabol went 3-for-4 and Nick Gonzales, a second baseman rated by MLB Pipeline as the top prospect in Pittsburgh's farm system, was 2-for-5 with a double and a solo home run.
Santiago Florez, a 21-year-old right-hander, made his third start for Greensboro since being promoted from Class-A Bradenton. Florez pitched five scoreless innings, but he couldn't get out of the sixth when Winston-Salem scored four runs to tie the game.
The bullpen didn't fare any better Bear Bellomy gave up three earned runs, Oliver Garcia walked three in his only inning of work, and Austin Roberts (3-3, 3.99 ERA) took the tough-luck loss when Yoelqui Cespedes hit a hustling double to lead off the eighth and scored one out later on Destino's opposite-field single.
Liover Peguero, a shortstop rated by MLB Pipeline as the Pirates' No. 4 prospect, hit a two-run single up the middle in the fourth inning to open the scoring. Fraizer and Gonzales hit back-to-back solo home runs in the fifth, with Fraizer's shot clocked at 110 mph in exit velocity.
Koch made it 8-4 with his two-out grand slam in the sixth inning. Sabol and Matt Gorski singled, and Will Matthiessen drew a walk to set the stage for Koch's laser over the left-field fence.
Jared Triolo went 1-for-5 with a run scored and his 18th stolen base of the season. He had homered in his previous three games, but that streak was snapped. Even so, the third baseman has hit safely in 18 of his last 21 games, going 31-for-88 (.352) with six doubles, four home runs, 19 RBIs and 11 steals in that span.
NOTES: Sabol has hit safely in nine of his last 10 games, going 16-for-36 (.444) with three doubles and four home runs during that stretch. ... Fraizer has hit safely in 25 of his last 28 games, batting .320 (39-for-122) in that span. He leads the High-A East in hits (89), runs (57), home runs (19) and batting average (.312), and he's second in OPS (.973). ... Triolo has raised his batting average from .237 on June 1 to .291 heading into Thursday's game. He ranks third in the league with a team-high 50 RBIs.
In his career at the News & Record, journalist Jeff Mills won 10 national and 12 state writing awards from the Associated Press Sports Editors, the Society for Features Journalism, and the N.C. Press Association.