Davis and the Wood Ducks Walk-Off on the Mudcats Again
Walker Weickel turned in his best start as a Wood Duck to help the Woodies claim the series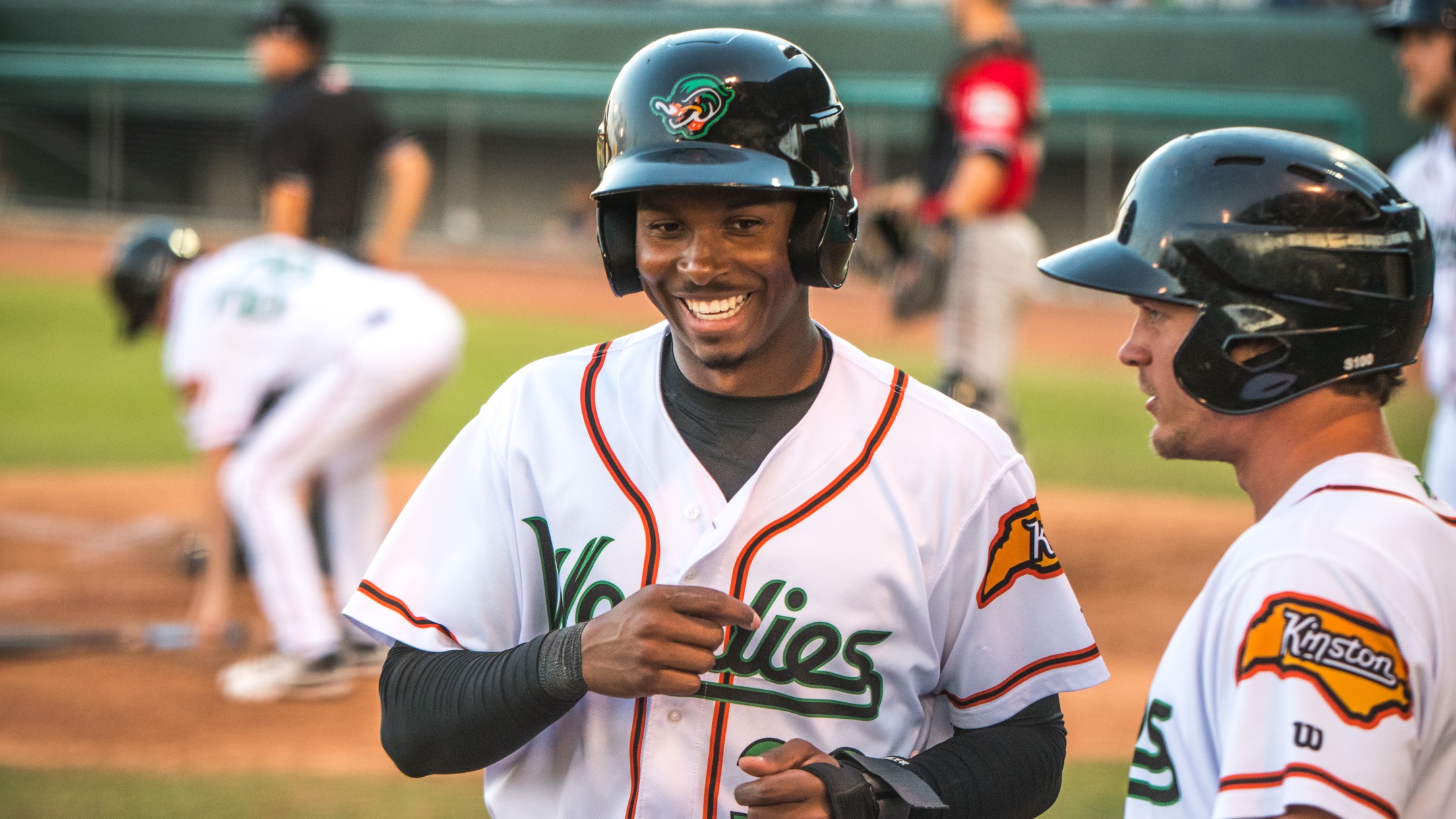 Davis had two hits and two RBIs in his second game back with the Woodies. (Brian Patrick)
KINSTON, NC - The Wood Ducks walked-off on the Mudcats for the second consecutive night as Brendon Davis's single down the third base line brought home Blaine Prescott in a 5-4 victory at Grainger Stadium.In his second start at Grainger Stadium, Walker Weickel dazzled on the mound as he set
KINSTON, NC - The Wood Ducks walked-off on the Mudcats for the second consecutive night as Brendon Davis's single down the third base line brought home Blaine Prescott in a 5-4 victory at Grainger Stadium.
In his second start at Grainger Stadium, Walker Weickel dazzled on the mound as he set a career-high with 12 strikeouts over six and two-thirds of strong work. The only runs he allowed were on home runs as he also finished the night walk-free.
Perhaps 12 strikeouts and no walks is a kiss of death because just like Edgar Arredondo on Wednesday night in Buies Creek, Weickel received a no decision.
The Woodies didn't get on the board until the fourth inning thanks to Alex Kowalczyk's base hit on a 3-0 count. He drove in Andretty Cordero from second base to get the DEWDs within a run, 2-1.
They came alive for another two-out rally in the fifth as Prescott stood on third after a walk and a pickoff error by Carolina starter Marcos Diplán. Anderson Tejeda, Davis, and Cordero hit three RBI doubles in a row to give the Woodies a 4-2 lead.
Jacob Lemoine and Locke St. John were both credited with holds from the bullpen. Lemoine induced three ground outs for his work, while St. John recorded a strikeout in a lefty-on-lefty matchup with Tucker Neuhaus.
Yet the Mudcats would tie the game up in the ninth as they were down to their final strike - just like the Woodies on Friday night. Weston Wilson hit an opposite field home run down the right field line off of Jacob Shortslef to tie the game up - his second of the game.
Prescott drew a leadoff walk in the bottom of the inning, then was bunted to second by Leody Taveras. Next, Tejeda would ground out, which allowed Prescott to third before Davis's single down the line.
The Woodies snap a two-series losing streak, and go for their first sweep on Sunday. Left-hander Christian Torres will get the nod for Down East against right-hander Trey Supak for Carolina. First pitch is scheduled for 2:00 p.m.