Dawson Goes Deep Twice, CC Weathers Wild Finish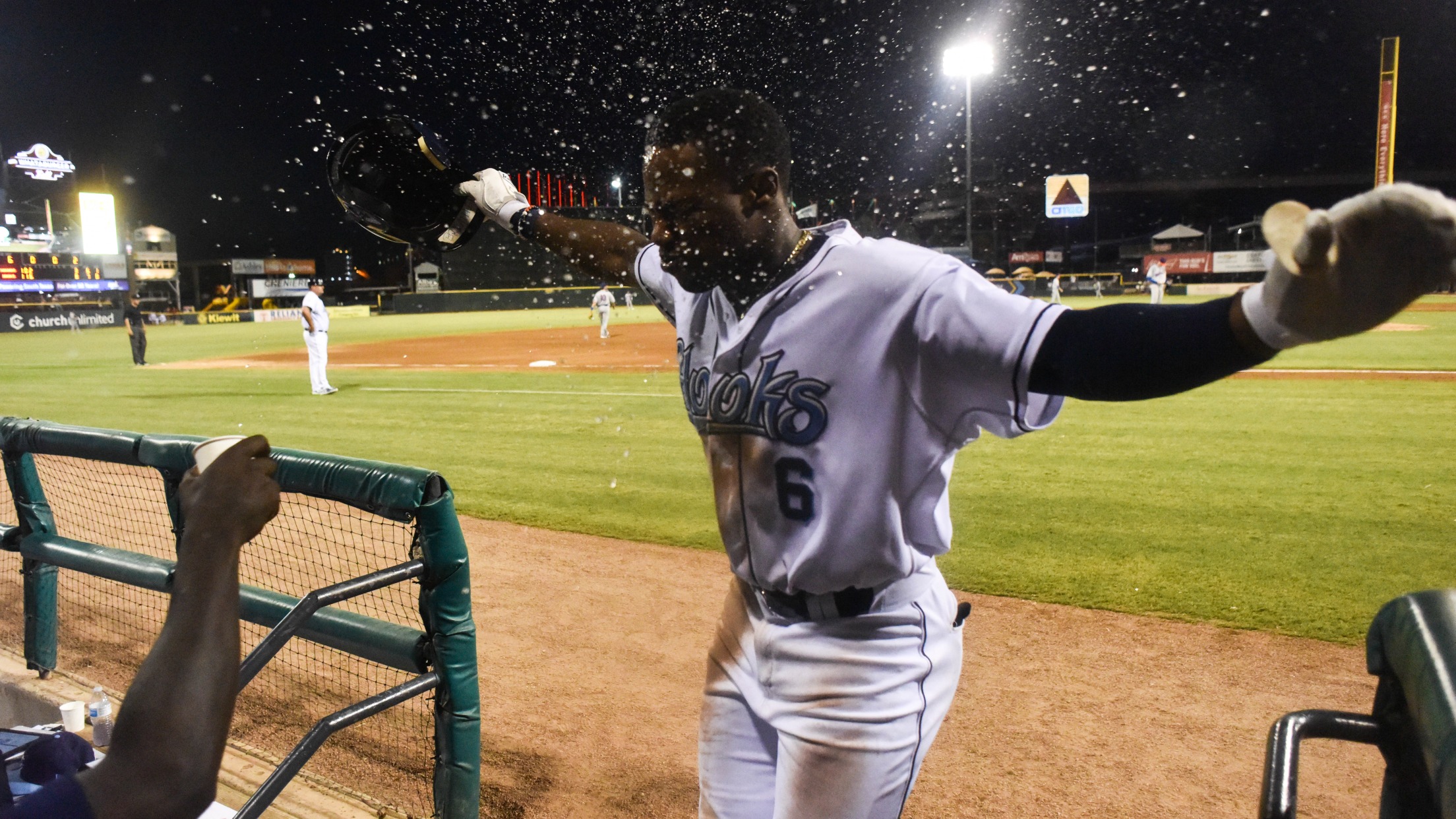 (Charlie Blalock)
CORPUS CHRISTI - Ronnie Dawson hit two home runs Wednesday night and Erasmo Pinales penned a game-ending strikeout which stranded the bases loaded as the Hooks held on for a 9-8 victory over Midland at Whataburger Field.Corpus Christi (34-23, 77-49) has won nine of the last 13 and leads second-place
CORPUS CHRISTI - Ronnie Dawson hit two home runs Wednesday night and Erasmo Pinales penned a game-ending strikeout which stranded the bases loaded as the Hooks held on for a 9-8 victory over Midland at Whataburger Field.
Corpus Christi (34-23, 77-49) has won nine of the last 13 and leads second-place Frisco by 3.5 games with 12 remaining in the Texas League South second-half pennant race.
Dawson's first dinger came in the second and handed the Hooks a 2-1 lead.
Midland (24-34, 57-70) answered with a pair in the third on a two-out, two-run single by Richie Martin.
Corpus Christi stormed back, sending nine men to the plate in the third. Dawson capped the barrage with a three-run home run into the right field, which chased Midland starter Brian Howard (2-4) from the contest.
Dawson has sent nine of his 20 Texas League hits for extra bases, including five home runs and eight doubles. Wednesday night marked his fourth career multi-homer game.
The Hooks tacked on a run in the fourth with a Josh Rojas sac fly to right field, establishing a 9-3 lead.
Midland made it a four-run game with a pair of two-out RBI singles against Brett Adcock in the sixth.
Adcock (2-2) worked 4 2/3 innings to earn the victory.
Luis Barrera cracked an RBI double in the seventh off Alex Winkelman, pulling the Hounds to within 9-6.
After retiring the first four men he faced, Ronel Blanco ran into trouble in the ninth by walking back-to-back batters. The Hounds would later cash in on those free passes thanks to a wild pitch and RBI groundout.
A Luis Barrera single, the lone hit of the frame, a walk, and hit batsman reloaded the bases. Pinales slammed the door with a strikeout for his sixth save.
Rehabbing Astros right-hander Chris Devenski pitched the first inning for Corpus Christi. Devenski allowed two hits and one run while striking out the side.
Houston catcher Brian McCann, working his way back from right knee surgery, went 0-for-3 with a walk. McCann worked five innings behind the plate.
Brandon Bielak (2-3, 2.15) takes the ball for Corpus Christi Thursday night. Ben Bracewell (3-7, 3.88) is slated to pitch for the Hooks. First pitch 7:05.