Daytona Tortugas release initial 2019 roster
Reds' 2018 first-round pick and Top 100 prospect Jonathan India highlights new unit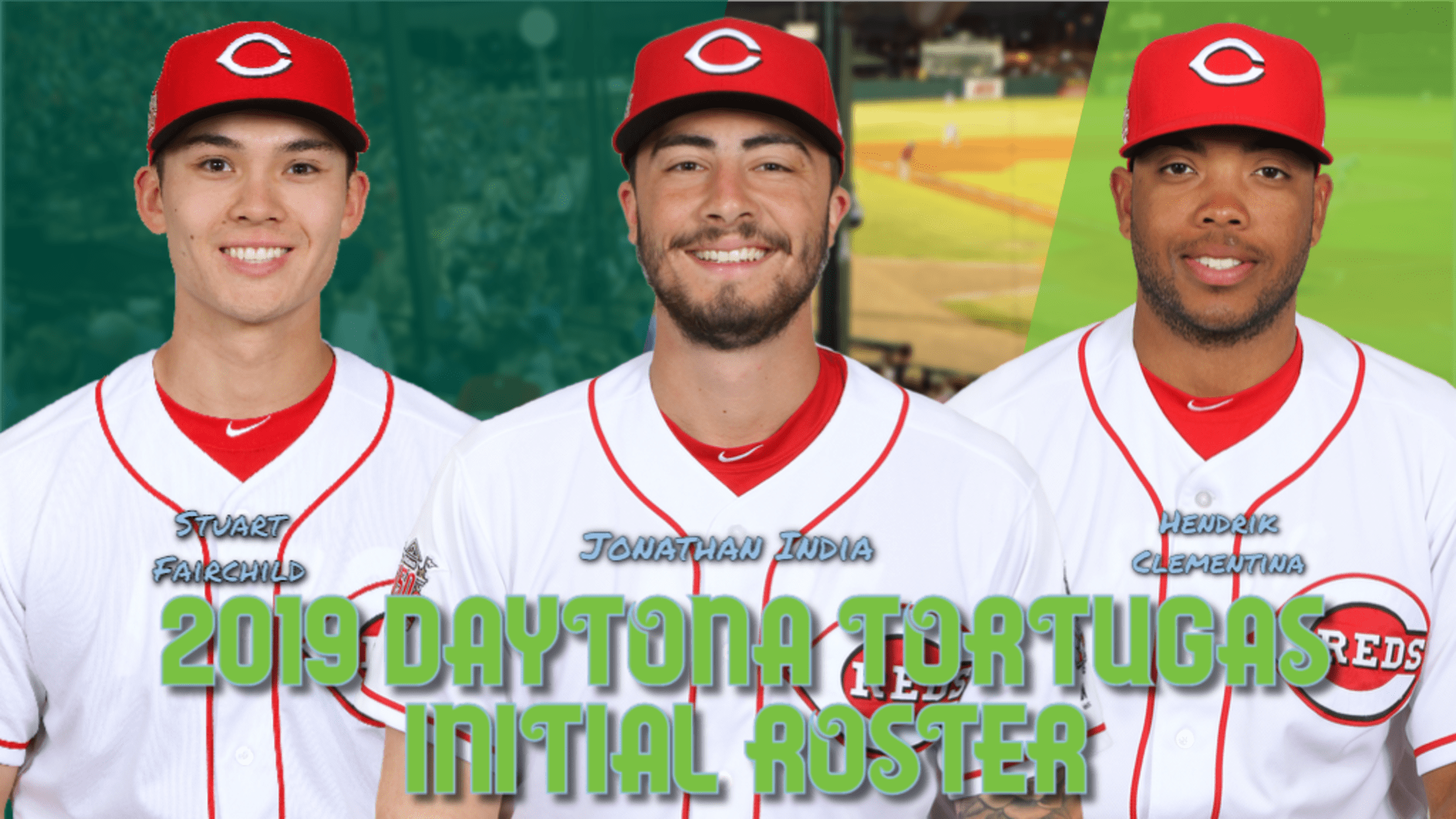 DAYTONA BEACH, Fla. - The Daytona Tortugas, in conjunction with the Cincinnati Reds, have announced their initial roster for the upcoming 2019 campaign, which includes five of Baseball America's top 30 Reds' farmhands. The first roster comprises of 14 pitchers, three catchers, eight infielders, and four outfielders. An exhibition contest
DAYTONA BEACH, Fla. - The Daytona Tortugas, in conjunction with the Cincinnati Reds, have announced their initial roster for the upcoming 2019 campaign, which includes five of Baseball America's top 30 Reds' farmhands. The first roster comprises of 14 pitchers, three catchers, eight infielders, and four outfielders. An exhibition contest will be held against Embry-Riddle Aeronautical University on Tuesday, April 2, at 6:35 p.m. and then Daytona plays their first regular season game on Thursday, April 4 at Jackie Robinson Ballpark against the Florida Fire Frogs.
The biggest name among the initial list of players is the Reds' 2018 first-round draft pick and the number five overall selection in last summer's MLB draft, infielder Jonathan India . The 22-year-old native of Coral Springs, Fla. played spent his college career at the University of Florida before joining the Cincinnati organization last June. India appeared in 44 professional games last season between Rookie Greeneville, Rookie Billings, and Low-A Dayton. He combined to hit at a .240 clip (36-150) with six home runs and 23 runs batted in. India enters the season ranked as Cincinnati's No. 4 prospect according to Baseball America.
India is not the only former Florida Gator on the initial list of players, as he is joined by former college teammates RHP Michael Byrne and C Mark Kolozsvary . Byrne was selected in the 14th round of last summer's draft and tallied a 1.25 ERA (3 ER in 21.2 IP) in 19 relief appearances for the Tortugas. Kolozsvary was a seventh-round draftee in 2017, registering a .225 average (62-275) with three home runs and 27 RBI in 82 contests for Low-A Dayton a year ago.
Cincinnati's No. 2 prospect - RHP Hunter Greene - is also on the Tortugas' initial roster. However, the 19-year-old will spend the season on the injured list after the organization announced he will need Tommy John surgery on Monday evening. INF Jose Garcia - the organization's No. 14 prospect, according to Baseball America - will also begin the year on the team's IL.
Byrne is one of 15 returnees from last year's North Division championship squad. Accompanying him on the pitching staff are RHP Wendolyn Bautista , LHP Carlos Diaz , RHP Andrew Jordan , LHP Packy Naughton , RHP Ryan Nutof , RHP Ryan Olson , RHP Austin Orewiler , and RHP Cory Thompson . Diaz, Jordan, and Olson each appeared in 10 or more contest for the Tortugas in 2018, while Bautista and Nutof entered a combined to enter only three affairs for Daytona. The pair of right-handed pitchers predominantly spent last year with Dayton, uniting to tally seven saves and a sparkling 3.42 ERA (69 ER in 181.1 IP) in 81 appearances, including 11 starts made by Bautista.
Naughton, Orewiler, and Thompson only appeared for Daytona in last year's Florida State League playoffs. Naughton - who started Game 1 of last year's FSL Championship - was a fixture in the Dayton Dragons' rotation, going 5-10 with a 4.03 ERA (69 ER in 154.0 IP) and 137 strikeouts in 28 regular-season starts. Orewiler - the starter in the deciding third game of the FSL North Division championship - collected a 3.72 ERA (51 ER in 123.1 IP) for Dayton after spending the entire 2017 season making 41 relief appearances for the Tortugas. Thompson made two postseason appearances in relief after earning six wins and five saves with a 3.25 ERA (26 ER in 72.0 IP) in 46 relief outings with the Dragons.
Also returning to Volusia County for 2019 are C Morgan Lofstrom , INFs Carlos Rivero , Randy Ventura , and Bruce Yari , as well as OFs Lorenzo Cedrola and Stuart Fairchild . Ventura and Yari each spent most of 2018 in Daytona Beach. The switch-hitting Ventura compiled a .291 average (74-254) with 17 RBI and 10 stolen bases in 65 games, while Yari appeared in the most games among returnees (111), accumulating a solid .272 mark (103-379), plus five homers and 54 runs driven in. Fairchild - the Reds' No. 12 prospect according to Baseball America - helped with Daytona's playoff push last summer, finishing the year with the Tortugas after collecting a .277 average (55-220) with seven long balls, 37 RBI, and 17 steals in 67 games for Dayton. Cedrola joined Daytona in the middle of last season, too - following a trade with the Boston Red Sox - swiping 13 bags in 45 contests.
Joining India among high-profile newcomers is C Hendrik Clementina . The native of Curacao showed impressive power in Dayton, posting a .268 clip (91-340) with a team-leading 18 home runs and 59 RBI. According to Baseball America, the 21-year-old enters the campaign as the Reds' No. 24 prospect. INF Alejo Lopez , OF Miles Gordon , and OF Andy Sugilio are also new to 'Tuga Nation for 2019. Lopez produced an eye-popping .321 batting average (75-234) with 18 extra-base knocks in 65 contests at Dayton, while Sugilio hit at a .278 clip (101-363) with five homers, 45 RBI, and 12 stolen bases in 91 games. Gordon - a 2015 fourth-round selection - paced the Dragons last year with six triples and finishes second on the squad with 17 stolen bags. INFs Yonathan Mendoza - who spent last year in at Double-A Arkansas in the Seattle Mariners' farm system - and Leandro Santana also join the team.
RHP John Ghyzel , RHP Ryan Lillie , LHP Reiver Sanmartin , and RHP Aneurys Zabala are the new names and faces among the Tortugas' 2019 pitching staff. Ghyzel recorded a Midwest League-leading 19 saves for Dayton a year ago and was voted the league's best relief pitcher by Baseball America. Lillie and Sanmartin - acquired in trades with the Miami Marlins and New York Yankees, respectively, during the offseason - should add strength to the rotation. Lillie spent time in the FSL with High-A Jupiter last summer and compiled a 3.44 ERA (45 ER in 117.2 IP) with two complete-game shutouts between three minor league levels. Sanmartin walked just four batters and struck out 58 between four levels in the Yankees' farm chain a year ago, finishing with a 2.81 ERA (21 ER in 67.1 IP) in 13 outings (10 starts). Zabala was also acquired via trade during Cincinnati's swap with the Los Angeles Dodgers on July 4. After joining the Reds' organization, the 22-year-old went 0-3 with a 3.31 ERA (6 ER in 16.1 IP) and three saves in 16 appearances.
The team will be led by manager Ricky Gutierrez, who returns for his second season at the helm of the Tortugas. Pitching coach Tom Brown and hitting coach Alex Pelaez will also remain on the team's coaching staff alongside new bench coach Lenny Harris.
The Tortugas will begin their 2019 campaign at home on Thursday, April 4, with a brief two-game set against the Florida Fire Frogs, the High-A affiliate of the Atlanta Braves. Season ticket and multi-game plans are currently available and can be purchased online at www.daytonatortugas.com, or by calling the Tortugas' Ticket Office at (386) 257-3172.
ABOUT THE DAYTONA TORTUGAS
The Daytona Tortugas are the High-A Affiliate of the Cincinnati Reds and a member of the Florida State League. The Tortugas play at Jackie Robinson Ballpark in downtown Daytona Beach, Fla. Jackie Robinson Ballpark also plays host to Bethune-Cookman University and many large community events and initiatives throughout the season.