Tortugas Schedule to Remain Unchanged with MLB Lockout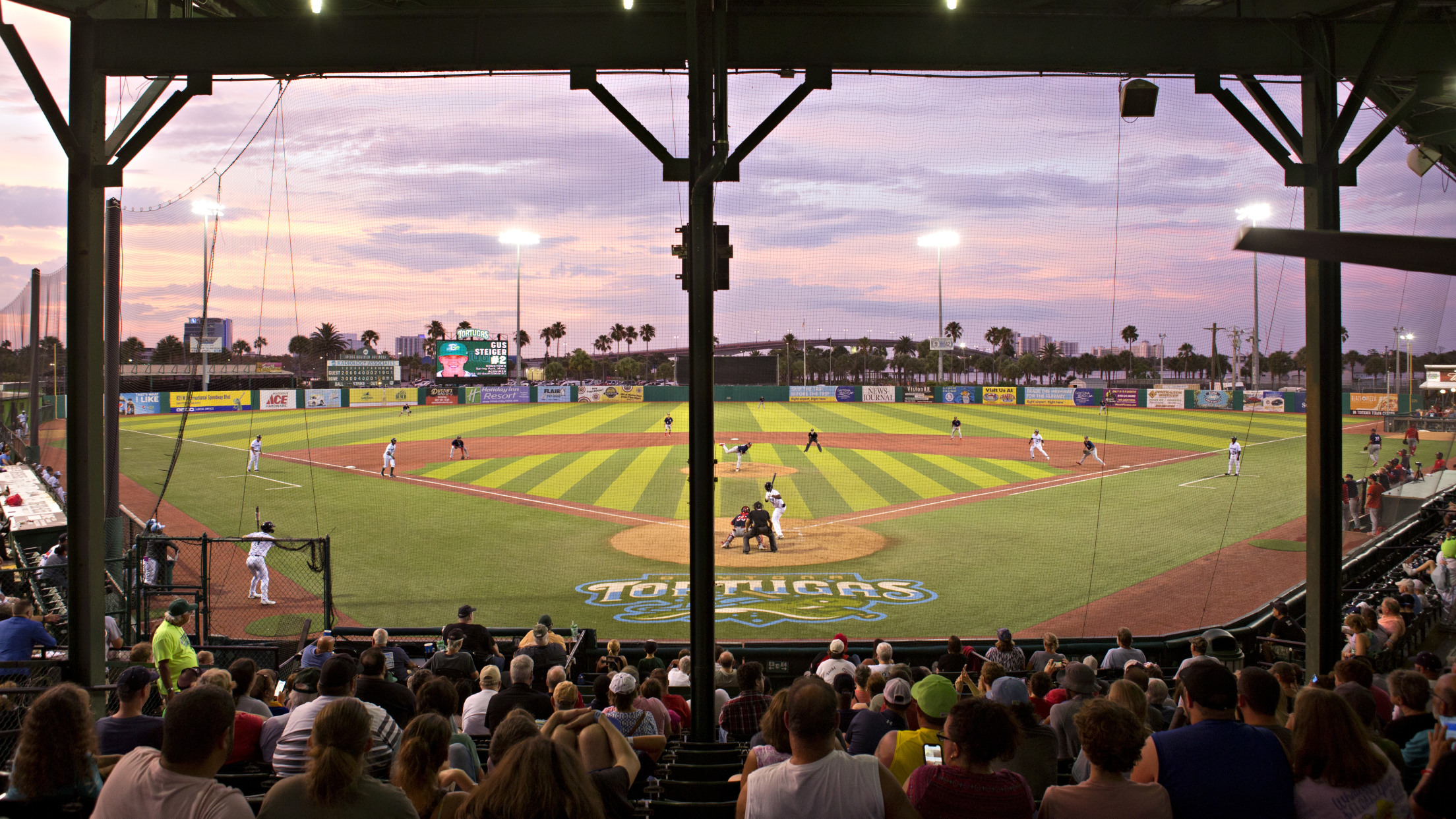 With the MLB lockout beginning Thursday, the Cincinnati Reds have provided the following statement for the upcoming season: "While we remain hopeful there will be a full 2022 Major League season without disruption, the upcoming minor league season will be unaffected. The Reds will continue to hold minicamps, minor league
Savannah Bananas coming to Daytona Beach
Bringing World's Fastest and Most Outrageous Game of Baseball on Friday, March 18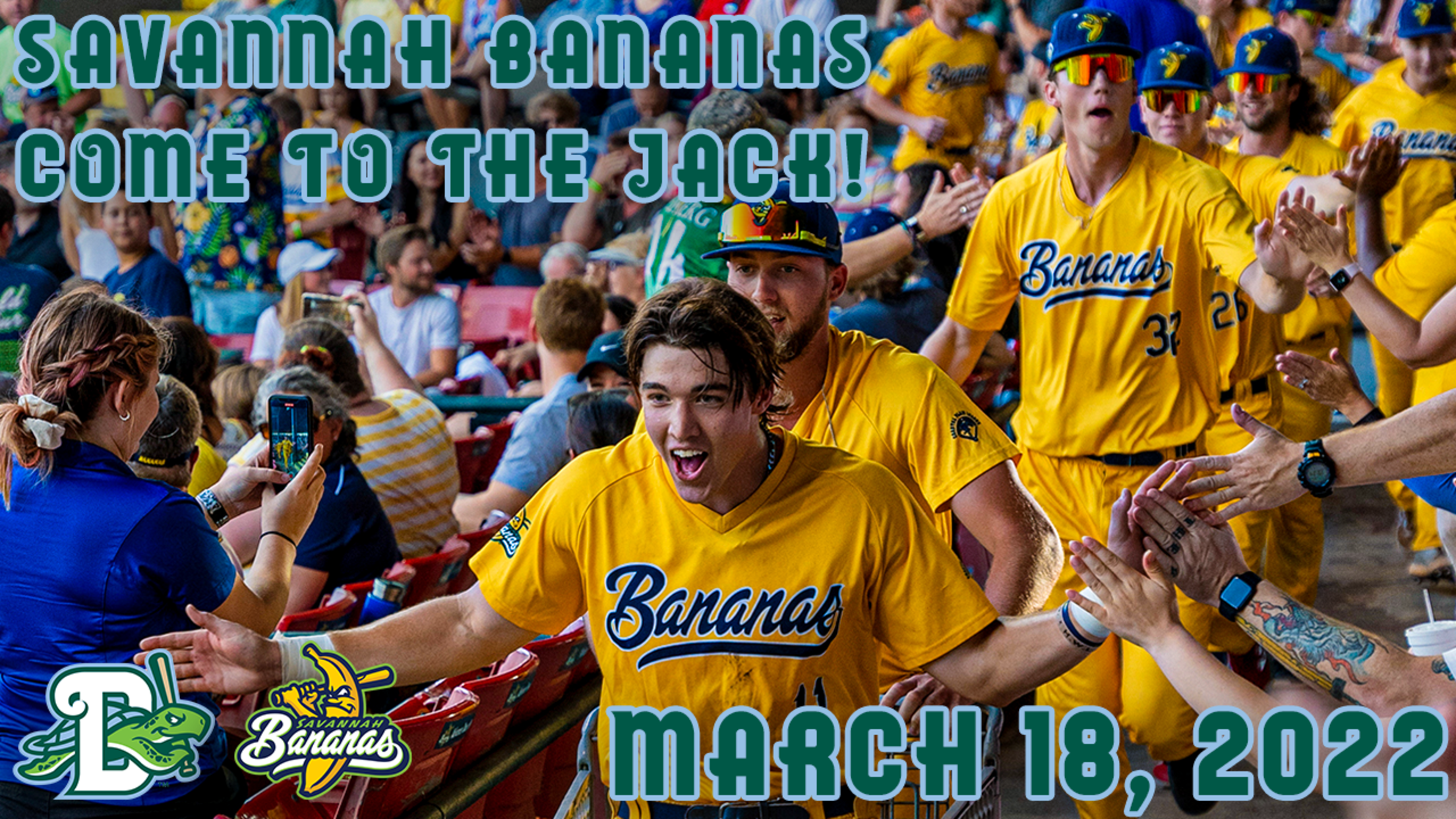 DAYTONA BEACH, Fla. - The Savannah Bananas are bringing their world-famous baseball circus to Jackie Robinson Ballpark on Friday, March 18, 2022. Affectionately referred to as 'The Greatest Show in Baseball' (ESPN SC Featured, August 2021) with an atmosphere that would '…make most MLB teams jealous (Sports Illustrated, June 2019),
José Torres collects Low-A Southeast Player of the Month honors
North Carolina State alum slashes .404/.446/.684 with 9 extra-base his and 14 RBI in stellar final month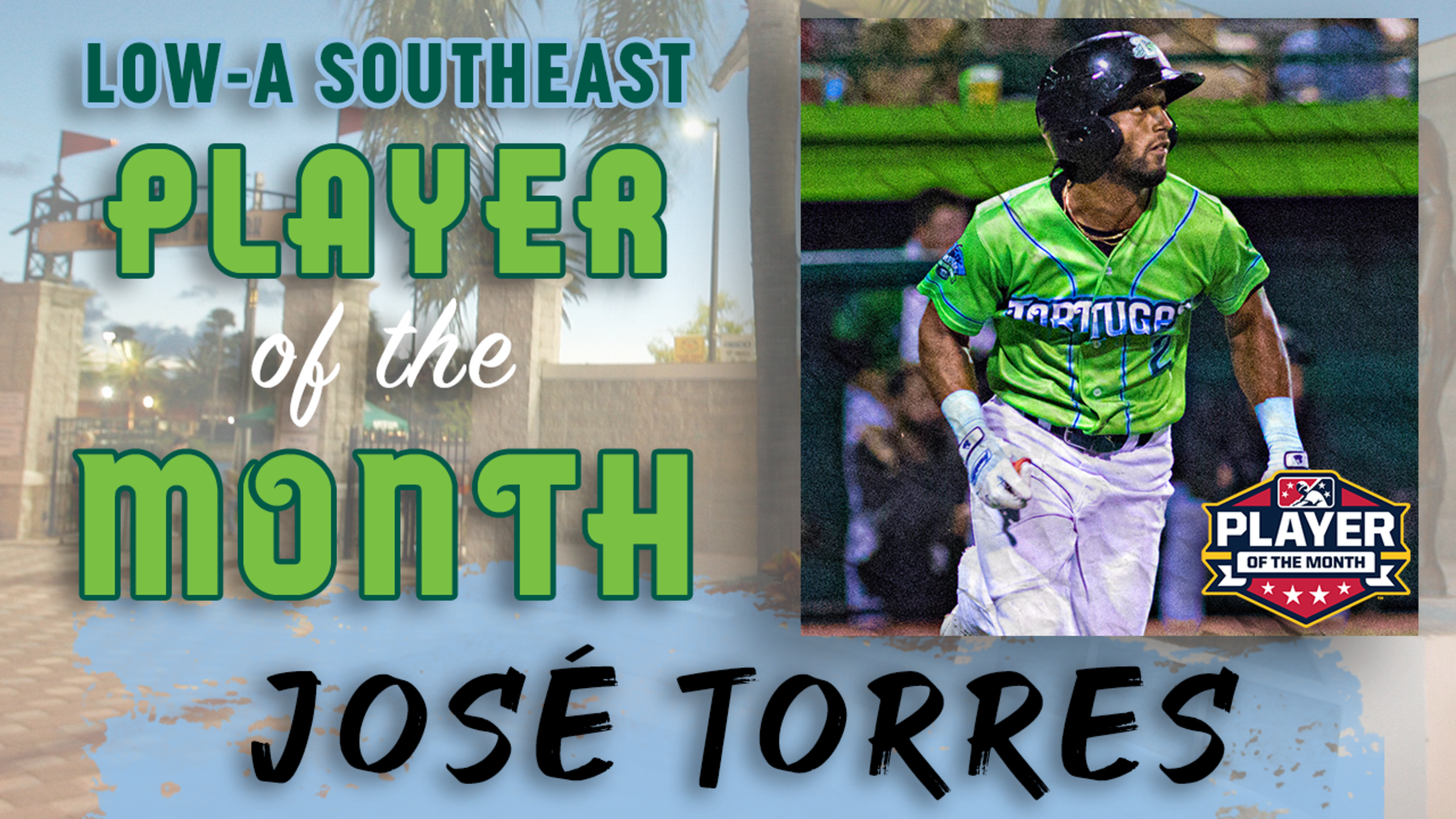 DAYTONA BEACH, Fla. - Minor League Baseball announced on Tuesday that Daytona Tortugas SS José Torres has been named the Low-A Southeast Player of the Month for September. The 22-year-old is the third Daytona player to be honored with a monthly award this season. RHP James Proctor was named the
Daytona Tortugas release 2022 schedule
102nd year of Minor League Baseball on City Island to begin with 132-game schedule on Friday, April 8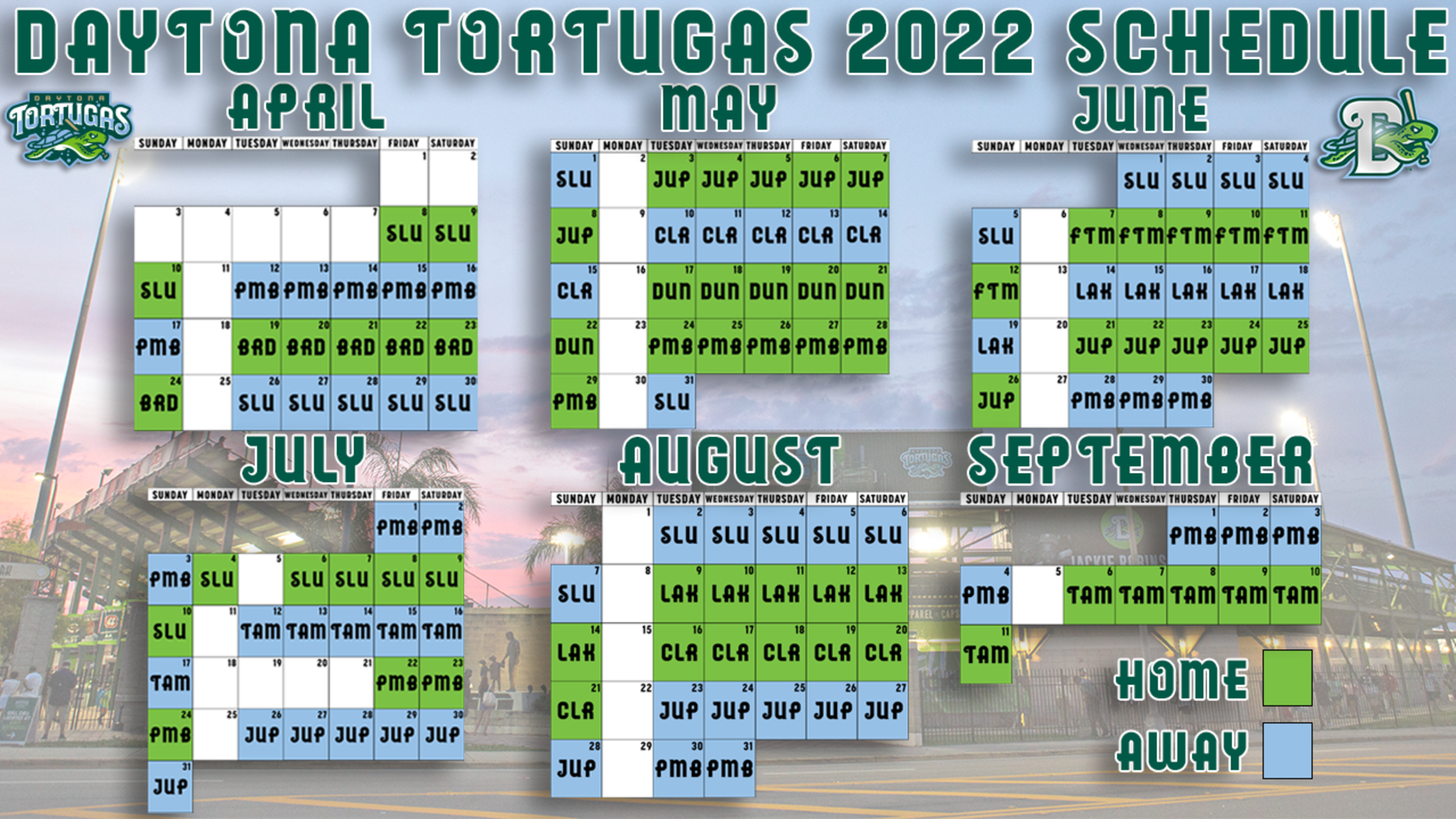 DAYTONA BEACH, Fla. - In conjunction with the Cincinnati Reds and Major League Baseball, the Daytona Tortugas have announced their game schedule for the 2022 season on Friday afternoon. The Tortugas will play a grand total of 132 games with 66 games at Jackie Robinson Ballpark and another 66 contests
Full-season tickets for Tortugas' 2022 campaign on sale today
Season-ticket packages for upcoming 2022 season now available online and in-person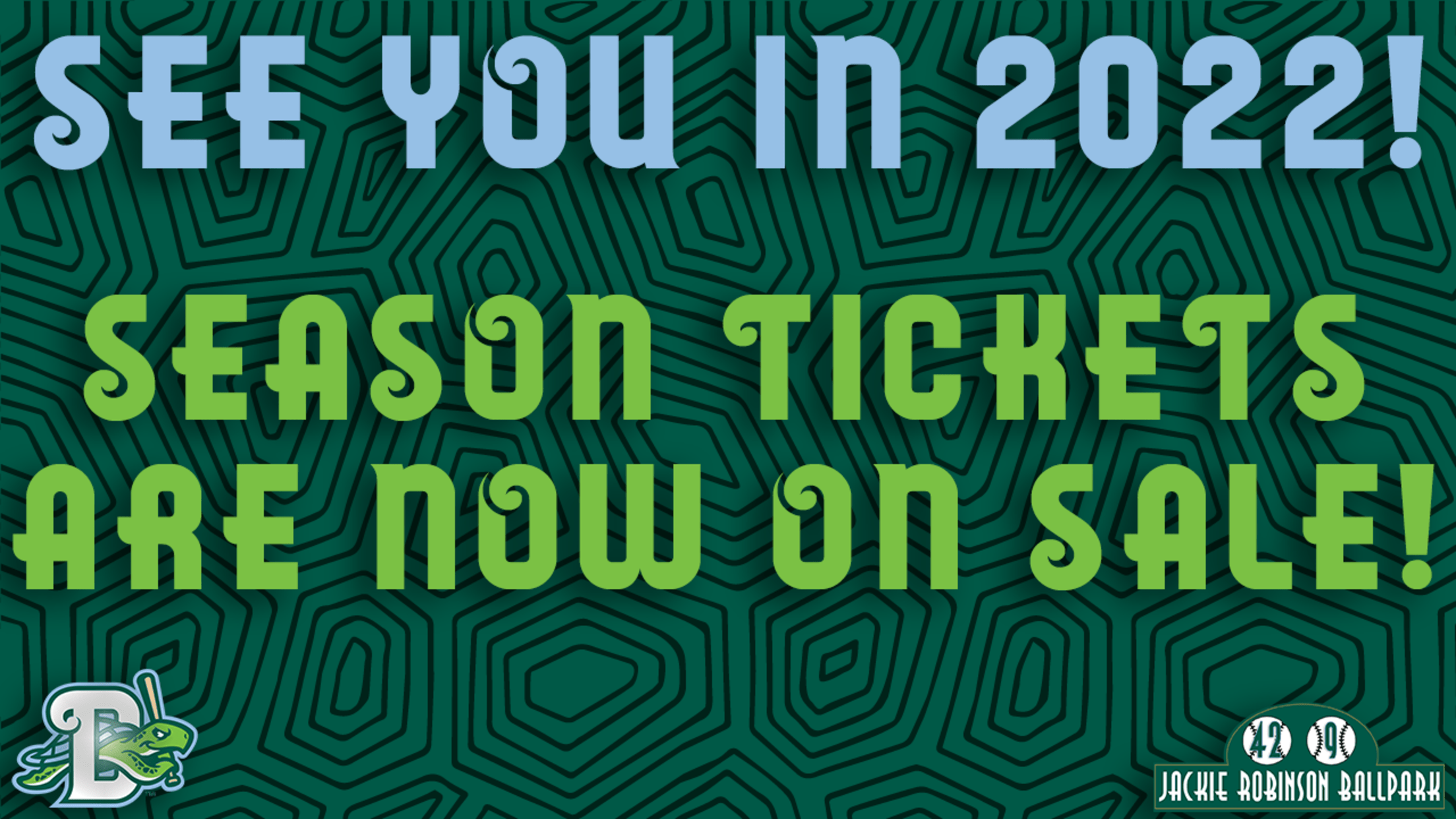 DAYTONA BEACH, Fla. - With the 2021 season now in the rear-view mirror, the Daytona Tortugas have focused their attention on 2022 and beyond. Starting today, Wednesday, September 22, season tickets for the Tortugas' 2022 Minor League Baseball season are officially on sale. Fans who purchase their season tickets prior
Tortugas outlast Cardinals in wild extra-inning affair to close out season
Daytona ties game in ninth, takes lead for good in 10th, ends campaign with dramatic victory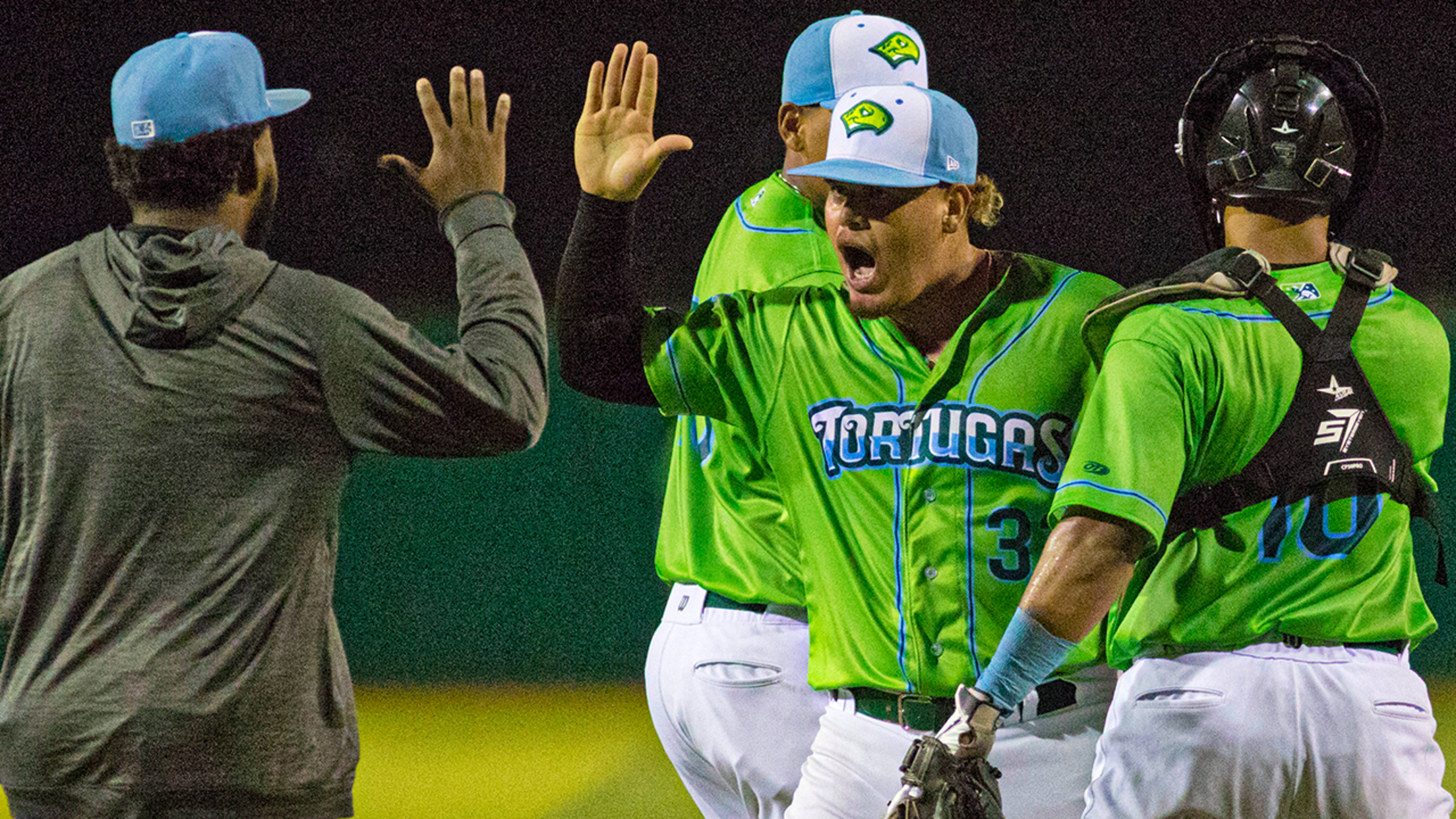 JUPITER, Fla. — After watching an early 4-0 lead disappear, the Tortugas refused to let the season end on a sour note. Daytona tied the game in the ninth and grabbed the advantage for good in the 10th, earning an 8-5 extra-inning victory over the Palm Beach Cardinals on Sunday
Fourth-inning grand slam foils Daytona against Palm Beach
Brandon Leyton extends hitting streak to seven, as Cardinals best Tortugas, 6-1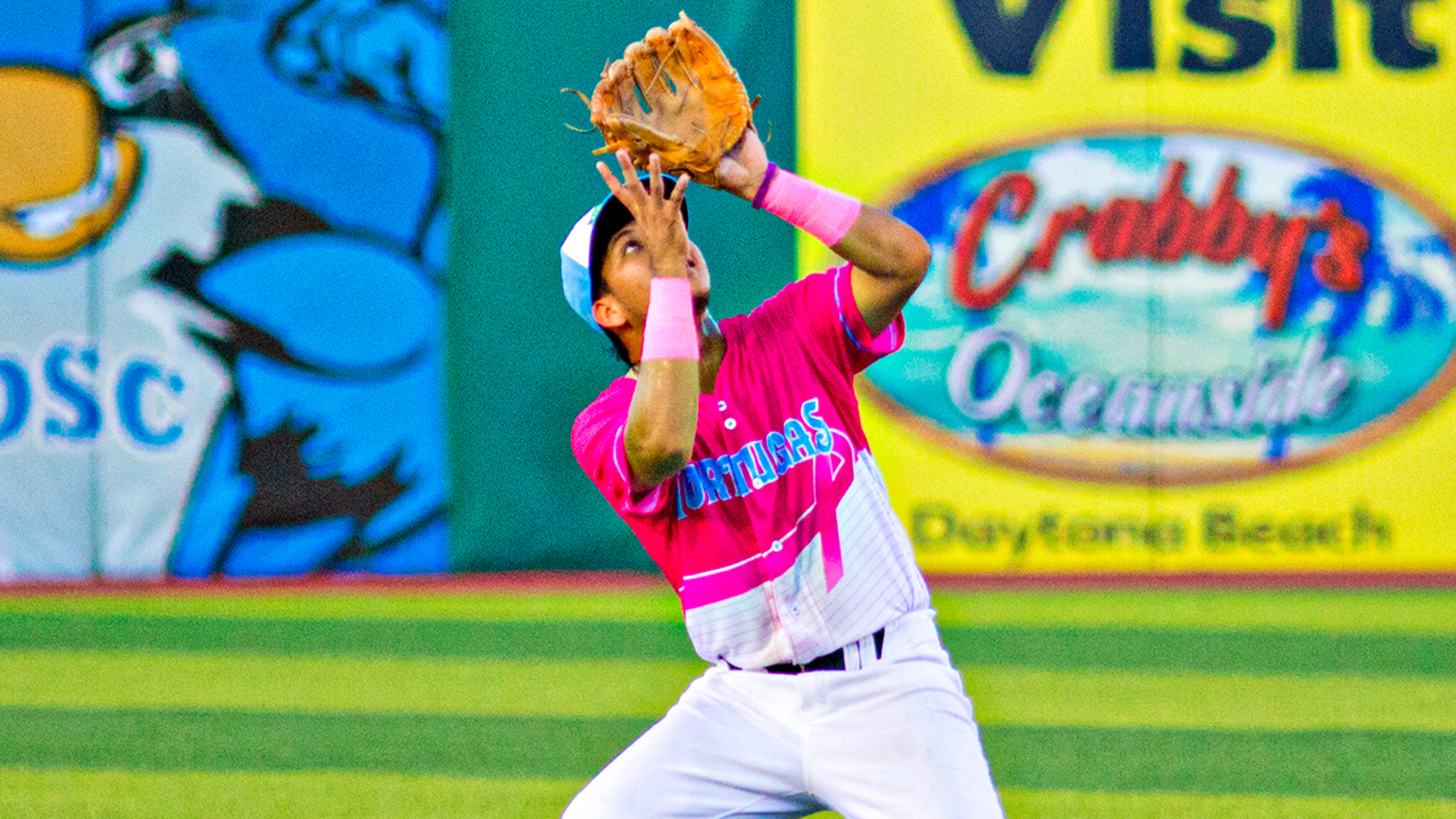 JUPITER, Fla. — For the second-straight game, a fourth-inning grand slam proved the be the deciding factor. After CF Mike Antico clubbed a four-RBI home run in the fourth in game two on Friday, 3B Osvaldo Tovalín mimicked his clout with a grand slam of his own on Saturday, as
Daytona and Palm Beach exchange blowouts in twinbill split
José Torres reaches base five times, homers, and drives in three over the course of doubleheader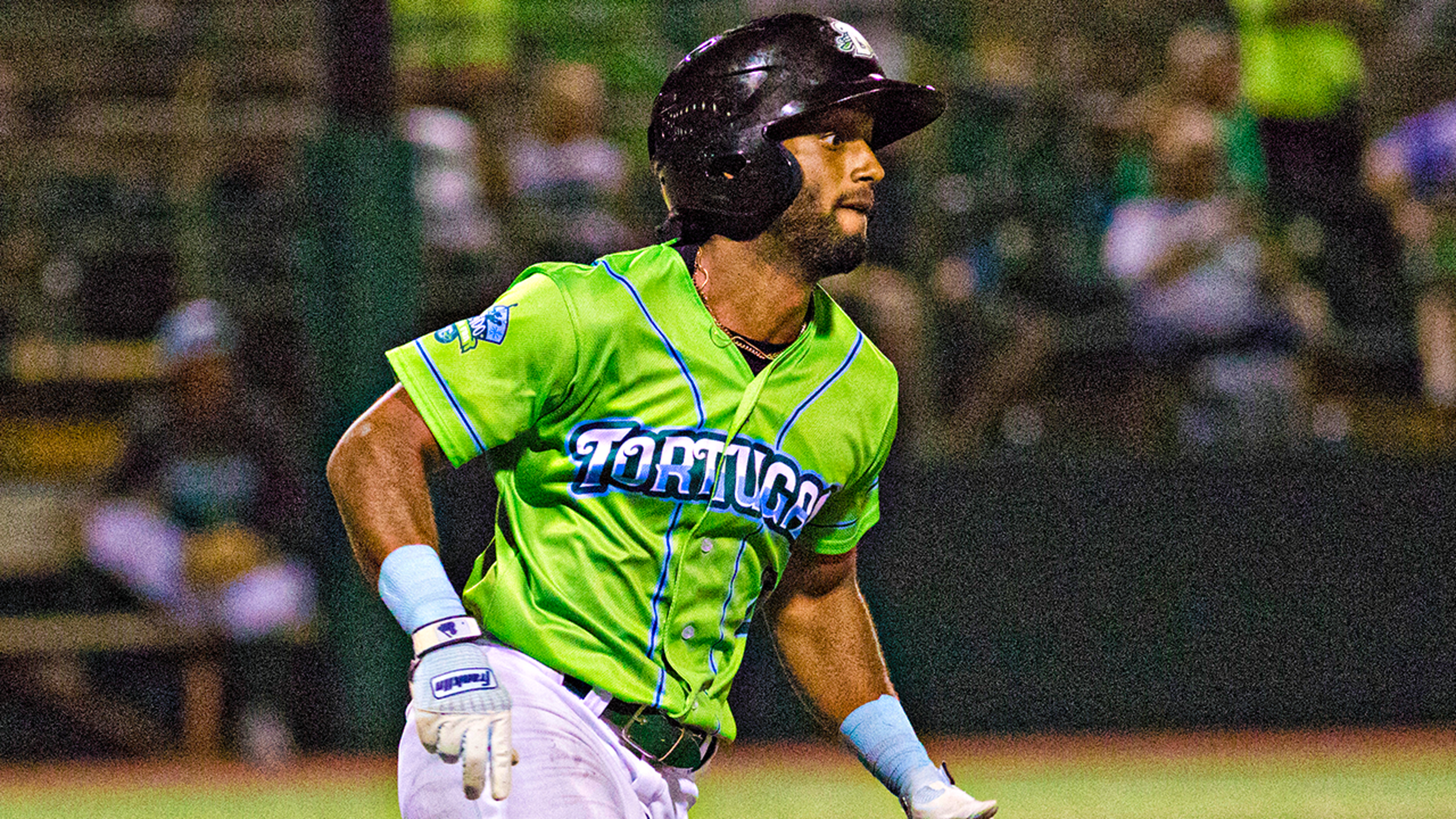 JUPITER, Fla. — SS/DH José Torres did not let Thursday's rainout dampen his torrid pace at the plate during the season-ending road trip. The 21-year-old reached base five times and drove in three runs on Friday, as the Daytona Tortugas rolled to a 7-1 game one victory, while the Palm
Tortugas and Cardinals rained out on Thursday evening
Daytona and Palm Beach to make up affair as part of a doubleheader starting at 4 p.m. on Friday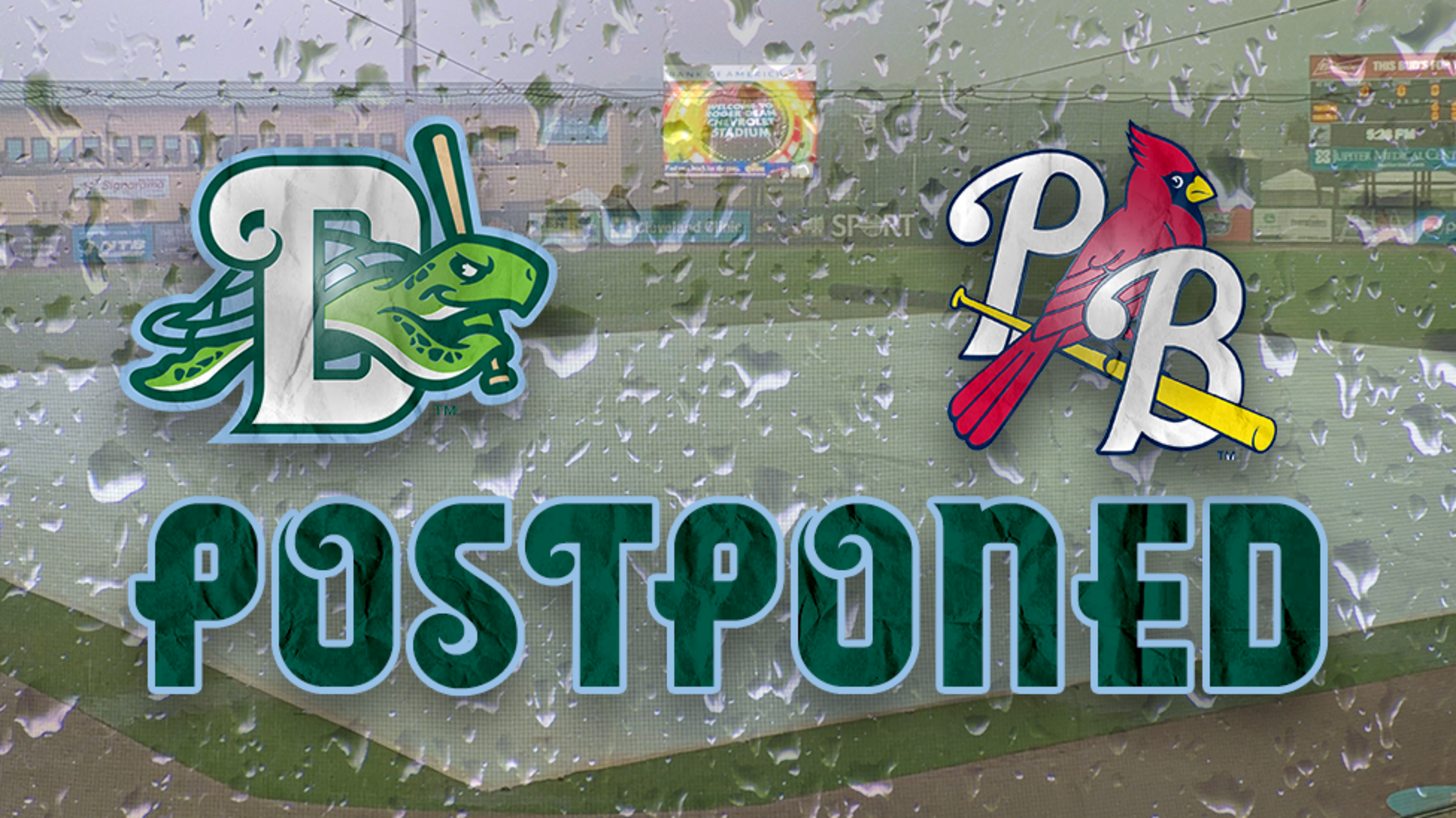 JUPITER, Fla. - Due to consistent rainfall, Thursday evening's contest between the Daytona Tortugas and Palm Beach Cardinals has been postponed. As a result, the rained-out affair will be played as a part of a doubleheader on Friday, September 17, with the first pitch slated for 4 p.m. Both ballgames
Torres propels Tortugas to triumph over Cardinals
José delivers two-run triple, two-run homer, as part of a career-high four RBI night in 7-2 win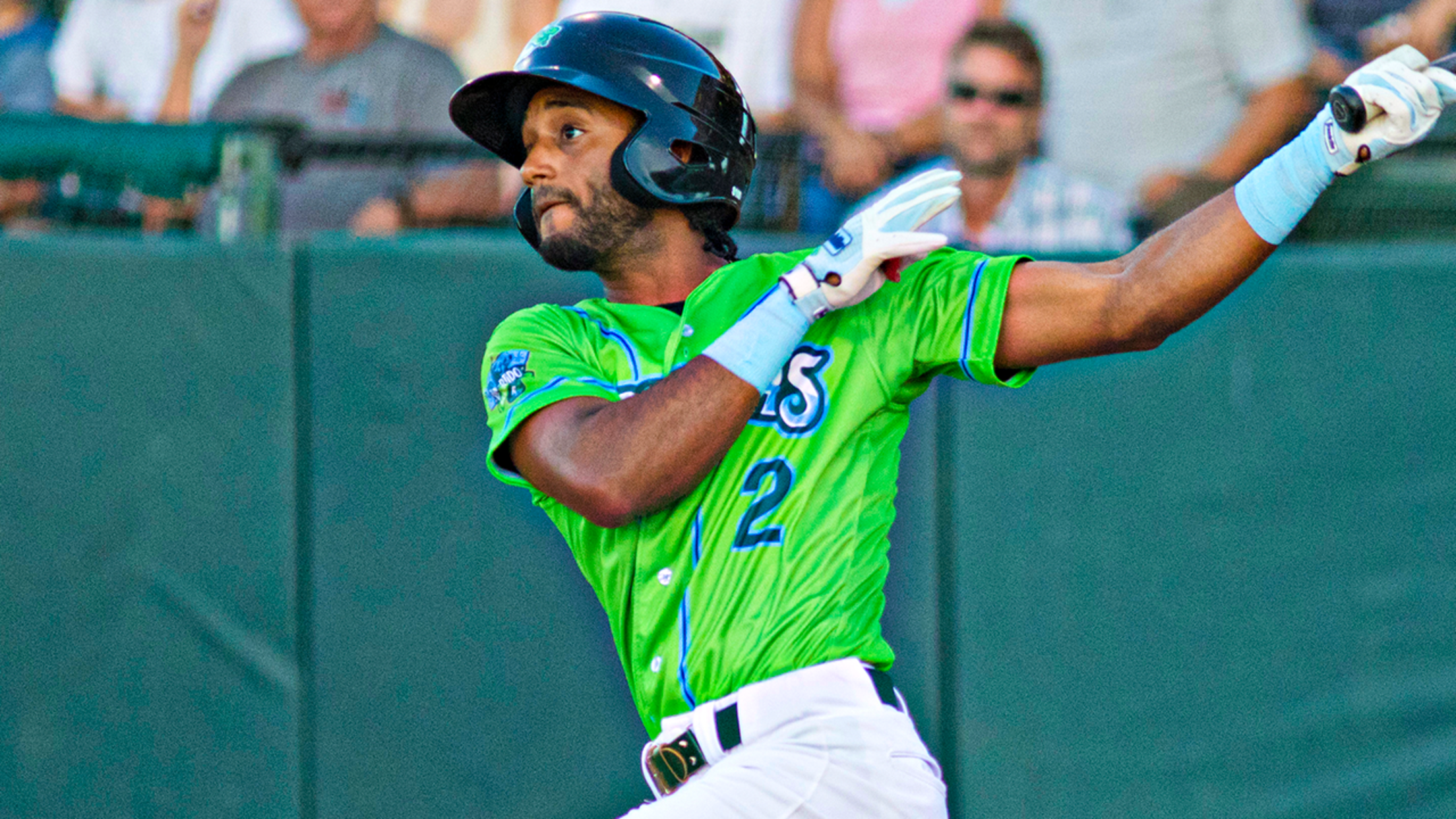 JUPITER, Fla. — After a gut-wrenching defeat on Tuesday night, the Tortugas removed all doubt in game two of the series on Wednesday. DH José Torres picked up two extra-base hits and drove in a career-high four runs, as Daytona devoured the Palm Beach Cardinals, 7-2, at Roger Dean Chevrolet
Five-run seventh sinks Daytona in series opener
Brandon Leyton picks up two extra-base hits, two RBI, but early 4-0 lead evaporates for Tortugas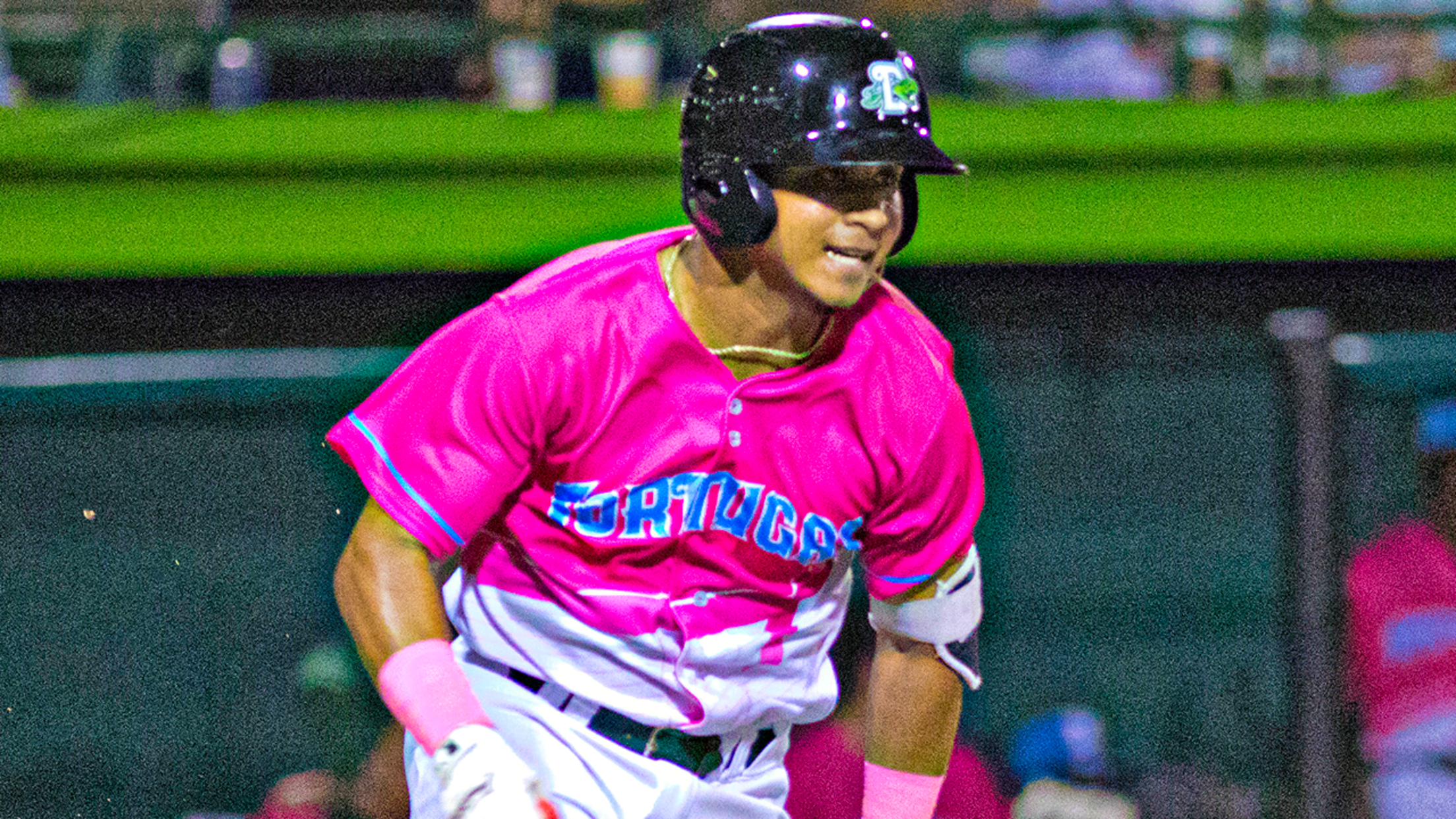 JUPITER, Fla. — The Tortugas held a 4-0 lead going to the bottom of the seventh thanks to home runs from DH Rece Hinds and 2B Brandon Leyton, but could not maintain it. Palm Beach scored five in the seventh and added three more in the eighth, as the Cardinals
Leyton helps 'Tugas swim past Hammerheads, 3-2
Brandon picks up three hits, scores go-ahead run, as Daytona also sets new single-season strikeout record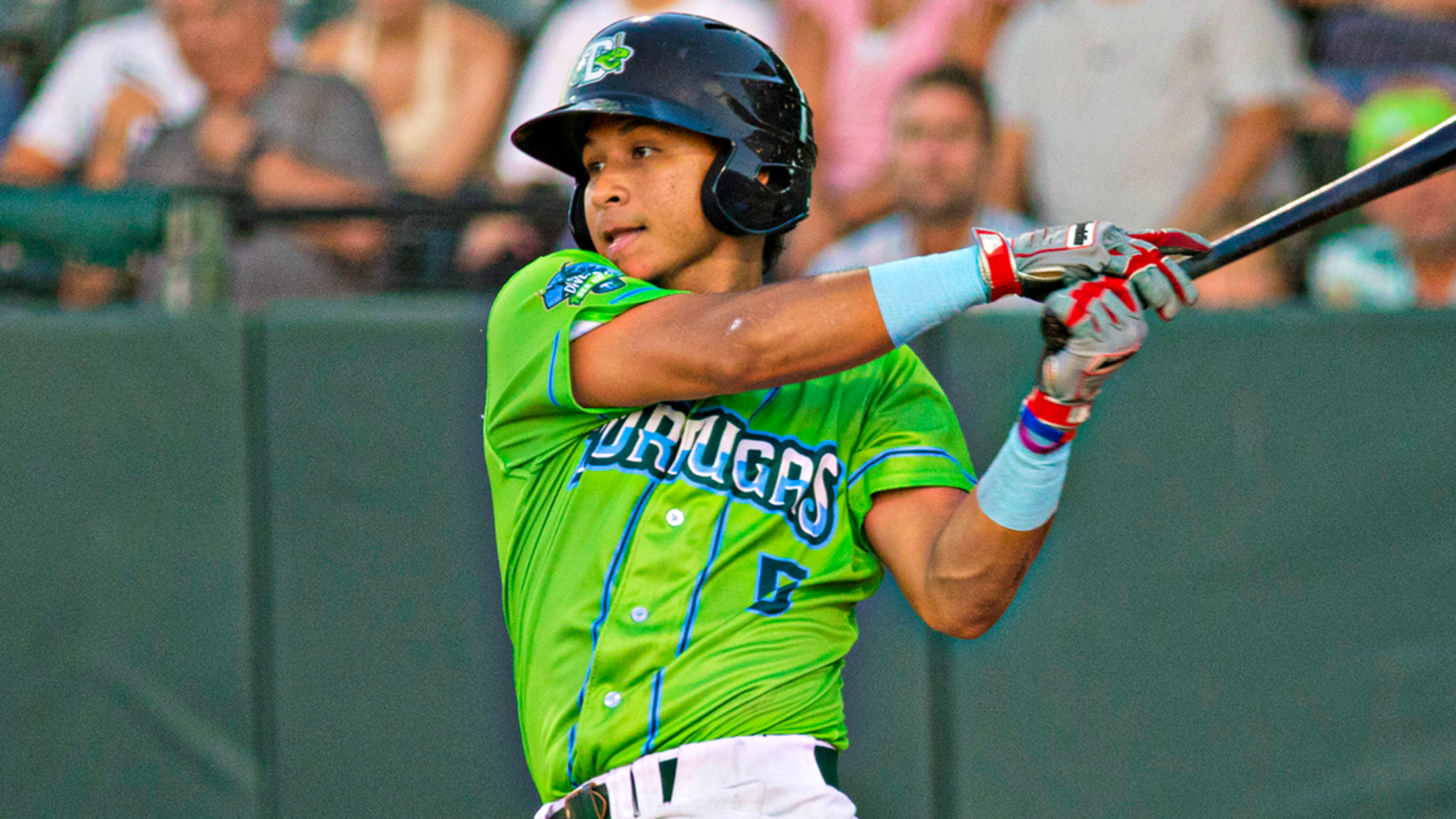 JUPITER, Fla. — 2B Brandon Leyton matched a season-high with three hits on Sunday, but it was his clutch baserunning in the ninth that put Daytona ahead for good, as the Tortugas slipped by the Jupiter Hammerheads, 3-2, to earn a series split at Roger Dean Chevrolet Stadium. Tied at
Tortugas strike early, often in 12-2 evisceration of Hammerheads
Hinds, Torres, and Vellojín all collect three-hit, multi-RBI games, as Daytona cruises to a rout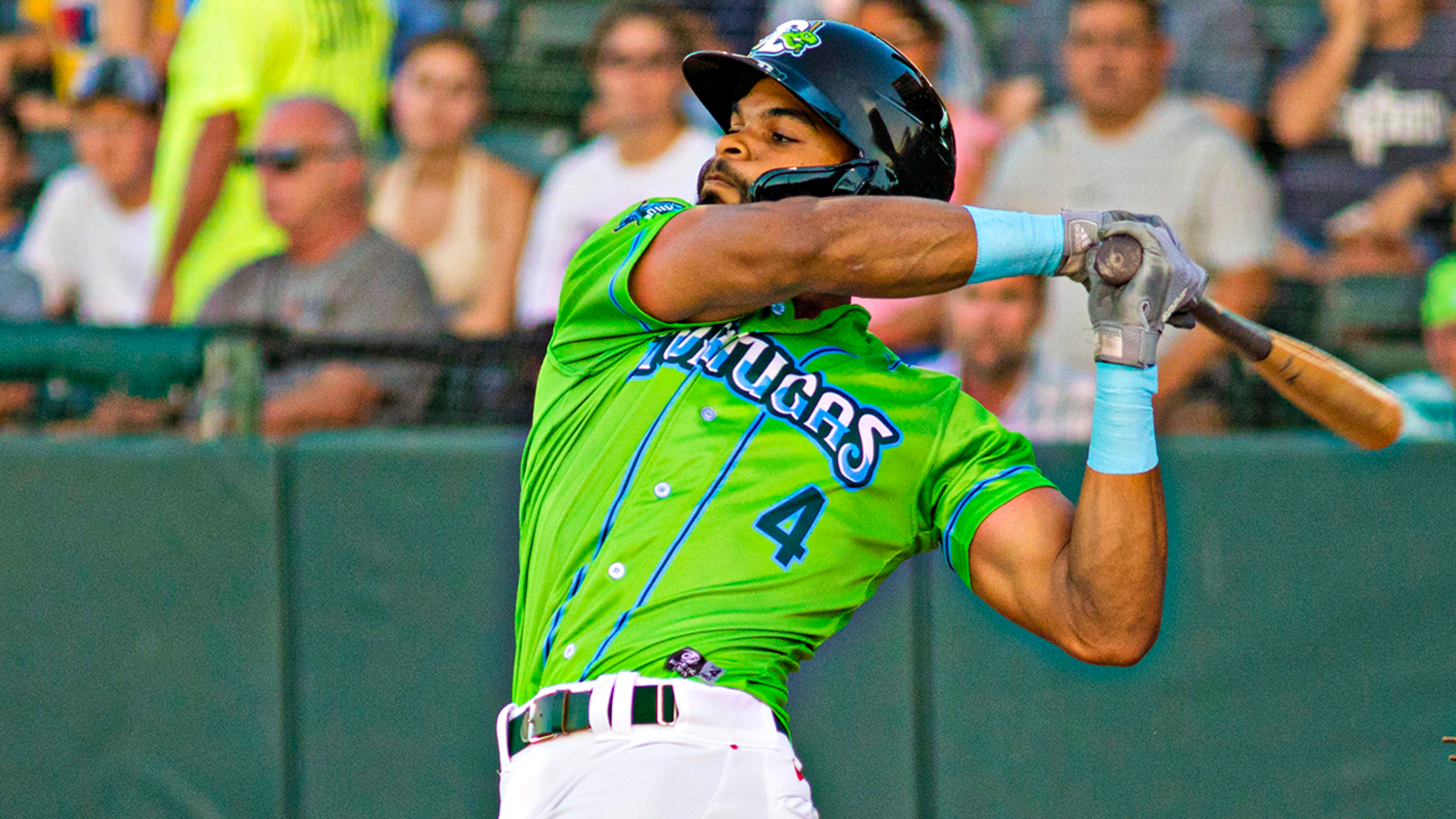 JUPITER, Fla. — After being held to just two runs on 11 hits the previous two nights, the Tortugas' offense broke out in a big way on Saturday. Daytona sent all nine hitters to the plate in two separate frames — including a five-run first — in a 12-2 throttling
Hammerheads hold Tortugas in check during rain-shortened affair
Daytona breaks up no-hit and shutout bid in the sixth before game is called after seven due to rain, lightning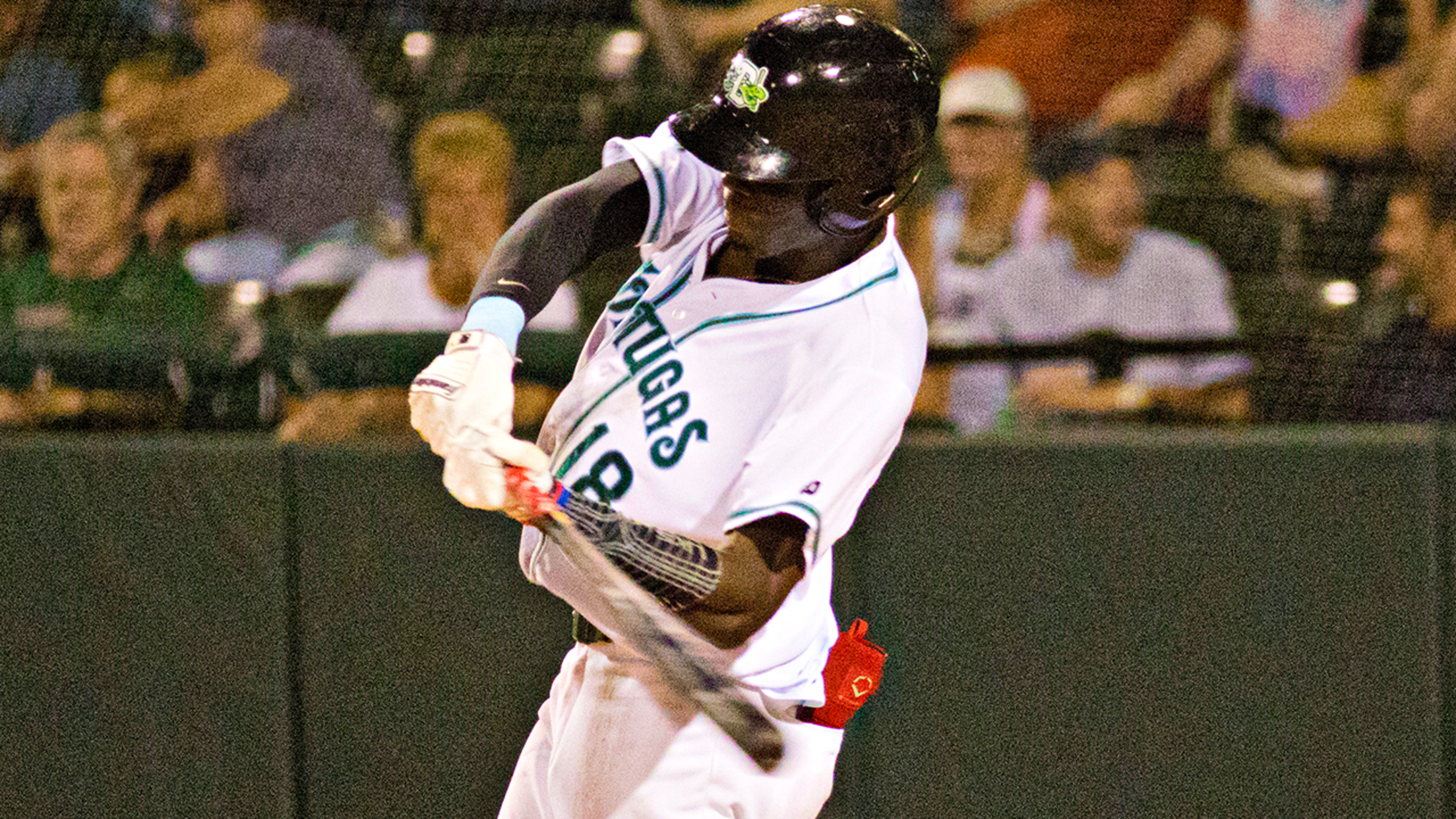 JUPITER, Fla. — Making just his third professional start, RHP Gabe Bierman dominated from the onset for the Hammerheads. The 22-year-old struck out a career-high 10 over 5.0 no-hit innings, as Jupiter jolted the Daytona Tortugas, 7-1, in a rain-shortened, seven-inning affair at Roger Dean Chevrolet Stadium on Friday night.
Jupiter jumps over Daytona, 7-1
Wolforth's season-high-tying three hits no match for Jupiter's offense outburst on Thursday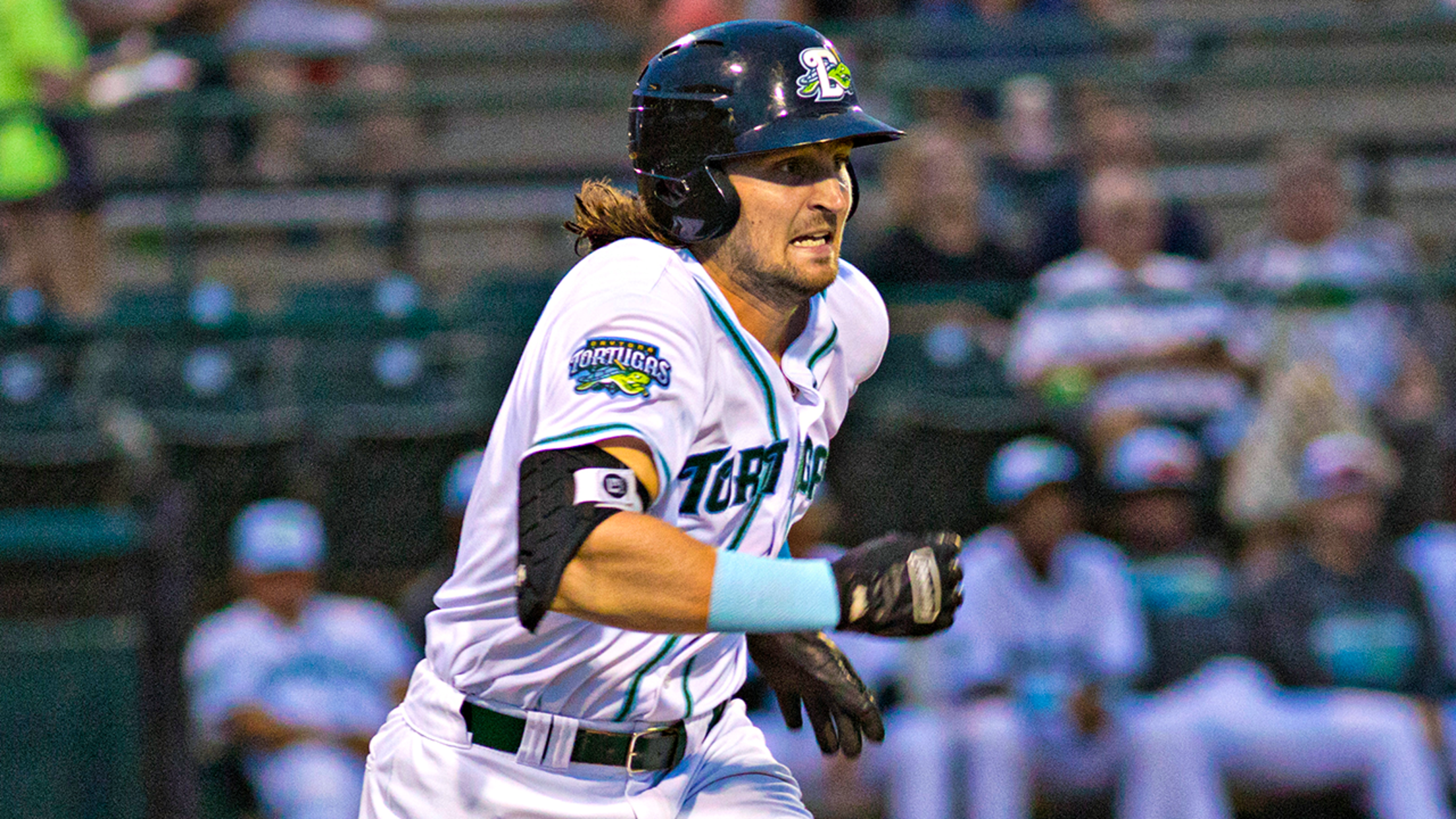 JUPITER, Fla. — 1B Garrett Wolforth picked up a season-high-matching three hits and drove in a run, but Jupiter scored seven-straight tallies from the bottom of the first on, as the Hammerheads bested the Daytona Tortugas, 7-1, on Thursday night at Roger Dean Chevrolet Stadium. For the third-straight game, Daytona
Daytona dominates early, holds on to defeat Jupiter, 6-4
Tortugas jump out to early 5-0 advantage, hold off late Hammerheads push to return to .500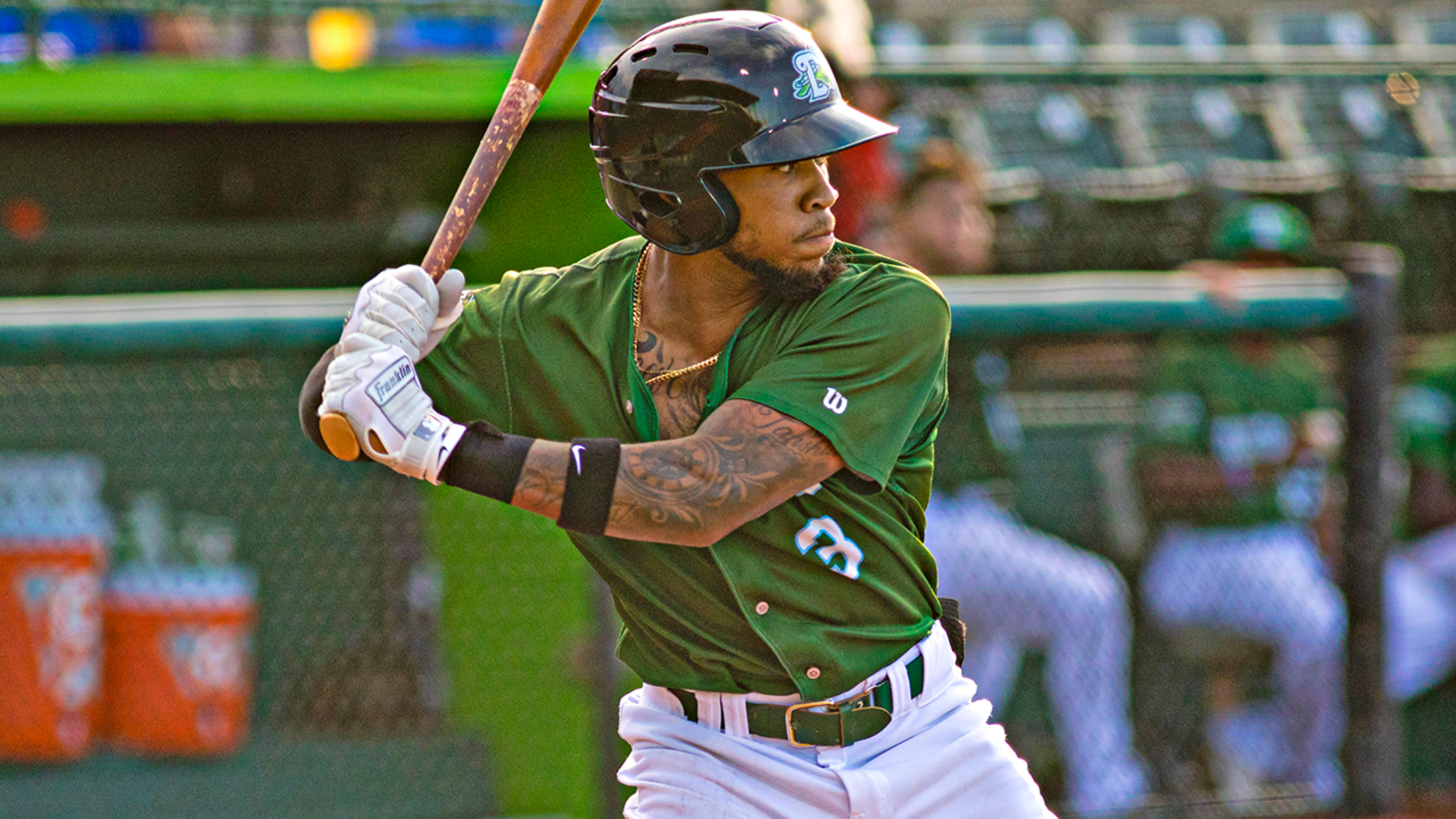 JUPITER, Fla. — Daytona jumped out to a 5-0 lead after three-and-a-half-innings on Wednesday but watched as Jupiter trimmed it to one in the eighth. The Tortugas snatched an insurance run in the ninth and befuddled the Hammerheads in the bottom half of the frame to snap a brief two-game
Tortugas unable to complete five-run comeback in Jupiter
Vellojín picks up three hits, clubs game-tying home run, but Daytona can't come all the way back from five down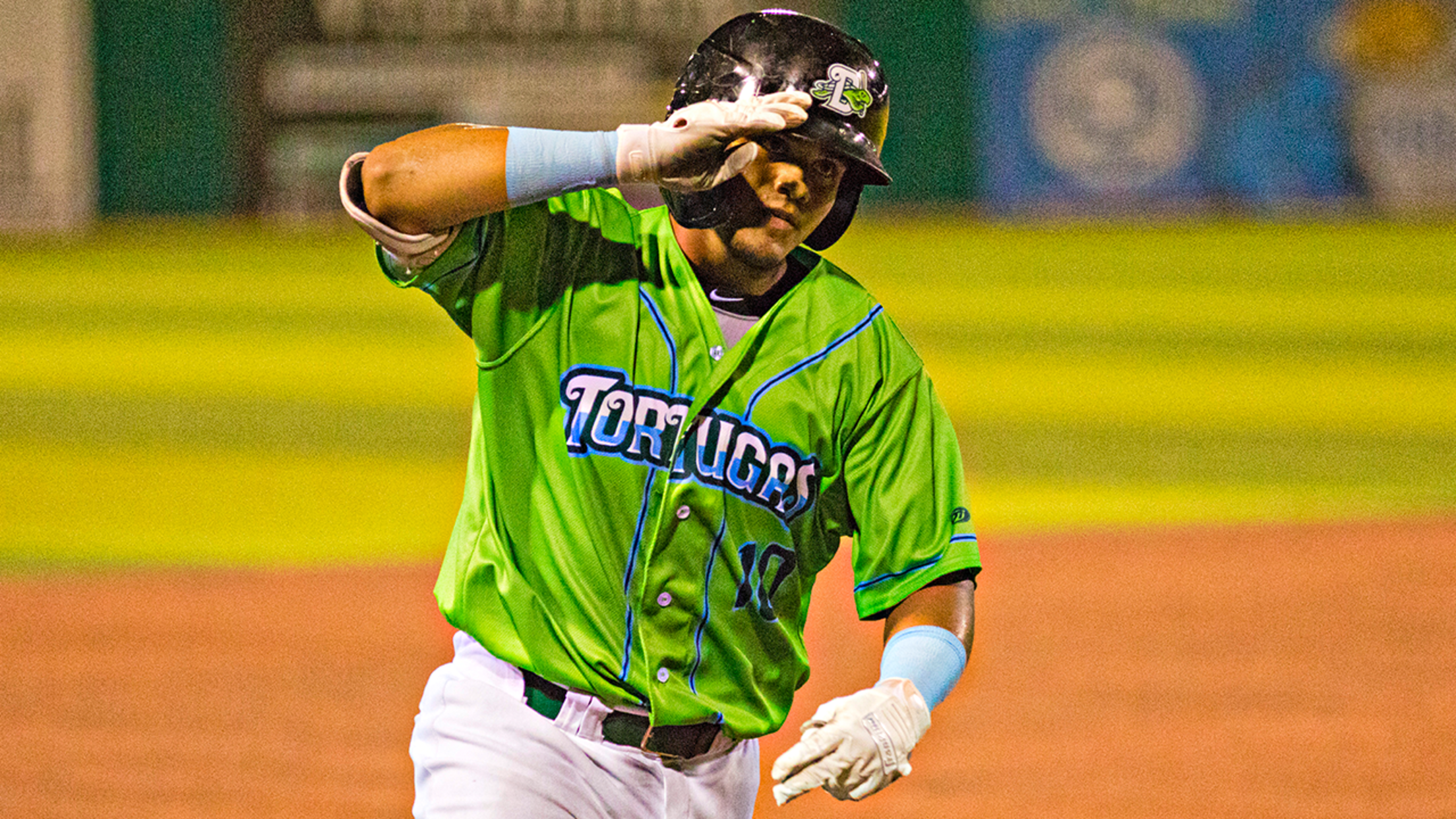 JUPITER, Fla. — Trailing 6-1 going to the sixth inning, Daytona had a lot of work to do to climb out of the hole. The Tortugas rallied for one in that frame and four more in the seventh to tie it, but C Paul McIntosh's go-ahead solo home run in
Mussels manhandle Tortugas in 2021 home finale, 10-2
Daytona returns to .500, as Fort Myers salvages final game of six-contest series
DAYTONA BEACH, Fla. — After jumping over the .500 mark for the first time since May 29 with Saturday's win, the Mighty Mussels dampened the Tortugas home finale on Sunday evening. Fort Myers put up 10 runs in the first six frames and cruised to a 10-2 win over Daytona
Tortugas and Mighty Mussels suspended on Thursday
Daytona and Fort Myers to resume Thursday's game at 5 p.m. on Friday; 7-inning nightcap to follow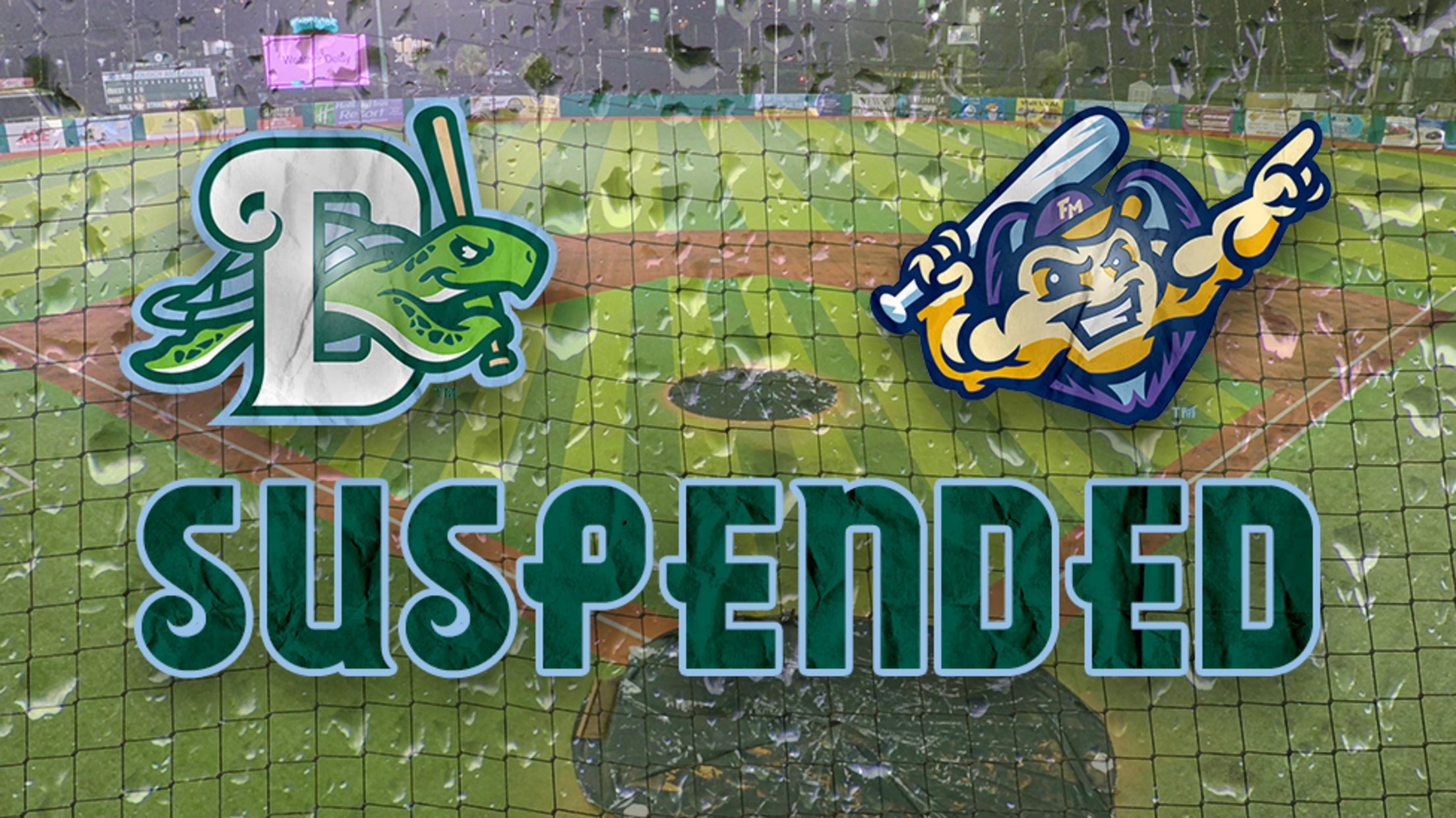 DAYTONA BEACH, Fla. - Due to inclement weather and lightning, Thursday evening's contest between the Daytona Tortugas and Fort Myers Mighty Mussels at Jackie Robinson Ballpark has been suspended in the bottom of the third inning. When the game resumes on Friday, Daytona will have a man at second and
Tortugas Care Foundation launches #ForThe386 Mega Raffle to celebrate record year
Nonprofit has raised more than $47,000 through raffles for local charities so far this season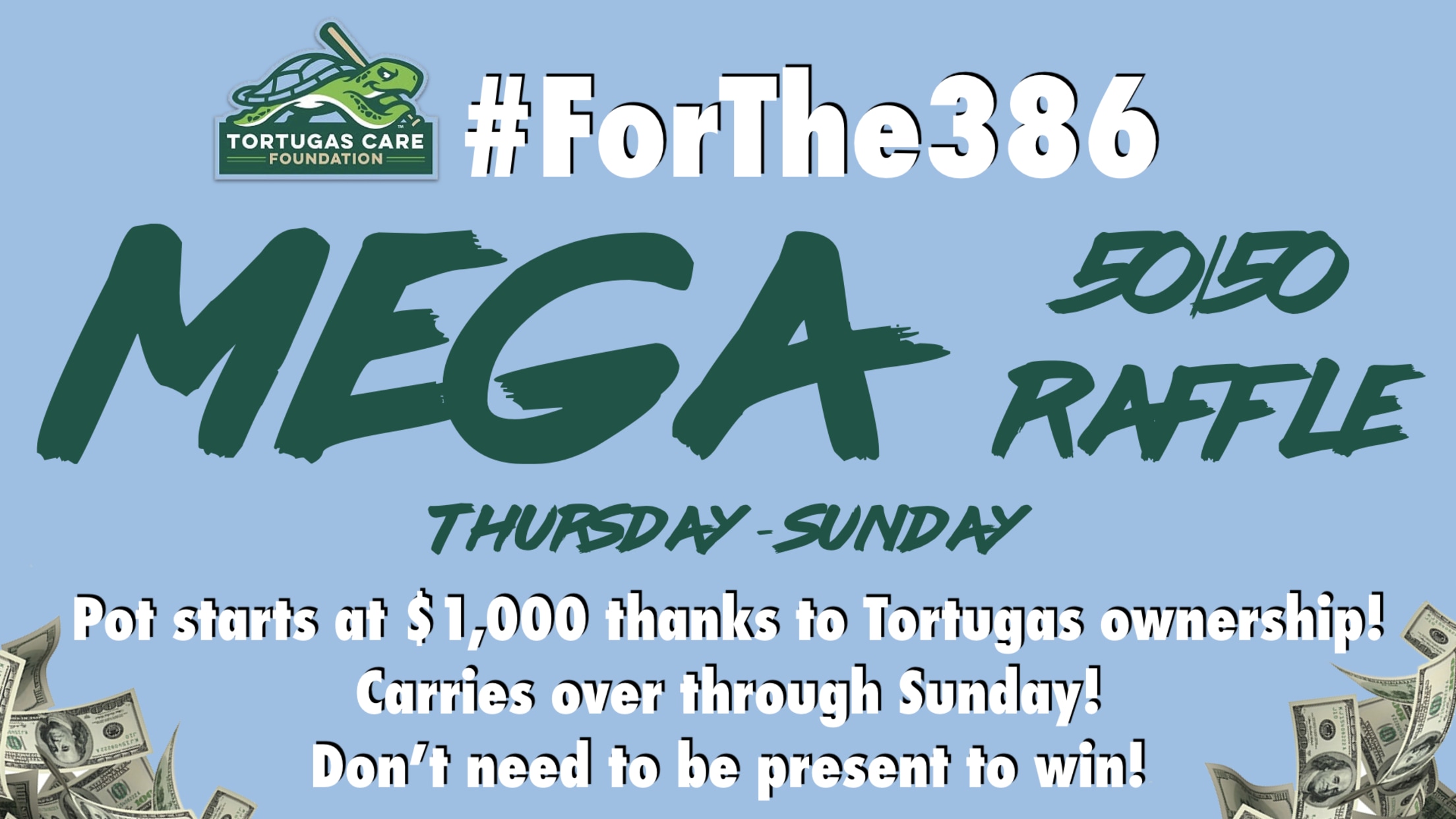 DAYTONA BEACH, Fla. - The Tortugas Care Foundation on Thursday announced a #ForThe386 Mega 50/50 Raffle to celebrate a record-breaking year of fundraising for local charitable causes. The foundation, a nonprofit philanthropic organization of the Daytona Tortugas professional baseball team, has already generated $47,445 through its raffles this season with
Vellojín's offense, defense vault Daytona to fourth-straight win
Catcher reaches base four times, drives in winning run, throws out base stealer to seal 3-2 victory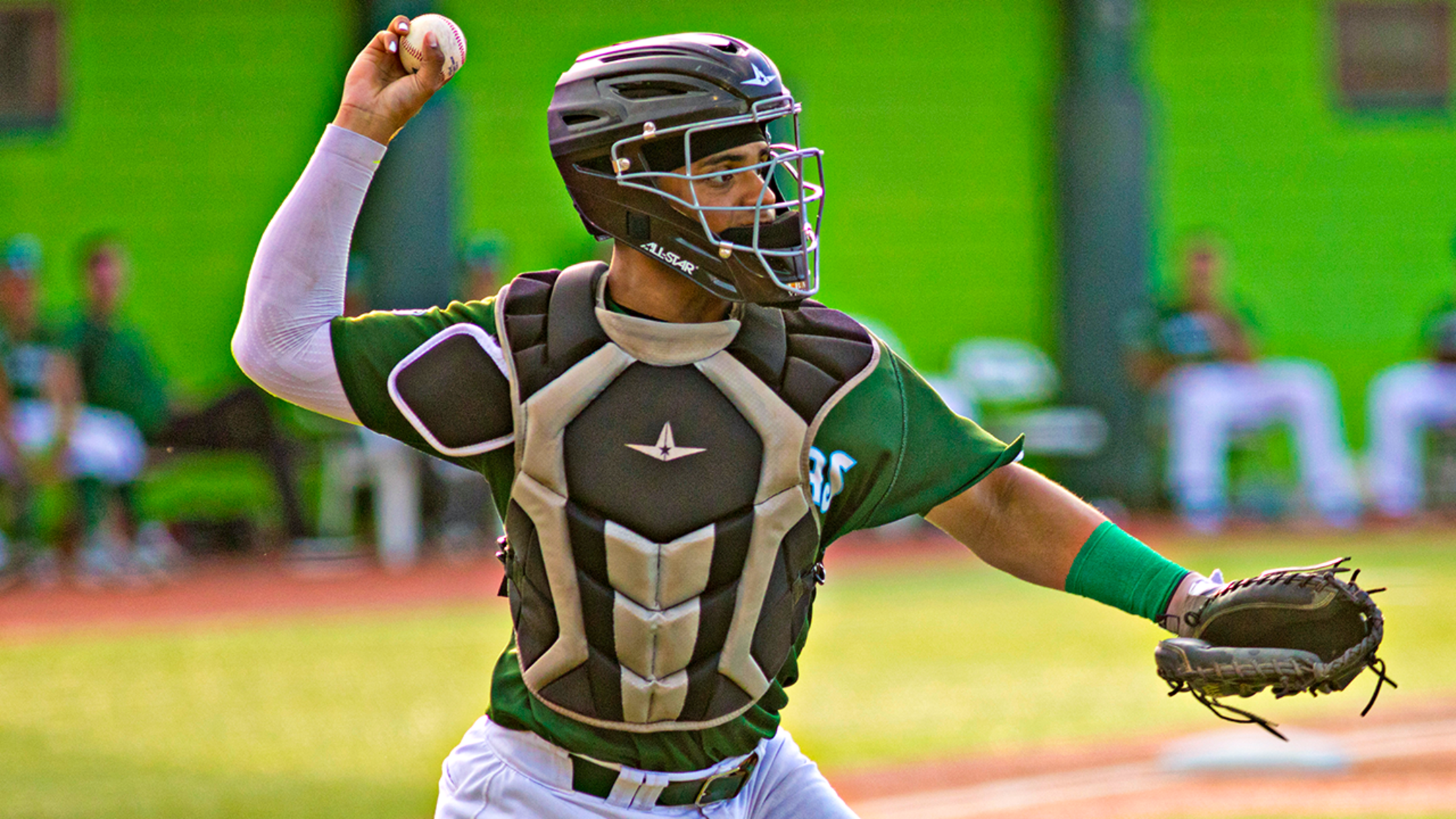 DAYTONA BEACH, Fla. — Looking for their fourth-straight victory, C Daniel Vellojín proved to be a force of nature. The 21-year-old reached base four times, drove in the go-ahead run in the eighth, and threw out a base stealer to end it in the ninth, as the Daytona Tortugas topped
Tortugas ride five-run first to resounding 9-1 win over Mussels
De La Cruz and Hinds each record multi-extra-base-hit and multi-RBI efforts in Daytona rout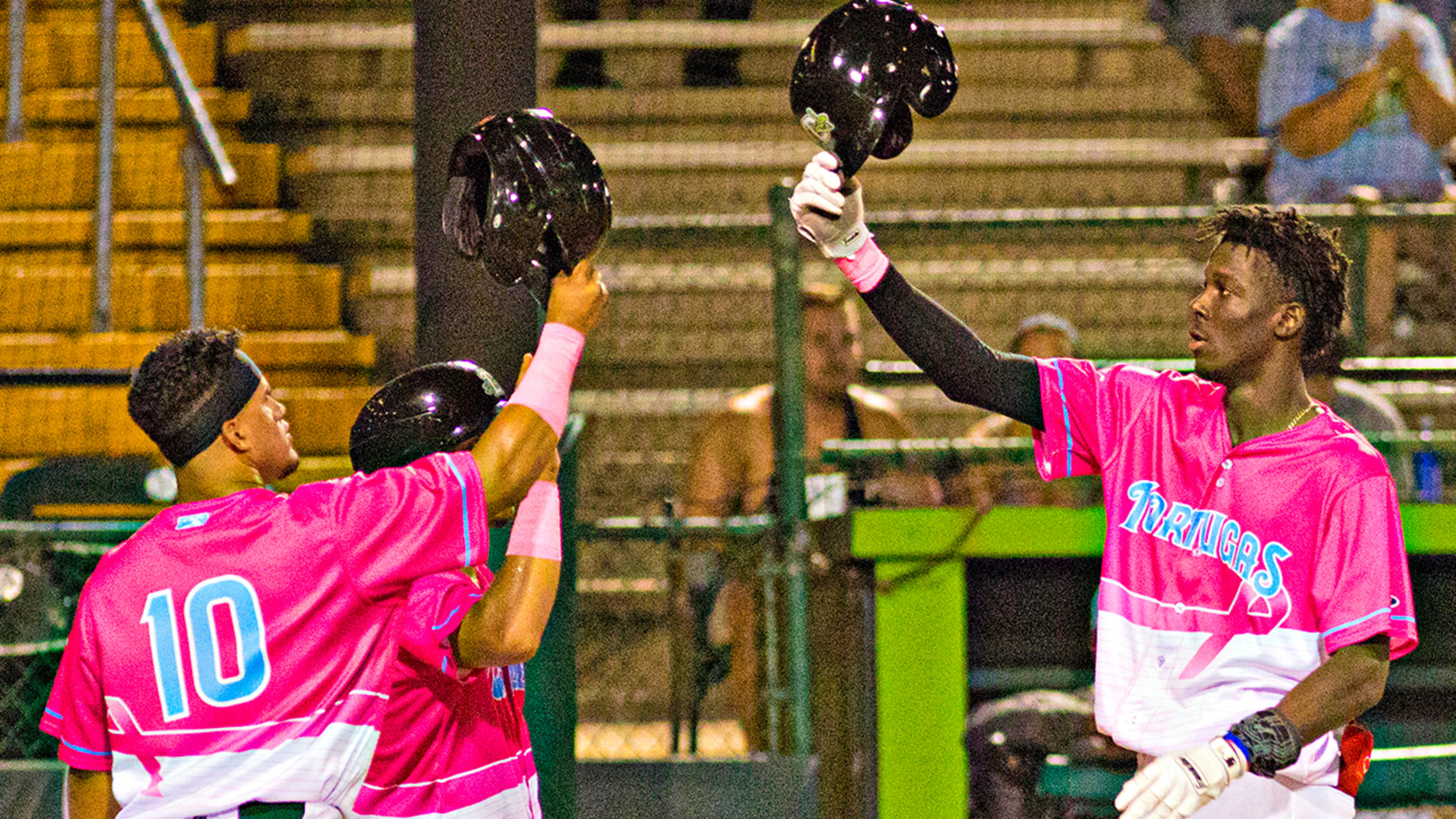 DAYTONA BEACH, Fla. — After scoring six runs in the ninth inning on Sunday, the Tortugas picked up right where they left off on Tuesday. Daytona scored five runs in the bottom of the first and went on to defeat the Fort Myers Mighty Mussels, 9-1, in front of 1,660
Pitching propels Daytona to extra-inning victory, 3-2
Tortugas score on a wild pitch, sacrifice fly, and ground out, but snatch one-run win in St. Lucie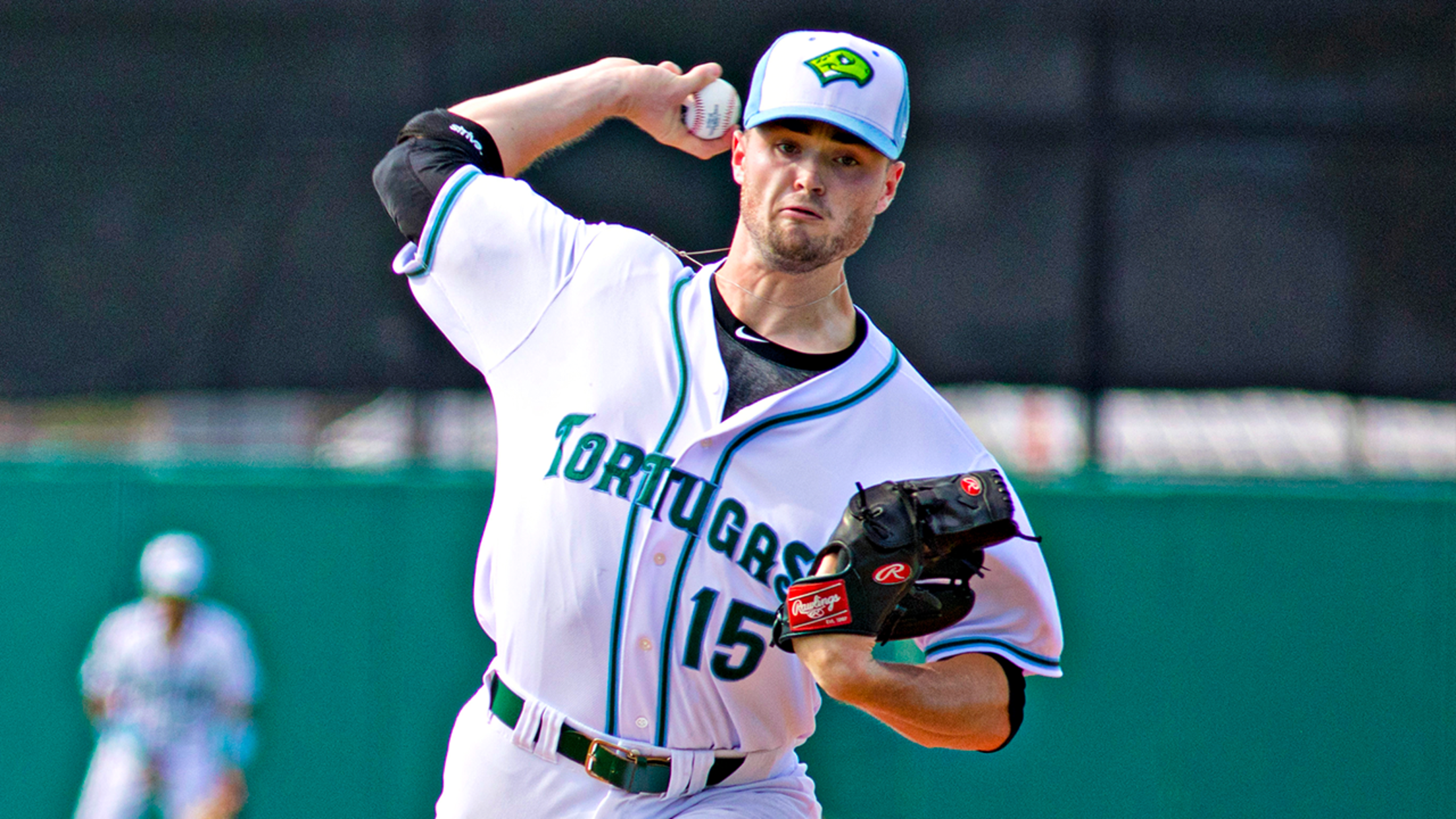 PORT ST. LUCIE, Fla. — In a tightly contested, back-and-forth affair, it was Daytona who pounced last. The Tortugas shuffled their automatic runner across in the top of the 10th and stranded the tying run at third in the bottom half, securing a 3-2 victory over the St. Lucie Mets
'Tugas can't complete late rally, fall to Mets, 5-3
Hinds records second-straight multi-hit game, Thompson pokes first career homer in defeat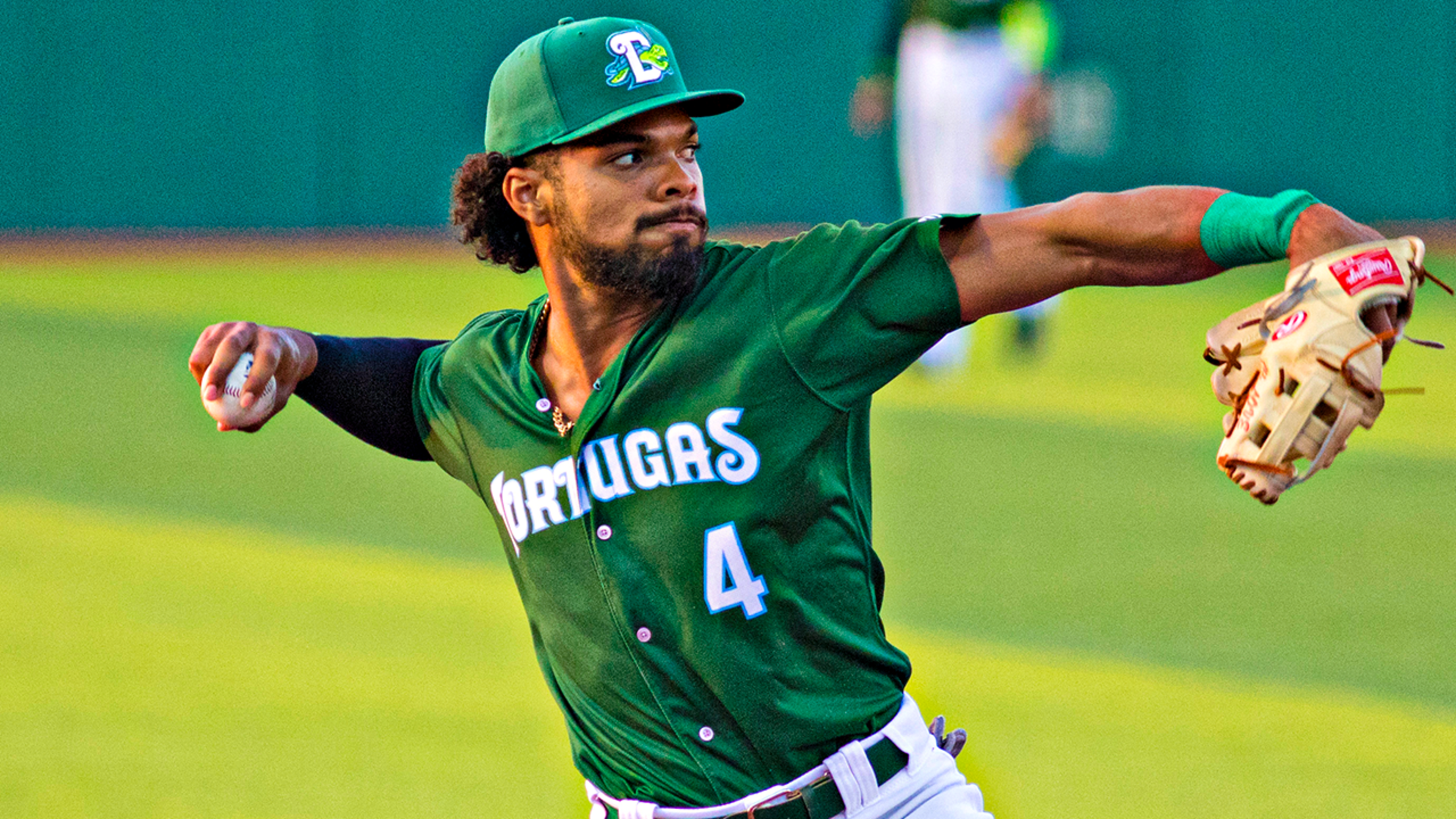 PORT ST. LUCIE, Fla. — Behind 5-0 going to the eighth inning, Daytona scratched and clawed their way back into the contest, bringing the go-ahead run to the plate in the top of the ninth. The fabulous comeback effort fell short, though, as the St. Lucie Mets hung on to
Bob Ross Night 4.0, Vaccine Drive, Fireworks part of 'Tugas season-ending homestand
Thirsty Thursday, First Responders & Health Care Heroes Night also part of final six games of 2021 home slate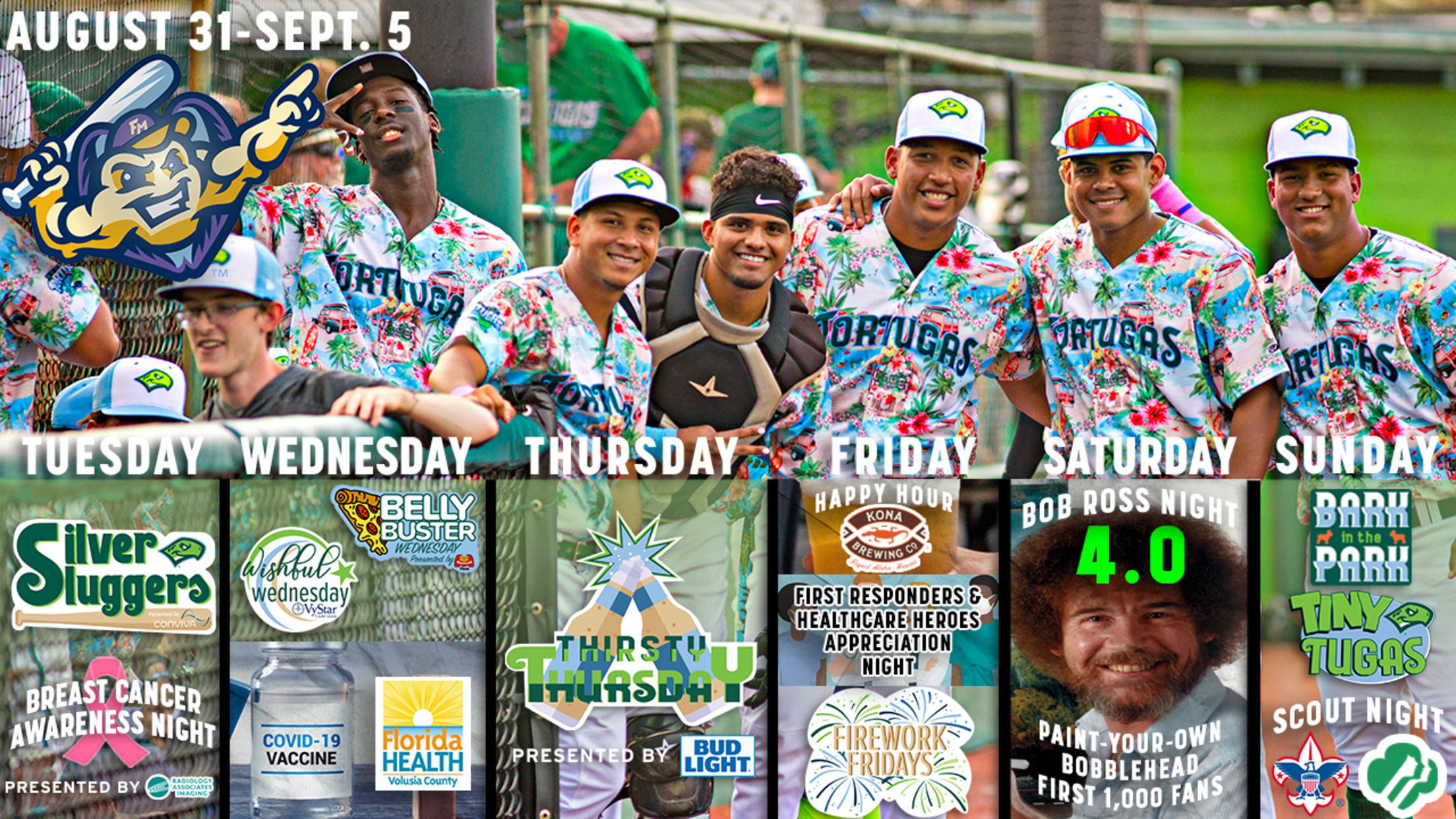 DAYTONA BEACH, Fla. - The Daytona Tortugas open their final homestand of the 2021 regular season on Tuesday, August 31, against the Fort Myers Mighty Mussels, the Single-A affiliate of the Minnesota Twins. Among the highlights are a Bob Ross Night 4.0 extravaganza on Saturday, a Vaccination Drive on Wednesday,