De Goti Dinger Powers Hooks to Walk-Off Win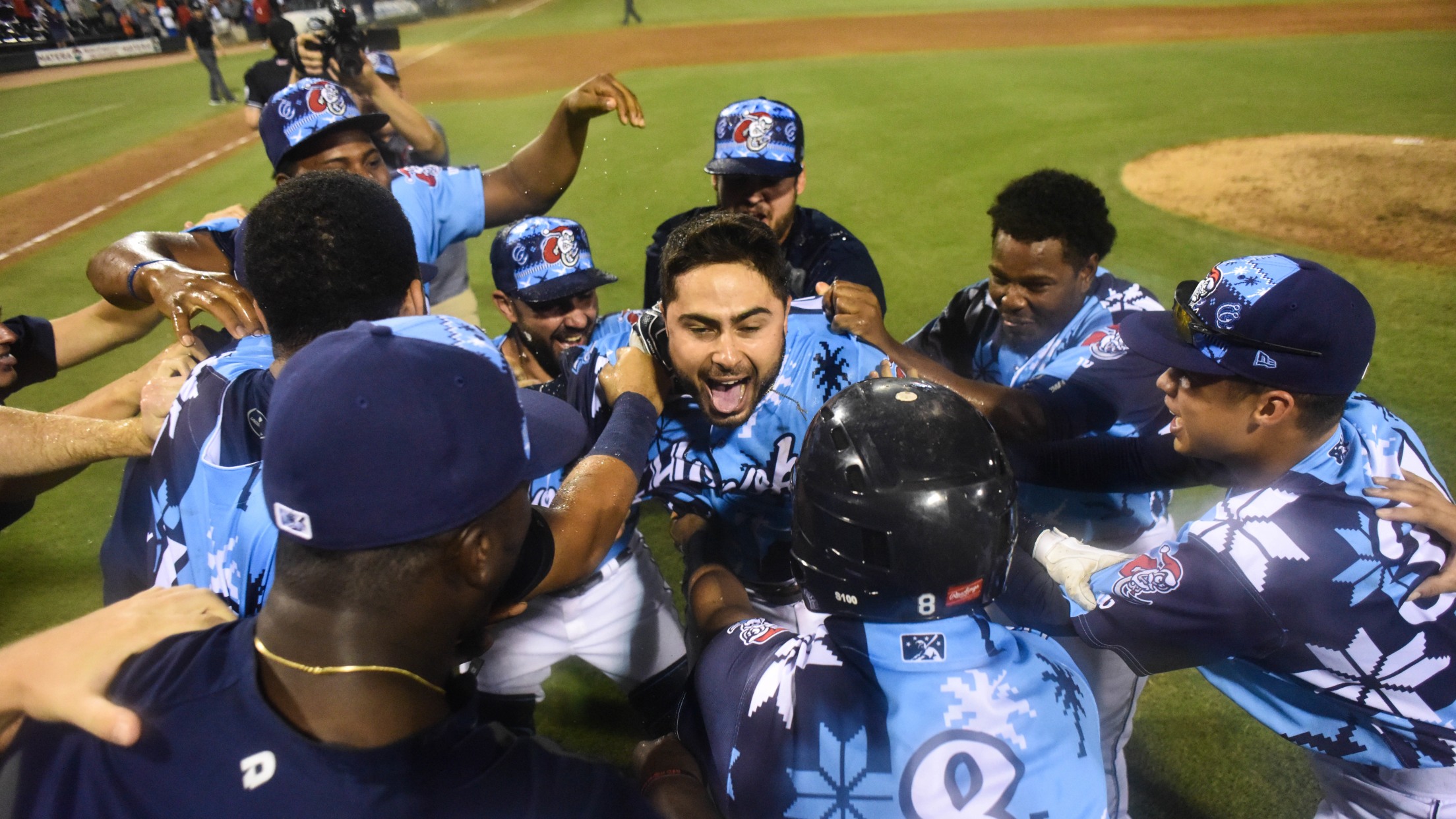 (Charlie Blalock)
CORPUS CHRISTI - The Hooks scored five times over the final two innings Saturday night, culminating with a two-out, two-run walk-off home run by Alex De Goti, which vaulted Corpus Christi to a 7-5 win over Midland before 6,012 fans at Whataburger Field.The Hooks' (21-15, 64-41) fifth walk-off win of
CORPUS CHRISTI - The Hooks scored five times over the final two innings Saturday night, culminating with a two-out, two-run walk-off home run by Alex De Goti, which vaulted Corpus Christi to a 7-5 win over Midland before 6,012 fans at Whataburger Field.
The Hooks' (21-15, 64-41) fifth walk-off win of the year snapped their season-long six-game losing streak.
Trailing 5-2 in the eighth, Taylor Jones notched his fourth hit of the night, a lead-off single to right field off Cody Stull. De Goti later smacked a base hit into left, setting the stage for Anibal Sierra's two-out bases-loaded single, which pulled the Hooks within a run.
Stephen Wrenn was hit by a Nolan Blackwood pitch to start the ninth. Wrenn stole second, swiped third, and scored the tying run on Taylor Jones' sac fly to right field. With the score level at 5, Josh Rojas reached by coaxing a free pass. De Goti then belted a 1-1 pitch over the left-field fence for his 11th home run of the year, which slashed the Hooks' six-game drought.
Erasmo Pinales (2-4) picked up the victory, retiring both batters he faced in the ninth. Alex Winkelman struck out five against one run and two hits over 2 1/3 innings of work.
Midland (12-23, 46-59) touched Brandon Bielak for four runs over the first six innings.
Corpus Christi struck in the first on back-to-back doubles by Randy César and Jones for a brief 1-0 edge.
Lorenzo Quintana accounted for the Hooks' second marker thanks to a solo blast in the fourth. Quintana has hit eight home runs in his last 18 games.
Corpus Christi shoots for a series split Sunday evening with Hector Perez (0-1, 3.09) on the hill. Ben Bracewell (3-6, 3.54) is slated to pitch for Midland. First pitch 6:05.