DeJong, Mercado, Knizner Highlight Caravan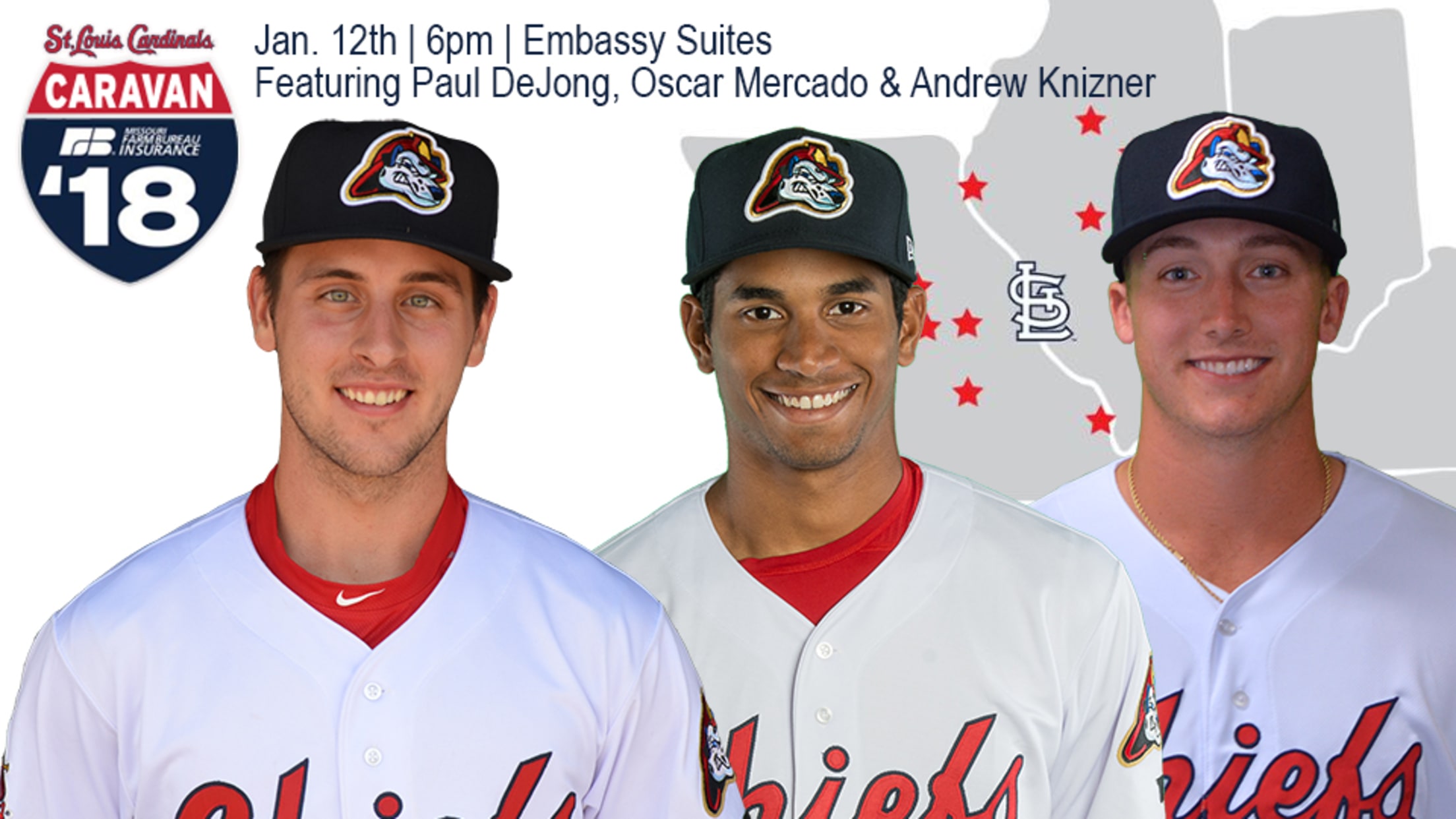 PEORIA, IL - The Peoria Chiefs, St. Louis Cardinals and 1290 WIRL have announced that the 2018 Cardinals Caravan will be held at the Embassy Suites Hotel in East Peoria on Friday, January 12 at 6:00 p.m. The Caravan will be hosted by 1290 WIRL and tickets for fans are
PEORIA, IL - The Peoria Chiefs, St. Louis Cardinals and 1290 WIRL have announced that the 2018 Cardinals Caravan will be held at the Embassy Suites Hotel in East Peoria on Friday, January 12 at 6:00 p.m. The Caravan will be hosted by 1290 WIRL and tickets for fans are $3.00 and available at the door. Proceeds benefit the Oldtimers Baseball Association.
The attendees for the Caravan will be infielder Paul DeJong, Minor League outfielder Oscar Mercado, Minor League catcher Andrew Knizner, former Cardinals pitchers Alan Benes and Ricky Horton, and Director of Scouting Randy Flores. All three players, DeJong, Mercado and Knziner are former Chiefs from the last three seasons while DeJong also starred at Illinois State University. Horton, a Cardinals broadcaster on Fox Sports Midwest and KMOX Radio, will emcee the event Friday night at the Embassy Suites.
The doors will open at 5:30 p.m. and the players and coaches will sign autographs before taking questions from fans. In an autograph policy implemented by the Cardinals in 2013, the first 400 kids 15 and under through the door will receive one autograph per player.
Tickets and Promotions:
Season ticket packages and group tickets for the 2018 season are currently on sale by calling 309-680-4000. The 2018 season kicks off April 5 in Burlington, Iowa with the home opener against the Bees set for Saturday, April 7 at 6:30 p.m.
Promotions, giveaways, theme nights and daily specials will be announced later in the offseason. All game times and promotions are subject to change throughout the offseason. Fans can keep up with all Chiefs news during the offseason online at www.peoriachiefs.com and on twitter: @PeoriaChiefs.