DeLuzio delivers Generals' second straight walk-off win, 3-2
Vasquez, bullpen shine once again; Gonzalez features prominently in scoring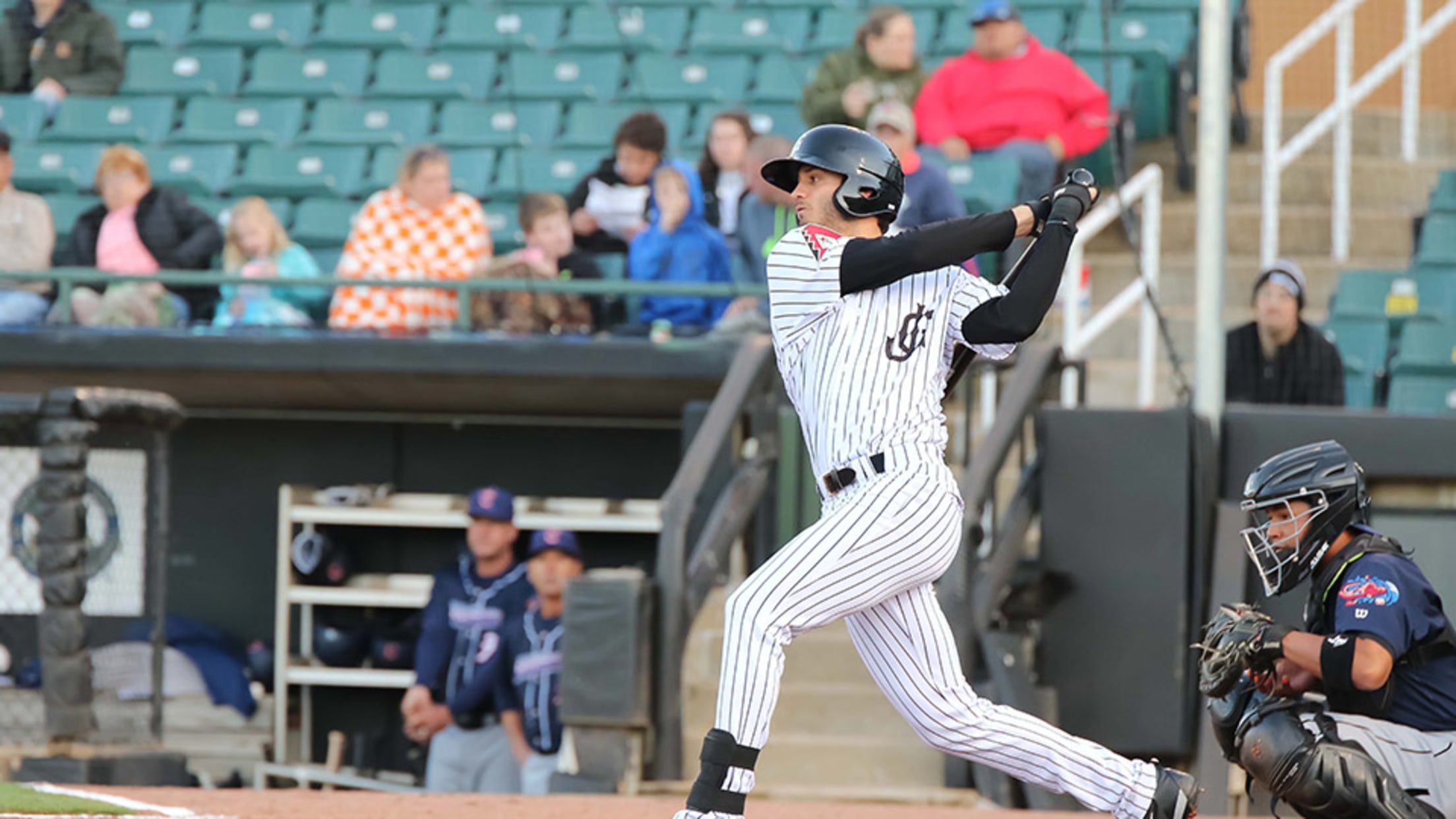 Ben DeLuzio shook off four hitless at-bats and smacked a liner off the glove of Jacksonville second baseman Mason Davis in the bottom of the tenth, allowing Jay Gonzalez to score from third with the winning run. (Cody Cunningham)
Jackson, Tenn. - Jackson Generals center fielder Ben DeLuzio did not record a hit in his first four at-bats on Monday, but his day ended with a bang.
Jackson, Tenn. - Jackson Generals center fielder Ben DeLuzio did not record a hit in his first four at-bats on Monday, but his day ended with a bang.
DeLuzio's hard liner off the glove of Jacksonville second baseman Mason Davis in the 10th inning made the Generals (4-1) victorious in walk-off fashion, 3-2. DeLuzio's timely knock drove in Jay Gonzalez from third base, giving Jackson their second straight last-at-bat triumph over the Jumbo Shrimp (1-4).
On the hill, former Diamond Jaxx (2010) and Generals hurler Anthony Vasquez (2011, 2013) dealt six solid innings, scattering eight hits while giving up just two runs. The Generals bullpen continues to spin blank innings into gold: Michael Dimock and Yoan López each worked scoreless frames, while Colin Poche added a pair of his own. The Generals' relief corps has not allowed an earned run in their last 14 innings of work, striking out 22 batters in that span. Alberto Rosario helped out on defense by gunning down a runner trying to steal third base in the third inning, and DeLuzio aided in the fight with a diving catch to close the fourth inning that kept a run from scoring. Jacksonville finished the game 1-for-11 with runners in scoring position, stranding eight men on base.


Top Performers - GENERALS
LHP Anthony Vasquez: 6.0 IP, 8 H, 2 R, 0 BB, 2 K, 89 pitches
RF Jay Gonzalez: 1-4, R, RBI, 2B (scored game-winning run)
LHP Colin Poche: 2.0 IP, 0 H, 0 R, 0 BB, 4 K, 23 pitches

Top Performers - JACKSONVILLE
RF John Norwood: 2-5, R, 2x 2B
LF Austin Dean: 1-4, 2B, 2 RBI
RHP Max Duval: 5.0 IP, 4 H, 2 R, 0 BB, 3 K, 65 pitches; 1-1 at the plate (sacrifice bunt & first professional hit)

Scoring Summary
TOP 4: Consecutive one-out doubles by Jacksonville's Eric Jagielo and Austin Dean break the scoreless tie.
(JAX 1, JXN 0)

BOTTOM 4: Kevin Medrano slaps an opposite-field double down the left field line, and Marty Herum moves Medrano to third with a single through the right side. After Rudy Fores gets hit by a pitch to load the bases, Alberto Rosario lifts a sacrifice fly to right field that allows Medrano to score from third to tie the game at 1. Herum tags up on the play and makes it to third, and a double to right field by the very next hitter, Jay Gonzalez, puts the Generals in front. (JXN 2, JAX 1)

TOP 6: After John Norwood's lead-off double, he moves to third base on an Eric Jagielo groundout. Austin Dean follows with a soft infield groundout, hit too slowly for Medrano to keep Norwood from scoring. (JXN 2, JAX 2)

BOTTOM 10: Beginning with Jay Gonzalez stationed at second base, Jose Vinicio promptly bunts Gonzalez over to third. With the game on the line, Jacksonville decides pull the infield in and intentionally walk the next two hitters to create force-out opportunities at every base. The risk does not pay off, as DeLuzio rips a liner that glances off the glove of Shrimp second baseman Mason Davis, allowing Gonzalez to score the winning run. (JXN 3, JAX 2)

NEXT GAME:
The Generals will get a day to rest before trekking east for an intra-state five-game series with the Tennessee Smokies that begins on Wednesday morning.
FIRST PITCH: 10:30 am CT Wednesday (4/11) at Smokies Stadium (Kodak, TN)
LHP Alex Young (Generals) vs. RHP Trevor Clifton (Tennessee Smokies)

NEXT GENERALS HOMESTAND:
April 16-25 (vs. Birmingham Barons & Chattanooga Lookouts)
Dial 731-988-5299 for tickets to see Jackson Generals Baseball!