Diaz Homers In Second Straight Game, Midland Rallies For Win
Henry Ties Career-High With 7.2 Innings Pitched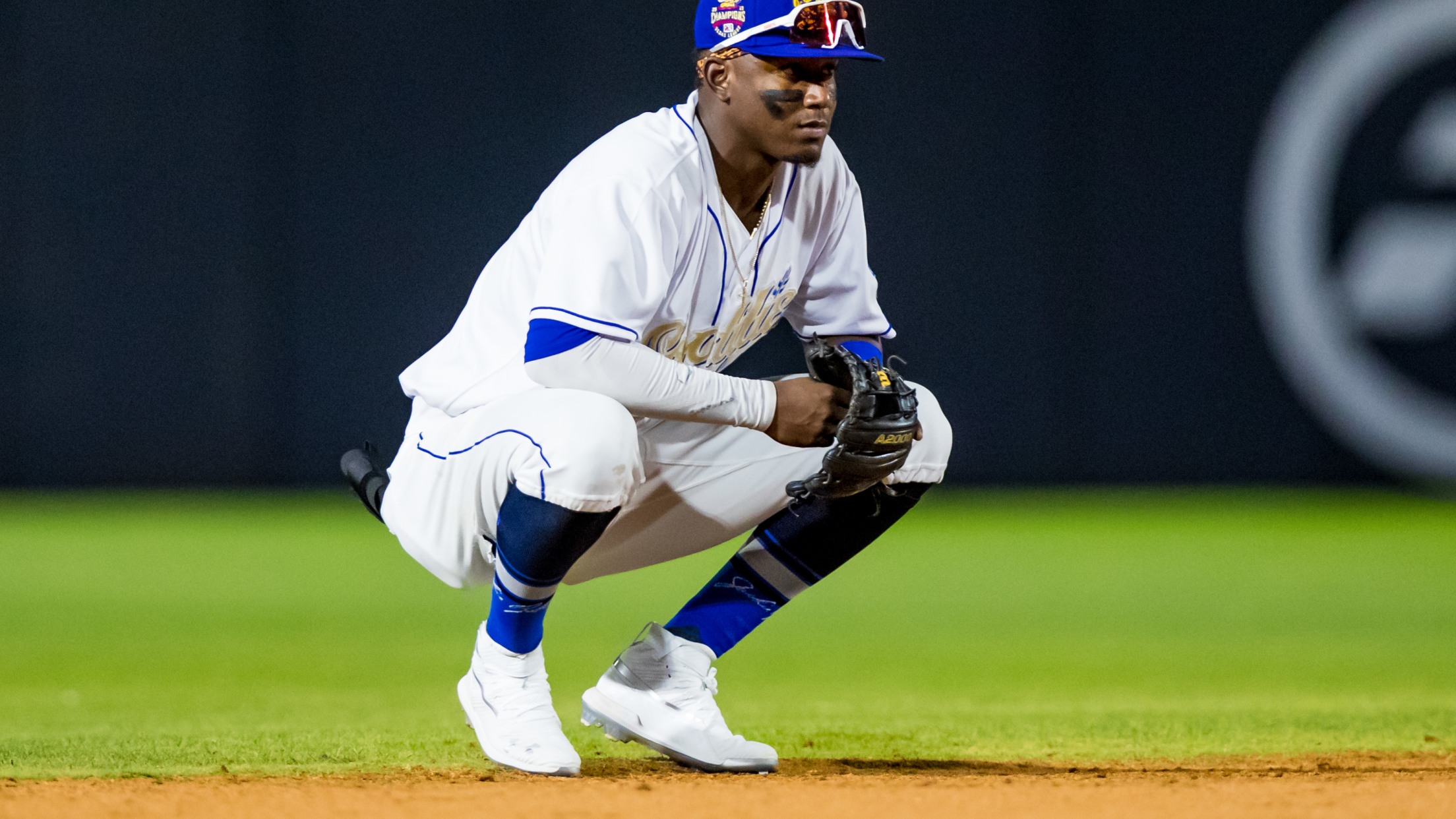 (John Moore)
Friday, August 20, 2021 @ Midland RockHounds [OAK] Amarillo Sod Poodles (42-51) | Midland RockHounds (46-48) Midland, Texas — The Amarillo Sod Poodles (42-51) took the lead on a two-run home run in the top of the sixth inning, giving them a two-run cushion at the time. A four-run bottom
Friday, August 20, 2021 @ Midland RockHounds [OAK]
Amarillo Sod Poodles (42-51) | Midland RockHounds (46-48)
Midland, Texas — The Amarillo Sod Poodles (42-51) took the lead on a two-run home run in the top of the sixth inning, giving them a two-run cushion at the time. A four-run bottom of the eighth inning for Midland propelled the RockHounds the 6-4 win, evening the current series at two games a piece.
Scoring Recap: The Sod Poodles were able to plate the first run of the game for the fourth straight time in this series. Geraldo Perdomo singled with one out in the top of the second inning. After a hit by pitch moved Perdomo into scoring position, Camden Duzenack doubled to bring home Perdomo. A pair of solo home runs from the RockHounds in the bottom of the second inning put Midland in front. A pair of consecutive singles in the top of the fourth inning with one out gave Amarillo runners on the corners. Dominic Miroglio tied the game with a sacrifice fly into left field. Perdomo hit his second single of the game to lead off the top of the sixth inning. Eduardo Diaz put Amarillo back in front with a two-run home run on an 0-2 pitch, making it a 4-2 game at the time. Midland put together a four run eighth inning after a walk and error with one out placed the first two runners on base, giving Midland runners on first and third. An infield single plated the first run of the inning, allowing another runner to move to third on a fly out to right field. A pitching change followed by a wild pitch moved the go-ahead runner into scoring position, allowing him to score on Midland's second single of the inning. A second wild pitch and third single of the frame put Midland up by a pair of runs and put a cap on the night's scoring. Amarillo got a runner on in the top of the ninth when Dominic Fletcher drew a walk with two outs before stealing second. Fletcher was left stranded when a strikeout closed the door on a potential Sod Poodles ninth inning comeback.
Poodles Plays: Eduardo Diaz's home run in the top of the sixth inning gave him a home run in consecutive games. He is the 7th Amarillo player to have a home run in back-to-back games, completing the feat in his fourth game in Double-A. It was his 16th home run of the year, giving him the solo lead in the Diamondbacks' farm system at the time of the Sod Poodles game ending.
Hounds Highlights: The RockHounds six runs in the ballgame matched their total output from the first three games of the series combined. Their four run eighth inning was the most runs they had scored in a single inning, doubling their output from any one inning to begin the series. Midland strung together three of their seven hits in the ballgame in the pivotal eighth inning to get the win.
Tomorrow's Tidbits: Game five of the series takes place tomorrow night from Momentum Bank Ballpark with first pitch scheduled for a 7:00 PM start. Left-hander Kenny Hernandez (0-2, 6.90 ERA) takes the mound against Jack Cushing who will be making his Double-A debut for Midland. Hernandez had a 3.52 ERA through his first four Double-A starts but has since seen it rise after two starts versus Corpus Christi last week. Cushing was 6-1 with a 2.74 ERA in eight games (7 starts) with High-A Lansing at the time of his promotion to Midland.
Notes:
Tommy Boy: Southpaw Tommy Henry took the loss after another quality start for Amarillo. Henry fell to 1-6 after tonight's loss but did so after allowing five runs - three earned - on five hits while tying a career-high with 7.2 innings pitched. Henry picked up his fourth quality start of the year and first since June 26th against Corpus Christi. He set his career-high by spinning 7.2 innings on July 21 vs. Frisco, tying an Amarillo franchise-high for a pitcher. The Sod Poodles fell to 8-11 in Henry's starts this year. It is the third straight start where Henry has given the Sod Poodles at least six innings. It is Amarillo's 25th quality start this season, 8th in the month of August, and third in four games this series against the RockHounds.
Hey Gerald(o): D-backs' No. 9 rated prospect Geraldo Perdomo set a single-game high this year by picking up three hits. He not only set a single-game high in 2021, but also matched his career-high in the process. It was the 20th time in his professional career and first since August 25, 2019 when he went 3-for-4 with a double against Modesto when he was with then High-A Visalia. Since his return from the development list on August 5th, Perdomo has hit .340 (16-for-47) with five multi-hit games in that span. He is riding a five game hit streak, his second such streak since his return, matching his season-long.
Better In Pairs: Eduardo Diaz, Camden Duzenack, and Geraldo Perdomo all notched mutli-hit games for the Sod Poodles on Friday night. Diaz now has two straight games with two or more hits. He went 2-for-3 with a home run and two RBI on Friday night. Duzenack tied his season-high by tallying two hits against Midland in the loss. He now has three multi-hit games this season for Amarillo with all three occasions coming in August. Duzenack played just nine games for Amarillo to begin the year before being transferred to Triple-Reno. In those nine games, he hit .125 with two extra base hits. Since his return, he has hit .286 (8-for-28) with another two extra base hits. With another three multi-hit performances, the Sod Poodles have a total of 176 multi-hit games this year.
Dinger SZN: The Amarillo Sod Poodles have hit 105 home runs during their 2021 campaign. During the inaugural 2019 season, the Sod Poodles had 139 home runs. With 26 games on the schedule to end the year, Amarillo needs 35 more to break their single-season high for home runs as a team. Stone Garrett leads Amarillo with 15 home runs this season. Next highest on the team is D-backs' No. 19 rated prospect Dominic Fletcher with 11 home runs. Infielder Buddy Kennedy is third on the team with nine long balls.
Out-Hit, Lost: Amarillo suffered just their 11th loss of the year when they out-hit their opponent. The Sod Poodles are now 32-11 this year in that situation. As a franchise, Amarillo is 92-29 when picking up more hits than their opponent since the start of 2019.
Race for the Oil-Pan Cup: After suffering the loss on Friday night, The Sod Poodles are now 10-12 against the RockHounds in 2021. Amarillo will now need to win the final two games of the series to retain the Oil Pan Cup for at least another season. Amarillo won the 2019 series 17-12 to take hold of the Oil Pan Cup. In 2021, Amarillo is 4-6 in Momentum Bank Ballpark and split their two series in HODGETOWN earlier in the year. Including the 2019 postseason, Amarillo is now 30-26 against the RockHounds.