Dorssys doubles to down Richmond, 3-2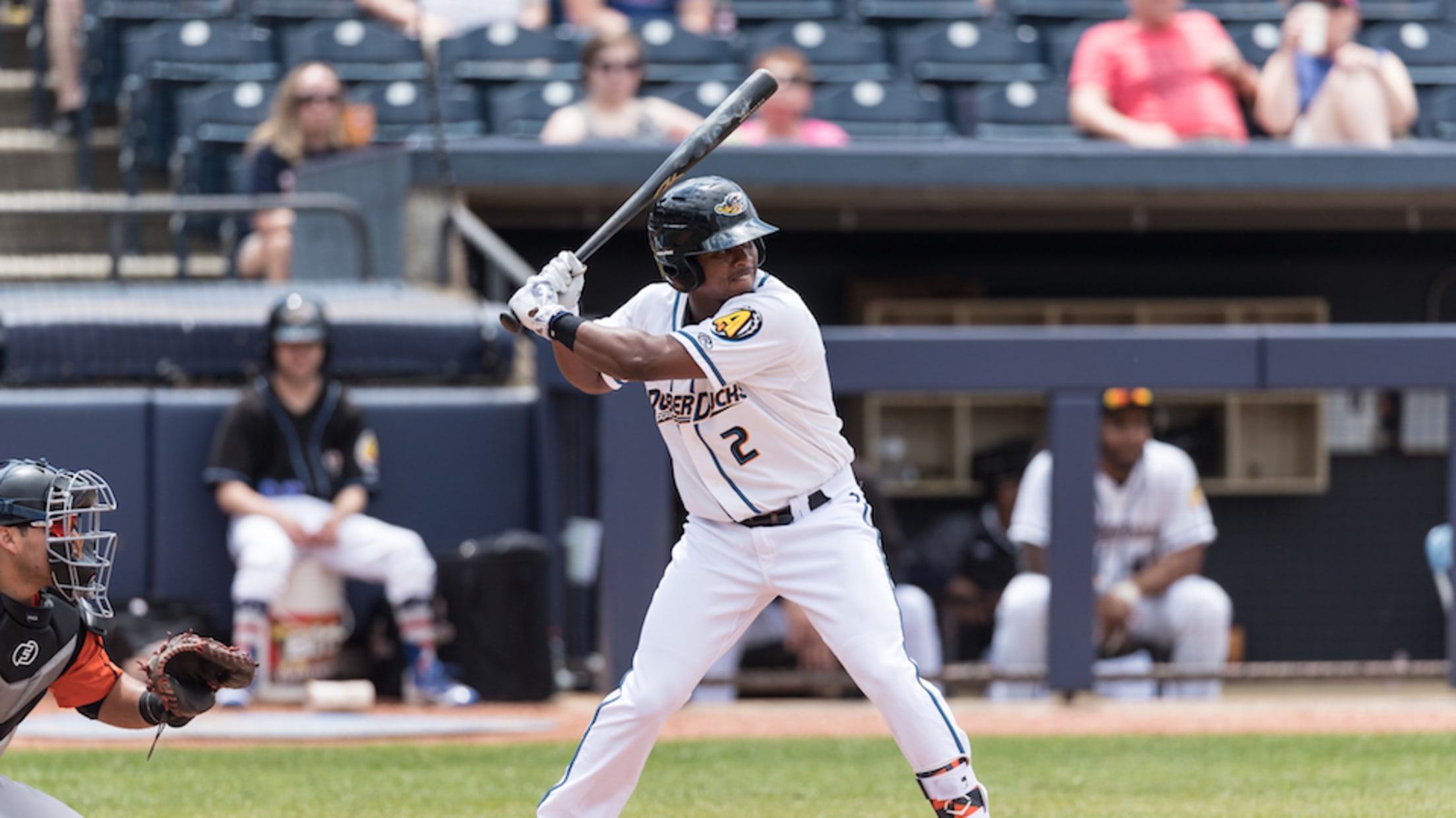 Dorssys Paulino doubled in the winning runs for the RubberDucks in the 4th inning to beat the Flying Squirrels 3-2 at The Diamond. (David Monseur)
RubberDucks Game RecapRubberDucks 3 Flying Squirrels 2WP: Matt Esparza (4-0) LP: Dan Slania (1-1) Save: David Speer (4) SummaryAkron's Matt Esparza improved to 4-0, and Dorssys Paulino clubbed a key, two-run double for the second consecutive night, as the RubberDucks edged the Richmond Flying Squirrels, 3-2, Saturday night at The Diamond
RubberDucks Game Recap
RubberDucks 3 Flying Squirrels 2
WP: Matt Esparza (4-0) LP: Dan Slania (1-1) Save: David Speer (4)

Summary
Akron's Matt Esparza improved to 4-0, and Dorssys Paulino clubbed a key, two-run double for the second consecutive night, as the RubberDucks edged the Richmond Flying Squirrels, 3-2, Saturday night at The Diamond in Richmond, Virginia.
Turning Point
Paulino stroked a two-out, two-run double to right field off Dan Slania (1-1) in the fourth inning to give the Ducks a 3-2 lead. Paulino's hit chased home Bobby Bradley and Joe Sever, both of whom walked. Paulino also delivered a two-run double, almost to the identical spot, in Friday's win as well. He finished 2-3 on the night.
Winging It
Esparza (4-0) worked 6.2 innings and allowed two runs on three hits. He allowed back-to-back RBI hits by Myles Schroder and Slade Heathcott in the third inning to fall behind briefly, 2-1. Esparza, who has worked at least six innings in all five of his Double-A starts, walked three and struck out three. He lowered his ERA to 2.14. Esparza gave way to D.J. Brown, who retired all four batters he faced. Brown stranded the potential tying run at second when he entered the game in the seventh. Lefty David Speer worked the ninth and maneuvered around a two-out single by former Indians infielder Jerry Sands to secure his fourth save.
Duck Tales
Joe Sever smacked an RBI single in the second off Slania to drive in Bradley and give Akron a 1-0 lead. Jordan Smith was 2-5. Luigi Rodriguez was 1-4, with a single and a stolen base. Francisco Mejía was 0-4, and is now 2-20 on the road trip. Despite that, Mejia is still hitting a sizzling .346 on the year.
Notebook
The RubberDucks (36-33) are three games over the .500-mark for the first time in 2017…It was the third straight win for the RubberDucks and guaranteed at least a .500 road trip…Akron improved to 11-10 in one-run ball games…Sands appeared in 50 games for the Indians in 2015. He signed with the Giants and joined the Flying Squirrels in early June after starting the season with the Somerset Patriots of the independent Atlantic League…The Flying Squirrels (30-43) have lost eight of their last 11…Time of Game: 2:31… Attendance: 8,478.
On Deck
The RubberDucks and Fling Squirrels will play the final game of the series and road trip on Sunday afternoon at 12:05. The game will be broadcast on Fox Sports 1350 AM, the WARF iHeart channel, and the TuneIn Radio App.