Canal Park Classics To Highlight Memorable Moments From the Rubber City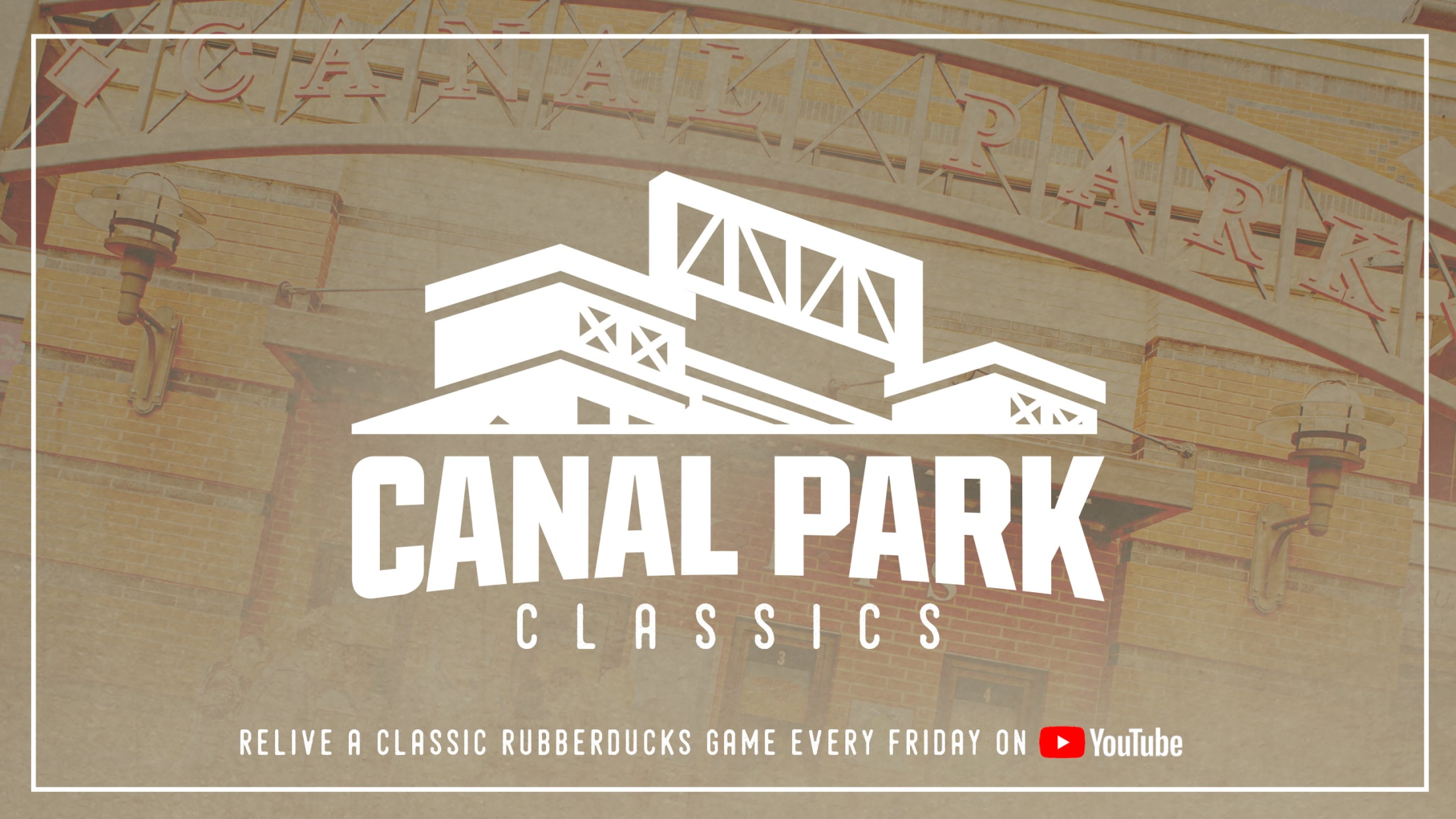 Missing RubberDucks Baseball? We know you are! Beginning every Friday we are introducing Canal Park Classics to relive some of the most exciting and memorable moments in franchise history. Our first installment of this series features Francisco Lindor's first double-A hit on July 13, 2013 vs. the Erie SeaWolves. Tune
RubberDucks Launch QuAkron Cares Program To Assist With COVID-19 Relief Efforts
QuAkron Cares Offers Fans Donation To Akron-Summit County COVID-19 Emergency Support Fund, Two Undated Ticket Vouchers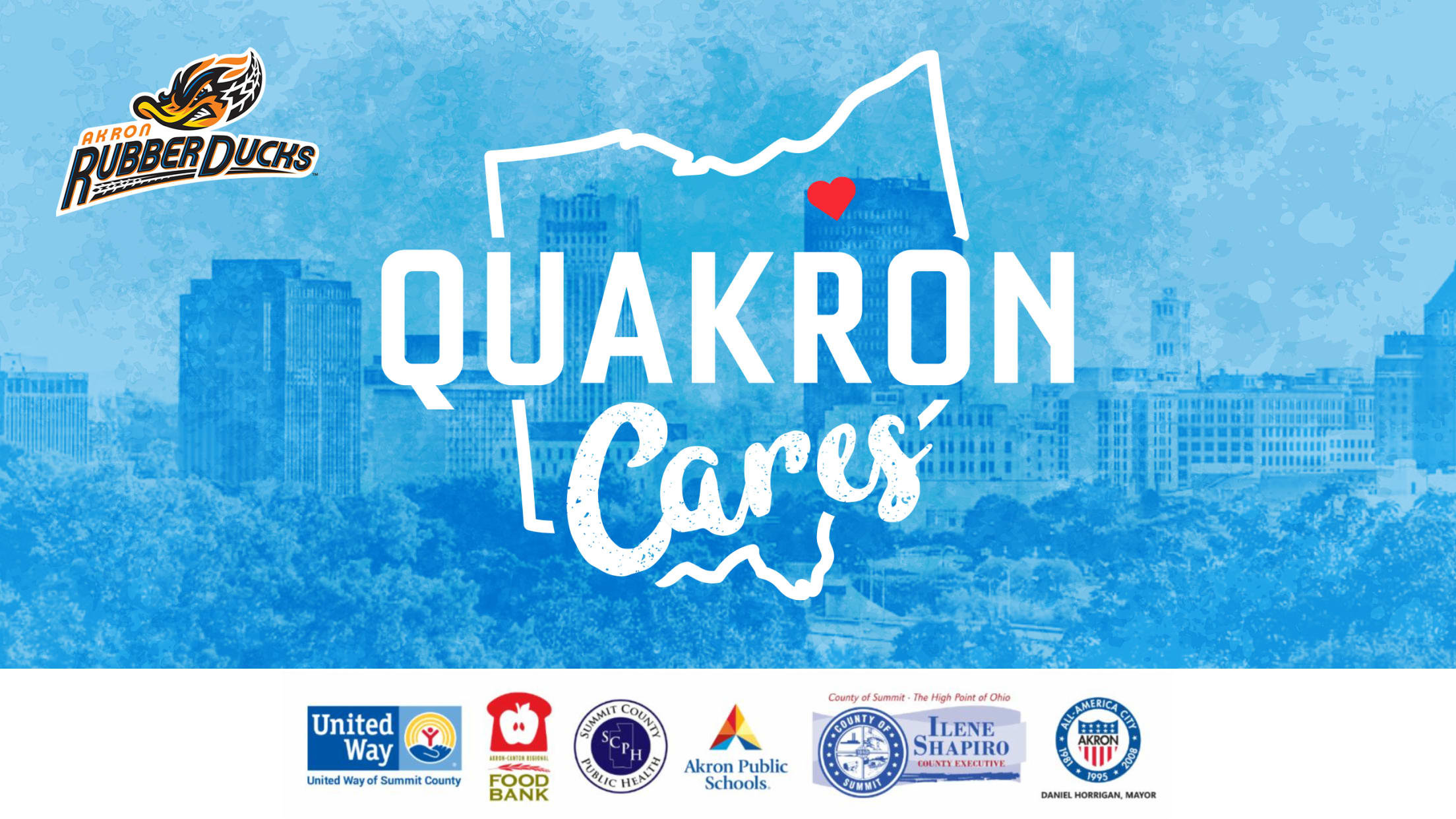 (AKRON, OHIO) March 31, 2020 – The Akron RubberDucks are proud to introduce the QuAkron Cares Program in coordination with United Way of Summit County and the City of Akron. Fans can support those in need with donation to the Akron-Summit County COVID-19 Emergency Support Fund and receive two (2)
Start Of RubberDucks' Season Pushed To At Least June 15
Previously Scheduled Home Games Postponed With Make-Up Dates To Be Announced At A Later Date
(AKRON, OHIO) May 5, 2020 – In following the guidelines health officials and the office of the Commissioner of Major League Baseball, the start of the 2020 Akron RubberDucks season will be postponed until at least June 15. With this news, previously scheduled RubberDucks home games through June 14 will
"At Home With The RubberDucks" Show Will Launch 640 WHLO As Team's New Radio Home
Weekly Show To Air Sundays At 6 P.M. ET And As Podcast Until 2020 Season Begins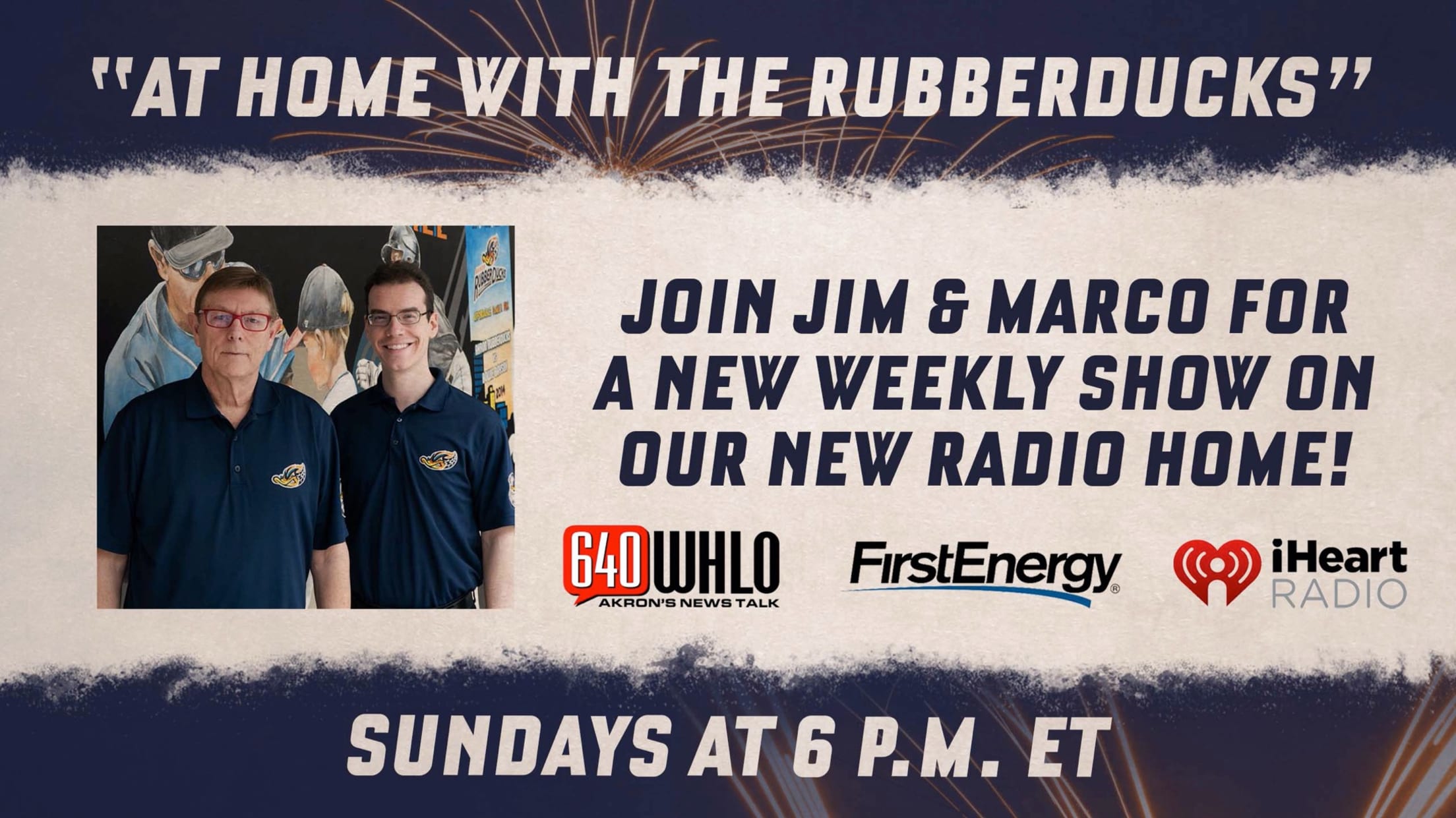 LISTEN NOW TO "AT HOME WITH THE RUBBERDUCKS"
RubberDucks To Draft Fans For "Legends Begin At Home" Charitable Event
Fans Supporting Local COVID-19 Relief Will Have a Chance To Join All-Time Akron Roster On MLB The Show May 1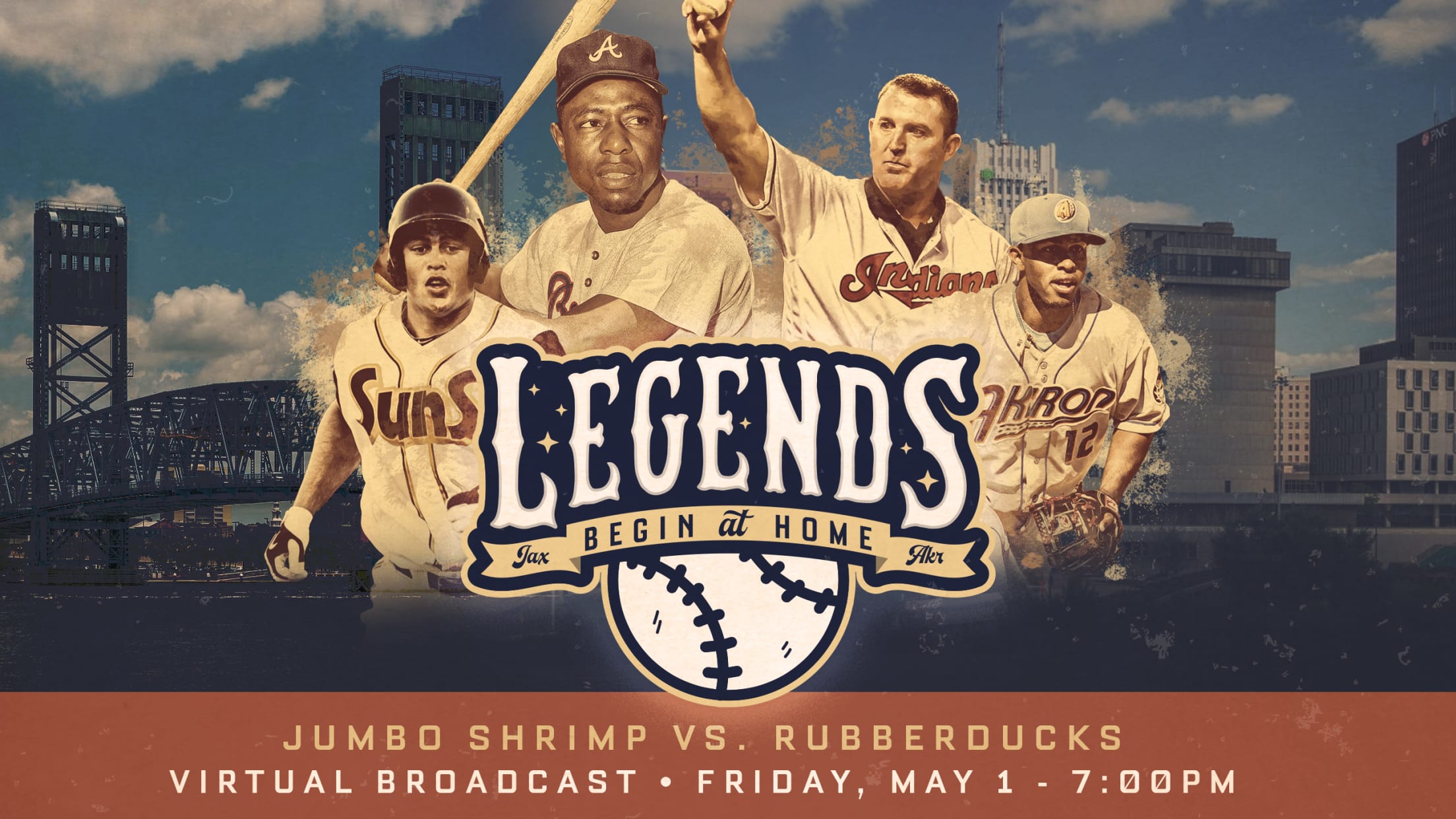 (AKRON, OHIO) April 23, 2020 – While NFL teams are drafting top prospects this weekend, RubberDucks fans have the chance to be drafted and take the field with some of the greatest to ever play baseball in Akron. For a unique charitable event, the inaugural Legends Begin at Home, two
"Opening Day At Home" To Put New Spin On Ducks' April 17 Home Opener
Gov. Mike DeWine To Throw Out First Pitch On RubberDucks' Virtual Broadcast Opener On MLB The Show, Including Immersive Canal Park Experience With Voiceovers & In-Game Promos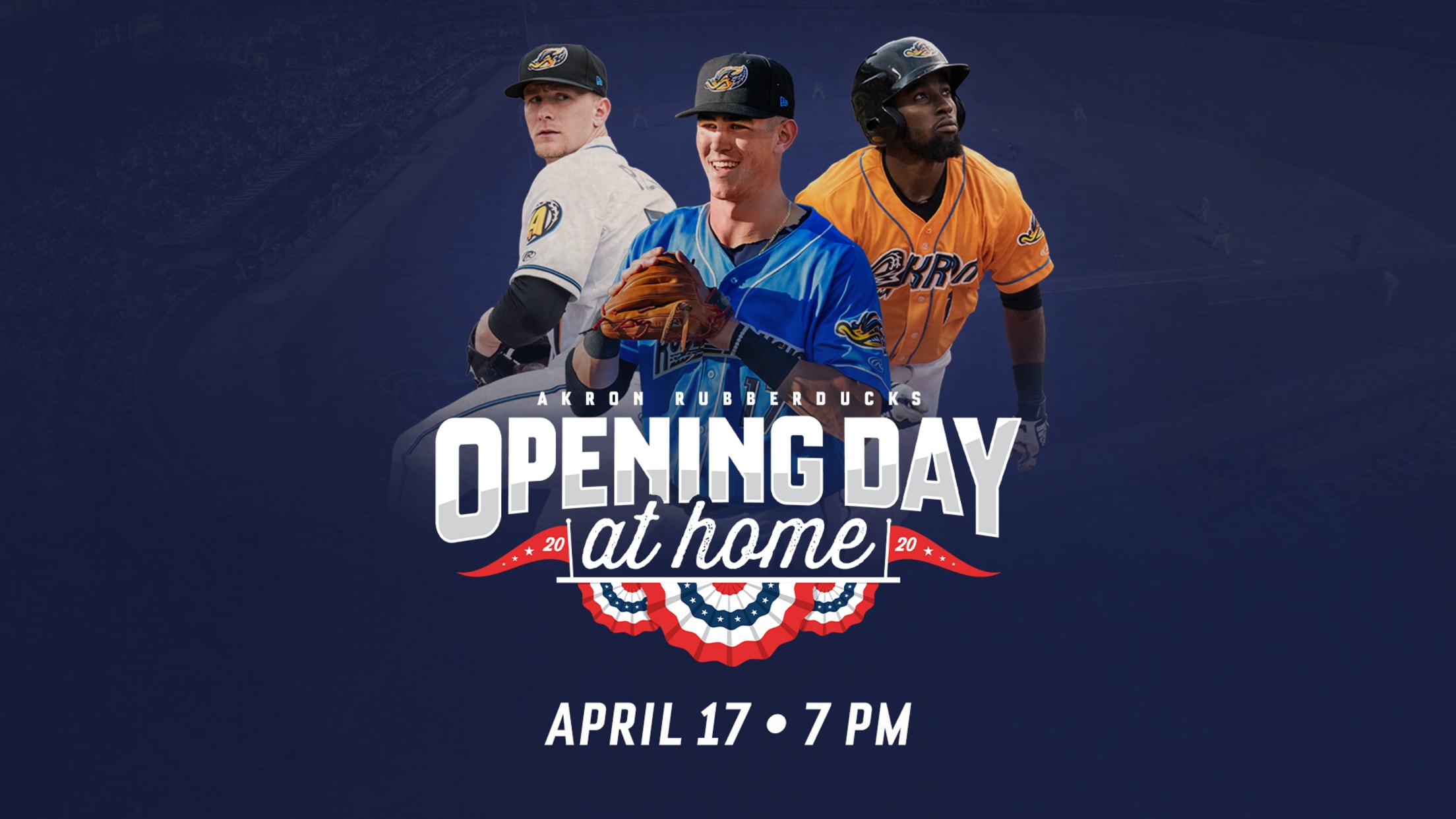 CLICK TO WATCH OPENING DAY AT HOME
RubberDucks team offices to close to prevent spread of COVID-19
Front office staff available via email and phone; team store shifts to online-only orders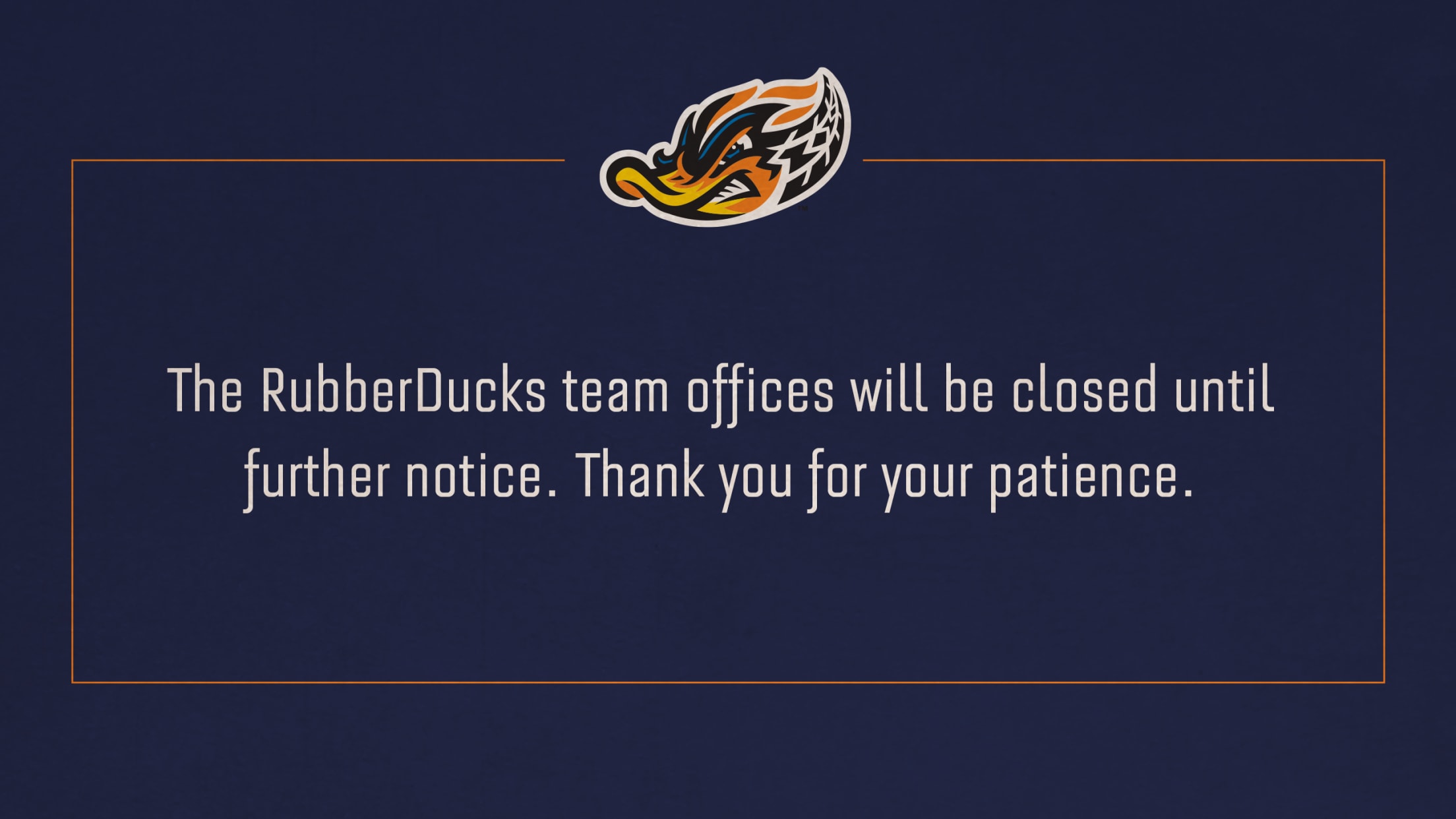 Subscribe to latest updates from the RubberDucks (AKRON, OHIO) March 18, 2020 – In order to continue to combat the spread of COVID-19, the Akron RubberDucks will be closing all team administrative offices after 5 p.m. on Wednesday, March 18, and transition to a remote workplace. All front office staff
Start Of Rubberducks' Season Postponed Until At Least May 10
Twelve Rubberducks Home Games From April 17-May 6 Postponed; Make-Up To Be Determined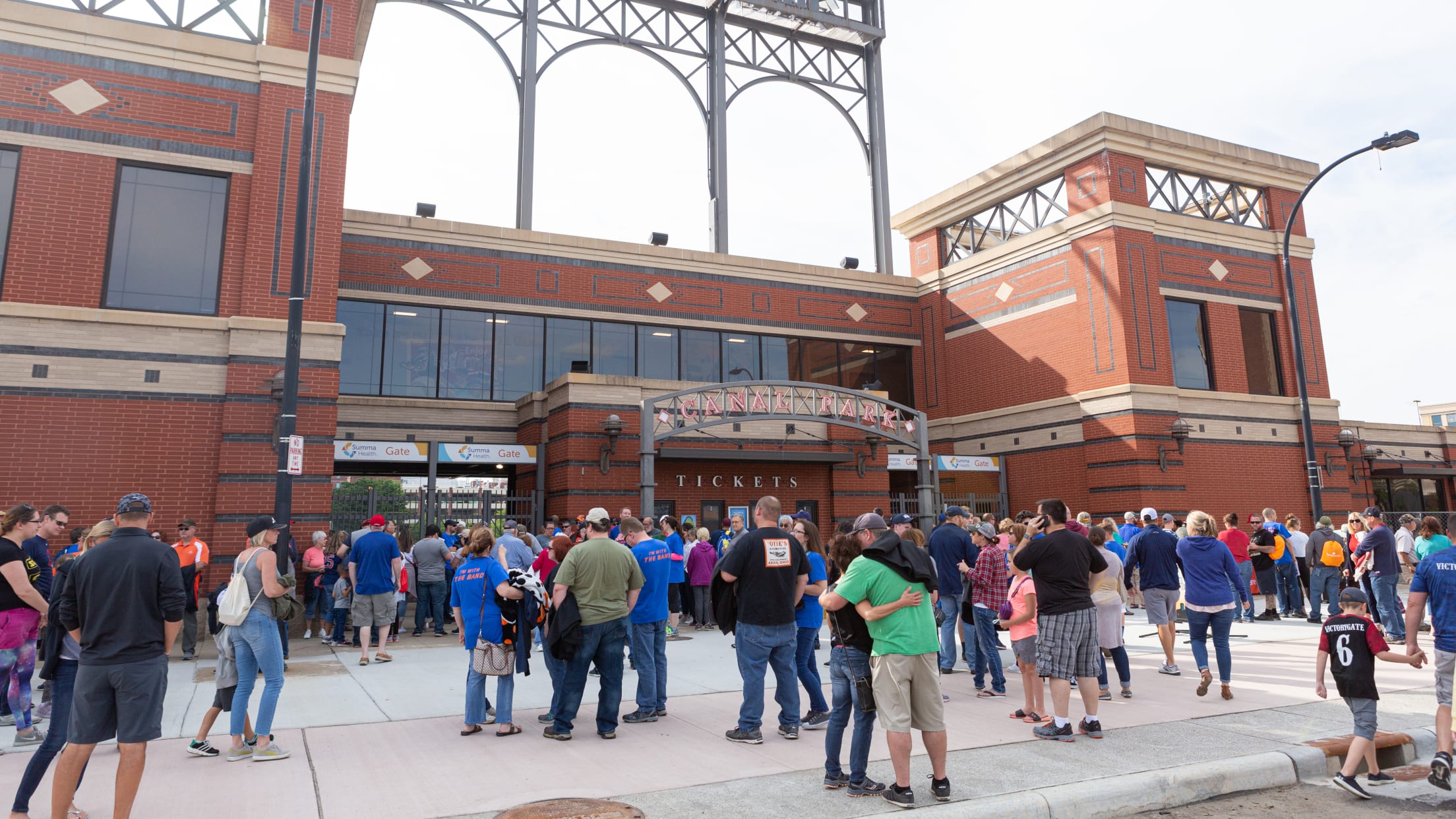 (AKRON, OHIO) March 26, 2020 – In accordance with CDC guidelines and the office of the Commissioner of Major League Baseball, the 2020 Akron RubberDucks season will not start until at least May 10. With this news, twelve RubberDucks home games from April 17-May 6 have been postponed with make-up
RubberDucks To Follow Directives Of Gov't, MiLB Regarding Coronavirus 
Start of 2020 Season to be delayed, additional information forthcoming from MiLB
Subscribe to latest updates from the RubberDucks (AKRON, OHIO) March 12, 2020 – The Akron RubberDucks are aware of the statements made today by Ohio Governor, Mike DeWine and will be compliant with all directives from that office as well as state, county, and local and health officials. While the
Akron RubberDucks To Honor Negro Leagues and Play as Akron Black Tyrites July 31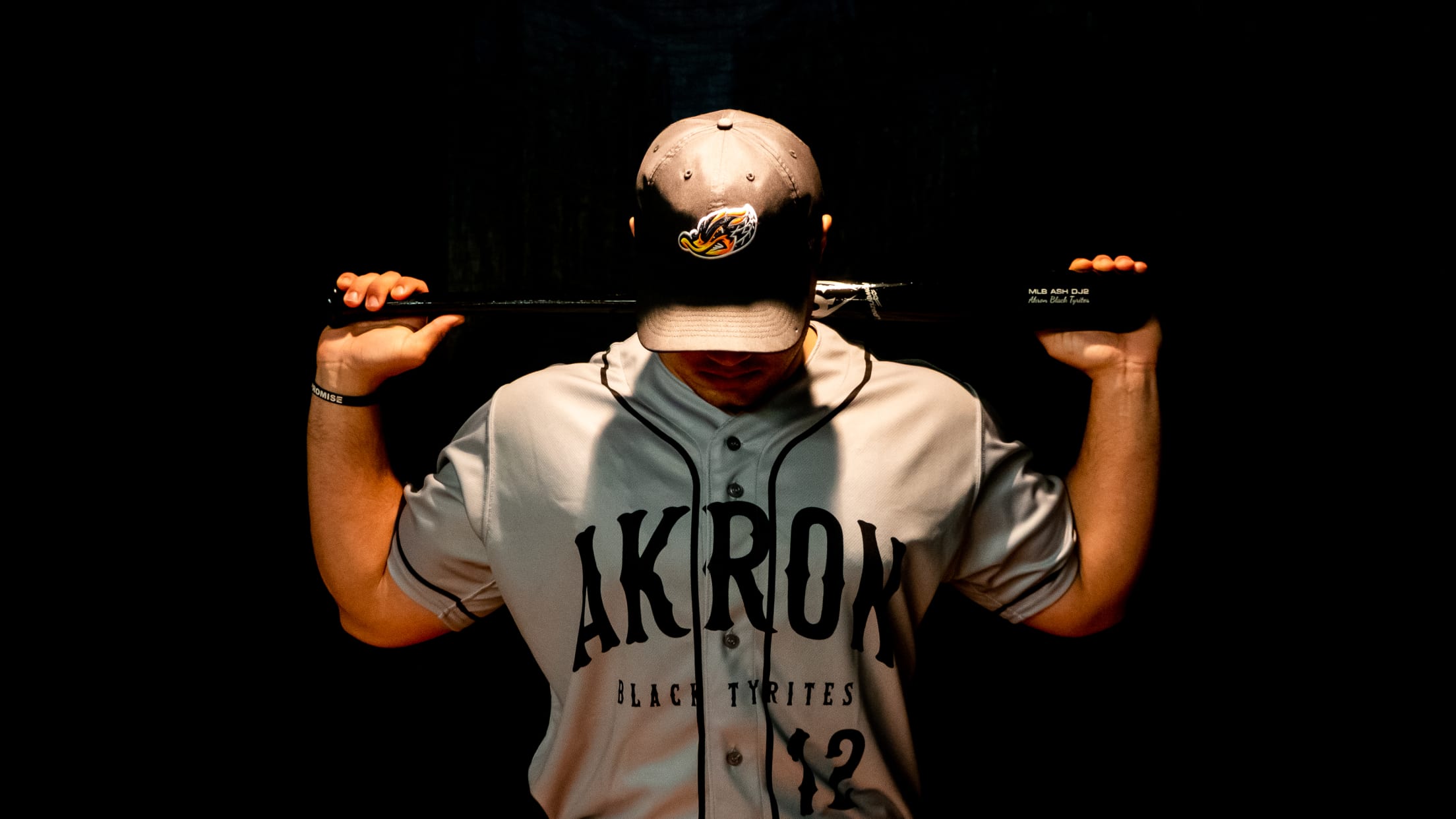 BUY TICKETS FOR FRIDAY, JULY 31 2020 RubberDucks Promotional Schedule
RubberDucks to Play as Los Perros Calientes on May 5
RubberDucks Announce Second Full Rebrand of the 2020 Season, Los Perros Calientes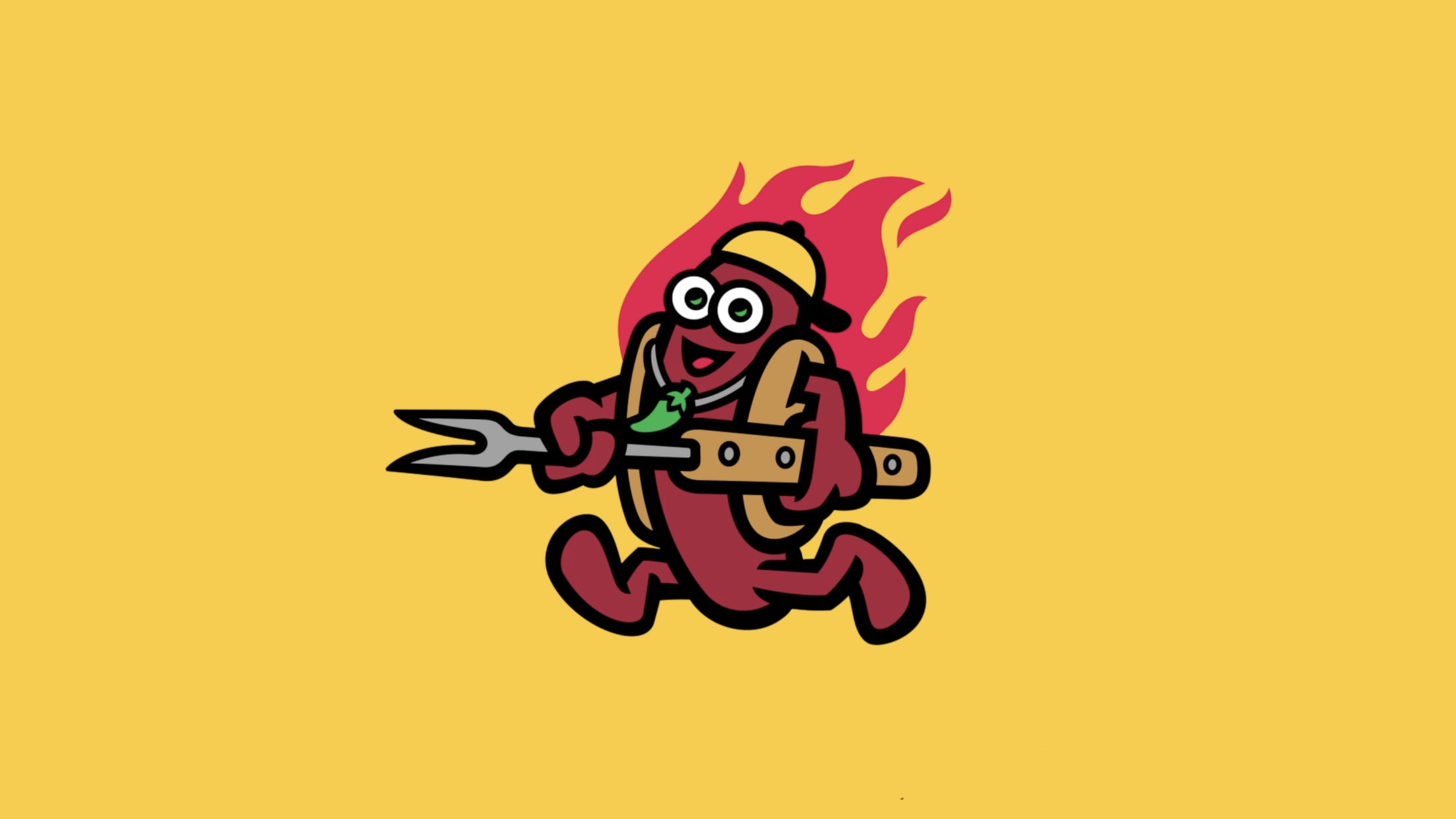 (AKRON, OHIO) March 13, 2020 – On Cinco De Mayo this year, the Akron RubberDucks will undergo a full rebrand and play under the identity of Los Perros Calientes. Come out to Canal Park and watch the RubberDucks spice up their uniforms as well as menus, featuring Latin Street Corn
RubberDucks to play as ConeTown, USA June 5
There is a new construction crew in town....Your ConeTown Team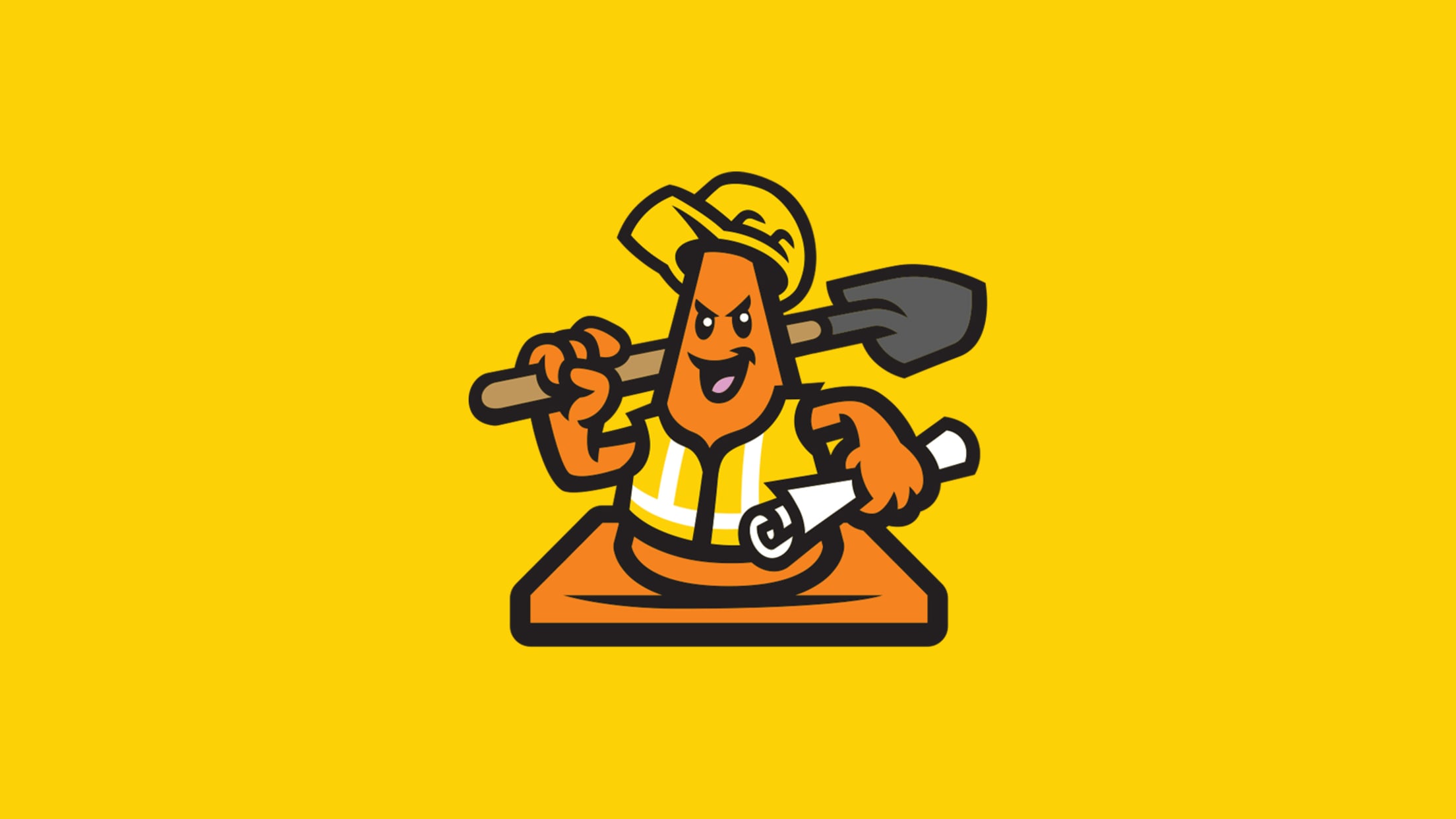 On Friday, June 5, come celebrate all things Downtown Akron Construction with us! It is "The Rebuild" - Your ConeTown Team - Construction Night at Canal Park.
2020 RubberDucks Promotions Promise Tons of Affordable, Family Fun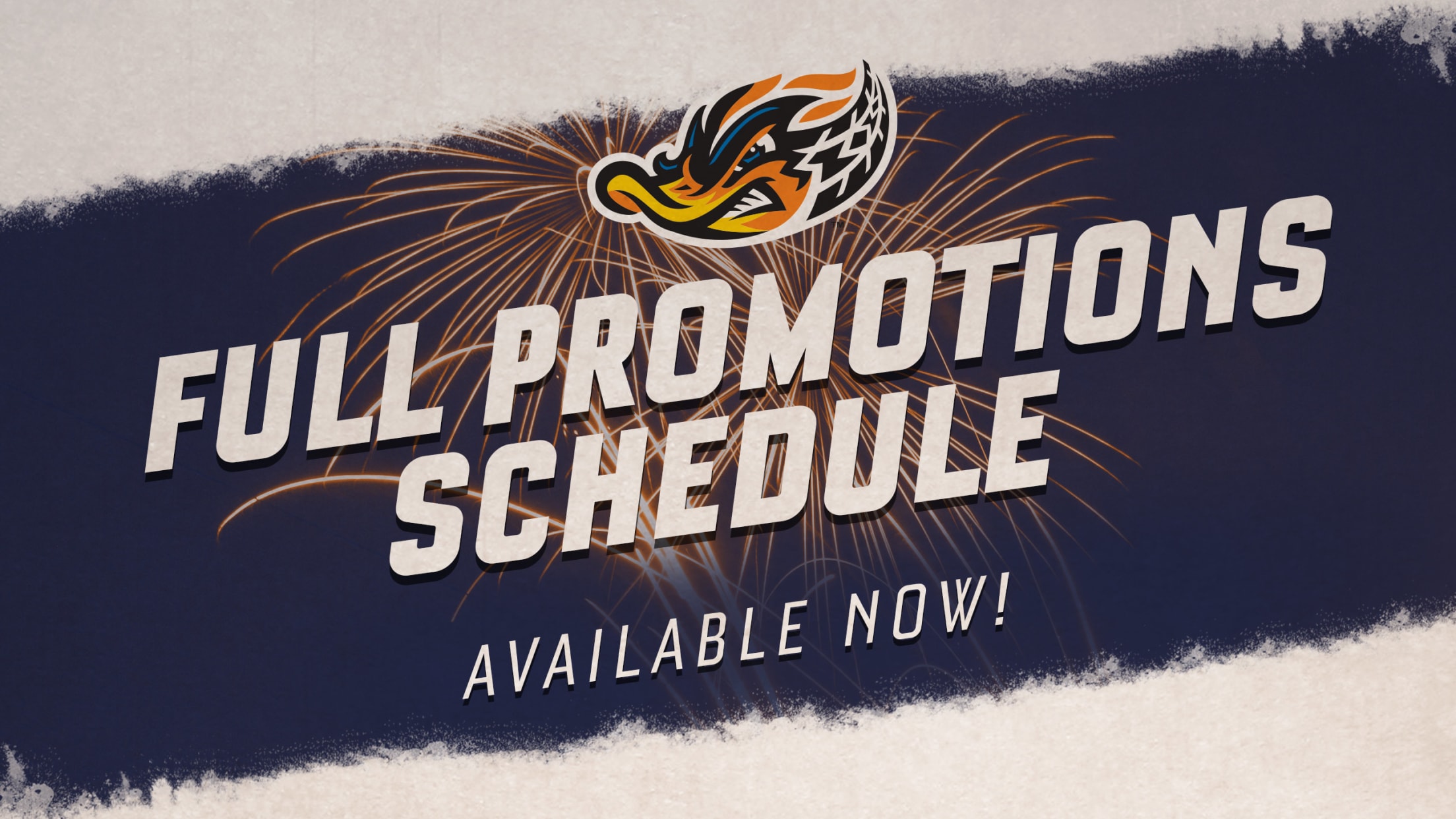 FULL PROMOTIONAL SCHEDULE(AKRON, OHIO) February 13, 2020 - Now that Cleveland Indians players are starting to report to Spring training, it's time to start looking toward the season, and what better way than to reveal the 2020 Akron RubberDucks Promotional Schedule. All 70 Akron RubberDucks home games in 2020 offer
RubberDucks To Feature Eight Bobblehead Nights For 2020 Season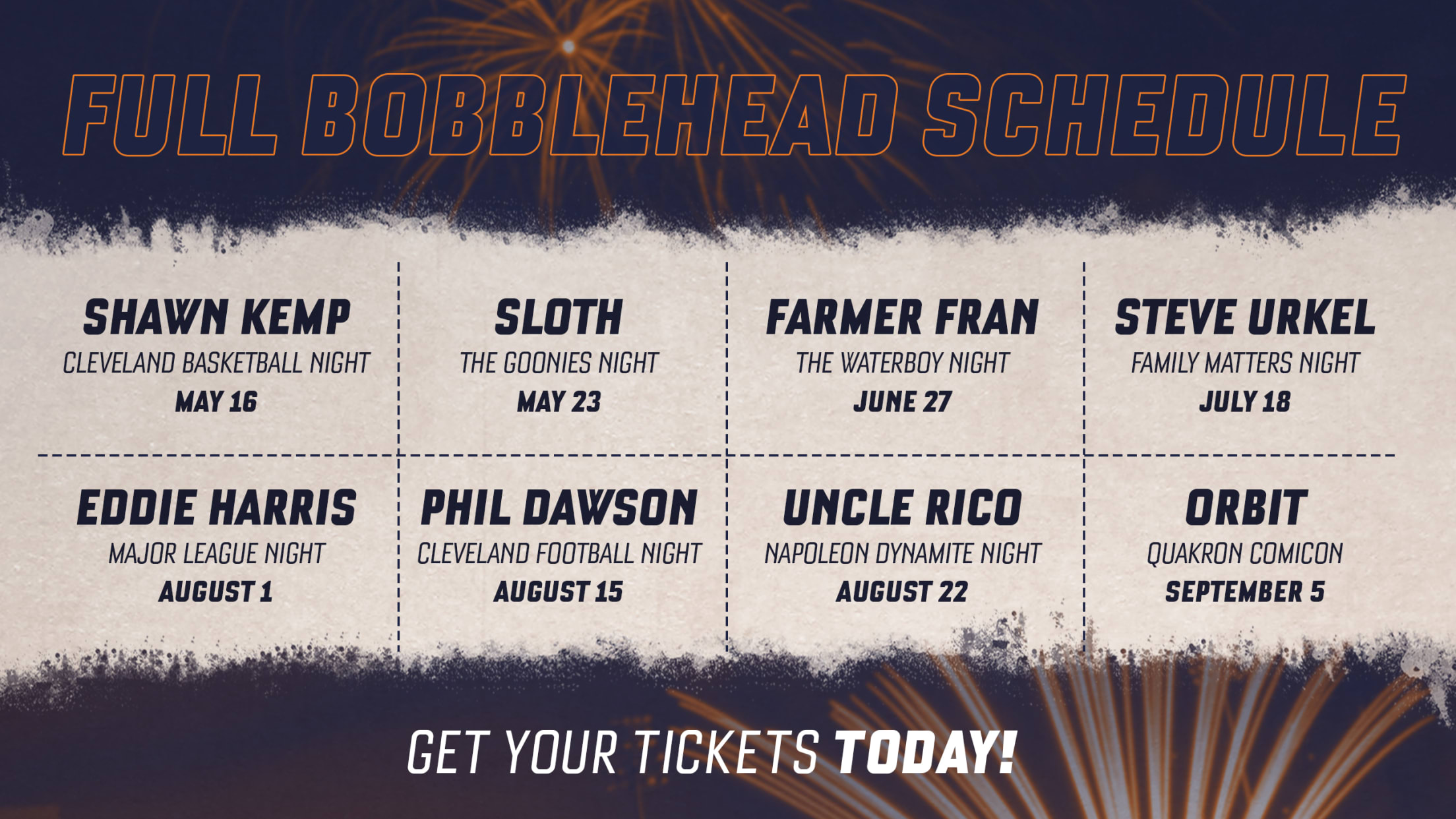 (AKRON, OHIO) February 12, 2020- The Akron RubberDucks are excited to announce another jam-packed lineup of fan-favorite bobblehead giveaways for the 2020 season at Canal Park. These collectible bobbleheads will be available to the first 1,000 fans through the gates on select Akron RubberDucks home games in 2020.
RubberDucks to Extend Safety Netting For 2020 Season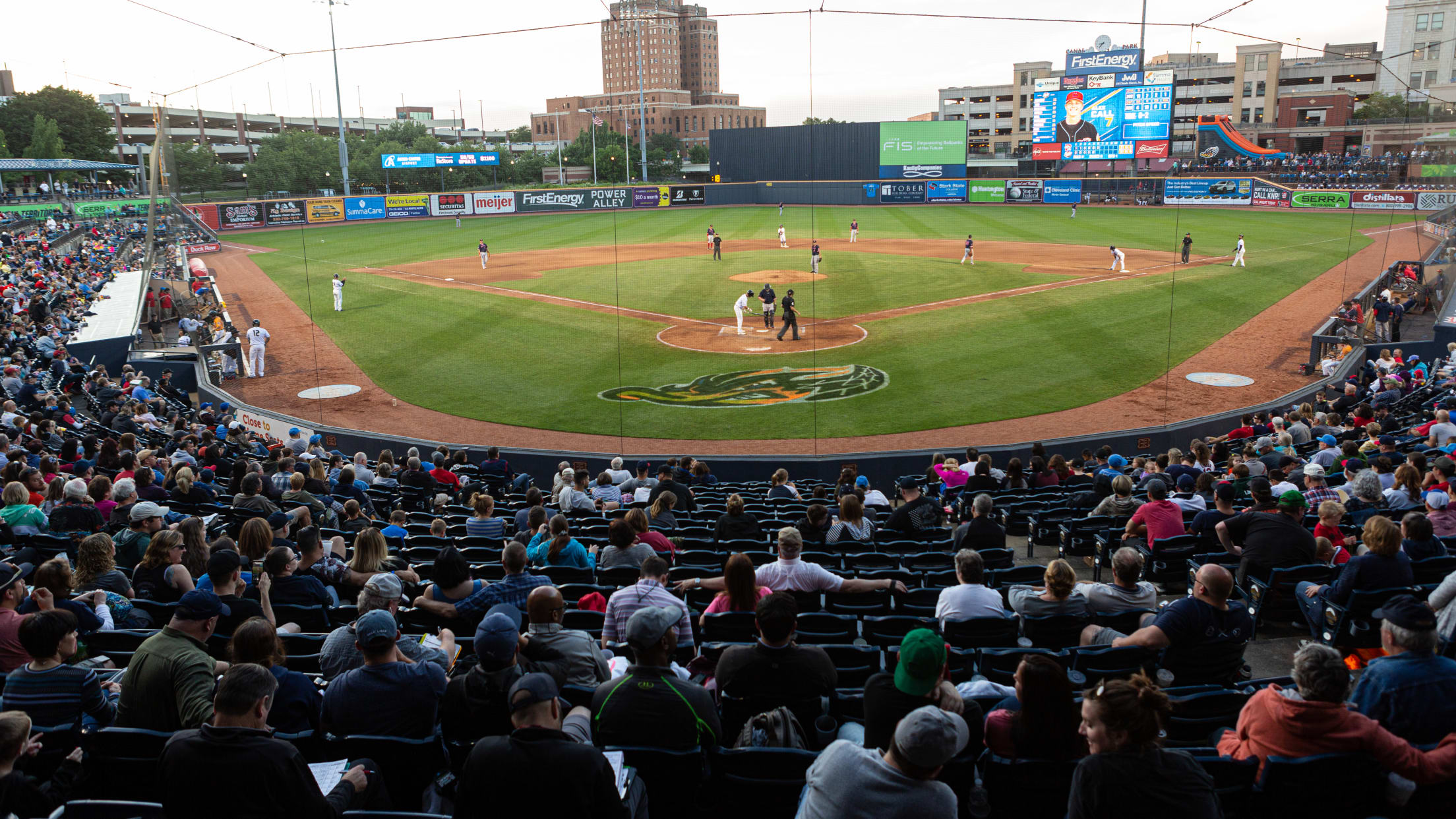 The Akron RubberDucks are extending the safety netting at Canal Park from foul pole to foul pole for ahead of the 2020 season, in partnership with the City of Akron. This extension of the safety netting comes after the team extended the nets to the far end of each dugout
Akron Sports Teams Unite for All-Akron Pass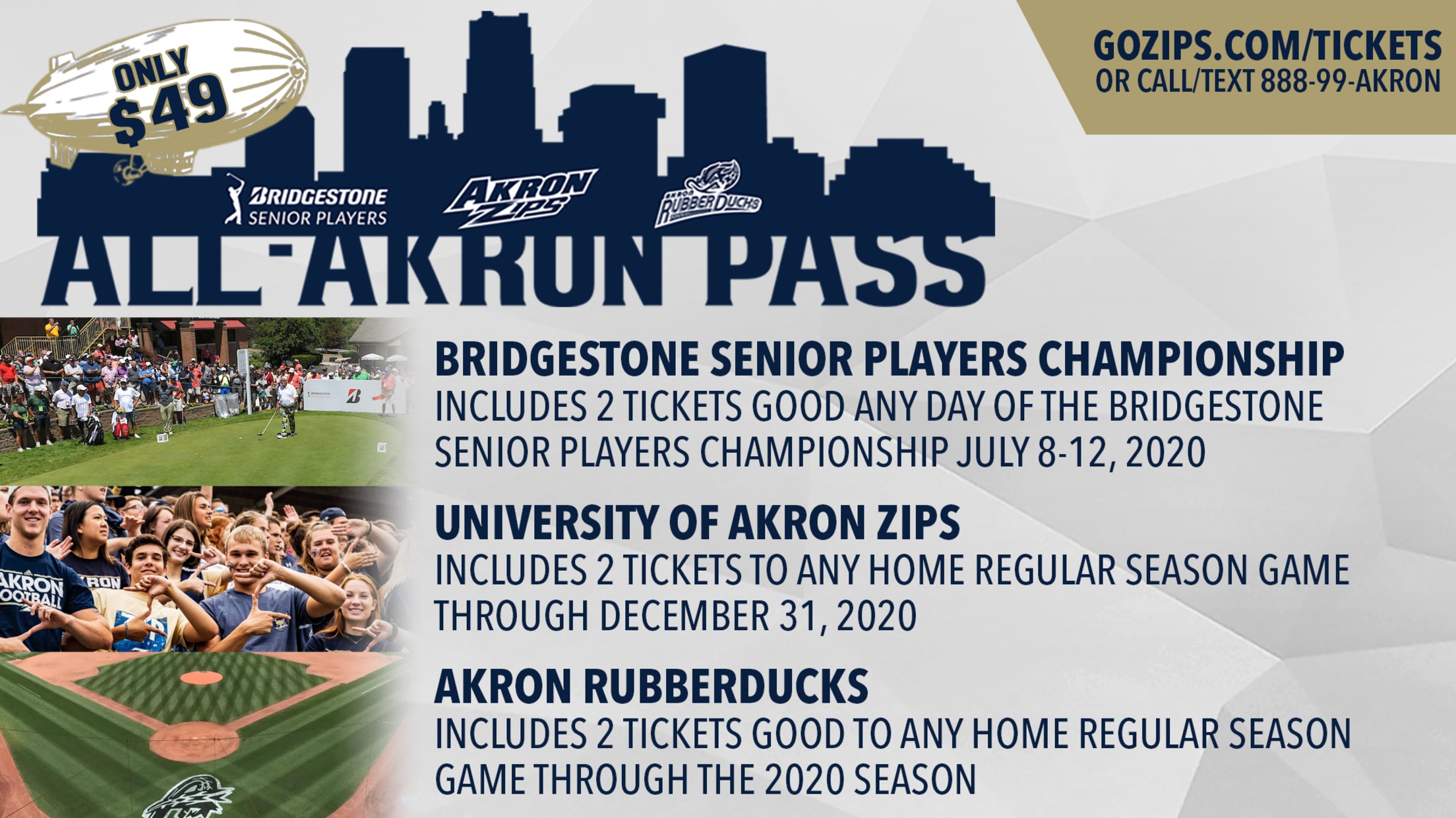 Purchase the All-Akron Pass HereAKRON, Ohio- The three biggest sports outlets in the City of Akron have united to bring fans the ultimate sports package- the All-Akron Pass.For just $49, fans will receive two (2) tickets for any day of the Bridgestone Senior Players Championship [July 8-12, 2020], two (2)
Indians Announce 2020 RubberDucks Field Staff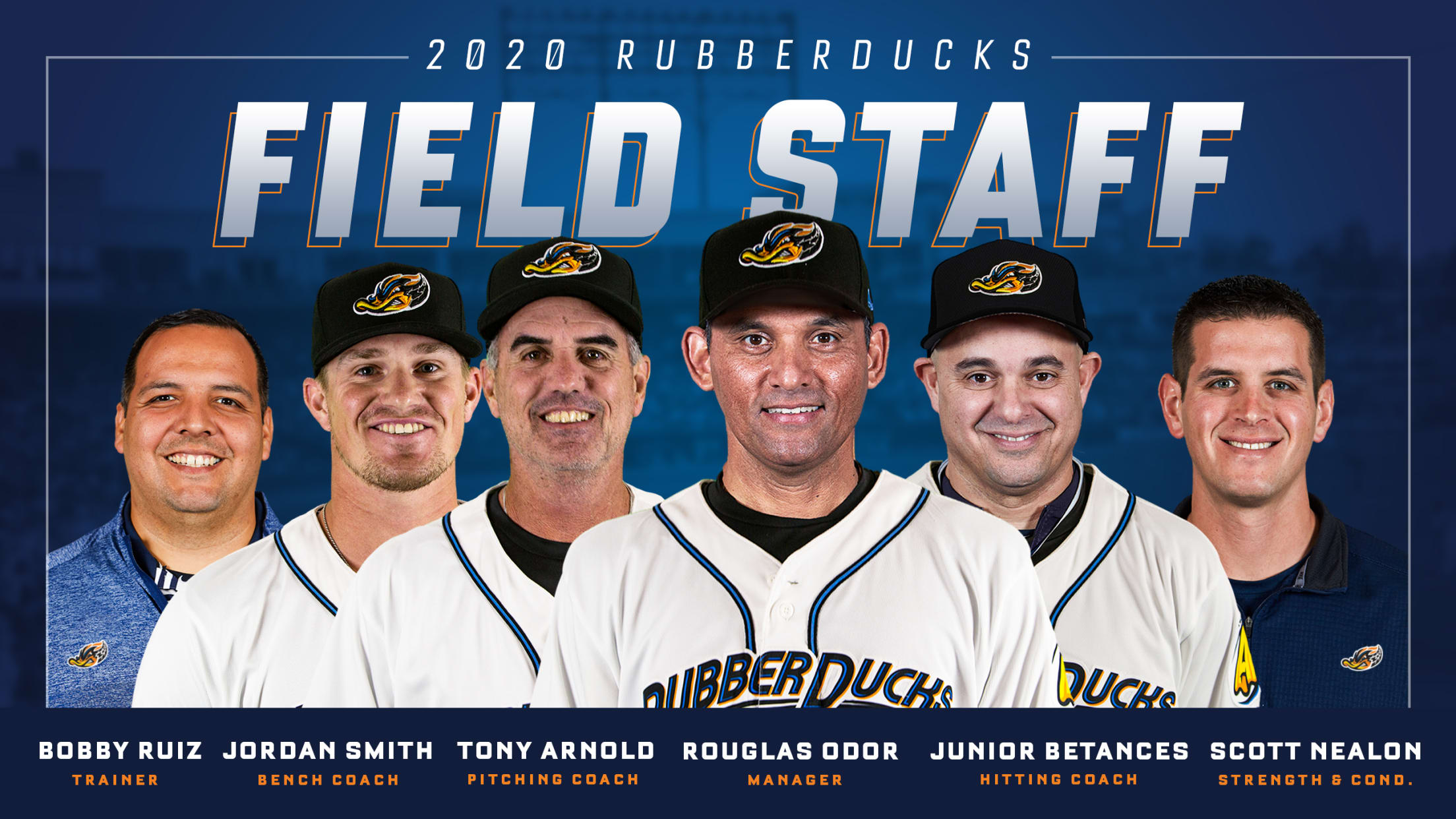 (AKRON, OHIO) January 24, 2020- The Cleveland Indians have announced the organization's staff alignment within its Player Development System for the 2020 season and the Akron RubberDucks' field staff are quite familiar with Akron from previous stops with the franchise.Manager ROUGLAS ODOR, who was the RubberDucks hitting coach in 2014,
Farmer Fran Flash Sale! Bobblehead VIP Meet & Greet: Blake Clark
VIP Deal Includes Guaranteed Farmer Fran Bobblehead on June 27th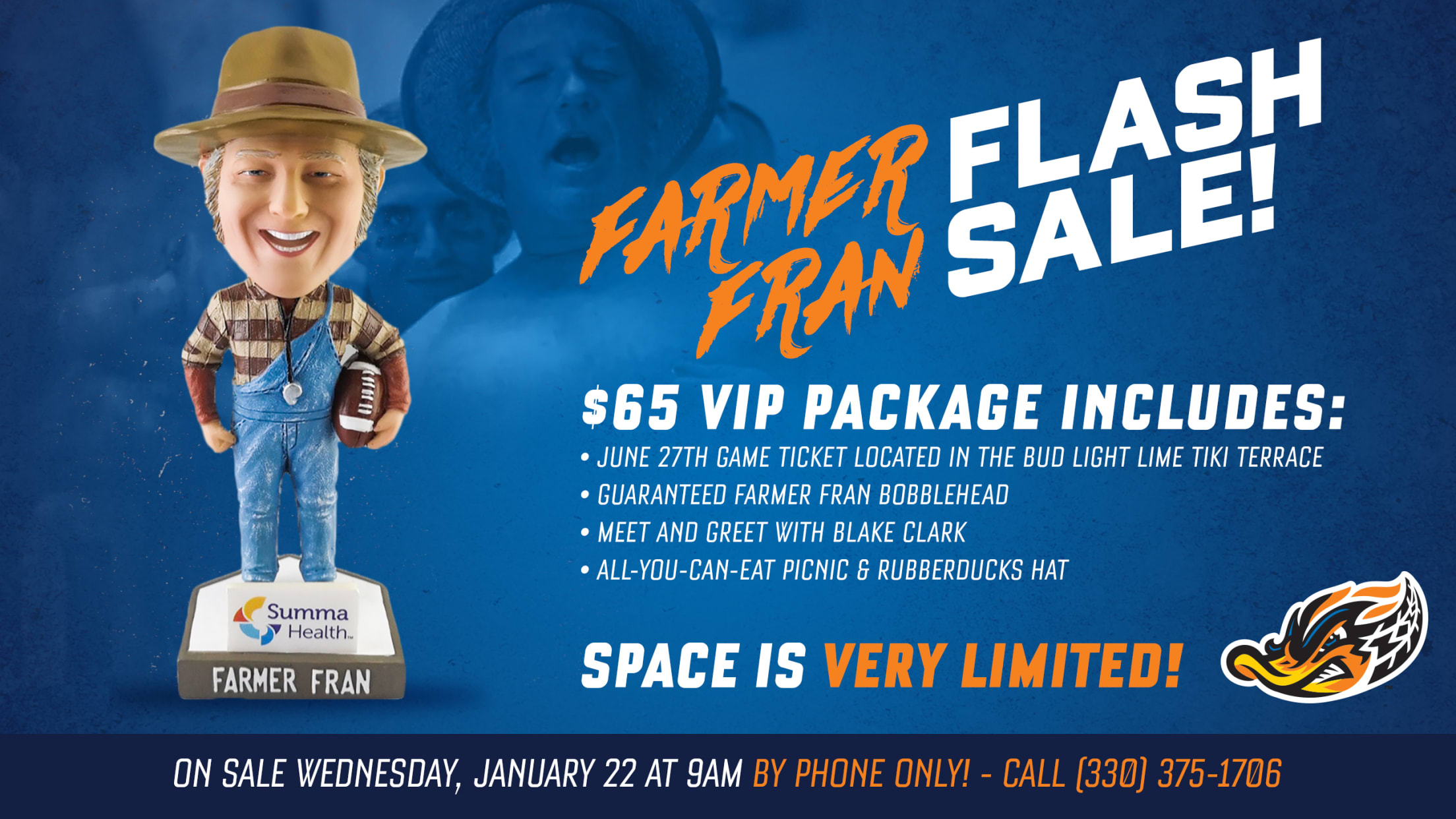 Call 330-375-1706 to order - space is very limited!VIP Package includes:
Early Nerd Special! Bobblehead VIP Meet & Greet: Jaleel White
Includes Guaranteed Steve Urkel Bobblehead on Saturday, July 18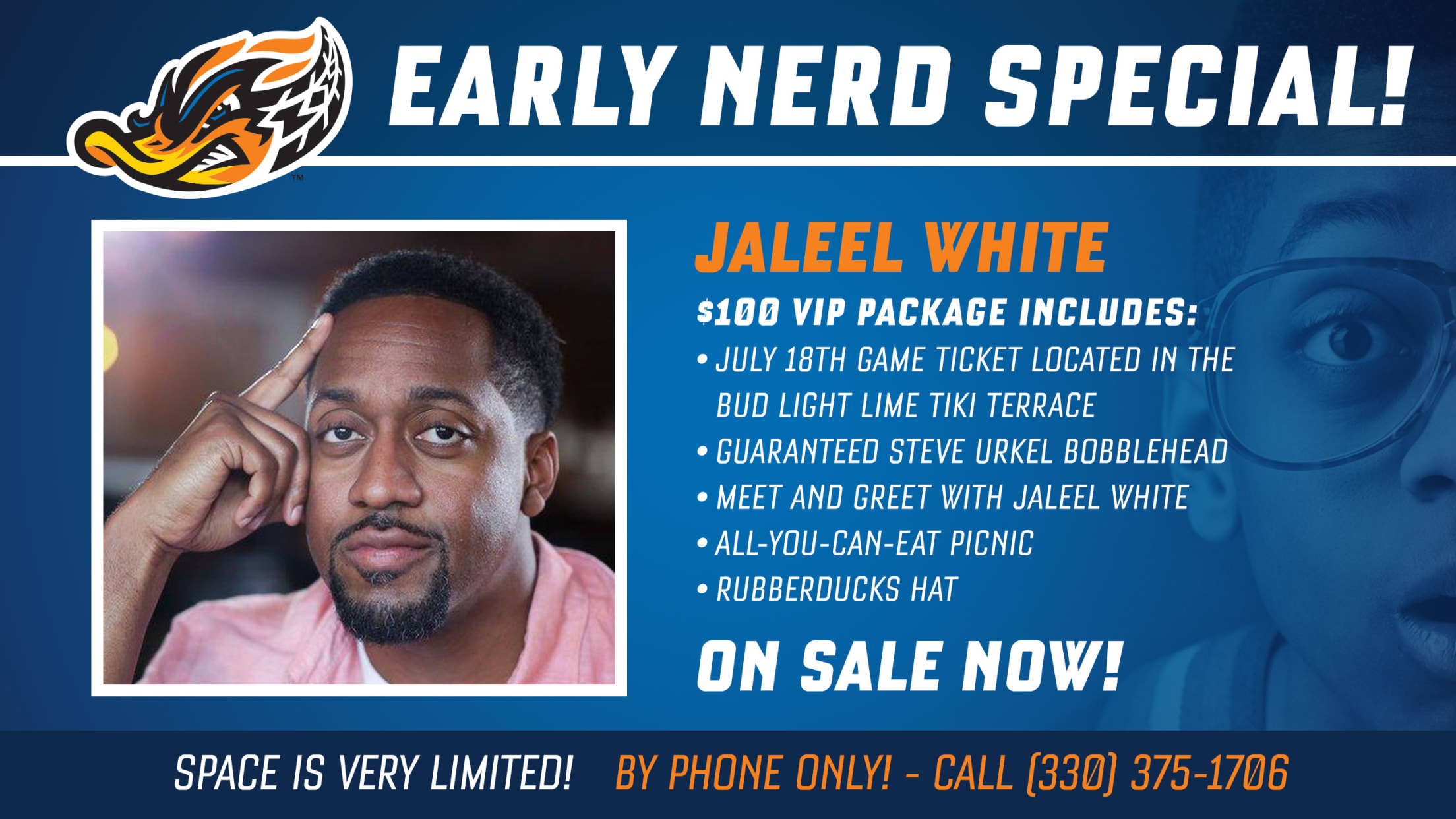 Call 330-375-1706 to order - space is very limited!VIP Package includes:
Dynamite Deal! Bobblehead VIP Meet & Greet: Jon Gries
Includes Guaranteed Uncle Rico Bobblehead on Saturday, Aug. 22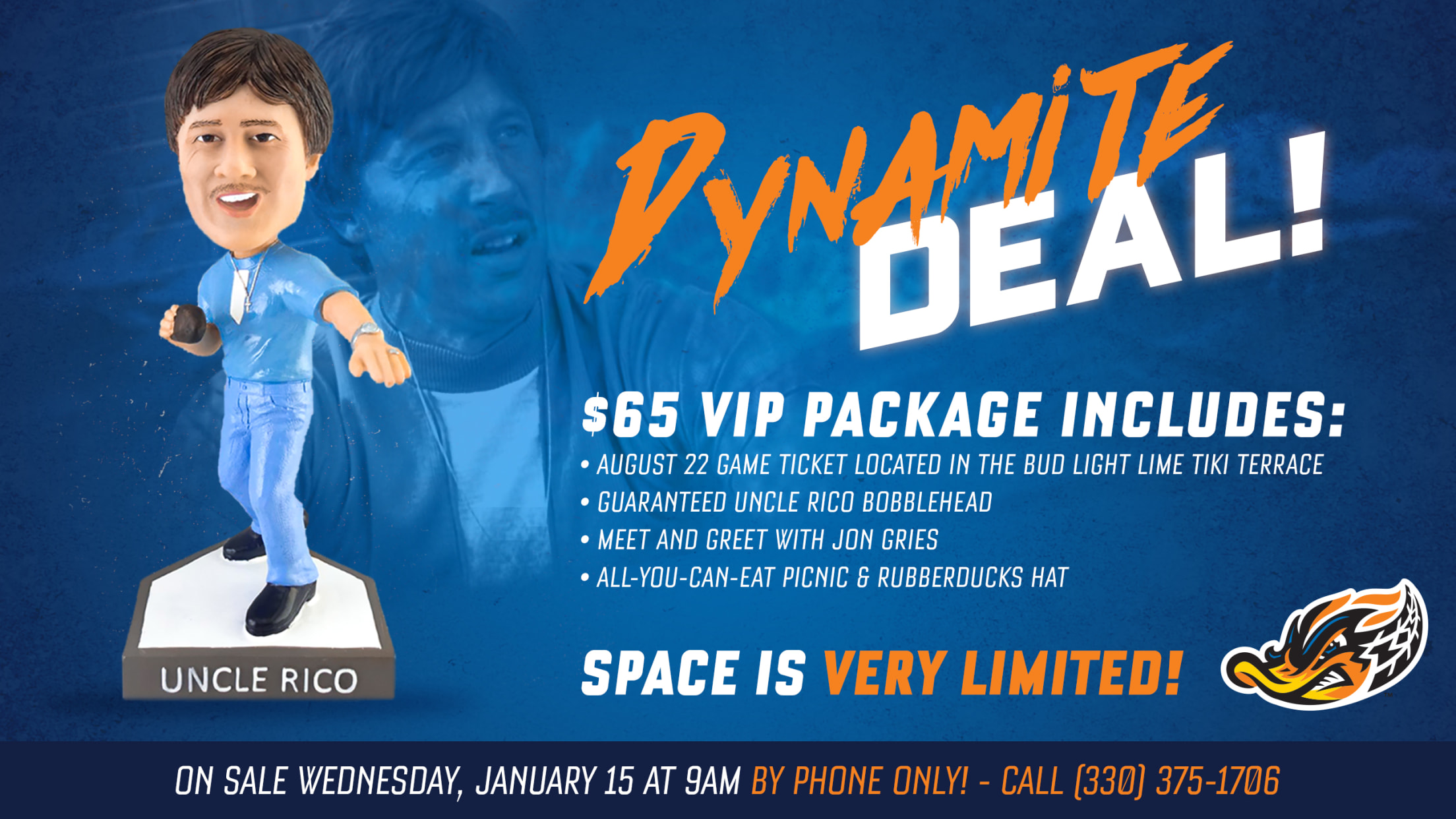 Call 330-375-1706 to order - space is very limited!VIP Package includes:
Canal Park To Host Job Fair March 9
AKRON BASEBALL JOB APPLICATION (PDF)RUBBER CITY CONCESSIONS JOB APPLICATION (PDF)(AKRON, OHIO) March 4, 2020- The Akron RubberDucks will be holding a third job fair for the 2020 season March 9 from 5 p.m. to 7 p.m. for game-day and part-time positions for both Akron Baseball and Food & Beverage.
Early Bird Special: 2020 Group Outings at Canal Park
Place a 50-ticket deposit in February and choose your reward!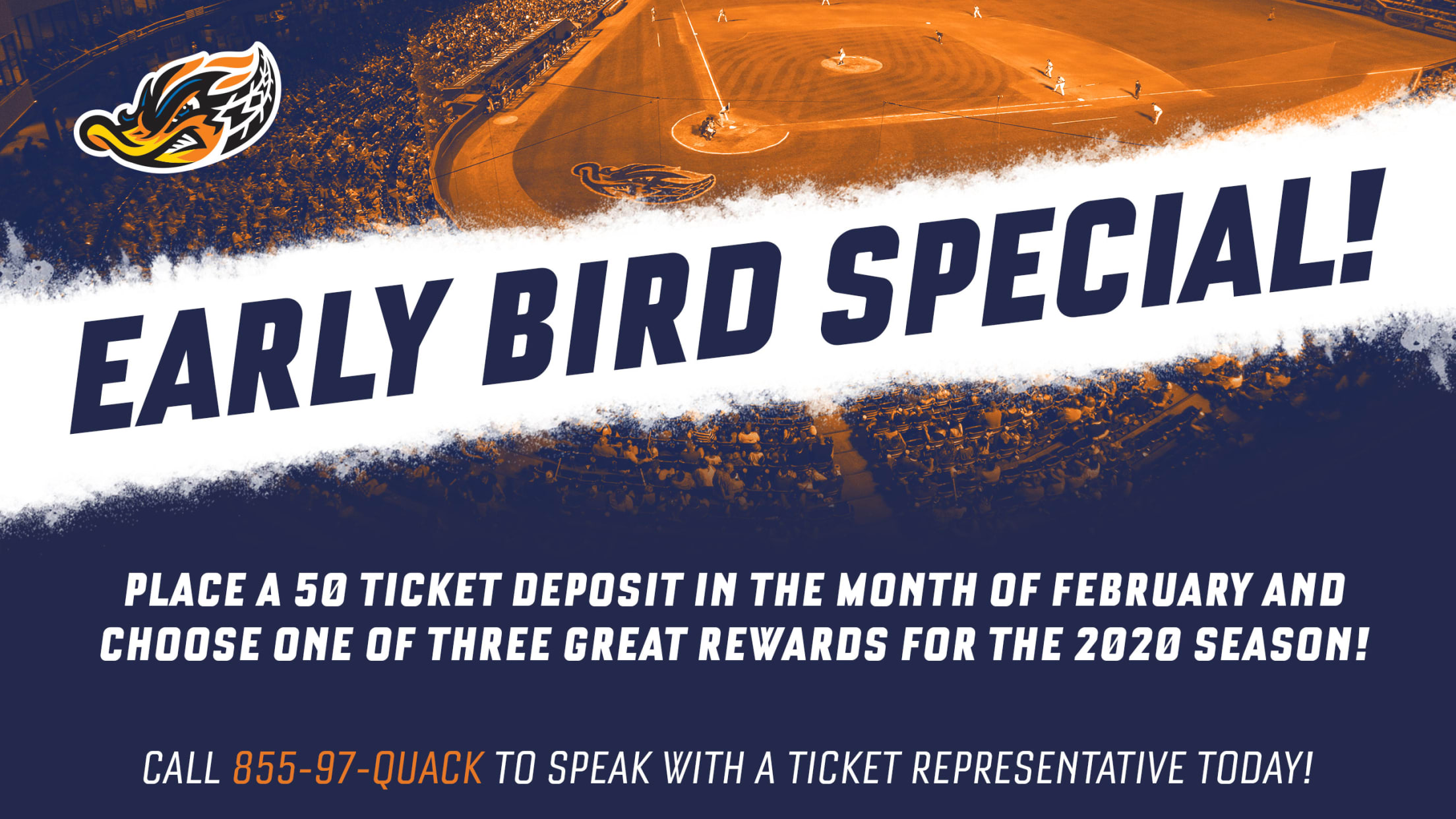 Early Bird Sale Details (PDF)2020 RubberDucks Schedule (by month) | 2020 RubberDucks Schedule (PDF)Spring Training begins this month, so it is time to plan your trips to Canal Park for the spring and summer!Group Outings starting at $7 per ticketPicnics starting at $22 per personCall 855-97-QUACK to place a 50-ticket deposit
February Flash Sale Fridays!
Ticket and merchandise deals in weekly one-day sales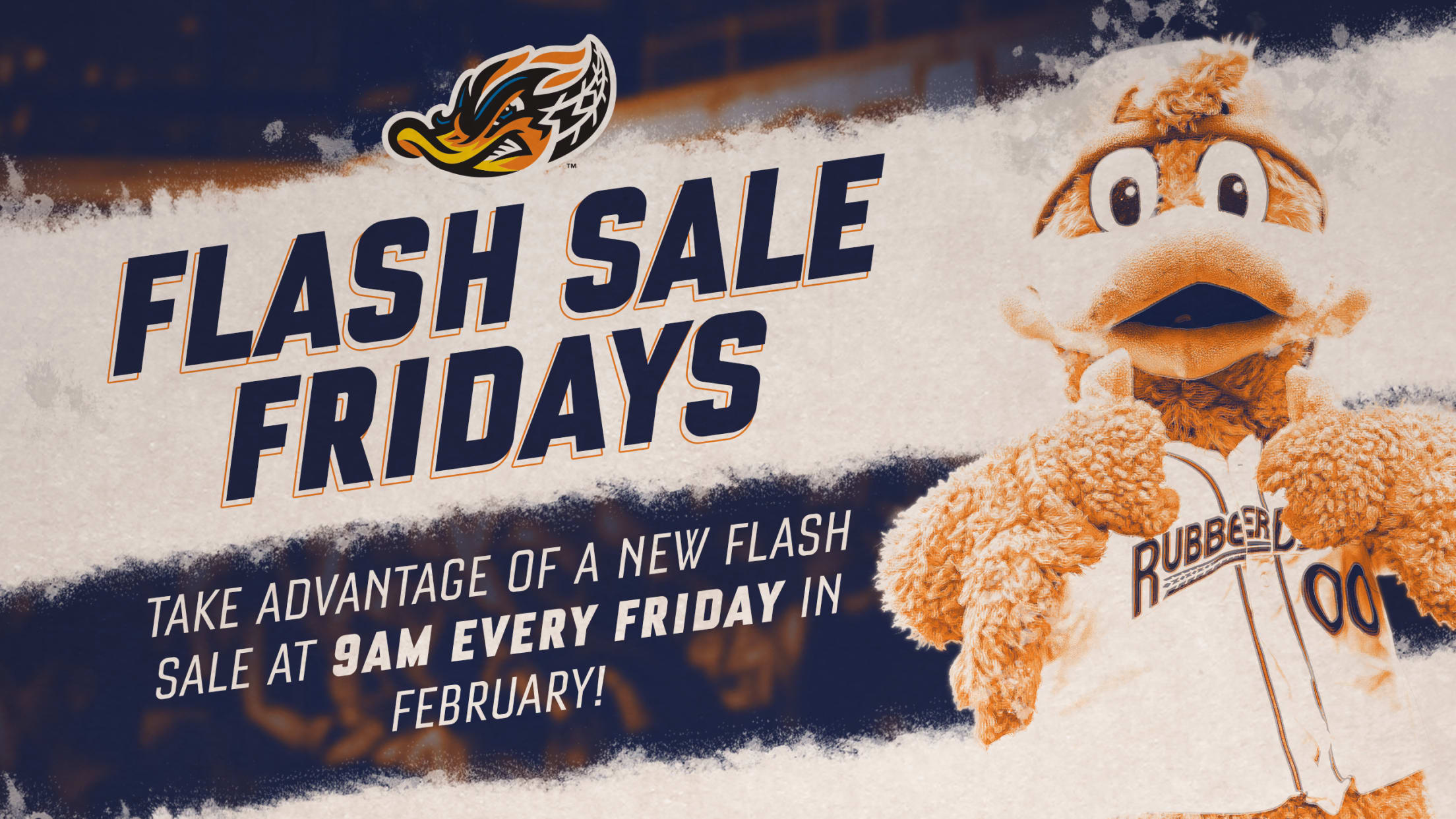 Every Friday in February 2020 is a special 24-hour flash sale on RubberDucks tickets and merchandise!Friday, Feb. 7, beginning 9 a.m. ET - $7 Opening Day TicketsFriday, Feb. 14, beginning 9 a.m. ET - $40 Valentine's Day Flash Sale - Two Ticket Vouchers, Two T-Shirts, $10 Duck BillsFriday, Feb. 21, beginning 9