Down East Skunks Salem 7-5
Ninth inning rally falls short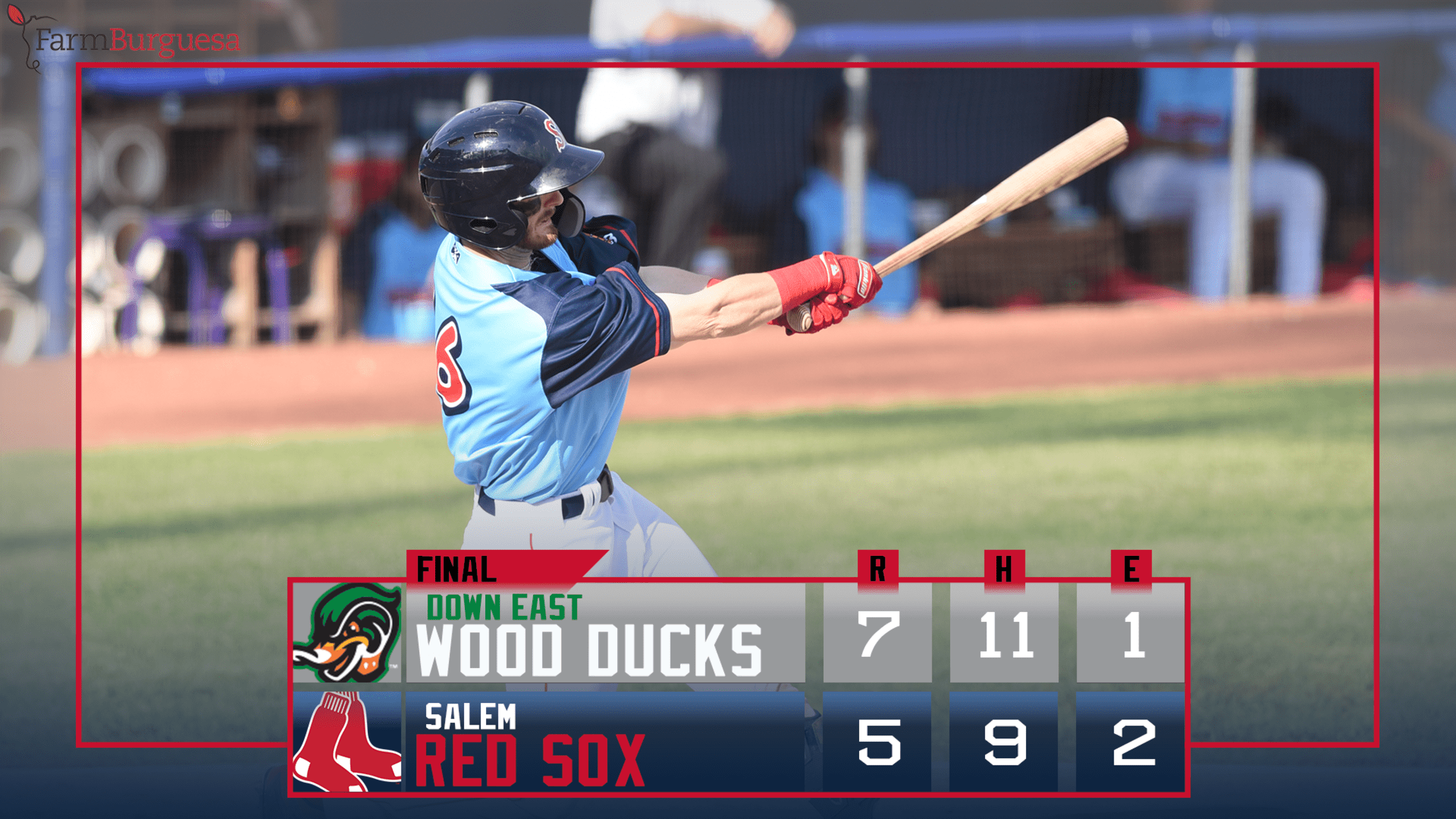 SALEM, Virginia (July 18, 2019) - The Salem Red Sox rallied after falling behind early to Down East but the ninth inning push fell short, 7-5, Thursday night at Haley Toyota Field.How it Happened * Down East scored first again, striking on a trio of singles in the first inning
SALEM, Virginia (July 18, 2019) - The Salem Red Sox rallied after falling behind early to Down East but the ninth inning push fell short, 7-5, Thursday night at Haley Toyota Field.

How it Happened
* Down East scored first again, striking on a trio of singles in the first inning to take a 3-0 lead.
* Edgar Corcino and Dylan Hardy led off the second inning with consecutive base hits and both scored when Charlie Madden delivered a deep single to cut Down East's lead 3-2.
* The Wood Ducks immediately responded in the third inning when Yohel Pozo knocked a two-run double and scored on a single from Josh Altmann to pull ahead 6-2. Diosbel Arias added eighth inning insurance with an RBI single to boost the Woodies 7-2 over Salem.
* Zach Schellenger delivered 1 1/3 innings of no-hit relief and struck out three in the process.
* Pedro Castellanos began the final frame with a walk. Edgar Corcino doubled and Dylan Hardy was issued another walk to load the bases. A skunk broke onto the field and took its time to run across the outfield for five minutes before play could resume. Michael Osinski doubled with two outs to clear the bases and cut Down East's lead 7-5 but the efforts fell short.
Standout Sox
* Michael Osinski: 1-for-4, 3 RBI, 2B
* Charlie Madden: 2-for-4, 2 RBI, 2B
* Zach Schellenger: 1.1 IP, 0 H, 0 R, 0 ER, 0 BB, 3 K

Noteworthy
*Osinski's bases-clearing double was the first multi-RBI performance of the season for him.
What's Next
Salem Red Sox vs. Down East Wood Ducks Friday, July 19, 2019. First pitch is scheduled for 7:05 PM EST.
TBA vs. RHP Reid Anderson
Listen: SalemSox.com, TuneIn Radio, ESPN Blacksburg WKEX 1430 AM/94.1 FM, WGMN 1240 AM/93.3 FM
Watch: MiLB.TV
The Salem Red Sox are the Advanced-A affiliate of the Boston Red Sox and call Haley Toyota Field in Salem, Virginia home. The team was founded in 1968 and purchased by Fenway Sports Management in December of 2007. For more information on the Salem Red Sox, please visit SalemRedSox.com or contact Melanie Newman at [email protected].