Down East spoils Salem rally
Dylan Hardy delivers at the plate in 6-5 loss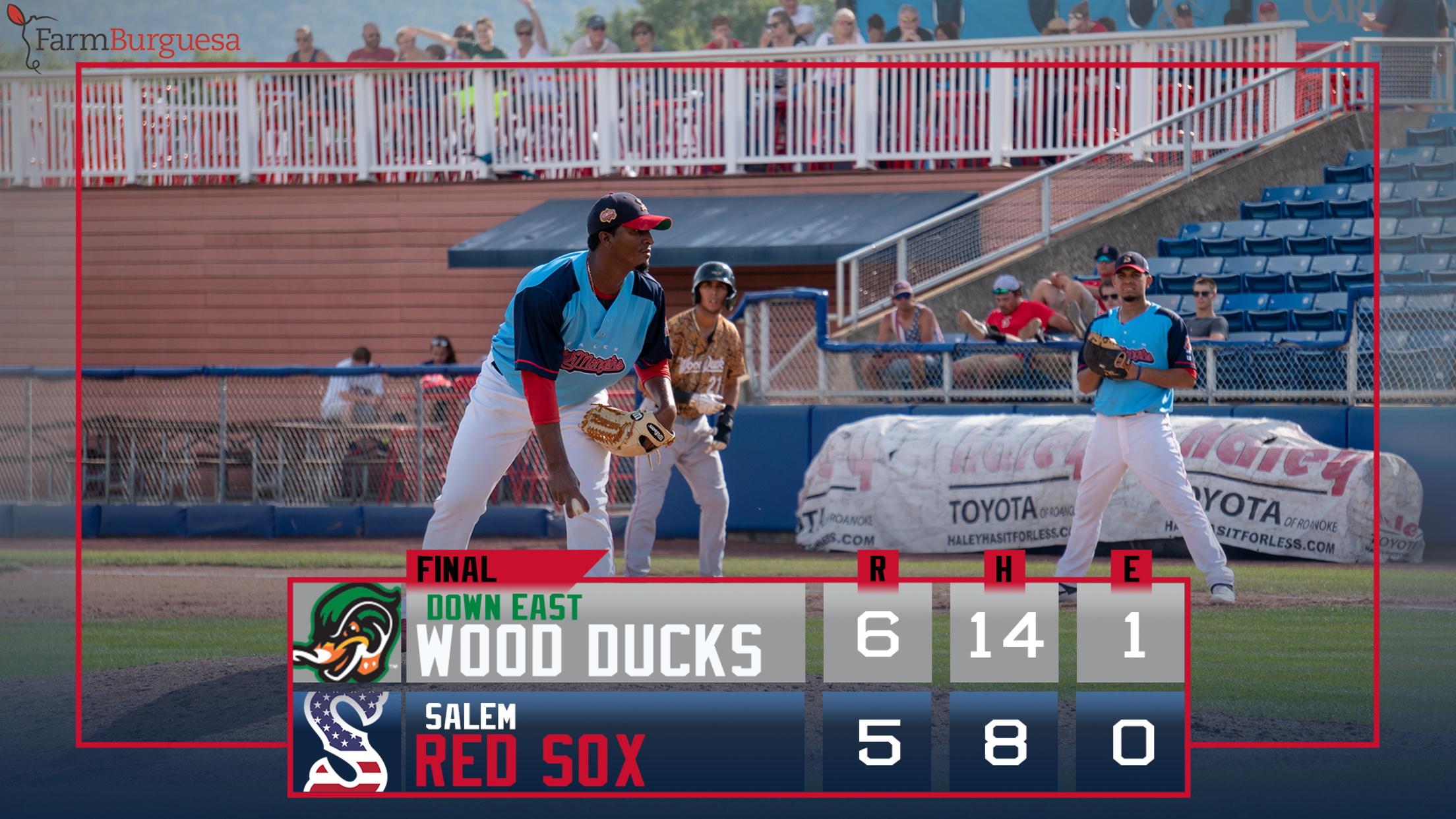 SALEM, Virginia (July 4, 2019) - The Red Sox came from behind to rally but ultimately fell 6-5 in a seesaw tilt with the Down East Wood Ducks Thursday at Haley Toyota Field.How it Happened * Julio Pablo Martinez punctuated the scoreboard with a two-run home run in the second
SALEM, Virginia (July 4, 2019) - The Red Sox came from behind to rally but ultimately fell 6-5 in a seesaw tilt with the Down East Wood Ducks Thursday at Haley Toyota Field.

How it Happened
* Julio Pablo Martinez punctuated the scoreboard with a two-run home run in the second inning for an early 2-0 Down East lead.
* The Woodies doubled down on an RBI single and sacrifice fly to advance 4-0 in the fourth inning.
* Salem rallied in the bottom of the frame. Pedro Castellanos and Ryan Fitzgerald double; Keith Curcio scored them both with a single to cut the lead in half. Curcio scored on a wild pitch and Dylan Hardy drove in the tying run on a sacrifice fly.
* Down East loaded the bases in the fifth inning and reclaimed the lead after a base on balls pushed a runner home.
* Hardy drove in his second run of the game with a double to draw even, 5-5 after six innings.
* Yohel Pozo dealt the final blow to Salem as an RBI double pushed the Wood Ducks back up, 6-5.
Standout Sox
* Dylan Hardy: 2-for-2, 2 RBI, 2B, SB
* Keith Curcio: 1-for-4, 2 RBI, R
* Pedro Castellanos: 2-for-5, R, 2B

What's Next
Salem Red Sox vs Down East Wood Ducks Friday, July 5, 2019. First pitch is scheduled for 3:05 PM EST.
RHP Daniel Gonzalez vs. RHP Reid Anderson
Listen: SalemSox.com, TuneIn Radio, ESPN Blacksburg WKEX 1430 AM/94.1 FM, WGMN 1240 AM/93.3 FM
Watch: MiLB.TV
The Salem Red Sox are the Advanced-A affiliate of the Boston Red Sox and call Haley Toyota Field in Salem, Virginia home. The team was founded in 1968 and purchased by Fenway Sports Management in December of 2007. For more information on the Salem Red Sox, please visit SalemRedSox.com or contact Melanie Newman at [email protected].