Dragons 2020 Team Preview, Part 7: Right-Handed Starting Pitchers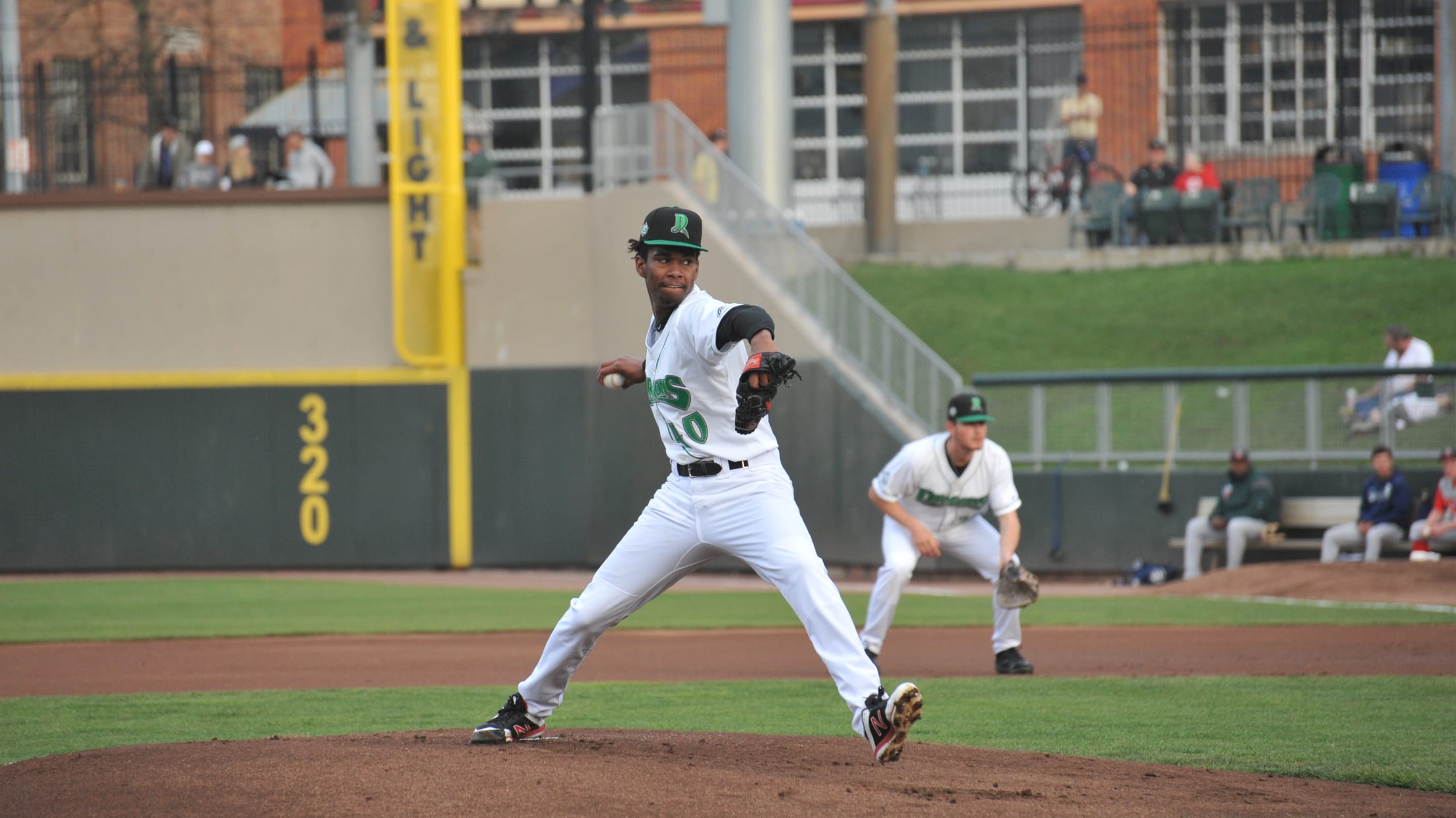 Jhon DeJesus with the Dragons in 2019
As we move through these difficult times, the Dragons will continue to offer articles, videos, and photos on our team website and our social media platforms in an effort to provide fans with interesting content. Of course, the timeline of our season is unknown at this point, but when play
As we move through these difficult times, the Dragons will continue to offer articles, videos, and photos on our team website and our social media platforms in an effort to provide fans with interesting content. Of course, the timeline of our season is unknown at this point, but when play resumes, the players in these previews will compete for roster positions with the Dayton Dragons. Stay safe, everyone.
The Right-Handed Starting Pitchers
This is part seven of a nine-part series previewing the 2020 Dragons. Players listed here are candidates for positions on the 25-man Dragons season-opening roster.
This preview is an unofficial projection of possible roster candidates. Minor League rosters have not been assigned.
There is a complete listing of all Reds Minor League players here at this link at RedsMinorLeagues.com: https://redsminorleagues.com/2020/02/17/cincinnati-reds-minor-league-spring-training-roster-2020/
Click links on each name for career stats and player information.
Candidates: Noah Davis, Miguel Medrano, Graham Ashcraft, Jhon De Jesus, Spencer Stockton, Jason Parker, Carlos Carreno.
*Player, Age, Ht., Wt. *
Noah Davis, 22, 6'2", 195
Miguel Medrano, 22, 6'0", 165
Graham Ashcraft, 22, 6'2", 217
Jhon De Jesus, 23, 6'4", 203
Spencer Stockton, 23, 6'3", 210
Jason Parker, 22, 5'11", 197
Carlos Carreno, 21, 6'2", 174
Noah Davis would be considered by many observers to be the best prospect on the list of possible Dayton starting pitchers. Baseball America has Davis ranked as the Reds #15 prospect, higher than such notable arms as Reds 2019 Minor League Pitcher of the Year Packy Naughton and Triple-A pitcher Tejay Antone, who was added to the Reds 40-man roster over the winter.
The Reds drafted Davis in the 11th round in 2018, knowing that he would miss all of that season and part of 2019 after undergoing Tommy John elbow surgery. Davis was a college teammate at UC Santa Barbara of potential Dragons 2020 catcher Eric Yang, who caught Davis at Billings last summer after Davis returned to the mound following his rehab assignment. Davis made 30 starts at UCSB, serving as a full-time starting pitcher as a freshman and sophomore before being limited to eight innings as a junior due to the injury. He posted a career record of 15-9 with a 4.58 ERA.
Davis was on the mound for some big games in college and high school. As a freshman at UC Santa Barbara in 2016, he was the team's #2 starting pitcher behind ace Shane Bieber, who has won 26 Major League games with the Cleveland Indians over the last two seasons. Davis helped UCSB to its first-ever trip to the College World Series as the team finished the year as the #7 team in the nation. Davis was the starting pitcher for their second game of the 2016 College World Series as his team beat powerful Miami. Davis allowed just one run on two hits over six innings in that game. Davis returned to UCSB in 2017 and was his team's top starter, going 7-4 with a 4.63 ERA. At Huntington Beach High School, Davis was a California All-State selection and pitched his team to a state championship.
After being drafted by the Reds in 2018, Davis battled back from reconstructive elbow surgery to return to the mound by June of 2019. He made five short rehab starts with the AZL Reds and then joined the Billings roster on July 28. He was limited to a maximum of 75 pitches at Billings but made eight starts, posting a fine ERA of 2.10. Assuming there are no further setbacks, Davis should be on a normal pitching program in 2020 and would look like a solid choice as the Dragons opening day starter.
Miguel Medrano was the ace of the Billings staff last season and season and was selected as the 2019 Pioneer League Pitcher of the Year. His ERA of 3.13 would easily have led the league, but he finished literally two-thirds of an inning short of the minimum number of innings to qualify. Medrano walked just 14 batters in 60.1 innings while striking out 66. In four of his 14 starts, he did not allow a run. He did not allow more than three runs in any start. Medrano was originally signed as an international free agent by the Texas Rangers and spent two years in their system before being traded to the Reds in exchange for international spending cap space. (These types of trades relate to the salary cap that every team is limited by in relation to their ability to sign international players. In these trades, no money changes hands. One team receives "cap space" from another club and gives up a minor league player in return. The Reds have made several similar deals within the last four years).
Graham Ashcraft was the Reds sixth round draft pick in 2019 out of the University of Alabama-Birmingham, becoming the highest-drafted player in UAB history. After numerous reports that Ashcraft's fastball had reached 99 mph in high school in Huntsville, Alabama, he started his college career at Mississippi State in 2017. But after undergoing two hip surgeries and missing the 2018 season, he transferred to UAB. He was used as both a starter and reliever in 2019, going 2-5 with a 5.63 ERA.
The Reds assigned Ashcraft to Greeneville where he made 13 starts, posting a 4.53 ERA with 60 strikeouts in 54 innings. The mediocre ERA was driven up by one bad start in which he was charged with 10 earned runs. Without the one rough performance, his ERA for the year with Greeneville would have been a sparkling 2.96. His best start came July 18 when he fired five no-hit innings and struck out six. Overall, he allowed one earned run or less in eight of his 13 starts. Now fully healthy, Ashcraft would be a strong element of the Dragons rotation.
Jhon De Jesus spent most of the 2019 season in the Dragons starting rotation. He made 23 starts in his return to action after missing the entire 2018 season due to an injury. De Jesus, a native of the Dominican Republic, has one of the best arms in the Reds system, but he is still looking to reach his potential.
De Jesus opened the 2019 season with the Dragons with back-to-back scoreless starts, tossing a combined 10 shutout innings while allowing a total of four hits. But he struggled over most of his remaining starts, finishing the year with a record of 2-13 with a 5.08 ERA. His velocity on his fastball reached only the high 80's in some innings but topped out at 97 mph in others. It is possible that the Reds will move De Jesus on to Daytona to see if the increase in competition brings out an improved performance. On the other hand, a return to the Dragons and a familiar situation that would allow him to achieve success and build confidence could also be a consideration.
Spencer Stockton was one of several outstanding additions from independent professional baseball by the Reds during the summer of 2019. The Reds acquired Stockton after he had made seven starts for the Utica Unicorns of the United Shore Professional Baseball League, an entry-level independent league in the Detroit area. Three days after Stockton had played in the league's all-star game as a starting pitcher, the Reds signed him to a Minor League contract. Stockton's 2019 season was an amazing one, as he climbed from the USPBL, making his last start on June 27 against a team called the Westside Woolly Mammoths, all the way to becoming the Cincinnati Reds Minor League Pitcher of the Month in August.
Stockton had played four years of college baseball at Jacksonville University in the Atlantic Sun Conference, posting strong numbers every year. In 2018, he helped his team earn a bid in the NCAA tournament and was Jacksonville's starting pitcher against the University of Florida, the Regional's #1 seed. He finished the 2018 season with an 8-6 record and a 3.59 ERA, but he was not drafted. His time in the United Shore Professional Baseball League led to the chance with the Reds.
Stockton initially was sent to the AZL Reds in Goodyear, Arizona and made six appearances there including four as a starter, going 3-1 with a 2.14 ERA. He was promoted to Greeneville in early August and made four appearances with the G-Reds, going 2-1 with a 1.96 ERA. Overall in August, Stockton made six appearances in the Reds system, posting an ERA of 1.50 as he allowed just six runs in 36 innings. Those numbers earned him the Reds Minor League Pitcher of the Month honor for August.
Jason Parker was drafted by the Reds in the 16th round in 2019 out of North Carolina State University. He did not pitch professionally after signing with the Reds. At NC State, where Parker spent just one season after two years at the junior college level, he led the team in starts in 2019 with 16. Parker posted a 4.38 ERA in 76 innings, helping his team to a berth in the NCAA tournament. He was the starting pitcher in the Wolfpack's loss to East Carolina in the Greenville Regional. Parker showcased his skills when he beat then #1 Florida State on March 15, firing seven scoreless innings and striking out 10.
Parker's ERA over his first eight starts in 2019 at North Carolina State was 1.98. Over his final eight starts, his ERA was 7.20. Those numbers, coupled with the fact that Parker did not pitch at all after he signed with the Reds in June, could indicate any number of conclusions. Hopefully, Parker is fully healthy in 2020 and can bounce back to his first-half form from 2019, when he was one of the top pitchers in one of the top college baseball conferences in the country.
Carlos Carreno is regarded as the pitcher with the best pure stuff of anyone on this list. He pitched at Billings last season and struggled, but one element of Minor League Baseball that has been consistent for decades is that potential does create opportunity. Carreno made 15 starts for Billings and posted a record of 4-6 with a 5.37 ERA. The season did mark an improvement for Carreno over his 2018 season, one level lower in the Reds system with the AZL Reds, when he went 2-6 with a 6.75 ERA.
###