Robinson send-off earns Feel-Good MiLBY Award
Rangers' Huff, Marlins' Sims, Rookie the bat dog also snag honors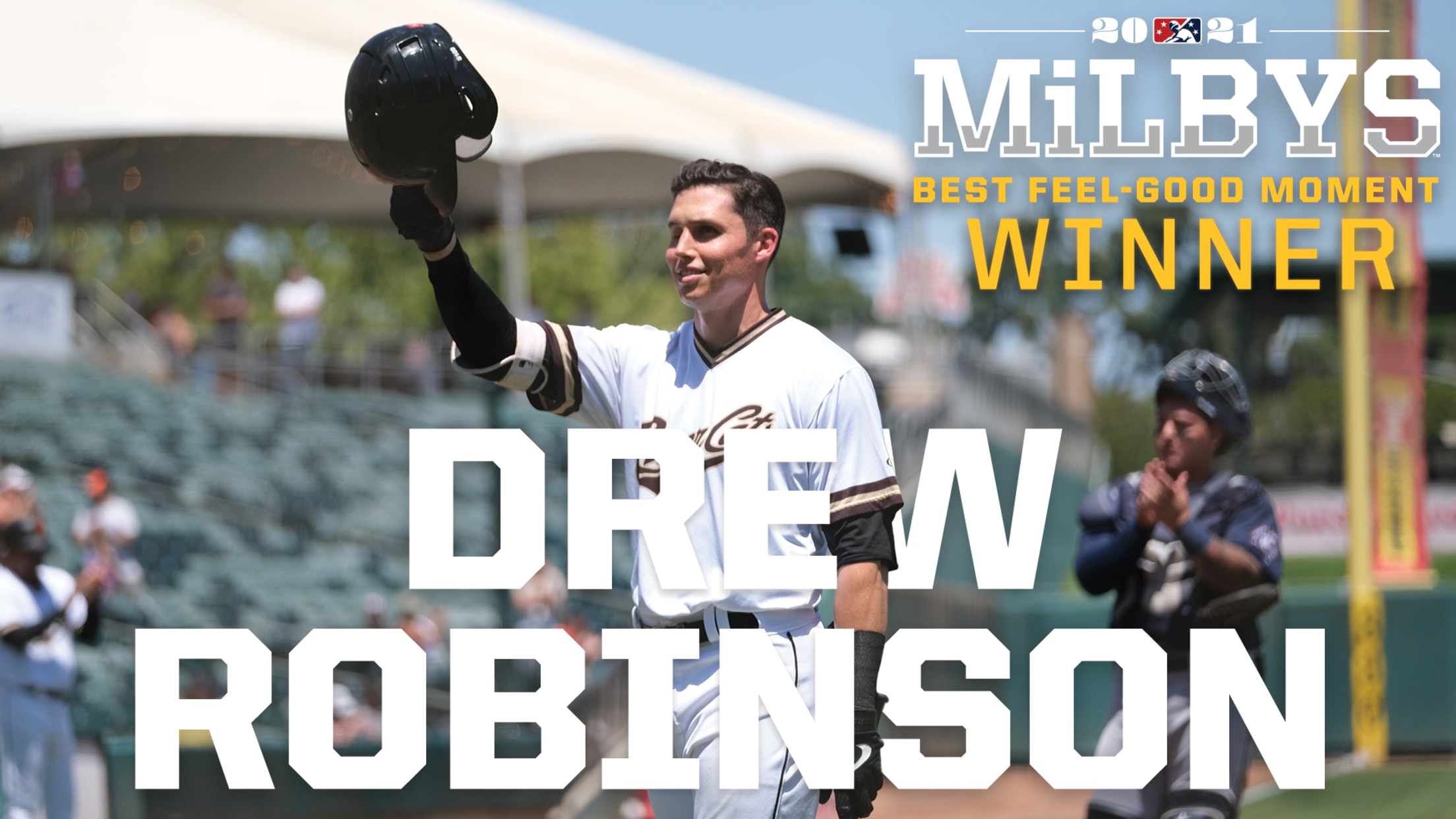 Drew Robinson prepared for Triple-A Sacramento's contest on July 20 like it was any other game. And it seemed that way through the pregame and the first two-and-a-half innings. But things changed as he made the walk from the on-deck circle to the batter's box for his first at-bat. "Please
Drew Robinson prepared for Triple-A Sacramento's contest on July 20 like it was any other game. And it seemed that way through the pregame and the first two-and-a-half innings.
But things changed as he made the walk from the on-deck circle to the batter's box for his first at-bat.
"Please turn your attention to home plate and help us honor Drew Robinson," public address announcer Tim Rainey echoed through the stadium, and the River Cats right fielder began to realize what was happening.
Fans quickly rose to their feet to cheer on the 11-year veteran, who had announced his retirement four days earlier.
"I was just like, 'Oh my gosh, this is happening; I'm getting the Mariano Rivera treatment," he said. "It just hit me like a ton of bricks. My emotions just went through the roof."
The ovation resonated with fans too and it earned the MiLBY Award for Best Feel-Good Moment. Robinson's journey to get to that point is about more than his nine years in the Rangers organization or his time in the Cardinals and Giants systems. It was about surviving a suicide attempt in April 2020. It was about getting back to a place mentally and physically where he could play again.
The moment capped an up-and-down season on the field with Sacramento, starting in his hometown of Las Vegas. He had plenty of familiar faces in the crowd to witness his first hit on May 8 and his first home run on May 11 -- moments his family cherishes as much as the final game.
As the season went on, the 29-year-old said he put a lot of pressure on himself to perform well. Slowly, Robinson noticed he was feeling bouts of depression again, and for the first time in his life, baseball felt like work. Going to the batting cages felt like a chore, no matter how much he reminded himself of how fortunate he's been. Though he doesn't blame the sport, he recognized that the daily adversity on top of all he was handling off the field was just not right for him.
As part of Robinson's retirement, he transitioned into a mental health advocate role with the Giants. In this new position, Robinson helps players find new outlets for their emotions while passing along his experience on and off the field. His job is no longer work. It's a passion.
"It's just a special feeling to be able to share that with others openly," he said. "I'm fortunate that I'm in the position that I'm able to have an impact on people's lives in a positive way because I was so closed off before that I'd never would have imagined myself really having that big of an impact on somebody. So it's special. It's comforting."
Reflecting on his final game, Robinson thinks about his family and friends in the crowd -- the ones who supported him over the years. He thinks about how perfect it was that the opponent was Round Rock, his former team. Four months removed from the standing ovation at Sutter Health Park, Robinson reflected on his growth.
"I think before [the incident], I would have been embarrassed or ashamed of the reasoning why I was getting praised," he said. "Because my old self was kind of part of the stigma of mental health and thinking of it as a weakness. But being able to kind of embrace my flaws and what I've been through and -- from a performance standpoint -- be proud of myself, even though I wasn't playing well, it kind of just symbolizes the growth.
"And it's something I take pride in nowadays, being vulnerable and being a voice for these things. So I really tried to embrace what I'm doing as a person and then hopefully have an impact on people."
The Feel-Good Moment category was filled with five special memories from the Minor League season, including an Amarillo fan asking her father to adopt her, a blind participant at Hudson Valley's Disability Dream & Do Day hitting a home run, an Air Force sergeant surprising his family at a Richmond game and small children dressed up as the Fresno mascot following Parker around the field.
Top Play: Sims turns two with tag
Demetrius Sims is no stranger to making highlight reel plays, but on Sept. 7, he did something he's never done before. He tagged the actual base for an out.
With a runner at first, Double-A Pensacola reliever Josh Roberson threw "an outstanding pitch," getting Biloxi's Alexander Palma to knock the ball up the middle. Coming over from short, Sims dove behind second base to make the stop. Then from his knees, he put the double play into motion.
"I just tagged [the base], thinking I could just get the one at second and then just [instinctively] threw it to first," the shortstop said. "It was a bang-bang play and they called it out."
Lazaro Alonso's stretch at first completed the out as Sims jogged back to the dugout, not realizing just how cool of a play it was.
"Everyone was like, 'What just happened?' Like 'That was just one of the greatest plays I've seen,'" he recalled hearing. "So that was a pretty cool moment and all the congratulations from teammates and coaches and all the cheers from the fans."
What made the play especially significant to Sims was that the Blue Wahoos were in playoff contention at the time. The Marlins prospect was appreciative of Roberson for making the pitch to set the play up as well as the fans who voted for him in such a stacked category.
Sims' improbable double play beat out diving catches by Syracuse's Albert Almora and Omaha's Bobby Witt Jr., a wall-scaling snag from Jacksonville's Monte Harrison and a line drive that deflected off Gabe Speier's glove for Omaha.
Top Blooper: Rookie mistake goes viral
After spending much of the summer hosting the Triple-A Buffalo Bisons in Trenton, Rookie the bat dog was invited to Western New York for a game to do what he does best: retrieve bats.
The 7-year-old golden retriever is a third-generation bat dog with the Thunder, following in the pawprints of his grandpup, Chase, and dad Derby. And while Rookie is a pro, he is also a creature of habit. So when he was coming out of the third-base dugout in Buffalo (rather than first-base side in Trenton), he was a little thrown off.
As a result, the impatient dog ran across the field mid-at-bat. Rookie dashed around the mound and leapt into the hearts of fans across the world as the video of his adventure went viral.
Rookie went on to field bats cleanly the rest of his stint, but the adorable damage was already done.
"I want to apologize to my fren (sic) Cavan Biggio, for running out on the field last night during his at bat in the @BuffaloBisons game," Rookie's account tweeted. "I was just so excited to be retrieving bats again. I hope Cavan and @BlueJays are not mad at me.#sorry"
You're still pawfect to us, Rookie.
The pooch's prance took the Best Blooper MiLBY over Fort Wayne's Moises Lugo getting two balls thrown back to the mound, Down East's Keithron Moss falling well short of second on a stolen-base attempt, umpire Takahito Matsuda ejecting a manager while replacing his belt and Witt Jr.'s long ball being ruled a triple after umpire Chris Presley-Murphy said the Omaha batter didn't step on home.
Top Home Run: Huff obliterates baseball
It was a powerful summer for Sam Huff.
After a hamstring strain pushed his season back to June 28, MLB's No. 91 overall prospect showed everyone he was just fine with a 511-foot blast in a rehab game in the Rookie-level Arizona Complex League. And that was only the beginning. Huff launched a handful of homers that went over 450 feet, but none were as majestic as the game-tying moonshot he hit on Aug. 7 for Double-A Frisco.
After facing Luis Frias earlier in the season, Huff spent days preparing for the rematch with the D-backs' No. 13 prospect, knowing the right-hander has a full arsenal. With a 1-1 count, Huff was looking for a fastball.
"He threw it and I think it was a little more in, but his stuff kind of like sinks in and he's got a little run to his ball," the Rangers' No. 5 prospect said. "So it was just getting my hands inside and then catching the barrel on front. So it played out good, but it also was not as easy as it looked."
What fans saw was a monster shot to left, flying through trees and out of the stadium as the ball traveled 502 feet with an exit velocity of 114 mph. Huff knew it was gone immediately -- "I mean, I pimped it little bit; I saw the video" -- but he didn't realize just how far gone it was until he got back to the dugout.
"Everyone's kind of looking at me a little weird, and I was like, 'What?' and they're like, 'It went 502,'" Huff recalled. "And I was like, 'Oh, cool.' Finally got out of Arizona, and now I can show people I hit farther in a different area other than Arizona."
In the Statcast Era (since 2015), there have only been two Major League homers that went over 500 feet -- Giancarlo Stanton in 2016 and Nomar Mazara in 2019. But Sam Huff? Two at age 23.
"I don't ever want to try and hit the ball really far. That's the thing is like I really want to just put a good swing on the ball," the first baseman said. "This year was a little hard for me because I've battled a lot of stuff physically. But coming back and doing that and hitting the ball hard and stuff, it does show me that I don't need to put a lot of effort into it sometimes, and all you got to do is just relax and put the barrel on the ball."
Huff's MiLBY-winning jack towered over dingers by Pensacola's Griffin Conine, Amarillo's Stone Garrett, Quad Cities' Nick Loftin and Worcester's Johan Mieses.
Kelsie Heneghan is a writer for MiLB.com. Follow her on Twitter @Kelsie_Heneghan.