Ducks Dash SeaWolves' Playoff Hopes At Home, 5-1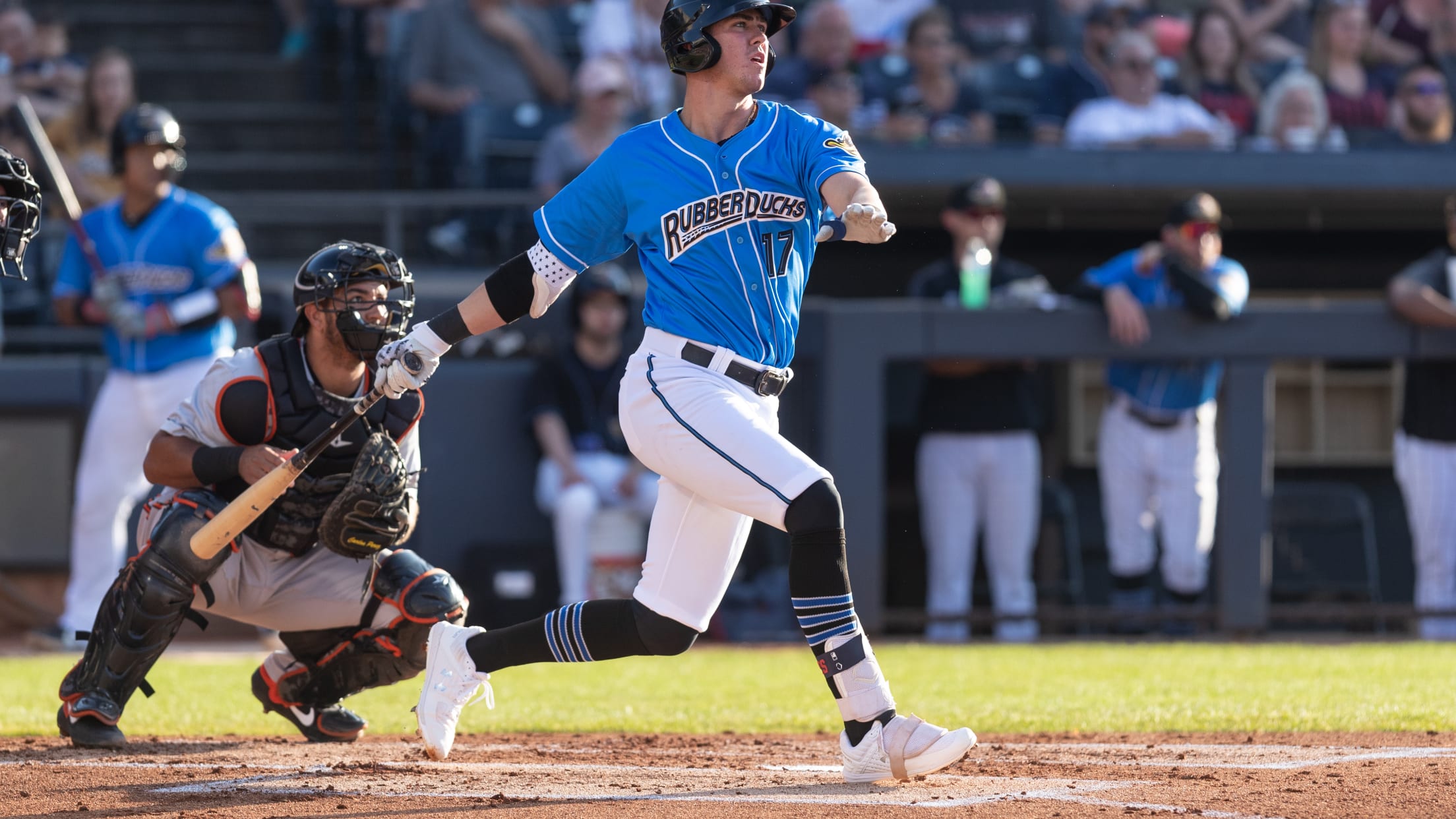 Nolan Jones hit a home run in the fifth inning of the RubberDucks' 5-1 win over the Erie SeaWolves Sunday night at Canal Park. (David Monseur)
RubberDucks Game RecapRubberDucks 5 (27-43, 61-78) SeaWolves 1 (45-26, 76-61)WP: Kyle Dowdy (1-1) LP: Joe Navilhon (1-3) Save: Hector Hernandez (1)SummaryThe Akron RubberDucks dashed the playoff hopes of the Erie SeaWolves behind a solid outing from Kyle Dowdy and two home runs to win 5-1 Sunday night at Canal Park
RubberDucks Game Recap
RubberDucks 5 (27-43, 61-78) SeaWolves 1 (45-26, 76-61)
WP: Kyle Dowdy (1-1) LP: Joe Navilhon (1-3) Save: Hector Hernandez (1)

Summary
The Akron RubberDucks dashed the playoff hopes of the Erie SeaWolves behind a solid outing from Kyle Dowdy and two home runs to win 5-1 Sunday night at Canal Park
Turning Point
The turning point came in the fifth inning when the RubberDucks erupted for four runs, capped off by a towering Nolan Jones home run, giving the RubberDucks the 5-1 lead.
Mound Presence
Danny Salazar started the game for the Akron RubberDucks and went a scoreless inning with one walk before being relieved by Kyle Dowdy in the second. Dowdy went six strong innings, allowing only three hits and one earned run while striking out seven Erie SeaWolves. Dalbert Siri and Hector Hernandez escaped trouble in a combined two innings out of the bullpen to secure the win for Akron.
Duck Tales
The RubberDucks' production came on extra bases from Connor Smith who had an RBI double to the left field wall in the fifth and then a two-run homer from Nolan Jones put the game out of reach, 5-1. The Ducks amassed seven hits, including doubles from Smith and Alex Call. Trenton Brooks continues his hot month of August, getting the RubberDucks on the board in the fourth inning with a solo shot to right.
Notebook
Kyle Dowdy, in his fourth start for Akron, is now 1-1 with a 2.95 ERA over 21.3 innings, allowing seven earned runs … That win marked Dowdy's first double-A win since July 11 with Nashville and 8/31/18 at Erie … Trenton Brooks now has extra base hits in six of his last seven games at Canal Park with his home run to right field in the fourth inning, and he now has a five game hitting streak, going 6-for-14 (.429) over that span … Nolan Jones added two more runs batted in tonight and is now up to six multi-RBI games this season since his promotion to Akron July 11 … Tonight's win marks the first home win over the Erie SeaWolves this season and the Ducks are 4-13 vs. Erie on the season … Time of Game: 2:47 (:11 pre-game delay)… Attendance: 6,003
On the Pond
The RubberDucks play their final game of the 2019 season at Canal Park, as they take on the Erie SeaWolves Monday afternoon at 1:05 p.m. The game will be broadcast on Fox Sports 1350 AM, the WARF iHeart channel, and the TuneIn Radio App. RHP Adam Scott will take the ball for the RubberDucks as they try to finish the season on a high note.