Dust Devils Edge Indians in Extras to Take Series Lead
Redband Rally falls just short in 4-3 loss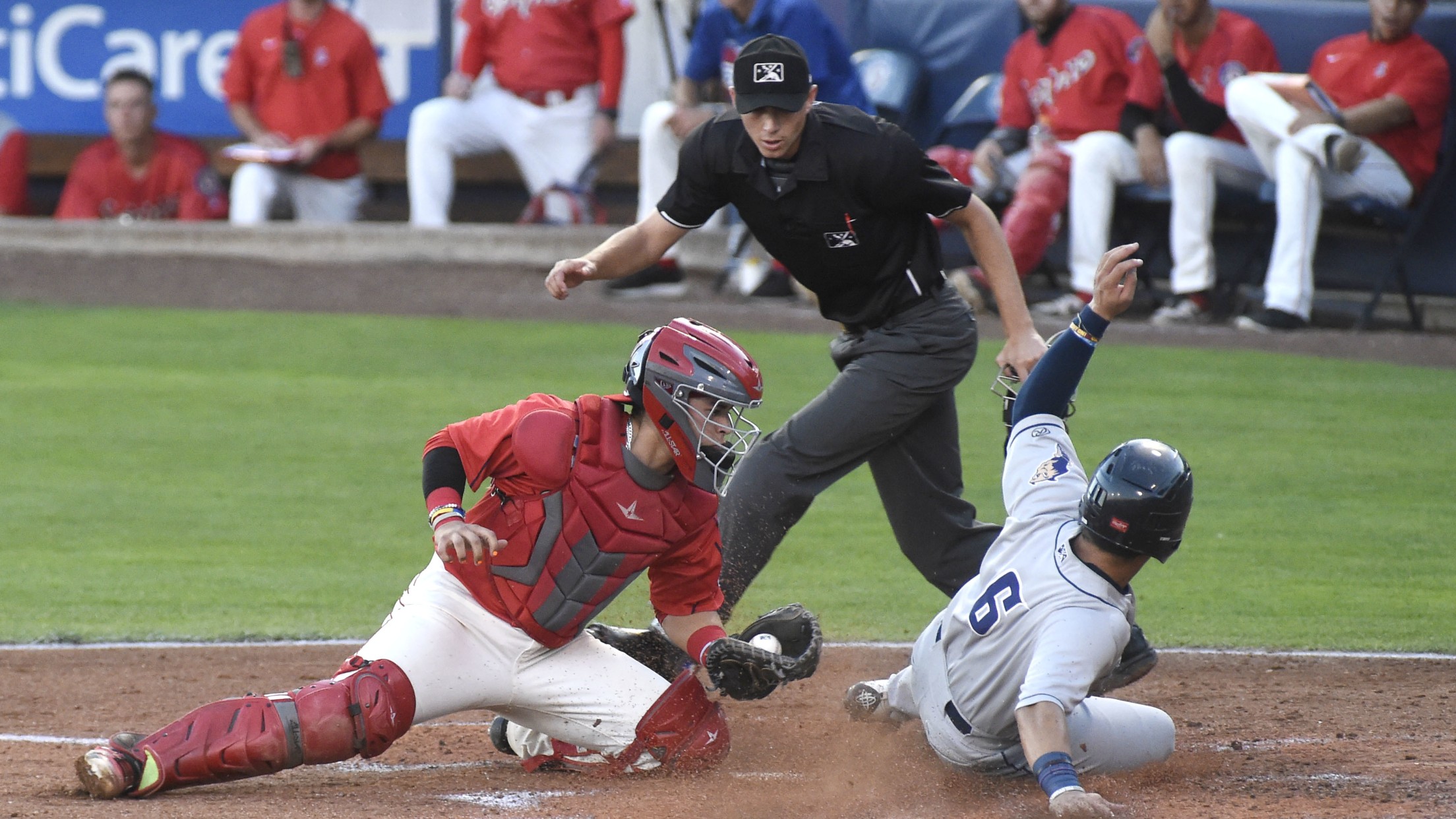 (James Snook)
SPOKANE, Wash. - It wouldn't be the playoffs without some drama. The Spokane Indians and Tri-City Dust Devils had plenty of it in their 12-inning marathon on Wednesday night. After the Indians battled back from 3-0 to force extra innings, the Dust Devils were able to push a run across
SPOKANE, Wash. - It wouldn't be the playoffs without some drama. The Spokane Indians and Tri-City Dust Devils had plenty of it in their 12-inning marathon on Wednesday night. After the Indians battled back from 3-0 to force extra innings, the Dust Devils were able to push a run across in the 12th and take a 1-0 series lead with a 4-3 victory.
TOP PERFORMERS

Trailing 30 in the sixth, Spokane got a leadoff single from Jake Hoover and a double from Derwin Barreto. Both men came in to score on a groundout and wild pitch that cut the lead to one.
In the seventh, Heriberto Hernandez launched a pinchhit, game-tying homer to left in his Avista Stadium debut.
The Indians bullpen was fantastic once again. Werner Leal, Nic Laio, and Joe Corbett combined for seven scoreless innings and nine strikeouts.
BY THE NUMBERS
Spokane was 1for-8 with runners in scoring position, and the one hit they got, the runner was thrown out at the plate.

Wednesday's 12inning game was the longest of the season for Spokane. They drop to 6-2 in extra innings this season, and it's their first extra inning loss at Avista Stadium.

Combined with the loss in the regular season finale, this marks the first time Spokane has lost consecutive games since August 12.
KEY MOMENTS
With the game tied in the bottom of the eighth, Spokane loaded the bases with just one out. New Spokane third baseman Davis Wendzel smacked a high drive down the left field line that was just foul. Two pitches later, he struck out. Luis Asuncion followed with a pop up to end the inning and strand the bases loaded.
In the 11th, David Garcia smacked a leadoff single. After a sacrifice bunt put pinch-runner Obie Ricumstrict in scoring position, Asuncion lined one into right field for a base hit. A great throw home caught Ricumstrict rounding third and he was stuck in a rundown for the second out of the inning. Alexander Ovalles struck out to end the inning.
In the top of the 12th, with two out and two on, Logan Driscoll shot a 3-2 pitch from Dylan Bice up the middle and scored what proved to be the game-winning run.
AROUND THE LEAGUE
There was plenty of drama to go around on Wednesday. The Hillsboro Hops took a 1-0 series lead on the Salem-Keizer Volcanoes after a 2-1 walk-off victory. Hillsboro held the Volcanoes to just one hit on the night. The two series now shift to Tri-City and Salem-Keizer for game two and potentially game three.
NEXT PLAYOFF GAME
The Indians and Dust Devils continue their three-game playoff series with game two in Pasco on Thursday. To see the Indians play on the road in Tri-City on Thursday,
CLICK HERE
. Enter the password Indians19 to access the tickets.