Eight Indians Named Rockies Organization All-Stars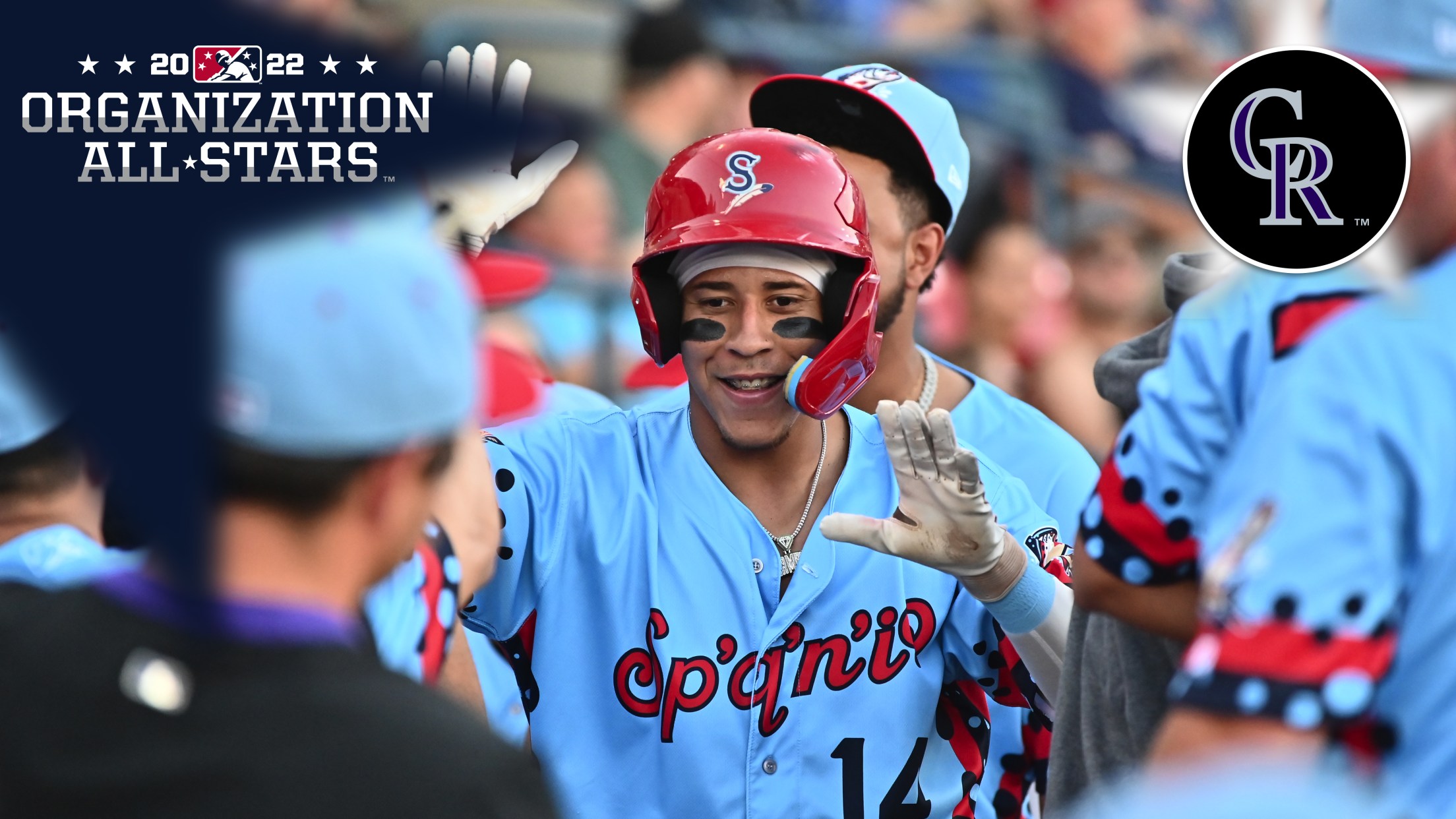 Catcher: Hunter Goodman The 23-year-old was in the thick of the Minor League home run race until the final week, finishing tied for third with 36 long balls. He also ended in a four-way tie for ninth in the Minors with 106 RBIs. The Rockies' No. 23 prospect climbed three
Catcher: Hunter Goodman
The 23-year-old was in the thick of the Minor League home run race until the final week, finishing tied for third with 36 long balls. He also ended in a four-way tie for ninth in the Minors with 106 RBIs. The Rockies' No. 23 prospect climbed three levels, spending the bulk of the year with Fresno.
"We felt very comfortable being aggressive with him," said Rockies director of player development Chris Forbes. "He's got a chance to separate himself. The power is real, it's loud off his bat, it goes all fields. He's aggressive, and he's a threat -- it's a game-changing-type threat."
The backstop batted .294 with a .926 OPS while leading the organization with 154 hits. Defensively, Goodman spent more time at first base, but he did well to control the running game in 43 games behind the plate. Forbes also mentioned that the Rockies are continuing to challenge Goodman's defensive versatility with time in the corner outfield at instructional league.
First base: Colin Simpson
The 26-year-old was one of the most consistent hitters in the Rockies system, batting .300/.370/.530 with 17 homers for Spokane. He got off to a slow start, but over the final 50 games hit .344 with a strikeout rate (18.4 percent) more than five points lower than his first three months of the season. Defensively, this was Simpson's first professional season in which he did not play his natural position of catcher, splitting time between first base and left field.
Second base: Eddy Diaz
The Rockies have a deep pool of talented infielders, and Diaz has drawn raves since he signed out of Cuba in 2017. The 22-year-old stole his 200th base in his second full season, mostly spent in Spokane, and was also one of 19 Rockies prospects with at least 100 hits. His 37 steals ranked third in the system, and he batted .261/.330/.373 with 28 extra-base hits and 59 runs scored.
Third base: Warming Bernabel
The 20-year-old burst onto the scene in 2021, bashing his way out of the ACL before slowing down in the California League. But his return to Fresno and promotion to Spokane this year showed that he's one of the more gifted hitters in the system. Bernabel batted .313 with a .869 OPS while hitting 14 homers and stealing 23 bases. His 13.7 percent strikeout rate ranked third among Colorado prospects with at least 200 plate appearances.
The Rockies' No. 8 prospect remained consistent after being promoted to Spokane in July, but he was limited to just 26 games in the Northwest League due to three weeks on the injured list. He's making up for lost time with Salt River in the Arizona Fall League.
Outfield: Zac Veen
The top Rockies prospect had by some accounts a difficult offensive season. But he still managed to post some numbers that jump off the page. Most notably, Veen stole 55 bases, a personal-best and second-most in the system, in just 64 attempts.
"He's to the point where if you don't want him [to go], you got to put the stop sign on -- he wants that next 90 feet pretty bad," Forbes said.
The 20-year-old also managed to reach Double-A, finishing with 12 homers, three triples, 23 doubles, 67 RBIs and 84 runs scored overall. Most of that damage came with Spokane, where he batted .269 with an .807 OPS.
"He's gonna have some power, he's still figuring out what foundational type of things he wants to do with his swing," Forbes said. "There's certain things that he's doing within his swing that at times don't look as natural, they look a little more defensive. We had some good talks about that."
Veen is continuing his season in the AFL, where he's gotten off to a terrific start, batting .409 through his first 12 games.
Right-handed starting pitcher: Case Williams
Acquired in the deal that sent Mychal Givens to Cincinnati last year, Williams had a difficult debut in the California League after the trade but managed to thrive at three levels and finish in Double-A this season. Overall, he went 11-5 with a 4.64 ERA and 135 strikeouts in 128 innings.
"He probably had the most growth of anybody," Forbes said. "Very confident guy that hates to give the ball up. … He wants to be his own bridge to the back end of the bullpen."
Forbes said that beyond Williams' terrific curveball and fastball command, the most notable difference-maker was his professional maturity. The 20-year-old made just one start in Hartford, his last of the year, but made it count by fanning a career-best 12 batters.
Left-handed starting pitcher: Joe Rock
Rock had a non-traditional end to his amateur career and pitched in just four ACL games last season after being drafted No. 68 overall. So his first full season was a little more planned out than most. Rock responded by earning a late promotion to the Eastern League, where he'll likely start next season.
"[He's got] a good fastball, it gets on hitters in a hurry, and he's shown a feel for his changeup and the slider has got a chance to separate him," Forbes said. "That consistency, the slider, could push him pretty fast. But he likes to compete. He showed some good durability."
Forbes mentioned that Rock, Colorado's No. 16 prospect, might have run out of steam. He finished with a 4.82 ERA over 22 starts, the first 20 of which came with Spokane, striking out 120 in 115 ⅔ innings. He made nine appearances in which he allowed one run or fewer and struck out at least seven batters in six different outings, including a personal-best 10 punchouts on June 11.
Reliever: Adam McKillican
The 24-year-old Canadian spun the lowest ERA among all Rockies pitchers to complete at least 40 innings. McKillican posted a 1.64 ERA while holding opposing batters to a .200 average over 32 appearances for Spokane while striking out 48 in 44 innings. The right-hander signed with the Rockies at the end of April after being released by the Rangers.
ABOUT THE SPOKANE INDIANS
The Spokane Indians are the High-A affiliate of the Colorado Rockies located in Spokane, Washington, and were named 2021 MiLB Organization of the Year. Avista Stadium is home to the MultiCare Kids Bench Seat. Parking at all Spokane Indians games is FREE. The Spokane Indians office and team store hours are 10:00 AM - 4:00 PM on Monday through Thursday and 10:00 AM - 12:00 PM on Fridays.