Eighth-inning rally lifts Hoppers to July 4 victory
Endy Rodriguez, Mike Jarvis hit three-run homers to punctuate Declaration of Big Attendance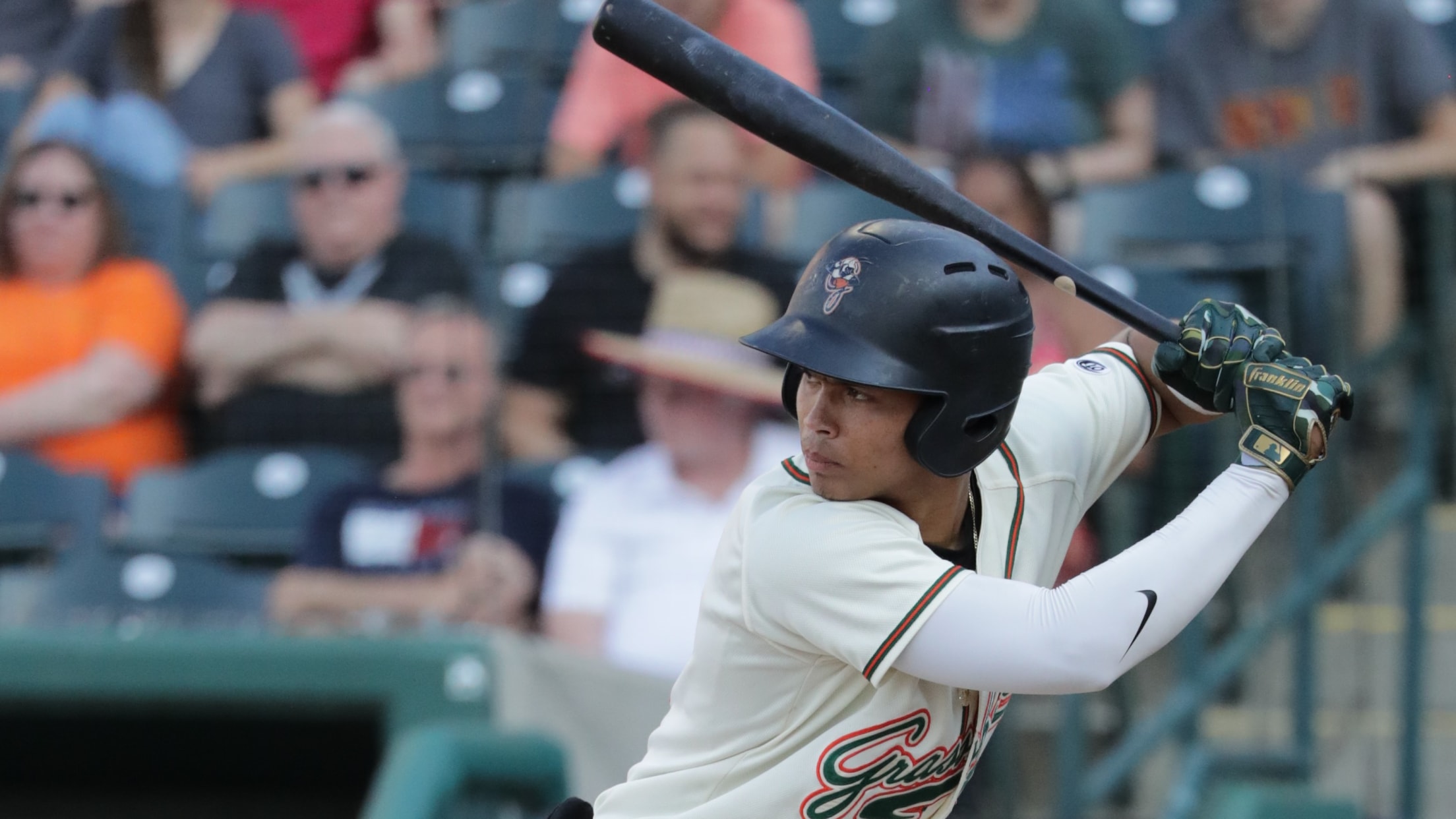 Greensboro's Endy Rodriguez is rated by MLB Pipeline as Pittsburgh's No. 7 prospect. (Derrick Brady/bcookmedia)
GREENSBORO ― On this Fourth of July, in front of the biggest home crowd of the season, the fireworks started a little before dark. Endy Rodriguez and newcomer Mike Jarvis both hit three-run home runs in the bottom of the eighth inning, leading the Greensboro Grasshoppers to an 11-4 victory
GREENSBORO ― On this Fourth of July, in front of the biggest home crowd of the season, the fireworks started a little before dark.
Endy Rodriguez and newcomer Mike Jarvis both hit three-run home runs in the bottom of the eighth inning, leading the Greensboro Grasshoppers to an 11-4 victory over the Greenville Drive at First National Bank Field on Monday night.
Hudson Head went 3-for-4 with a double, a home run and two RBIs. Head hit a game-tying solo shot in the seventh inning for the Hoppers, who drew a standing-room-only crowd of 7,863 to the downtown ballpark on Independence Day.
Jarvis, who joined the team over the weekend when Fabricio Macias was promoted to Class-AA Altoona, hit an RBI double in the fifth inning to bring home the Hoppers first run. His no-doubt home run deep over left-field fence in the eighth pushed the lead to 8-4.
Jarvis played five games for the Hoppers last September, going 4-for-15 (.267) with a triple in limited playing time. He batted .231 with 12 stolen bases in 58 games for Low-A Bradenton before his promotion to Greensboro.
Rodriguez went 2-for-5 and hit his ninth home run of the season, a drive high over the right-field fence and onto Eugene Street.
Right-hander Cameron Junker (4-2) picked up the win in relief, striking out two in 1⅔ scoreless innings. Lefty Denny Roman faced just one batter over the minimum in two scoreless innings of middle relief to keep the game knotted at 4-4.
Greensboro took the lead when the Hoppers batted around and scored seven runs in the eighth. Sammy Siani's bases-loaded grounder drove home Abrahan Gutierrez with the tie-breaking run.
The Hoppers pounded out 13 hits and went 6-for-11 with runners in scoring position.
NOTES
Greensboro (32-43 overall) is 5-5 in the second half of the South Atlantic League season, one game behind the Aberdeen IronBirds in the North Division standings.
Third baseman Dariel Lopez went 1-for-5 with a bunt single in the eighth-inning rally. He has hit safely in 18 of his last 20 games, going 29-for-87 (.333) with five home runs, four doubles, 15 RBIs and 18 runs scored. He has nine multi-hit games in that span.
Designated hitter Endy Rodriguez has homered in back-to-back games. He has hit safely in 20 of his last 24 games, going 24-for-69 (.348) with eight doubles, three home runs, 16 RBIs and 12 runs scored. The versatile 22-year-old is rated by MLB Pipeline as Pittsburgh's No. 7 prospect, and he has played four positions ― catcher, first base, second base and left field ― this season.
First baseman Jacob Gonzalez went 2-for-5, and he has reached base in 17 of his last 18 games. Since his promotion from Class-A Bradenton on May 10, Gonzalez has reached base in 34 of 40 games, with 13 multi-hit games. Gonzalez is 47-for-152 (.309) with seven doubles, a triple, five home runs and 20 RBIs.
Catcher Abrahan Gutierrez has reached base in 13 of his last 15 games, going 18-for-54 (.333) during that span with three doubles, a home run and 10 RBIs.
Monday's starter Nick Garcia gave up a three-run home run in the first inning, but limited the damage to four runs in five innings of work. The right-hander's 3.59 ERA ranks seventh among South Atlantic League qualifiers, and he's still the only pitcher in the league to throw a complete-game shutout this season. Garcia has struck out 60 in 67 ⅔ innings, and he has held opponents to a .207 batting average.
In his career at the News & Record, journalist Jeff Mills won 10 national and 12 state writing awards from the Associated Press Sports Editors, the Society for Features Journalism, and the N.C. Press Association.