Eighth Inning Rally Undoes Generals
Smokies plate three late runs, spoil Duncan's strong start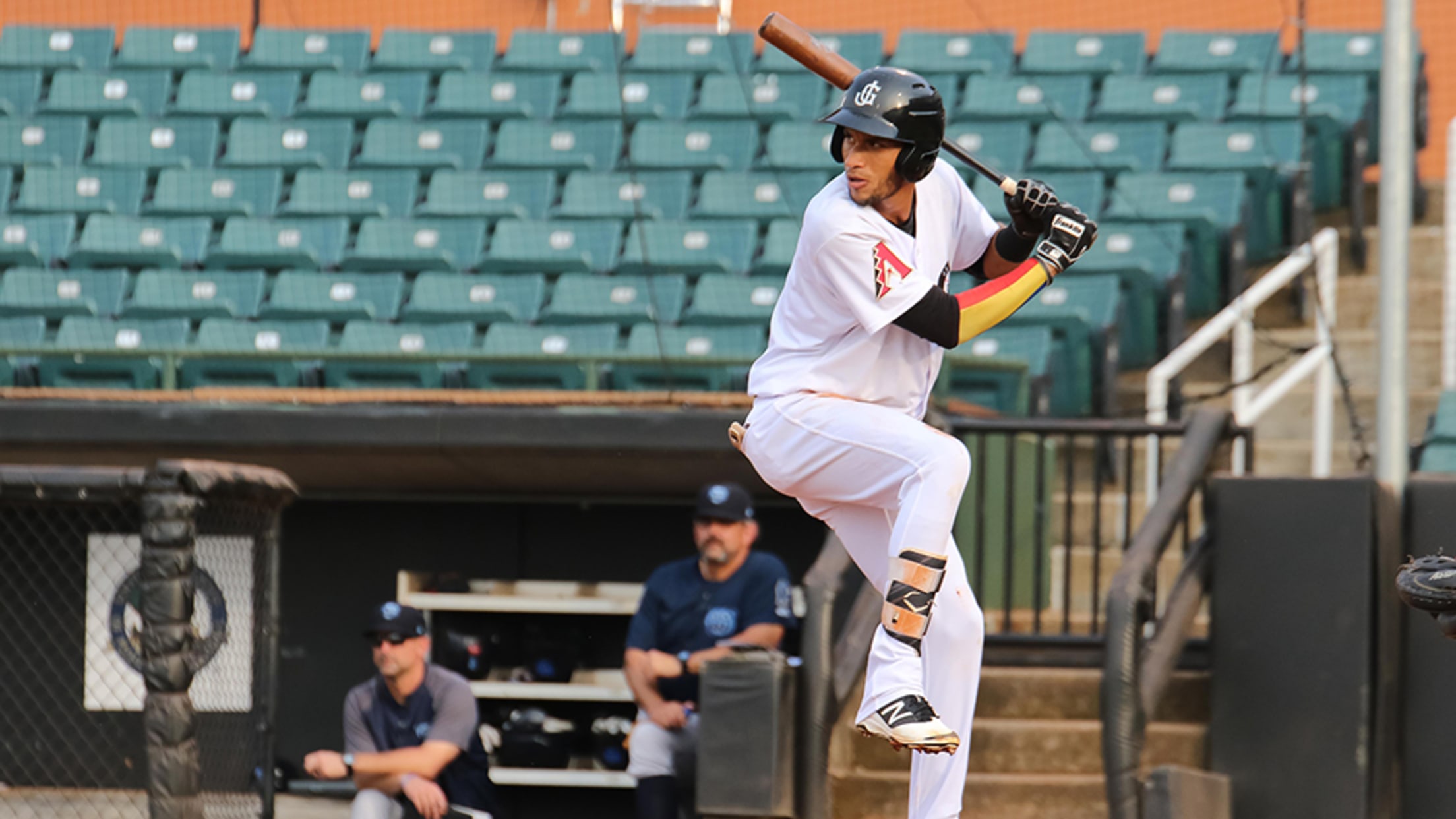 Victor Reyes went 4-for-4 on Saturday against Tennessee, but the Generals fell victim to a three-run eighth-inning rally. The 4-3 loss snapped a three-game win streak for Jackson. (Cody Cunningham)
Sevierville, Tenn. - It's not every night that you see a starting pitcher lose in spite of a positive earned run differential. Right-hander Frank Duncan gave up just one unearned run in seven innings of work and drove in a run himself on offense, but the Jackson Generals fell 4-3
Sevierville, Tenn. - It's not every night that you see a starting pitcher lose in spite of a positive earned run differential. Right-hander Frank Duncan gave up just one unearned run in seven innings of work and drove in a run himself on offense, but the Jackson Generals fell 4-3 on Saturday after a late comeback by Tennessee.
After Duncan's exit, the Smokies (31-36, 67-69) staged a three-run eighth inning rally, winning their first game of the series. The defeat denied the Generals (33-35, 70-68) their first four-game winning streak since July 22-26, keeping them below a .500 winning percentage in the Second Half.
Carlos Penalver led off the bottom of the eighth with a single against Josh Taylor (4-7, 5.06 ERA) and a double to left by Jeffrey Baez allowed the speedy Penalver enough time to score from first base. With the Jackson lead at 3-2, Tennessee's Charcer Burks blooped another double down the right field line, bringing in Baez for the tie. Andrew Ely came to bat with nobody out, and a passed ball allowed by Oscar Hernández made it possible for Burks to reach third base. Ely obliged his teammate with a deep flyout to left field, creating the necessary distance to let Burks score the go-ahead run.
Daury Torrez (6-4, 1.40 ERA), a Midseason All-Star, worked the eighth and ninth innings for Tennessee, allowing only one hit and recording a strikeout. Jackson entered the night 56-5 after leading through the first seven innings, but they were not able to hold on to the advantage handed to them by Duncan.
The Generals scored all three of their runs in the second inning off Tennessee starter Casey Bloomquist, who worked seven innings in his second start for the Smokies. First-pitch singles by Kelly Dugan and Jamie Westbrook preceded a walk by Daniel Lockhart, loading the bases for Jackson with nobody out. For the second time in two nights, Oscar Hernandez lashed a run-scoring hit in his first at-bat, bringing home Dugan to put the Lynx ahead 1-0.
Galli Cribbs Jr. followed behind Hernandez by grounding a comebacker right into a 1-2-3 double play, moving Hernandez to second base and Lockhart to third. Duncan then scooped the first pitch he saw down the right field line for a base hit, bringing home Lockhart for a 2-0 lead. Victor Reyes continued the inning with a double to bring in Hernandez, making the Generals' lead 3-0 at Smokies Stadium.
The only smudge mark against Duncan came in the fourth inning. Ely opened the frame with a swinging strikeout, but the third strike kicked off the shinguard of Hernandez and rolled out toward the mound. Ely raced down the line towards first base, and Hernandez threw late and wildly after collecting the ball from the infield grass. The errant throw sailed past Ely and first baseman Kevin Cron, bouncing farther into foul territory off the retaining wall as right fielder Lockhart came to pick it up. Ely reached second on the play, and a one-out single by Jason Vosler pushed Ely to third base. Duncan then coaxed Yasiel Balaguert to ground into a double play, but Vosler got intentionally stuck in a rundown that wasted enough time to allow Ely to score from third base.
Duncan would go on to strike out six men in total, walking only one hitter while allowing four hits. He worked out of a bases- loaded, no-outs jam in the sixth inning, and he completed his third quality start with Jackson since arriving in early August. In the loss, Reyes completed a 4-for-4 night at the plate, while Westbrook had a pair of hits. Jackson went 3-for-7 with men in scoring position, dropping to 9-15 in the season series with Tennessee.
The Generals continue their final series of 2017 with a 5:30 pm ET start on Sunday, as left-hander Alex Young (9-9, 3.81 ERA) takes on Tennessee's Chris Nunn (0-1, 7.36 ERA). Fans can hear all the action starting with the Pregame Show 15 minutes before first pitch on Willie 94 FM & 1390 AM, as well as the Jackson Generals Baseball Network via TuneIn Radio!
Thank you to all the great fans that made 2017-Jackson's first as an Arizona affiliate-a success! The Generals open up the
2018 season at home on April 5 against Jacksonville! Call the team at (731) 988.5299, stop by The Ballpark or go online to jacksongeneralsbaseball.com to get season tickets for next year now!