EL notes: Howard gets tough with Richmond
No. 25 Giants prospect eager to finish strong after July struggles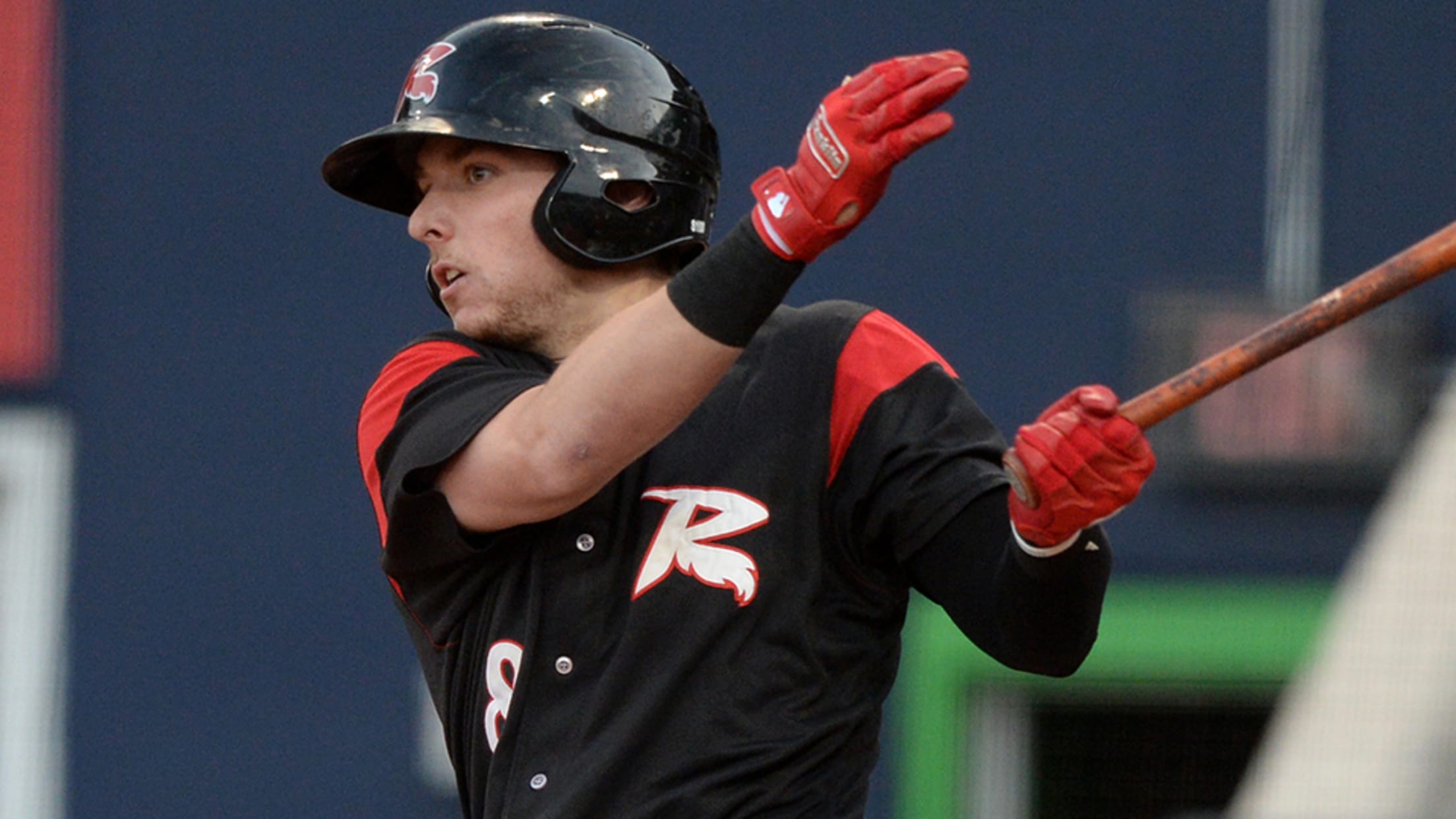 Ryan Howard is batting .275/.343/.404 through 104 games with Double-A Richmond this season. (Kevin Pataky/MiLB.com)
Richmond's Ryan Howard has worked hard to become one of the more consistent players in the San Francisco farm system.Through struggles and the rigors of a long season, the Giants' No. 25 prospect has learned how to bring a proper mental balance to the game. And in coming out clean
Richmond's Ryan Howard has worked hard to become one of the more consistent players in the San Francisco farm system.
Through struggles and the rigors of a long season, the Giants' No. 25 prospect has learned how to bring a proper mental balance to the game. And in coming out clean on the other side, he continues to make a strong impression as he wraps up his second full campaign.
"You can really feel it. Your body is letting you know it's getting close to the end. The bat starts feeling a little bit heavier, weather is getting warm, but you have to stick to the process and finish out the year," the Missouri native said. "Realistically, it's probably the most important time of the year."
Howard is doing his best to finish with a flourish after his numbers took a slight knock in July.
The Flying Squirrels' shortstop hit .282 through the end of June but batted .210 over 25 July games -- including a stretch in which he hit .171 over 12 contests -- lowering his average 19 points over the course of a month.
It wasn't a matter of Howard doing anything different with his swing, but more trying to do too much to pull himself out and getting himself into what he calls "swing mode," and abandoning his usual pitch selectivity.
"It was one of those things that kind of snowballed on me," the University of Missouri product explained. "I started pressing a little bit. You've got to realize going into the year that those things are going to happen. For me, it wasn't a mechanical thing. I started struggling, had a couple 0-for-4s, then I started swinging at pitches outside the zone, more-or-less getting myself out."
Late-night self-evaluations while lying in bed led him back to his balance, knowing that the next day presented a fresh opportunity. By getting the chance to contribute to the overall good of the team -- be it with a flare to the outfield or beating out an infield single -- he slowly began to find consistency again.
Howard has hit safely in 15 of 18 games in August, batting .333 with 10 extra-base knocks and 10 runs on the month.
"Success wouldn't feel nearly as good without the failure," the 24-year-old said. "Getting in the cage, working and seeing it play out in the game and knowing that it's working is something that is really gratifying."
Howard is looking to continue that steady level of play through the end of the season -- and to prove to the organization that he can be a dependable piece of the puzzle each night.
"I've always thought that August was the month where the guys who really put in the work in the offseason and prepare their bodies, those are the guys who succeed," he said. "I'm just trying to leave a good impression on the Giants organization and hopefully put myself in a good spot for next year."

In brief
Back on track:
Cavan Biggio
continues to power his way through the league and seems to have also regained his overall stroke down the stretch. The
Blue Jays' No. 9 prospect
leads the league with 26 home runs but had struggled at the plate through June and July, hitting .189 over 49 games. In August, he has turned it around, opening the month with
seven hits
over the first four games and staying hot. The Fisher Cats infielder and son of Hall of Famer Craig Biggio has a .303 batting average and 1.046 OPS in the final full month of the season, hitting safely in 13 of 18 games.
Hand it to him:
Despite early-season hand surgery cutting off nearly two months of his year, Altoona's
Bryan Reynolds
has rebounded since returning at the end of May. The
Pirates' No. 8 prospect
, acquired in the offseason as part of the Andrew McCutchen trade with San Francisco, is hitting .279 with 24 extra-base hits and 44 runs scored over 74 games. The Curve outfielder batted .296 in the month of June, .287 in July and is hitting .284 through 19 games in August. Reynolds has succeeded with two outs and runners in scoring position, slashing .378/.491/.556 with 13 RBIs in 74 at-bats in that situation.
Steady sea legs:
Sixth-ranked Red Sox prospect
Bobby Dalbec
continues to impress since his promotion to Portland at the beginning of August. The University of Arizona product has hit safely in 11 of 16 games, with five of those being multi-hit efforts and a
pair of two-homer games
in the process. Including his one game with Class A Advanced Salem, the 23-year-old is hitting .322 with a .746 slugging percentage this month. Overall, Dalbec leads Boston's farm system with 31 home runs on the season --- 14 more than any other Red Sox Minor Leaguer -- and his 99 RBIs also ranks first among the organization's prospects.
Craig Forde is a contributor to MiLB.com.