Endy Rodriguez hits 2 of Hoppers 4 HRs in win
Jackson Glenn and Abrahan Gutierrez also hit home runs as Greensboro beats Hickory 7-6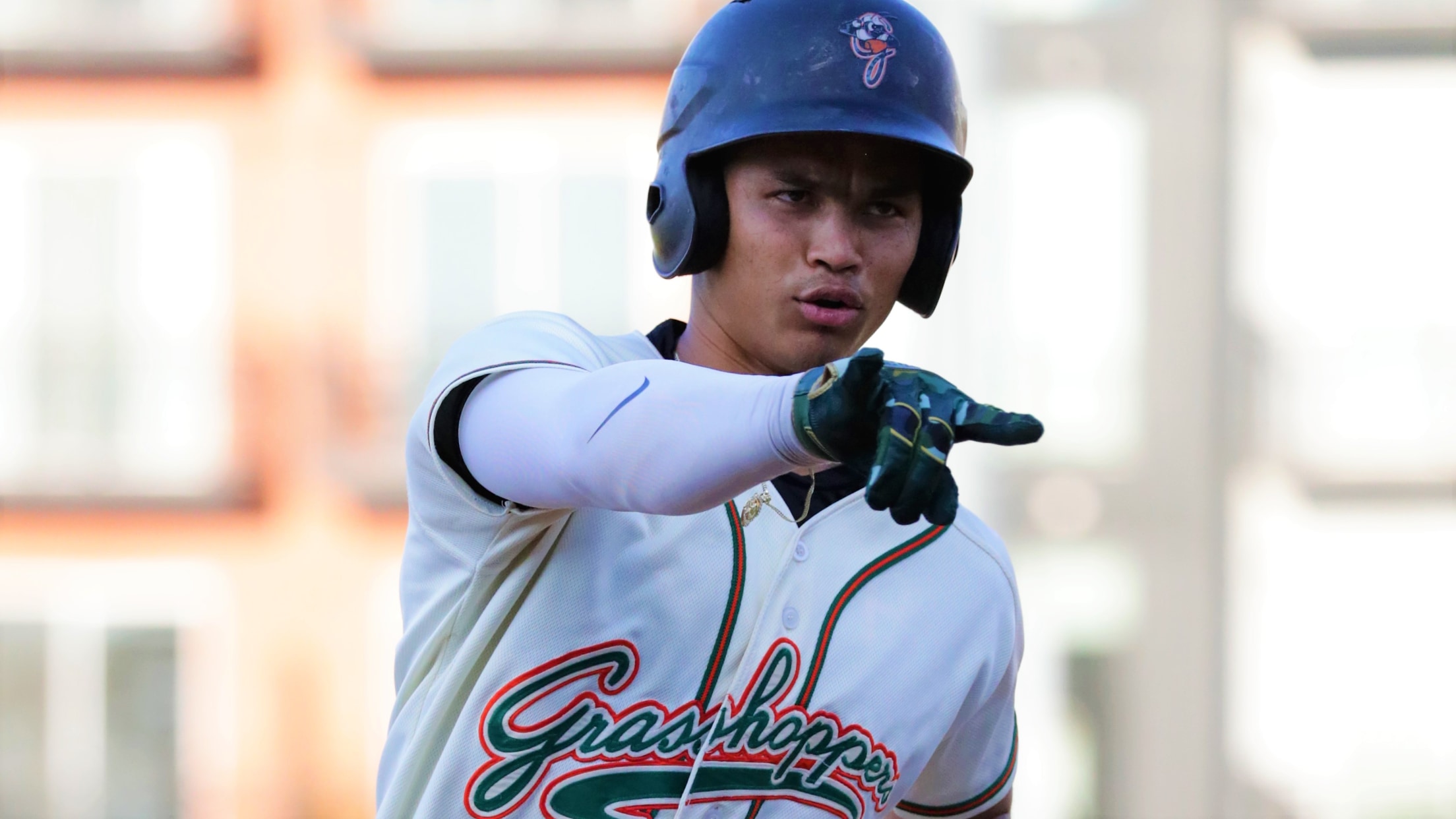 Greensboro catcher Endy Rodriguez hit two home runs Saturday, giving him 11 homers this season. (Derrick Brady/bcookmedia)
GREENSBORO ― Endy Rodriguez hit two of the Grasshoppers' four home runs Saturday night, and all of Greensboro's runs came via the long ball as the Hoppers beat the Hickory Crawdads 7-6 at First National Bank Field. Rodriguez and Abrahan Gutierrez hit back-to-back home runs in the fifth inning when
GREENSBORO ― Endy Rodriguez hit two of the Grasshoppers' four home runs Saturday night, and all of Greensboro's runs came via the long ball as the Hoppers beat the Hickory Crawdads 7-6 at First National Bank Field.
Rodriguez and Abrahan Gutierrez hit back-to-back home runs in the fifth inning when Greensboro erased a 5-4 deficit and took a 7-5 lead.
Jackson Glenn's 408-foot three-run shot over the fence in left-center field in the fourth inning tied the game 4-4.
The Hoppers (38-49 overall) improved to 11-11 in the second half of the South Atlantic League standings, three games behind first-place Hudson Valley in the North Division.
Winning pitcher Jared Jones (4-4) struck out five in six innings of work. It was a mostly solid start as Jones gave up four runs in the second inning, but then settled down and allowed just one run in the other five innings he worked.
Right-hander Cameron Junker worked a perfect ninth inning, striking out two to earn his eighth save of the season.
Rodriguez finished 2-for-3 with three RBIs. His first home run of the game, a towering solo shot in the second inning came off the bat at 106 mph and traveled an estimated 420 feet, high past the scoreboard in right field.
Rodriguez's two-run shot in the fifth, his 11th home run of the season, flew out to center field.
Dariel Lopez and Francisco Acuna had two hits apiece for the Hoppers.
NOTES
Greensboro is 16-13 in one-run games this season. The Hoppers have won 15 of their last 23 one-run games.
Right-hander Jared Jones, a 20-year-old rated by MLB Pipeline as the No. 11 prospect in Pittsburgh's farm system, ranks third in the South Atlantic League with 107 strikeouts in 86⅔ innings.
First baseman Jacob Gonzalez went 0-for-2 with two walks. … Gonzalez owns Hickory this season. In 11 games against the Crawdads, Gonzalez is 19-for-39 (.487) with three doubles, a triple, three home runs, 12 runs and 10 RBIs. … Since his promotion from Class-A Bradenton on May 10, Gonzalez has batted .303 (56-for-185) with 11 doubles, a triple, five home runs and 26 RBIs.
In his career at the News & Record, journalist Jeff Mills won 10 national and 12 state writing awards from the Associated Press Sports Editors, the Society for Features Journalism, and the N.C. Press Association.