Exit Sandman, Donny Sands Gets Call to Tampa
All-Star catcher garners promotion after solid season behind the plate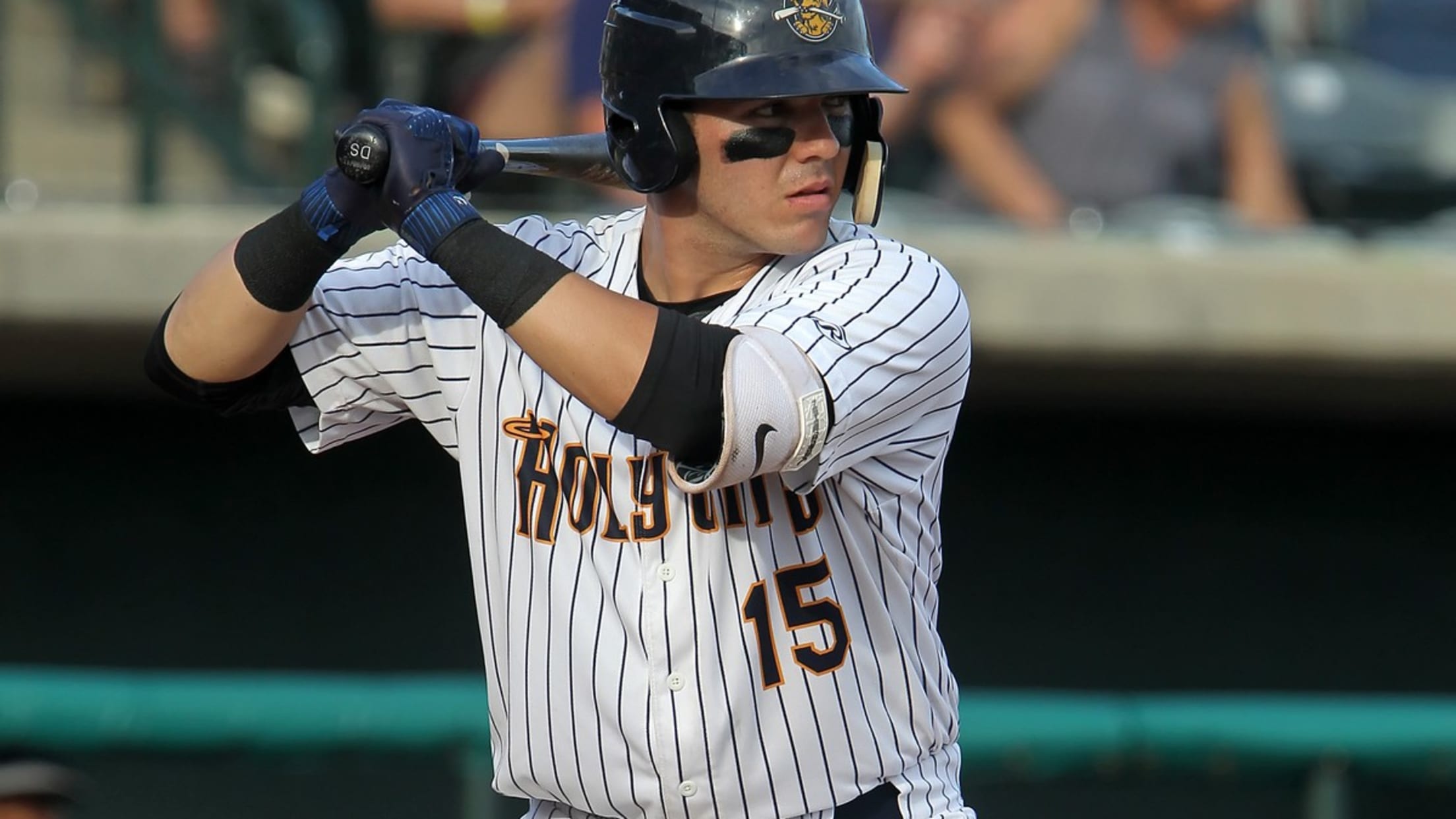 Sands went 25-for-70 (.357) with a .514 slugging percentage in 19 games in the month of July prior to his promotion. (Cliff Welch/Icon Sportswire)
CHARLESTON, S.C. - After taking huge strides in his defensive game and becoming one of the most consistent hitters at the plate, catcher Donny Sands becomes the latest RiverDog to get the call to High-A Tampa. The New York Yankees have announced the All-Star catcher has been promoted, becoming the
CHARLESTON, S.C. - After taking huge strides in his defensive game and becoming one of the most consistent hitters at the plate, catcher Donny Sands becomes the latest RiverDog to get the call to High-A Tampa. The New York Yankees have announced the All-Star catcher has been promoted, becoming the 12th different Charleston minor leaguer to join the Florida State League ranks this year.
Sands is the sixth position player to climb the ladder from Charleston and the third from the RiverDogs' Opening Day roster promoted in the last week after Hoy Jun Park and Estevan Florial each joined the T-Yanks on Tuesday.
Sands, 21, became one of the most improved players on Charleston's roster, rounding into form in his first full-season as a catcher after converting from third base in Spring Training in 2016. The Tucson, Ariz. native showed polish at the plate in an All-Star season, batting .269 in 76 games with the RiverDogs with a pair of homers and 45 RBI while reaching base at .323 clip. The former 8th round pick caught more games (76) than any other player in the league and had his best month of the season in July when he went 25-for-70 (.357) with a .514 slugging percentage in 19 games.


In a corresponding move, backstop Ryan Lidge was called back up from Pulaski for his second stint with Charleston after appearing in four games with the RiverDogs in late June, early July. Since the start of his professional career in June, the former Notre Dame standout has batted .212 (7-for-33) in 11 games split between Charleston and Pulaski.
Charleston's pitching staff was also tweaked on Sunday. Righty Luis Cedeno was placed on the 7-day disabled list prior to Saturday's game and right-hander Braden Bristo, the Yankees' 23rd round pick in 2016 out of Lousiana Tech, has been called up from Staten Island and will join a dominant RiverDogs bullpen that has logged a 2.00 ERA in over 400 innings this year.
With their retooled roster, the RiverDogs will try to salvage a series split with the Drive on Sunday evening's homestand finale at 5:05. The RiverDogs will send righty Adonis Rosa(3-3, 3.29) to the bump as Greenville answers with lefty Darwinzon Hernandez (3-3, 4.38). The game can be tuned into on WTMA 1250 AM, online video on MiLB.tv, and live streaming audio on riverdogs.com and the RiverDogs' TuneIn radio station.
RiverDogs tickets, including options for the all-new Riley Park Club, are now available and can be secured by contacting the box office at (843) 577-DOGS (3647) or online at riverdogs.com/tickets. Those that can't make it to the park can follow every pitch of the RiverDogs season on WTMA 1250 AM in the tri-county area or by streaming online at riverdogs.com and the TuneIn Radio App by searching "RiverDogs." All 70 RiverDogs home games are available with online streaming video at MiLB.tv.
--RIVERDOGS--