Extra-inning explosion enough to avoid sweep
Grasshoppers biggest inning of the season comes in 10th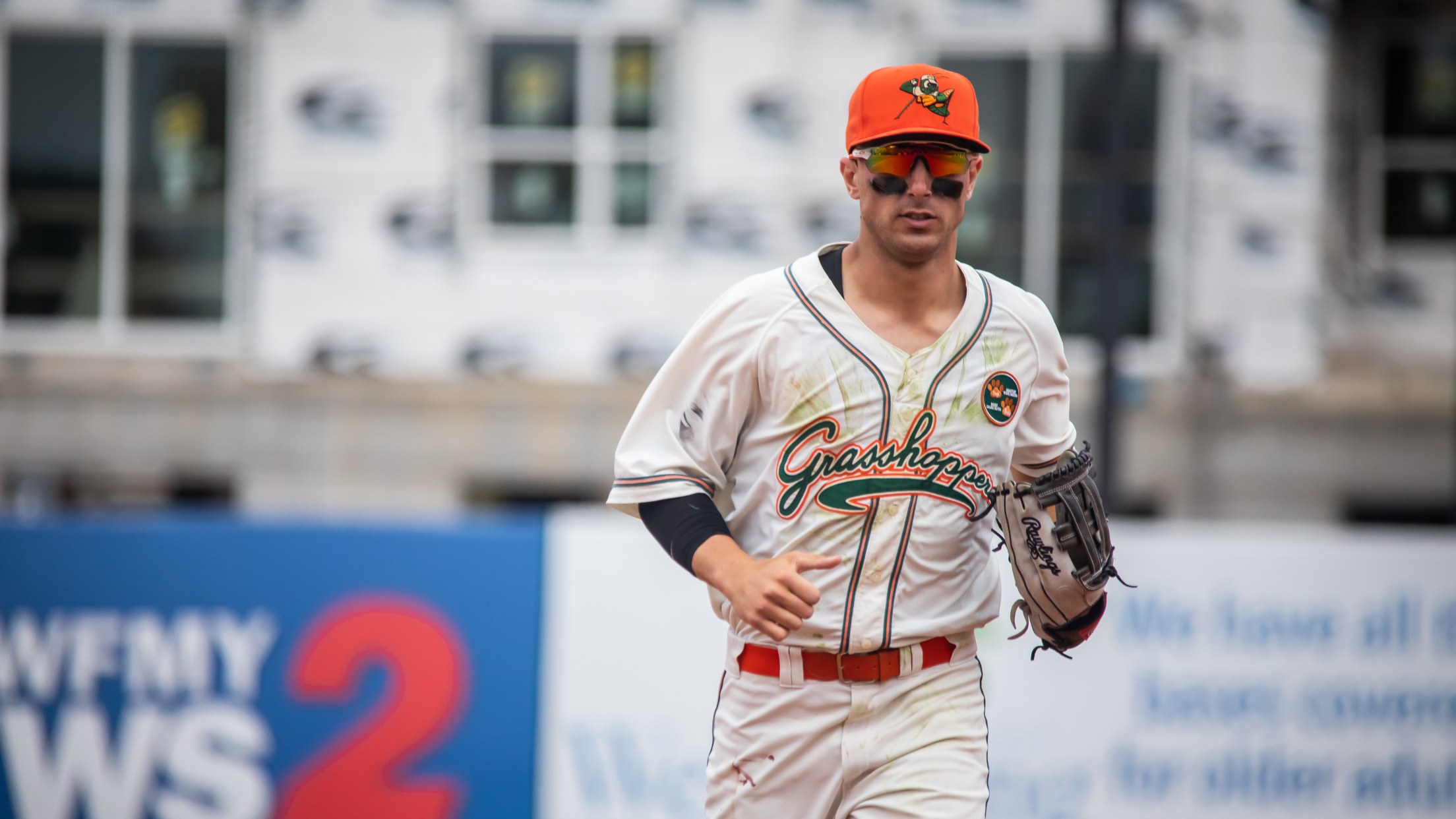 ASHEVILLE, N.C. (April 29, 2018) -- Despite giving up a 2-run lead in the bottom of the ninth, Greensboro erupted with a season-high seven runs in the top of the 10th inning en route to an 11-7 win over Asheville on Sunday afternoon at McCormick Field. The Grasshoppers nearly doubled
ASHEVILLE, N.C. (April 29, 2018) -- Despite giving up a 2-run lead in the bottom of the ninth, Greensboro erupted with a season-high seven runs in the top of the 10th inning en route to an 11-7 win over Asheville on Sunday afternoon at McCormick Field. The Grasshoppers nearly doubled their previous high-scoring inning in the extra frame by using six hits including four doubles to boost the offense.
With Greensboro leading 3-1 going into the bottom of the eighth, Casey Golden singled to score Shael Mendoza, pulling Asheville within a run. The Grasshoppers answered with a run of their own in the top of the ninth when Zach Sullivan scored on a wild pitch for a 4-2 lead.
The Tourists rallied against R.J. Peace, who plunked a batter then threw wide of first base on a pickoff attempt to help Asheville's Ryan Vilade advance to second base. Steven Linkous laced a one-out single to left field, scoring Vilade to pull the game within a run. Linkous stole both second and third base, moving the tying run within 90 feet of home plate before Matt McLaughlin's base hit drew Asheville even with two outs in the ninth, forcing extra innings.
With Lazaro Alonso starting on second base in the top of the 10th, Greensboro (13-9) went to work against Asheville reliever Justin Valdespina. Jhonny Santos extended his hitting streak to nine games with an RBI-double with one out in the 10th, scoring Alonso for a 5-4 lead. Following a Michael Hernandez walk, Sullivan doubled to right field, scoring Santos. Garvis Lara added an RBI-single, and Jose Devers chipped in a 2-run double to make it 9-4. Sam Castro added an RBI-double, and Alonso capped the inning with a base hit to center field, scoring Castro for an 11-4 advantage.
No lead is ever safe at hitter-friendly McCormick Field, and the Tourists challenged in the home half of the 10th. With Tyler Frohwirth taking the mound in place of Peace and a runner starting on second base, Bret Boswell doubled in a run, and Chad Spanberger belted a 2-run home run (5) to cut the Grasshoppers lead to 11-7. Asheville continued to threaten with a pair of 1-out singles, but Frohwirth was able to wriggle out of the inning without further damage, upholding the victory.
Peace (2-0) earned the win for Greensboro despite the blown save in the bottom of the ninth while Valdespina (0-1) took the loss for Asheville. The extra-inning offensive explosion -- featuring 10 total runs on 10 hits -- overshadowed a strong starting pitching perforamnce from Grasshopper Brady Puckett, who allowed just one unearned run on six hits while striking out seven over 6.0 innings.
Greensboro took an early lead with two runs in the top of the first. Aaron Knapp led off the game with a double and moved to third on a Jose Devers single. Sam Castro followed with a grounder that scored Knapp. Two batters later, Marcos Rivera hit a 2-out single that cashed Castro for the 2-0 edge. Puckett went to work with the lead and quickly retired the first three Tourists he faced.
In the second inning, Asheville took advantage of a Grasshoppers error to get on the board. Bret Boswell singled with one out, and two batters later, Boswell scored when Greensboro right fielder Zach Sullivan misplayed a Ryan Vilade base hit, cutting the Hoppers lead in half, 2-1. Puckett bounced back after the miscue, working around hits in the third, fourth, and fifth innings to keep the Tourists scoreless. He finished his afternoon with a perfect sixth inning.
The Grasshoppers added to their lead in the top of the seventh against Tourists reliever Moises Ceja. With two outs in the inning, Garvis Lara reached base on an error and stole second base. Devers came through with an RBI-single for a 3-1 lead.
The win put an end to the Hoppers' 2-game road slide and prevented a series sweep for the Tourists.
Greensboro is off on Monday before returning to First National Bank Field on Tuesday, May 1, to open a 7-game home stand. The Grasshoppers face the Hagerstown Suns on Tuesday at 7:00 p.m., and tickets are available online at gsohoppers.com.