First-place Hot Rods rally for third straight win over Hoppers
Top pick Henry Davis and red-hot Lolo Sanchez hit home runs for Greensboro in loss; Jared Triolo's 20-game hitting streak snapped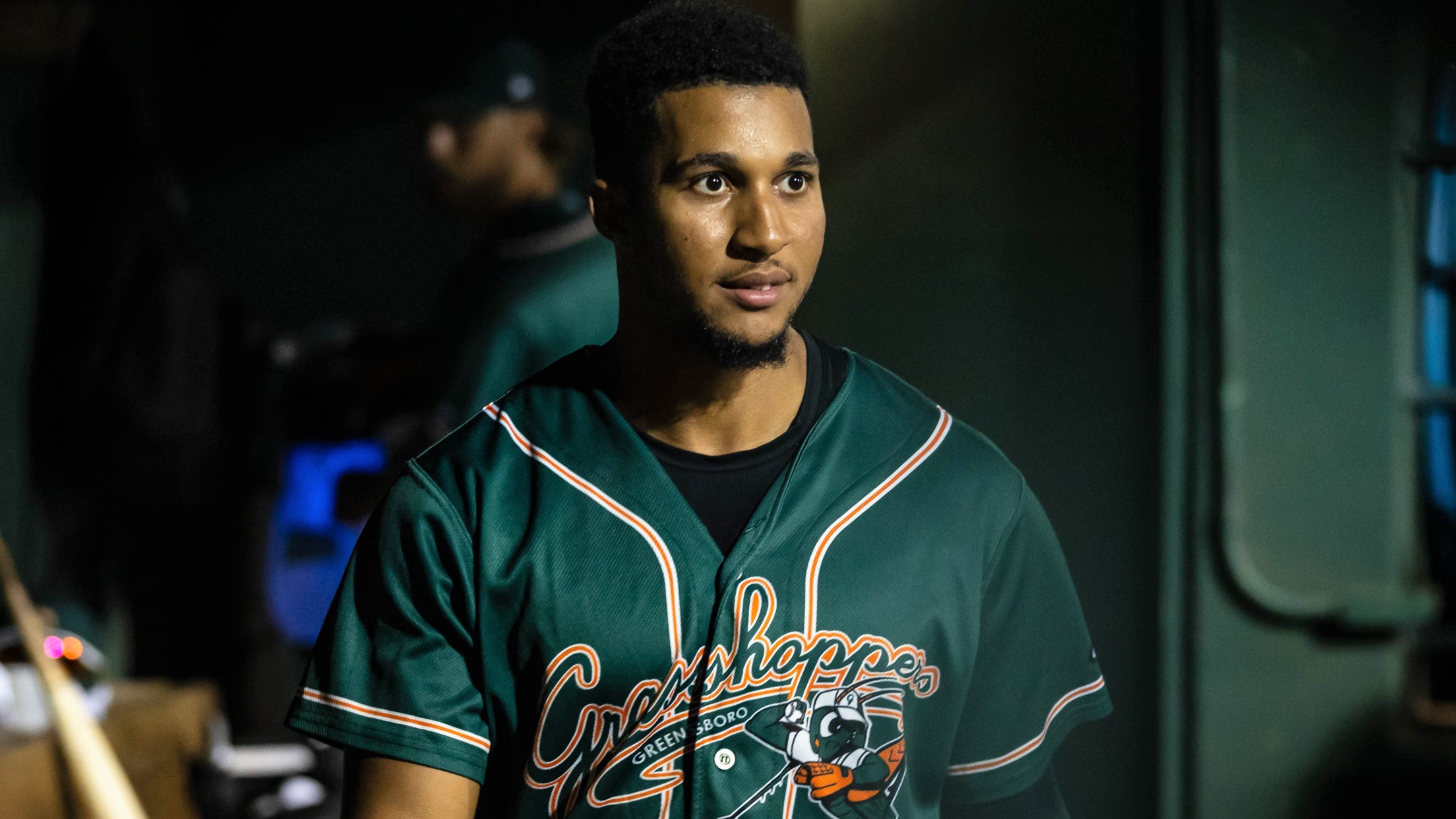 Greensboro outfielder Lolo Sanchez is batting .436 with three home runs and 13 RBIs in his last 10 games. (Jak Kerley/Greensboro Grasshoppers)
GREENSBORO ― Top draft pick Henry Davis hit his second home run since joining the Grasshoppers, and Lolo Sanchez went 3-for-4 with a home run and four RBIs, but Greensboro couldn't hold a lead in the seventh inning and lost 8-6 to the Bowling Green Hot Rods on a Thirsty
GREENSBORO ― Top draft pick Henry Davis hit his second home run since joining the Grasshoppers, and Lolo Sanchez went 3-for-4 with a home run and four RBIs, but Greensboro couldn't hold a lead in the seventh inning and lost 8-6 to the Bowling Green Hot Rods on a Thirsty Thursday at First National Bank Field.
The first-place Hot Rods (66-27) hit five more home runs Thursday and have 11 homers in their three wins to open this series against the second-place Grasshoppers (58-35).
Bowling Green first baseman Evan Edwards ― a Greensboro native who starred at Southern Guilford and N.C. State ― hit his second home run of this homecoming series. The switch-hitting Edwards is 5-for-14 with two home runs, a triple, a double and five RBIs in three games at First National Bank Field.
Bowling Green, the league's best offensive team all season, has faced 11 Hoppers pitchers in the three games of this series and scored at least one run off 10 of them. Right-handed reliever Michell Miliano (1-2, 7.76 ERA) pitched two innings and took the loss Thursday, giving up a two-run home run to Curtis Mead in the top of the seventh after the Hoppers had taken a 6-5 lead.
Davis, an All-ACC catcher at Louisville who was the No. 1 overall pick by the Pittsburgh Pirates in the draft July 11, went 2-for-3 with a walk and a solo home run over the left-field fence in his fourth game since joining the Hoppers last Thursday. He's 5-for-12 (.417) with two homers, a triple, three walks, three RBIs and six runs scored for Greensboro.
Sanchez hit his 14th home run of the season, a three-run shot that gave the Hoppers a 5-4 lead in the third inning. After Bowling Green tied the game, Sanchez's RBI single in the sixth put the Hoppers ahead 6-5.
In his last 10 games, Sanchez is 17-for-39 (.436) with three homers and 13 RBIs.
Two of Greensboro's hottest hitters were shut down Thursday.
Jared Triolo went 0-for-4 to snap a 20-game hitting streak, and Matt Gorski was 0-for-4 to snap a 10-game hitting streak.
This series is a matchup of the top two teams in the High-A East's South Division. Bowling Green leads Greensboro by eight games in the standings. The Hoppers are tied with North Division leader Hudson Valley (58-35) in the race for the league's second playoff spot.
The teams with the top two records, regardless of division, qualify for the 12-team league's championship series in September. Greensboro has three more games at home against Bowling Green this week, and the Hoppers play 12 of their last 18 games against Hudson Valley.
Notes
Greensboro has lost three games in a row, but its 30-13 since July 1. The Hoppers have won or split all 15 of their six-game series this season, a streak that will be snapped unless they can win the next three in a row against Bowling Green.
Of the 11 pitchers Greensboro has used against Bowling Green in this series, only right-handed reliever Enmanuel Mejia has given up no runs. Mejia pitched Wednesday, his second appearance for Greensboro since his promotion Aug. 10 from Class-A Bradenton, and he struck out two in two scoreless innings.
Hoppers third baseman Jared Triolo lost a 20-game hitting streak, but he has hit safely in 34 of his last 37 games, batting .346 (53-for-153) with eight doubles, eight home runs, 32 RBIs and 13 stolen bases in that span. He ranks third in the High-A East with 63 RBIs and fourth with a .300 batting average.
Outfielder Matt Gorski was activied from the 7-day IL before Wednesday's game, returning from a leg injury suffered in a rundown in the Hoppers last homestand. Gorski is 13-for-38 (.342) with three home runs, three doubles and eight runs in his last 11 games.
Lefty-hitting Blake Sabol got the night off. He has hit safely in 21 of his last 26 games, going 33-for-99 (.333) with five home runs, six doubles and three triples during that span.
Second baseman Nick Gonzales, who was the seventh overall pick in the 2020 draft and rated by MLB Pipeline as the Pirates' top prospect, went 1-for-4 and has batted .320 (32-for-100) with four home runs, five doubles and a triple in his last 23 games, raising his season batting average to .280.
In his career at the News & Record, journalist Jeff Mills won 10 national and 12 state writing awards from the Associated Press Sports Editors, the Society for Features Journalism, and the N.C. Press Association.