Fitzgerald blast edges Dash 1-0
Sox arms deliver second shut-out of the series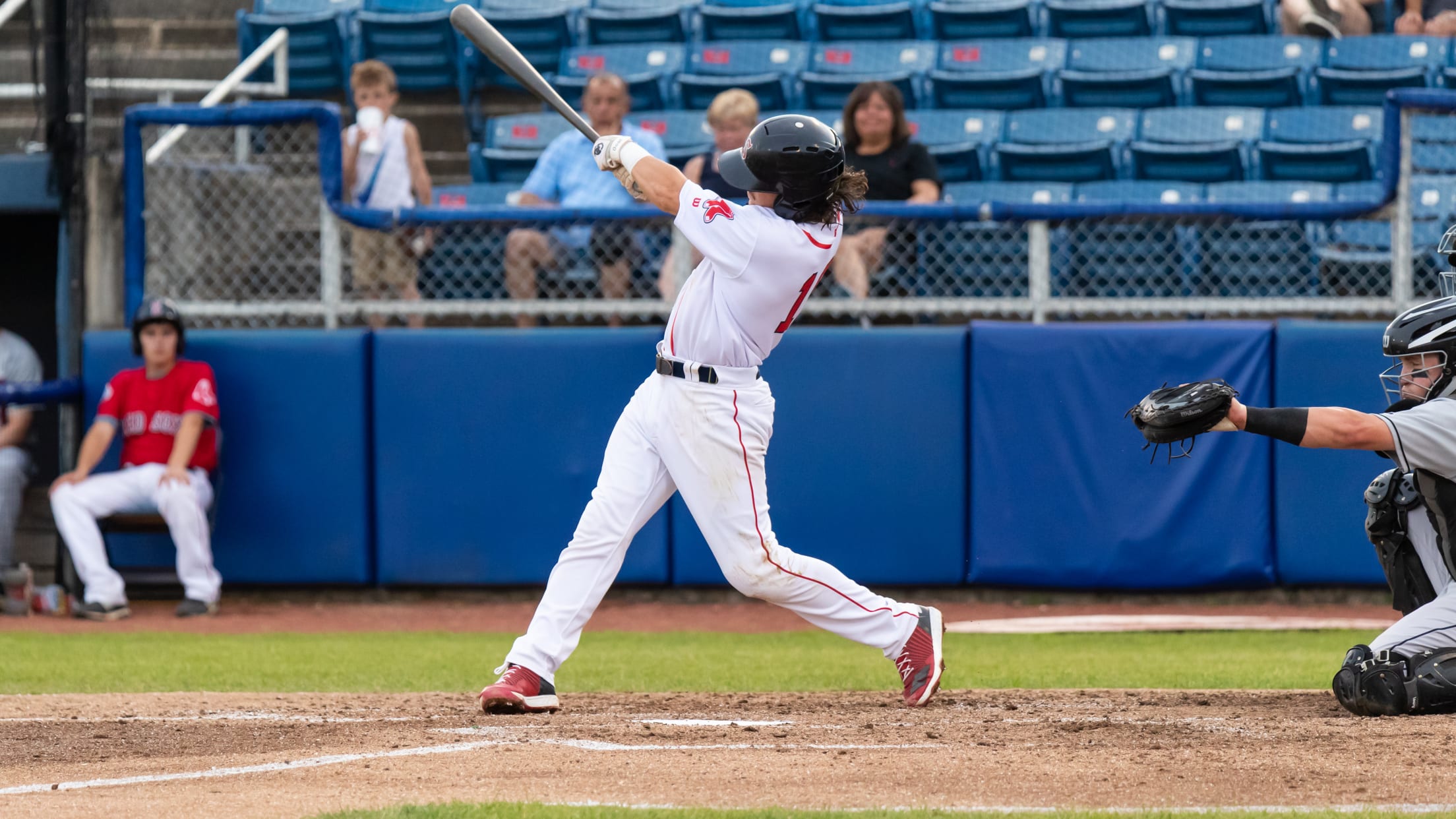 Ryan Fitzgerald's solo blast lifted the Sox Thursday at Winston-Salem. (John Wacher)
WINSTON-SALEM, Virginia (August 29, 2019) - Ryan Fitzgerald delivered a home run and 1-0 win as the Salem Red Sox three-hit the Winston-Salem Dash Thursday night at BB&T Ballpark.How it Happened * Ryan Fitzgerald knocked a lead-off home run in the third inning for the Sox' 1-0 advantage.* Enmanuel DeJesus
WINSTON-SALEM, Virginia (August 29, 2019) - Ryan Fitzgerald delivered a home run and 1-0 win as the Salem Red Sox three-hit the Winston-Salem Dash Thursday night at BB&T Ballpark.

How it Happened
Ryan Fitzgerald knocked a lead-off home run in the third inning for the Sox' 1-0 advantage.
Enmanuel DeJesus twirled six innings of three-hit ball. The southpaw struck out six.
* Rio Gomez delivered 1.2 innings of relief to hold the contest with no hits and two strikeouts.
* Andrew Schwaab shut the door with the final 1.1 innings of work and a strikeout to mount his 12th save.
Standout Sox
* Ryan Fitzgerald: 3-for-4, RBI, R, HR
* Enmanuel DeJesus: 6.0 IP, 3 H, 0 R, 0 ER, 1 BB, 6 K - W (9-9)
* Rio Gomez: 1.2 IP, 0 H, 0 R, 0 ER, 2 BB, 2 K - H (2)
* Andrew Schwaab: 1.1 IP, 0 H, 0 R, 0 ER, 0 BB, 1 K - S (12)

Noteworthy
* Salem has connected four home runs in four-straight contests.
What's Next
Salem Red Sox vs Carolina Mudcats, August 30, 2019. First pitch is scheduled for 7:05 PM EST.
RHP AJ Politi vs RHP Christian Taugner
Listen: SalemSox.com, TuneIn Radio, ESPN Blacksburg WKEX 1430 AM/94.1 FM, WGMN 1240 AM/93.3 FM
Watch: MiLB.TV
The Salem Red Sox are the Advanced-A affiliate of the Boston Red Sox and call Haley Toyota Field in Salem, Virginia home. The team was founded in 1968 and purchased by Fenway Sports Management in December of 2007. For more information on the Salem Red Sox, please visit SalemRedSox.com or contact Melanie Newman at [email protected].