Five-run seventh derails Reds in loss to Twins, 6-3
Josiah Gray ties career-high with seven strikeouts over 5.1 innings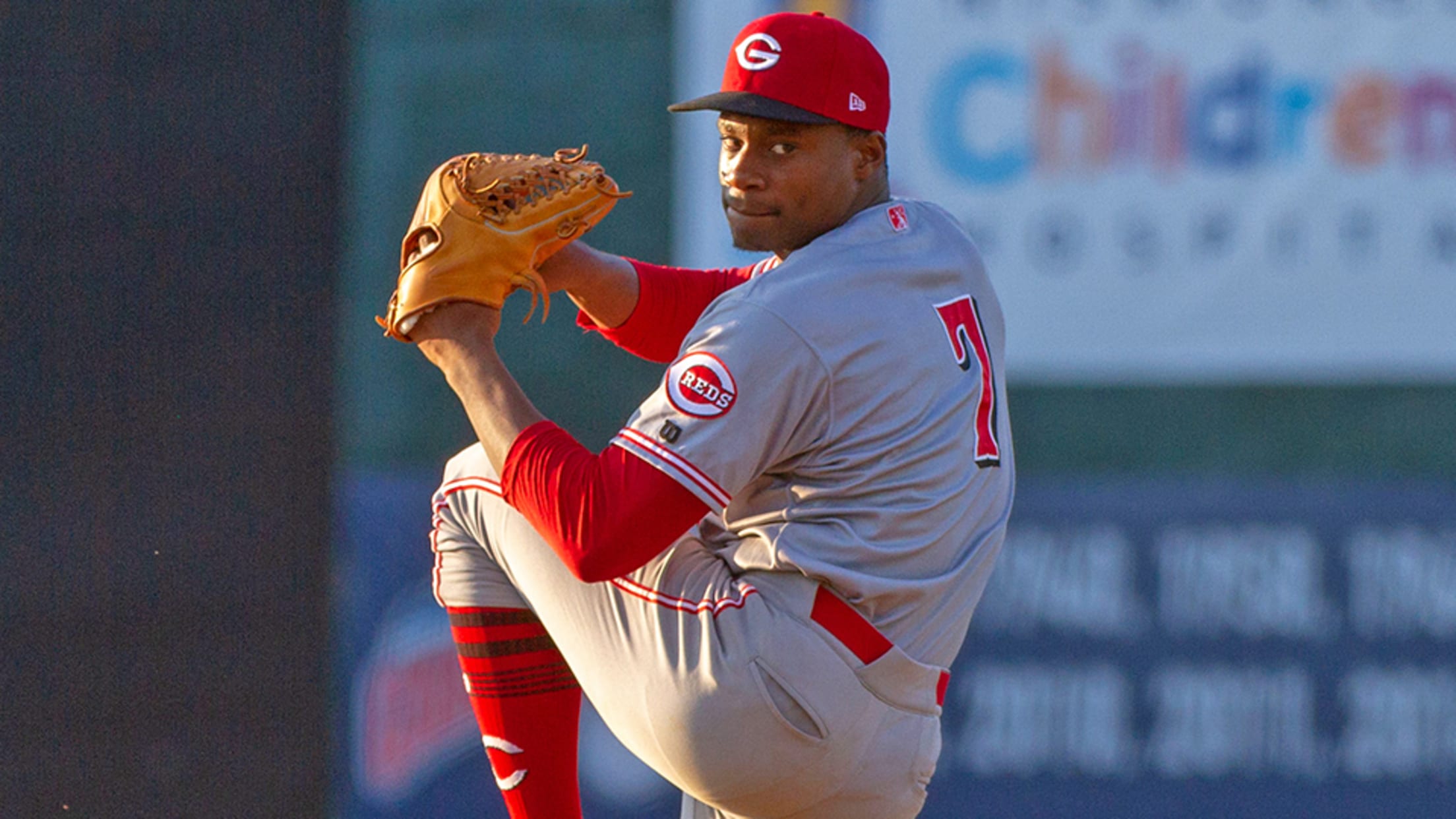 RHP Josiah Gray struck out a career-best-matching seven and yielded only one hit, but took a no-decision in the Greeneville Reds' 6-3 loss to the Elizabethton Twins on Tuesday night at Joe O'Brien Field. (Doug Gray / RedsMinorLeagues.com)
ELIZABETHTON, Tenn. -- RHP Josiah Gray was marvelous again - allowing only one hit and striking out a career-high-tying seven - but the Elizabethton Twins scored five times against the Greeneville bullpen in the seventh to defeat the Reds, 6-3, on Tuesday night at Joe O'Brien Field.With the loss, Greeneville drops to 26-34
ELIZABETHTON, Tenn. -- RHP Josiah Gray was marvelous again - allowing only one hit and striking out a career-high-tying seven - but the Elizabethton Twins scored five times against the Greeneville bullpen in the seventh to defeat the Reds, 6-3, on Tuesday night at Joe O'Brien Field.
With the loss, Greeneville drops to 26-34 on the campaign. Elizabethton's triumph improved their Western Division-leading record to 33-25.
After an hour and 23-minute rain delay, the Redlegs jumped out to a lead in the top of the fourth. Following a two-out double off the right-field scoreboard by 3B Rylan Thomas (2-4, 2 R, 2B), LF Edwin Yon (2-4, R, 2B, HR, 2 RBI, 2 SO) launched a towering two-run blast over the right-field the wall - his third of the season - to put Greeneville ahead, 2-0.
It remained that way into the sixth when Elizabethton finally broke up the shutout. Gray (5.1 IP, H, R, ER, 3 BB, 7 SO) was lifted after a one-out free pass due to pitch count and RHP Johnnie Schneider (0.2 IP, 3 H, 3 R, 3 ER, 2 BB, SO) entered. After an errant pickoff throw and a walk, 3B Alex Robles (1-4, RBI) drove an RBI single to center, pulling the Twins within one, 2-1.
Things really unraveled for Greeneville in the seventh. An infield single plus a throwing error started the inning, while LF Lean Marrero (1-4, R, SO) with a popped-up bunt, but reached anyway on a single. With the infield in, 2B Yunior Severino (0-5, R, RBI, SO) hit into a fielder's choice, but the throw home was wide. The tying run scored and the go-ahead tallies moved to second and third. CF DaShawn Keirsey Jr. (1-3, 2 R, 2 RBI, 2 BB, SO) stroked a two-run single to center to put the Twins in front, 4-2, and 1B Chris Williams (1-2, 2B, 2 RBI, 2 BB) followed with a two-RBI ground-rule double to expand the lead to four, 6-2.
Greeneville managed to get a run in the top of the ninth on a ringing RBI double to right-center by SS Miguel Hernandez (2-4, 2B, RBI, SO), but RHP Seth Pinkerton (2.0 IP, 2 H, R, ER, SO) got a groundout to end the contest with the game's tying run left on-deck.
Despite the marvelous start - not allowing a hit until two out in the fifth - Gray (5.1 IP, H, R, ER, 3 BB, 7 SO) suffered a no-decision. Schneider (0.2 IP, 3 H, 3 R, 3 ER, 2 BB, SO) struggled, suffering a blown save and his third defeat.
RHP Luis Rijo (7.0 IP, 6 H, 2 R, 2 ER, 5 SO) shined once more for the E-Twins, working seven impressive innings to accumulate his fifth Appalachian League triumph of the year.
The Redlegs will look to get back in the win column on Wednesday, as RHP Miguel Medrano (2-3, 6.13 ERA) is expected to take the ball in game two. Elizabethton is projected to counter with RHP Tyler Palm (2-2, 4.99 ERA).
The G-Reds Pre-Game Show will kick off the broadcast at 6:45 p.m. ET, leading up to the 7:00 p.m. ET start at Joe O'Brien Field. Wednesday evening's contests can be heard on GreenevilleReds.com or via the TuneIn Radio and MiLB First Pitch apps.
Following the road trip, the Reds will return home on Friday, August 24 for a contest against the Johnson City Cardinals. Fans are encouraged to arrive early and stay late, as the first 750 fans through the gates will receive a Scott Schebler Bobblehead and - after the final out - patrons can enjoy the final spectacular Firework Friday show of the 2018 season.
Single-game tickets are still available and can be purchased online at GreenevilleReds.com or by calling the Reds' Ticket Office at (423) 609-7400.