Flowers, Manasa combine to shut out Drive 6-0
Hoppers' Blake Sabol homers for third game in row, Jared Triolo hits solo shot and Nick Gonzales has 2 RBIs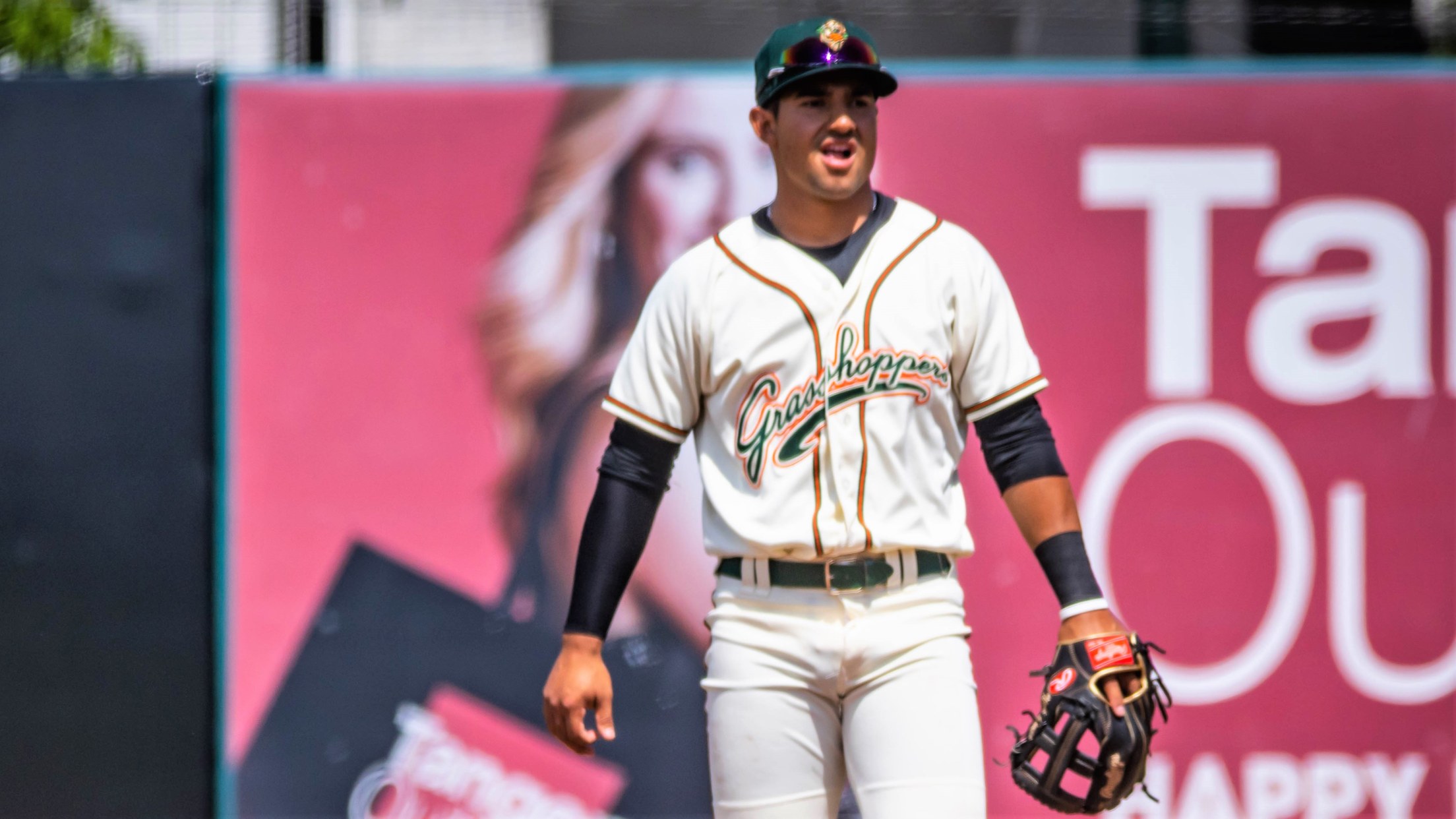 Greensboro second baseman Nick Gonzales had two hits in a 6-0 win at Greenville, and he is 13-for-33 (.394) in his last eight games. (Jak Kerley/Greensboro Grasshoppers)
GREENVILLE, S.C. ― Right-handers J.C. Flowers and Alex Manasa combined on a five-hit shutout, and Blake Sabol homered for the third consecutive game, leading the Greensboro Grasshoppers to a 6-0 victory over the Greenville Drive at Fluor Field on Saturday night. Flowers (4-1, 3.08 ERA) threw 80 pitches in six
GREENVILLE, S.C. ― Right-handers J.C. Flowers and Alex Manasa combined on a five-hit shutout, and Blake Sabol homered for the third consecutive game, leading the Greensboro Grasshoppers to a 6-0 victory over the Greenville Drive at Fluor Field on Saturday night.
Flowers (4-1, 3.08 ERA) threw 80 pitches in six innings, matching his longest outing as a pro, scattering four hits and striking out four. He won for the fourth time in his last six starts.
Manasa pitched the final three innings for his first save. The 2019 Sally League All-Star faced just one batter over the minimum, retiring eight in a row to close the game.
Clean-up hitter Sabol went 3-for-4 with a home run and a double, extending his hitting streak to seven games. Sabol is 11-for-23 (.478) with four homers during the streak.
The Hoppers (43-28) have won 14 of their last 19 games, and they lead the series against the Drive 3-2 heading into Sunday's finale.
Third baseman Jared Triolo hit a two-out solo home run in the top of the first inning to give Greensboro the lead.
The Hoppers led 2-0 on the homers from Triolo and Sabol, then broke the game open with four runs in the seventh inning.
Matt Gorski, Lolo Sanchez and Dylan Shockley all drew walks from Greenville reliever Jacob Wallace, and Matthew Fraizer followed with an RBI single. Sanchez scored on a balk, and Nick Gonzales hit a two-run single up the middle.
Gonzales, a second baseman rated by MLB Pipeline as the top prospect in Pittsburgh's farm system, went 2-for-5. He is 13-for-33 (.394) in his last eight games and his raised his season batting average to .253.
Shortstop Liover Peguero, rated as the Pirates' No. 4 prospect, walked and stole his 15th base of the season, but he finished 0-for-4 to snap a five-game hitting streak.
NOTES: Hoppers right-handers J.C. Flowers (Florida State) and Alex Manasa (Jackson Community College) were both primarily center fielders in college but both were drafted as pitchers by the Pirates. ... Second-place Greensboro picked up a game on Bowling Green (49-22) in the High-A East's South Division standings after the Hot Rods' 11-game winning streak was snapped Saturday night. ... Matt Fraizer finished 1-for-5 and has hit safely in 22 of his last 26 games, batting .331 (36-for-109) during that stretch. ... Fraizer leads the league in hits (86), runs (52), home runs (17) and batting average (.316). He's fourth in walks (36) and on-base percentage (.397), and fifth in RBIs (46). ... Jared Triolo has hit safely in 15 of his last 18 games, going 26-for-75 (.347) and raising his season batting average to .286. His 15 doubles rank third and 44 RBIs sixth in the league. ... Lolo Sanchez ranks second in the league in walks (38) and fourth in stolen bases (20).
In his career at the News & Record, journalist Jeff Mills won 10 national and 12 state writing awards from the Associated Press Sports Editors, the Society for Features Journalism, and the N.C. Press Association.