Ford's strong start, Triolo's slam lead Hoppers in 8-0 win over Dash
Grant Ford and Colin Selby strike out 13 in shutout; Hoppers hit 4 HRs to take lead in Battle of I-40 series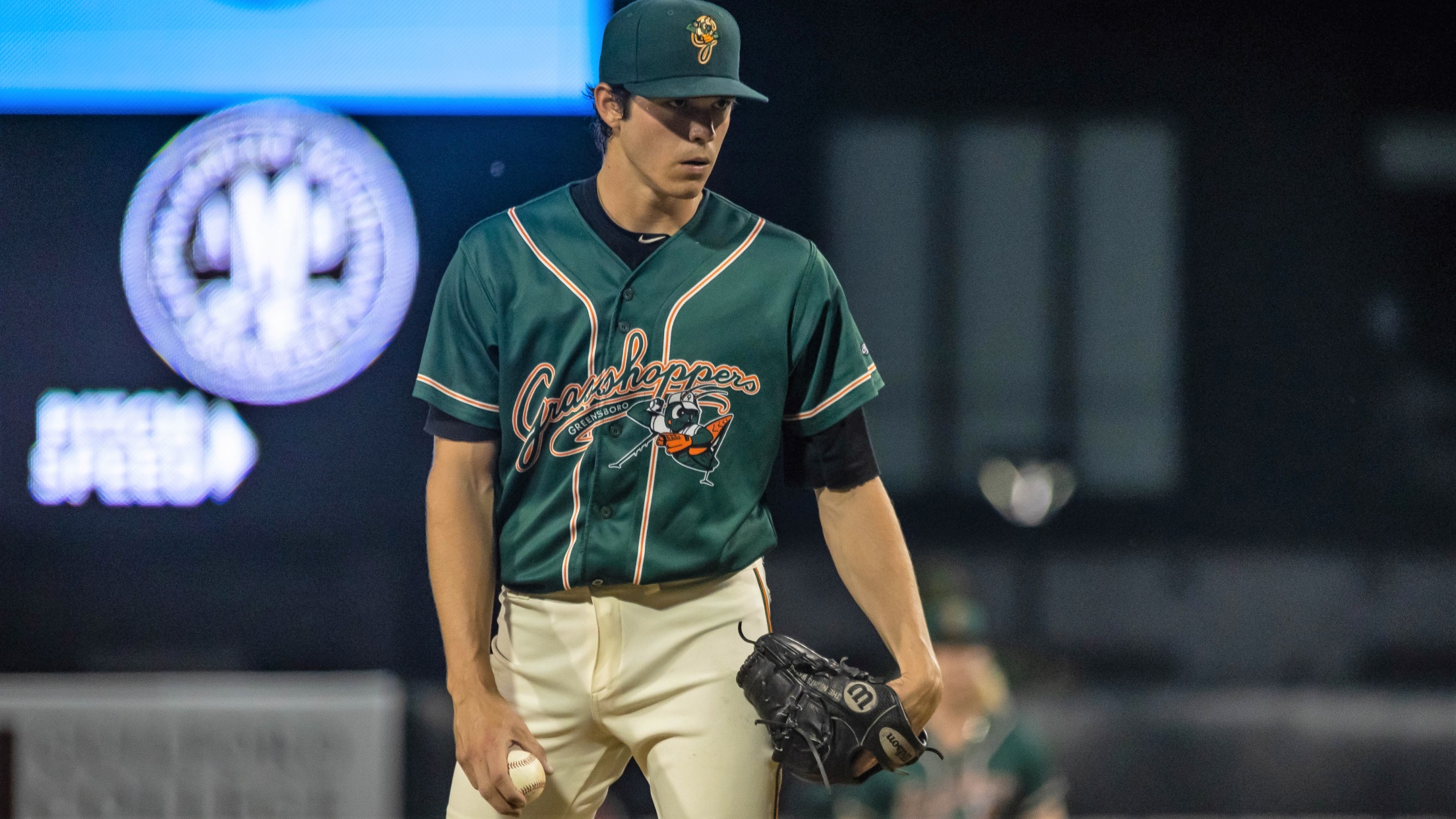 Grant Ford is 2-0 with a 2.41 ERA in four games since moving into Greensboro's injury-depleted starting rotation. (Jak Kerley/Greensboro Grasshoppers)
GREENSBORO ― Pitchers Grant Ford and Colin Selby combined on a brilliant four-hit shutout, striking out 13, and red-hot Jared Triolo hit a grand slam to lead the Greensboro Grasshoppers to an 8-0 victory over the Winston-Salem Dash in their series opener on a sultry Tuesday night at First National
GREENSBORO ― Pitchers Grant Ford and Colin Selby combined on a brilliant four-hit shutout, striking out 13, and red-hot Jared Triolo hit a grand slam to lead the Greensboro Grasshoppers to an 8-0 victory over the Winston-Salem Dash in their series opener on a sultry Tuesday night at First National Bank Field.
The Grasshoppers (45-28) scored all their runs in the game on four home runs.
Triolo's 375-foot shot over the fence in left field with the bases loaded in the third inning was the biggest blow for the Hoppers, who took a 7-6 lead in the Battle of I-40 season series. The renewed rivalry matches teams from Greensboro and nearby Winston-Salem for the first time since 1968.
Triolo, the Hoppers third baseman, homered for the third consecutive game and has hit safely in 17 of his last 20 games, going 30-for-83 (.361) with six doubles, four home runs, 19 RBIs and 10 stolen bases during that stretch. He's steadily raised his batting average from .237 on June 1 to .292 heading into Wednesday's game.
Winning pitcher Ford (6-1, 4.35 ERA) allowed three singles and walked none in six scoreless innings, striking out nine.
The 23-year-old right-hander has flourished since moving into the starting rotation after 13 relief appearances. With highly-touted starters Carmen Mlodzinski, Michael Burrows and Braxton Ashcraft all on the injured list, Ford has gone 2-0 with a 2.41 ERA in four starts, walking six and striking out 24 in 18 2/3 innings.
Ford got defensive help from two outstanding catches by center fielder Matthew Fraizer, who robbed Winston-Salem's Yoelqui Cespedes of a two-run home run with a leaping grab over the wall to end the third inning, then took an extra-base hit away from Lenyn Sosa in the sixth, crashing into the fence to end that inning.
The hard-throwing Selby closed out the game for his second save. Selby, whose fastball routinely reached 96 and 97 mph, allowed one hit and struck out four in the final three innings.
Matt Gorski opened the scoring with a monstrous two-run home run in the second inning off losing pitcher Kaleb Roper (0-3, 9.62 ERA). After Aaron Shackelford was hit by a pitch with two outs, Gorski tattooed a 1-2 pitch, driving it 442 feet over the Sunbrella tent on the concourse beyond the hill in left field.
Lolo Sanchez hit his 11th home run of the season and Grant Koch hit his seventh, both solo shots, to close out the scoring.
NOTES: Designated hitter Blake Sabol went 0-for-4 to snap an eight-game hitting streak. Sabol was 13-for-28 (.464) with three doubles and four home runs during the streak. Even with the hitless game Tuesday, Sabol is still batting .313 this season. ... The Hoppers have won 16 of their last 21 games. ... The loss dropped Winston-Salem 15 games below .500. ... Greensboro left just one runner on base Tuesday night. ... Fraizer went 1-for-4 with a run scored, and he has hit safely in 24 of his last 28 games, batting .325 (38-for-117) in that stretch. Fraizer leads the High-A East in hits (88) runs (56) and batting average (.314), and he's third in home runs (18) and OPS (.972). ... Triolo's grand slam was his ninth homer of the season, and he ranks third in the league with 50 RBIs. ... Greensboro leads the 12-team league with 109 stolen bases and 139 attempts. The Hoppers rank third with 105 home runs.
Pitching update
At the beginning of the season, Greensboro's starting rotation included six pitchers all rated by MLB Pipeline among the top 30 prospects in Pittsburgh's farm system.
Only No. 2 Quinn Priester (3-3, 3.27 ERA in 12 starts) and No. 6 Tahnaj Thomas (0-2, 4.54 ERA in 10 starts) remain.
No. 23 Omar Cruz was promoted to Class-AA Altoona and has a 2.92 ERA in five starts for the Curve.
No. 11 Mlodzinski and No. 28 Burrows are both on the 10-day injured list, while No. 22 Ashcraft was placed on the 60-day IL on Monday.
Two 21-year-old right-handers were added to the Hoppers roster on Monday.
Domingo Gonzalez, who was 3-3 with a 3.72 ERA at Class-A Bradendon, was promoted to take Ashcraft's spot in the starting rotation. And Michell Miliano, newly acquired as part of a trade between the Pirates and San Diego Padres, was added to the bullpen.
In his career at the News & Record, journalist Jeff Mills won 10 national and 12 state writing awards from the Associated Press Sports Editors, the Society for Features Journalism, and the N.C. Press Association.