Four-Run Eighth Inning Lifts Curve Over RubberDucks, 6-4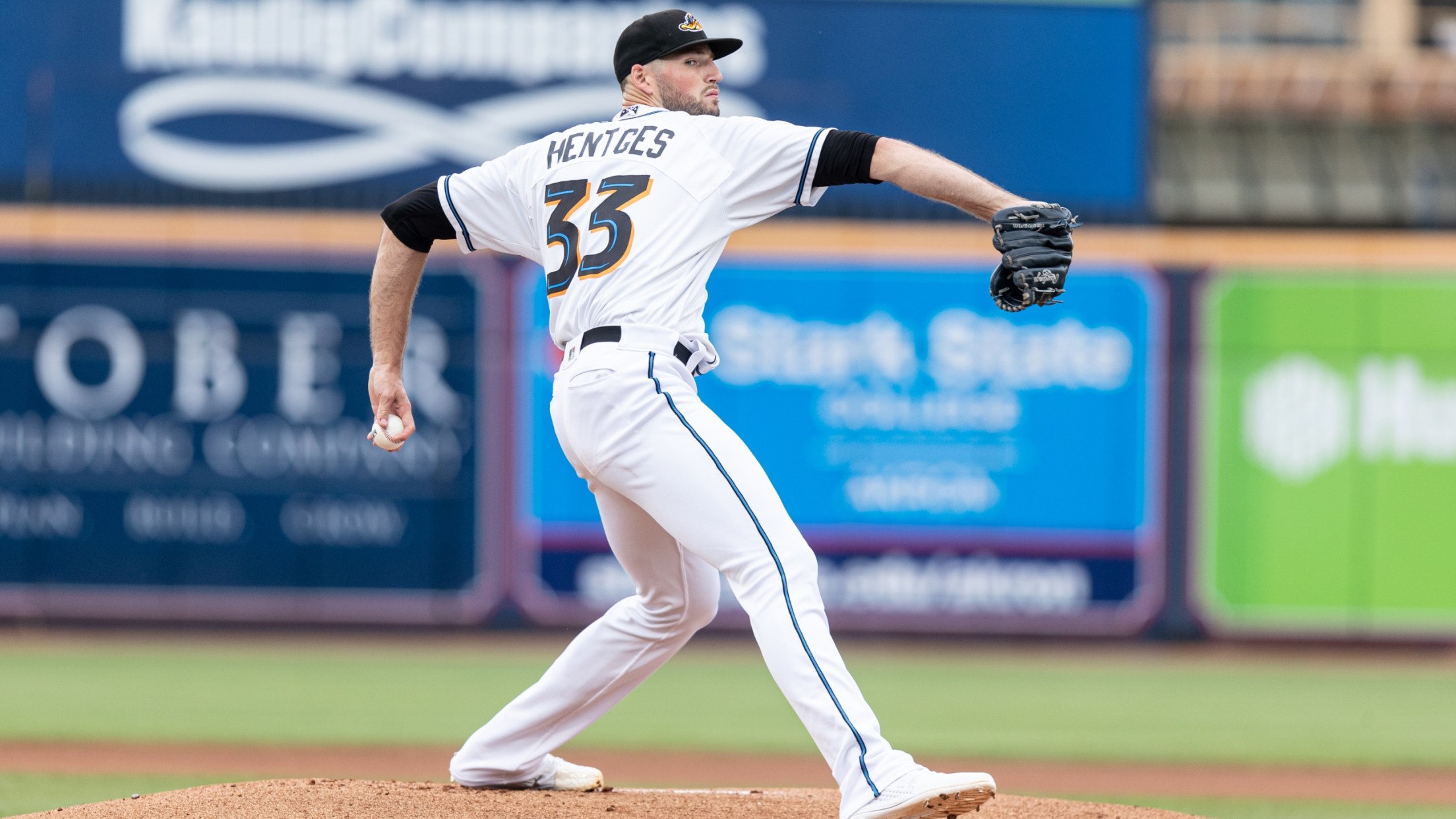 Sam Hentges pitched six solid innings, allowing only two earned runs on five hits Wednesday night. (David Monseur)
RubberDucks Game RecapCurve 6 (9-6, 44-38) RubberDucks 4 (6-10, 40-45)WP: Joel Cesar (2-2) LP: Jordan Stephens (1-1) Save: Matt Eckelman (15)SummaryThe Akron RubberDucks dropped the series finale to the Altoona Curve, 6-4, despite a solid start from LHP Sam Hentges and a long ball from 1B Nellie Rodríguez Wednesday night
RubberDucks Game Recap
Curve 6 (9-6, 44-38) RubberDucks 4 (6-10, 40-45)
WP: Joel Cesar (2-2) LP: Jordan Stephens (1-1) Save: Matt Eckelman (15)

Summary
The Akron RubberDucks dropped the series finale to the Altoona Curve, 6-4, despite a solid start from LHP Sam Hentges and a long ball from 1B Nellie Rodríguez Wednesday night at Canal Park.
Turning Point
Bligh Madris put the exclamation point on a four-run eighth inning for the Curve with a two-run home run over the center field wall, giving Altoona the 6-4 lead.
Mound Presence
Akron RubberDucks starter Sam Hentges settled down nicely for the RubberDucks after allowing a run in the first inning. The 22-year-old southpaw went six innings, allowing two earned runs on five hits and one walk while striking out two Altoona Curve hitters. The Akron bullpen gave up four runs in the eighth inning, including a solo home run to Chris Sharpe in the top of the eighth.
Duck Tales
Alexis Pantoja put the RubberDucks on the board in the bottom of the second inning with a line drive single through the box into center field to score Connor Marabell who led off the inning with a double. Alex Call put Akron up 2-1 in the bottom of the third inning with an RBI double, pushing Ernie Clement across home plate. Nellie Rodríguez broke a two-game hitless streak (0-7) to go 1-for-3 with a two-run home run in the bottom of the sixth inning. The RubberDucks collected a total of nine hits but left seven men on base and went 2-for-8 with runners in scoring position.
Notebook
Ernie Clement, having reached safely with a single, now has a six-game hitting streak and has collected 58 hits in 47 games since returning from the injured list on May 9th … Sam Hentges has been pitching well for the RubberDucks and has now allowed two or fewer earned runs in nine of his 17 starts, which lead the Eastern League for most games started … Time of Game: 2:33… Attendance: 7,478
On the Pond
The RubberDucks will now travel to Binghamton for a four-game set with the Rumble Ponies, beginning Thursday at 6:35 p.m. The game will be broadcast on Fox Sports 1350 AM, the WARF iHeart channel, and the TuneIn Radio App. RHP Eli Morgan (5-0, 3.08) will start for Akron as the RubberDucks face off against RHP Mickey Jannis (4-1, 2.68) in game one of four.