Four-run first not enough for River Cats in loss
Jones hits first homer of year, Duggar collects three hits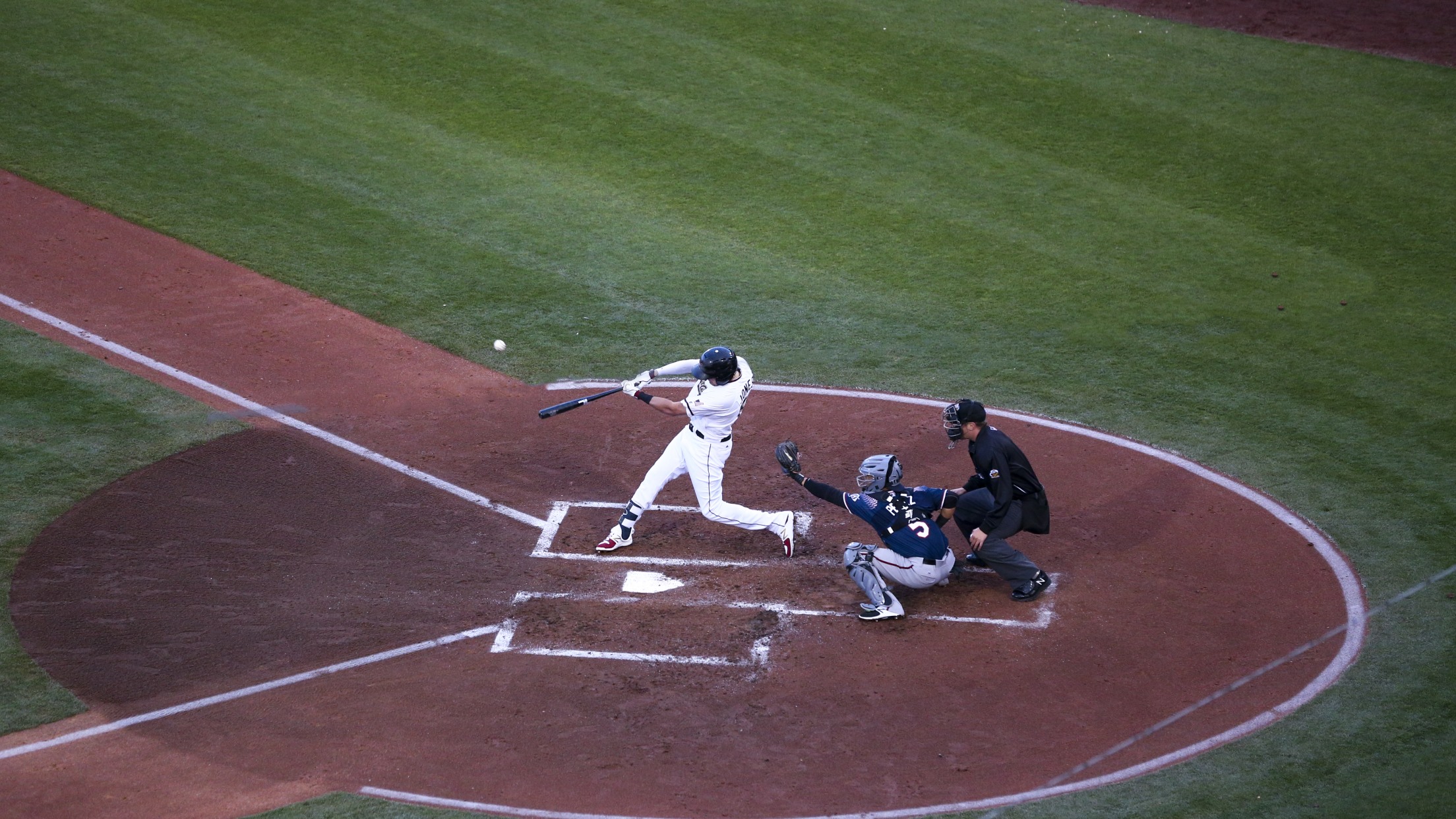 Sacramento third baseman Ryder Jones belts a three-run home run in the bottom of the first inning against Reno on April 28, 2018 (Photo: Ralph Thompson/ River Cats)
WEST SACRAMENTO, CA -- The Reno Aces (7-16) snapped the Sacramento River Cats' (10-12) longest winning streak of the young season. Sacramento put four runs on the board in the first inning thanks to a solo home run from center fielder Steven Duggar -- his second in as many games
WEST SACRAMENTO, CA -- The Reno Aces (7-16) snapped the Sacramento River Cats' (10-12) longest winning streak of the young season. Sacramento put four runs on the board in the first inning thanks to a solo home run from center fielder Steven Duggar -- his second in as many games -- and a three-run bomb from third baseman Ryder Jones. But Reno would reach double digits in runs on 16 hits by the end of the night, defeating the River Cats 10-7.
River Cats starter Casey Kelly went five innings but gave up seven runs on nine hits and three walks. The biggest blow came in Reno's four-run fourth inning when recently called-up center fielder Evan Marzilli took Kelly deep for three runs.
Catcher Héctor Sánchez briefly brought the River Cats within a run when his based-loaded single knocked home two in the seventh. The Aces, however, would add an additional run in each of the next two innings.
The River Cats will play the finale of this rare five-game set, sending right-hander Jose Flores (0-1, 5.84) to the mound in place of injured righty Tyler Herb. Aces right-hander Jack Buchanan (0-2, 5.09) will oppose Flores. First pitch Sunday afternoon will be at 1:05 p.m. (PT).
Catch all of the action live online at rivercats.com, on the MiLB First Pitch app, and on the air on Money 105.5 FM.
Additional Notes
• The game was the first off the season to be televised on CW-31, and the stadium drew a season-high 12,798 fans.
• Steven Duggar's three-hit night brings his average to just five points under .300. He entered Saturday night's game with 14 hits in his last 11 games, including four doubles and a home run.
• Outfielder Hunter Pence picked up his first hit since joining the River Cats a day ago for a planned three-day rehab assignment.