Fourth Of July Festivities Return To Blue Wahoos Stadium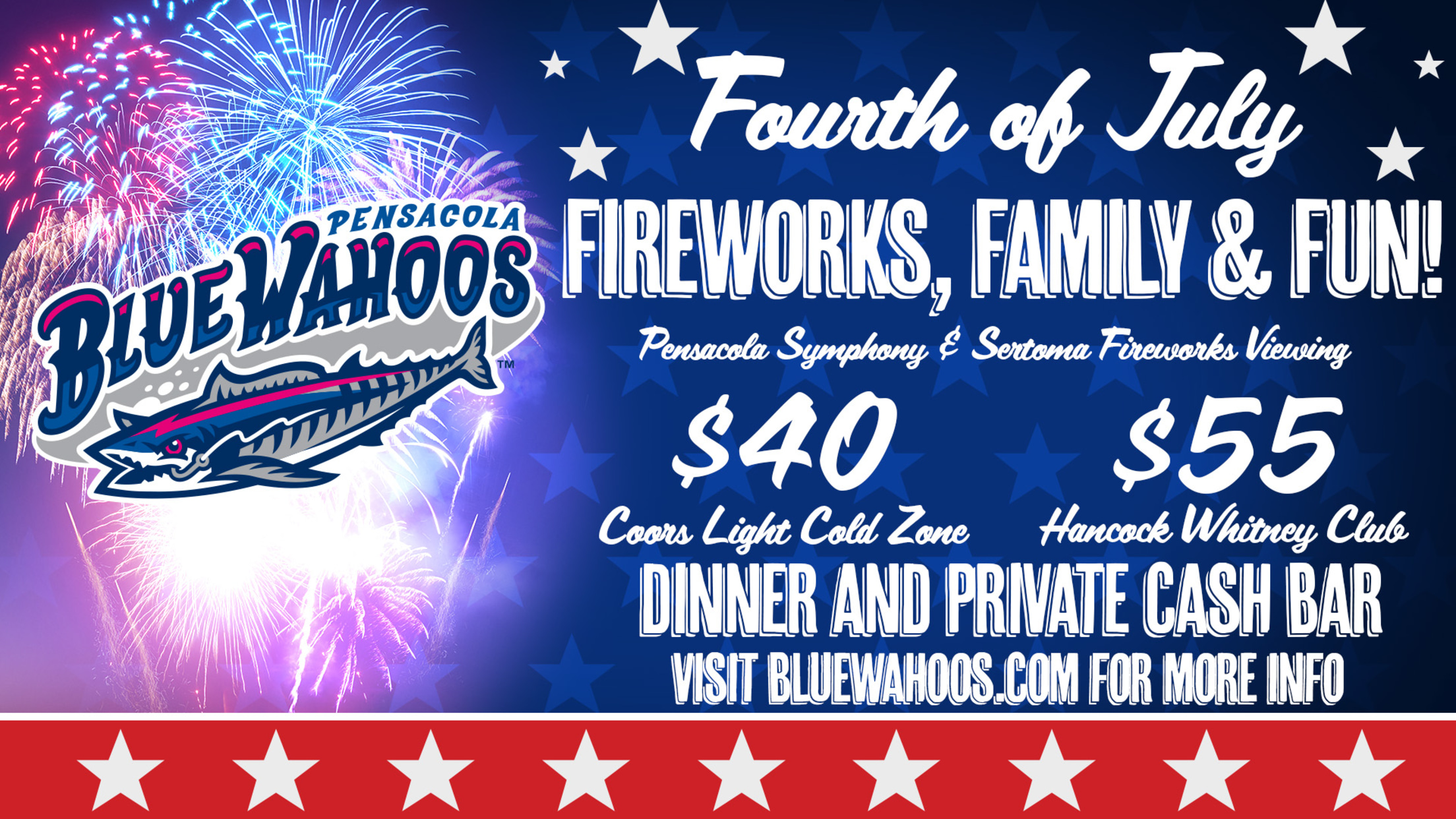 CLICK FOR TICKETS TO THE VIP EXPERIENCES! Fourth of July festivities will return to Blue Wahoos Stadium in 2022! On Monday, July 4th, fans are invited to watch the annual Sertoma Club fireworks show and Symphony Sparks & Stars performance presented by Peter J. Mougey with Levin Papantonio Rafferty for
CLICK FOR TICKETS TO THE VIP EXPERIENCES!
Fourth of July festivities will return to Blue Wahoos Stadium in 2022!
On Monday, July 4th, fans are invited to watch the annual Sertoma Club fireworks show and Symphony Sparks & Stars performance presented by Peter J. Mougey with Levin Papantonio Rafferty for FREE at Blue Wahoos Stadium.
Gates will open to the public at 6:00 PM. The Symphony Sparks & Stars show, held in the Hunter Amphitheater in Community Maritime Park, will be livestreamed on the stadium videoboard. The symphony will begin playing at approximately 7:30 PM with fireworks starting at approximately 9:00 PM.
Games, inflatables, and other activities will be available for children at the ballpark. Fans are welcome to enjoy the symphony and fireworks from the stadium seats or on the field at Blue Wahoos Stadium. Guests sitting on the field are encouraged to bring a blanket to sit on. Stadium concessions will be open with food and drink available for purchase.
Outside food and beverage is not permitted in the stadium. Food and drinks, chairs, wagons, and strollers may not be brought onto the field.
General admission for the fireworks and symphony is free, however fans may purchase admission to special VIP dinner events in the Hancock Whitney Club and the Coors Light Party Deck at Blue Wahoos Stadium. Both areas will offer guests an exclusive meal and access to a private cash bar.
The Hancock Whitney Club event will include a premier gourmet dinner buffet prepared by Executive Chef Travis Wilson. The menu will feature grilled steak, a seafood boil, grilled vegetables, hot dogs with assorted toppings, dessert, and non-alcoholic drinks. Tickets to this exclusive event are limited and are $55 per person.
The right field Coors Light Party Deck will also be available to fans, offering tremendous ballparks views of the symphony and fireworks and an All-American buffet dinner including hot dogs, hamburgers, assorted toppings, mac and cheese, coleslaw, baked beans, brownies, and soda. Tickets to the Coors Deck Party are $40.