Fraizer hits 16th home run in Hoppers' loss
Blake Sabol goes 3-for-4 with two doubles to lead Greensboro offense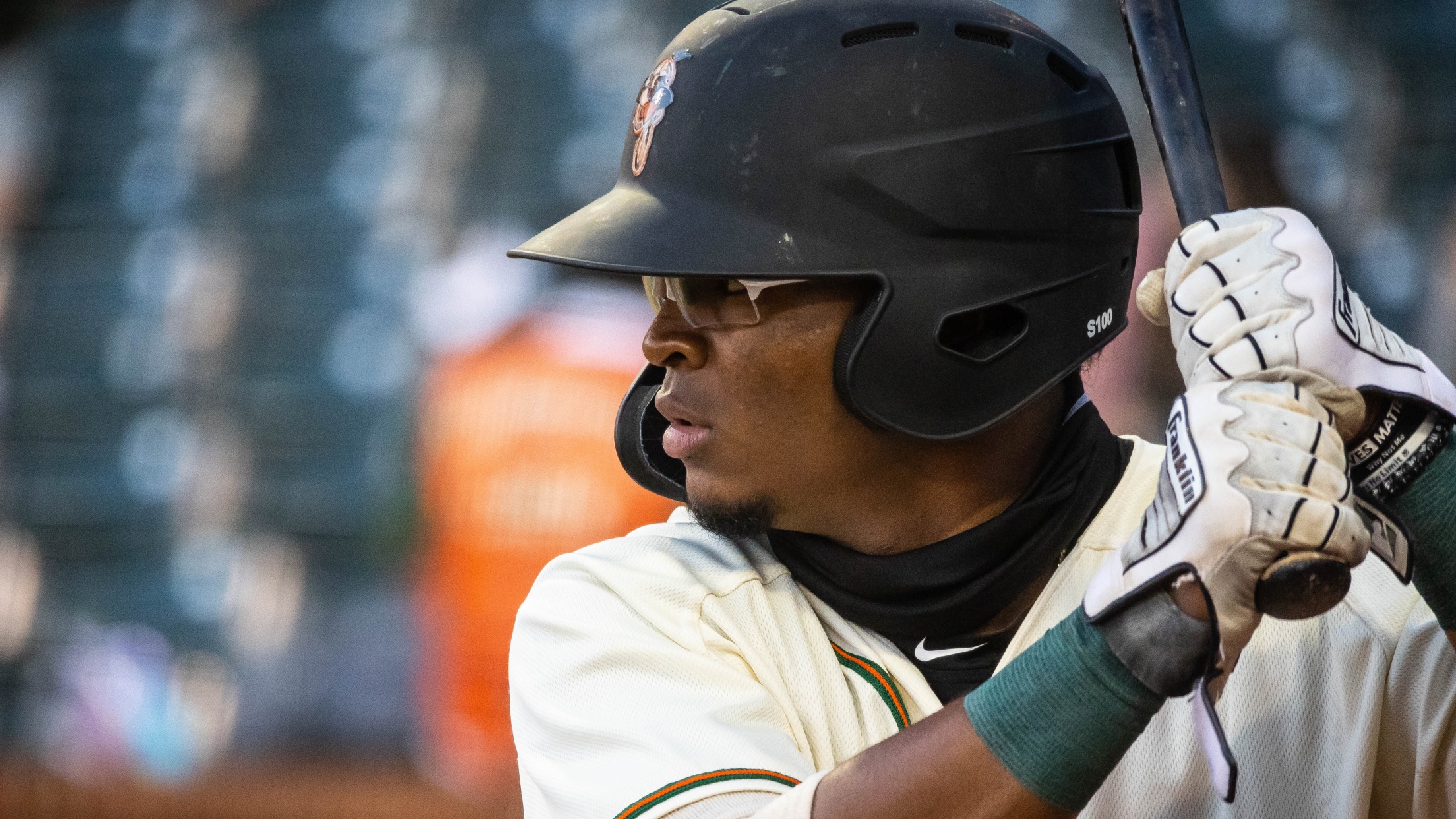 Greensboro lead-off hitter Matt Fraizer leads the High-A East in hits and runs scored. (Jak Kerley/Greensboro Grasshoppers)
GREENVILLE, S.C. ― Designated hitter Blake Sabol had three hits and lead-off batter Matthew Fraizer hit his team-high 16th home run, but Greensboro stranded 11 baserunners and the Grasshoppers lost to the Greenville Drive on Wednesday night at Fluor Field. The Hoppers (41-27) have won 12 of their last 16
GREENVILLE, S.C. ― Designated hitter Blake Sabol had three hits and lead-off batter Matthew Fraizer hit his team-high 16th home run, but Greensboro stranded 11 baserunners and the Grasshoppers lost to the Greenville Drive on Wednesday night at Fluor Field.
The Hoppers (41-27) have won 12 of their last 16 games, and they are comfortably in second place in the High-A East's South Division standings, 5.5 games ahead of third-place Greenville.
Braxton Ashcraft (1-1, 5.35 ERA) took the loss for Greensboro, giving up five runs on six hits in four innings. The 21-year-old right-hander, who is rated by MLB Pipeline as the No. 21 prospect in Pittsburgh's farm system, struck out six but gave up two home runs in his 10th start of the season.
Sabol went 3-for-4 with two doubles, while Fraizer hit a solo home run in the ninth inning.
Third baseman Jared Triolo stayed hot, going 2-for-5. No. 1 prospect Nick Gonzales and No. 4 prospect Liover Peguero had two hits apiece for the Hoppers.
Greenville starter Brian Van Belle (4-3, 4.01 ERA) scattered five hits in six scoreless innings to pick up the win. Cameron Cannon went 2-for-3 with his league-leading 21st double for the Drive.
NOTES: Triolo has hit safely in 13 of his last 15 games, going 23-for-63 (.365) and raising his season average to .288. Triolo's 15 doubles rank third in the league. ... Fraizer, who went 1-for-5, has hit safely in 19 of his last 23 games. He leads the High-A East with 80 hits and 48 runs scored, ranks second with 16 home runs and third with a .310 batting average. ... Ashcraft, who missed two starts in mid-June, has struggled since his return to the rotation. In his last four starts he's 0-1 with an 8.80 ERA. He has struck out 18 in 15 1/3 innings in that stretch.
In his career at the News & Record, journalist Jeff Mills won 10 national and 12 state writing awards from the Associated Press Sports Editors, the Society for Features Journalism, and the N.C. Press Association.