Fraizer goes 4-for-5 with grand slam as Hoppers win slugfest
Jared Triolo extends hitting streak and Greensboro wins for 13th time in last 17 games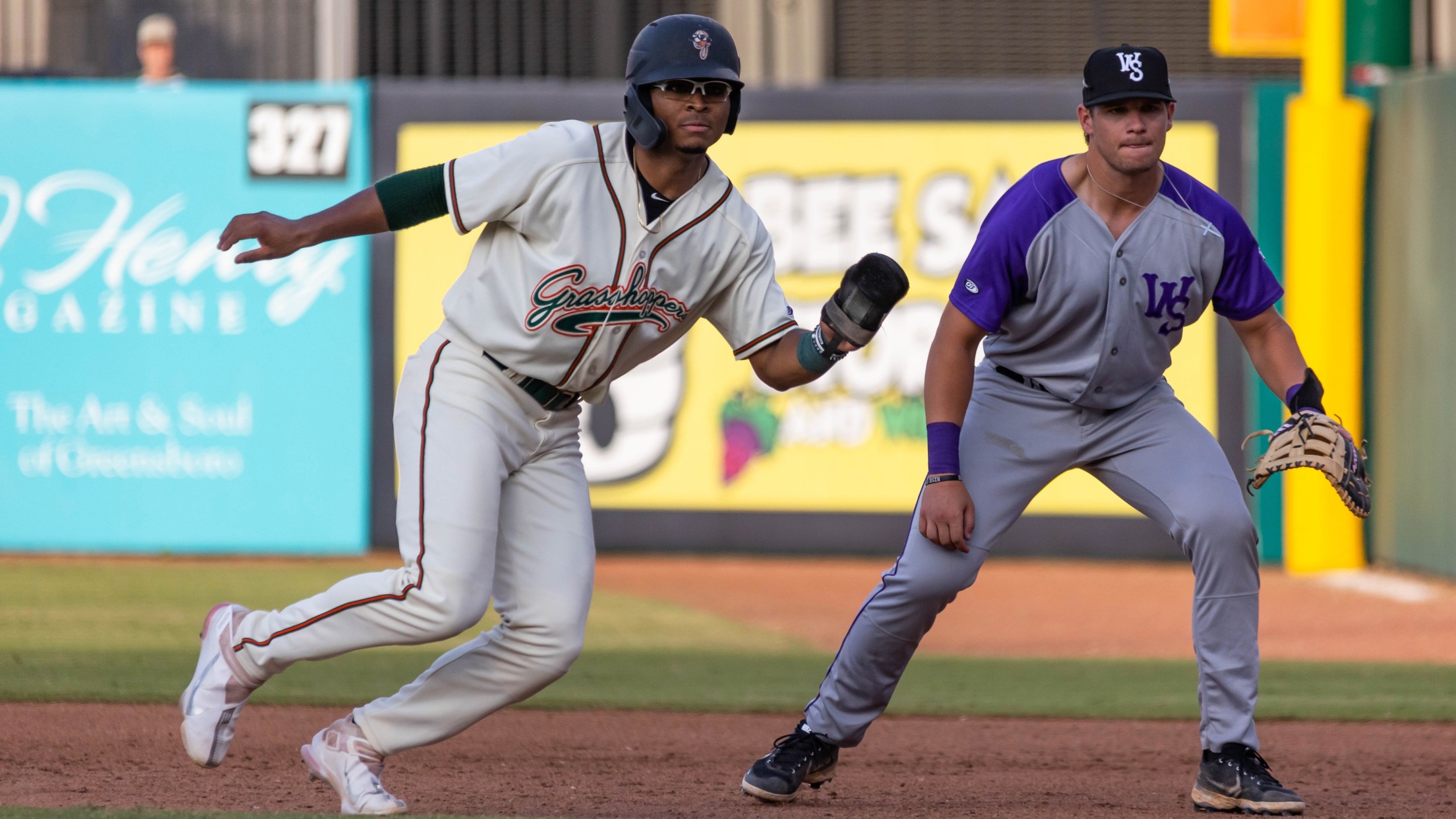 Greensboro's Matt Fraizer (left) leads the High-A East in hits, runs, home runs and batting average. (Jak Kerley/Greensboro Grasshoppers)
GREENVILLE, S.C. ― Lead-off hitter Matthew Fraizer went 4-for-5 with a grand slam and five RBIs, helping the Greensboro Grasshoppers to a 12-10 victory over the Greenville Drive at Fluor Field on Thursday night. Fraizer's two-out grand slam in the top of the seventh inning broke a 5-5 tie and
GREENVILLE, S.C. ― Lead-off hitter Matthew Fraizer went 4-for-5 with a grand slam and five RBIs, helping the Greensboro Grasshoppers to a 12-10 victory over the Greenville Drive at Fluor Field on Thursday night.
Fraizer's two-out grand slam in the top of the seventh inning broke a 5-5 tie and put the Hoppers ahead for good.
Lolo Sanchez , Blake Sabol and Brandon Koch all drew walks to load the bases for Fraizer, who hit an 0-1 pitch from reliever Branden Cellucci over the right-field fence.
Fraizer's home run was his league-leading 17th of the season. He also leads the High-A East with 84 hits, 50 runs scored and a .319 batting average.
Sabol tacked on a two-run home run over the center-field wall in the eighth inning to make it 11-5, critical insurance runs that won the game.
The Hoppers (42-27) have won 13 of their last 17 games. They're in second place in the High-A East's South Division, six games behind the Bowling Green Hot Rods (48-21), who have won 10 games in a row. Greensboro leads third-place Greenville by 6 1/2 games.
Koch finished 1-for-3 with a solo home run, two walks and three runs scored.
Hoppers third baseman Jared Triolo went 2-for-5 with two RBIs, extending his hitting streak to eight games. Triolo has hit safely in 14 of his last 16 games, going 25-for-68 (.368) with nine multi-hit games in that stretch to raise his season batting average to .290.
Right-hander Austin Roberts retired the only two hitters he faced in the bottom of the ninth, notching his seventh save and closing out a 4-hour, 16-minute marathon.
Reliever Bear Bellomy (8-2, 4.54 ERA) picked up the win despite allowing four runs in two innings. Bellomy struck out five.
NOTES: Fraizer ranks third in the High-A East with a .400 on-base percentage, fourth with 35 walks and fifth with a team-high 45 RBIs. ... The Hoppers had 10 hits and drew nine walks in the game, and every batter in the lineup reached base at least once. ... Middle infielders Nick Gonzales and Liover Peguero, rated by MLB Pipeline as the No. 1 and No. 4 prospects in Pittsburgh's farm system, both went 1-for-6. ... Bellomy, a right-hander who has struck out 48 in 39 2/3 innings, leads the league in wins.
In his career at the News & Record, journalist Jeff Mills won 10 national and 12 state writing awards from the Associated Press Sports Editors, the Society for Features Journalism, and the N.C. Press Association.