Franco's Four Hits Help Topple Tennessee
Shortstop's big night headlines Generals' win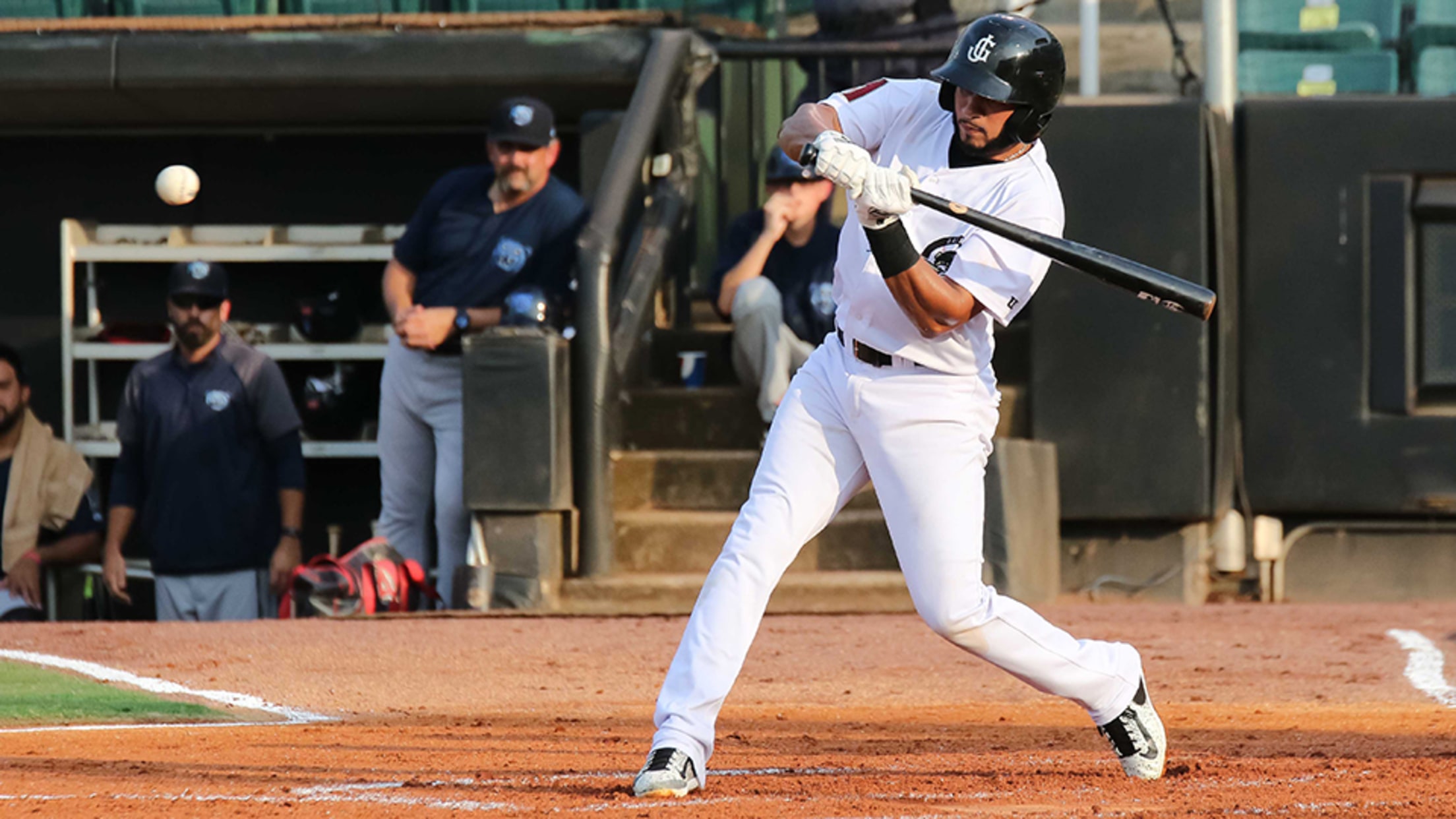 Angel Franco had a four-hit night--his first in affiliated baseball since 2015--as the Generals pounded Tennessee 10-2. Jackson is now three games back of a wild card spot in the North Division with 34 to play. (Cody Cunningham)
Jackson, Tenn. - Angel Franco had the dirtiest jersey of any Jackson General by the end of Monday's game, and he earned it. The 27-year-old shortstop played a central role in the Generals' 10-2 victory Monday over Tennessee, collecting four hits and assisting with a trio of double plays while stealing
Jackson, Tenn. - Angel Franco had the dirtiest jersey of any Jackson General by the end of Monday's game, and he earned it. The 27-year-old shortstop played a central role in the Generals' 10-2 victory Monday over Tennessee, collecting four hits and assisting with a trio of double plays while stealing his first base. The victory pushed the Generals (19-18, 56-51) a game ahead of the Smokies (18-19, 54-52) in the North Division's Second Half standings.
"I'm just trying to help my team win," Franco said in his post-game on-field interview. "I can play second and short and third. I love to hustle."
Franco and the Jackson offense backed up Brad Keller (8-7, 4.54 ERA) with a 14-hit parade, four of which went for extra bases. Jason Camilli's hitters went 7-for-25 with runners in scoring position, evening the series at one win apiece.
After being held to a pair of runs in Sunday's 4-2 loss, the Generals bludgeoned around Preston Morrison (1-10, 5.58 ERA) right from the start. Victor Reyes, Travis Denker, and Kevin Cron each singled in order to begin the bottom of the first, netting Jackson their first run and first lead of the series. After a groundout and an intentional walk to Kelly Dugan, Jamie Westbrook waited out a bases-loaded walk to bring home another run for a 2-0 lead. Franco then flicked a single into right field to score Cron for a 3-0 advantage, and Marty Herum grounded out softly to first base, drawing home Dugan to put Jackson in front 4-0.
Playing shortstop in place of recently promoted Vladimir Frias, Franco helped the first of three double plays on the night in the second inning. Franco was the pivot man in an unconventional 5-6-3 inning-ending twin-killing, necessitated by the second baseman Denker being shifted defensively away from second base. Franco led off the third with a single and stole second base as Herum batted behind him. The throw to second from catcher Ian Rice bounced wildly into center field, so Franco quickly terminated his headfirst slide and raced to third. Herum then tripled off the right field wall, scoring Franco easily while nothing his second three-base hit in the last 3 games. Herum would later score on a passed ball with Denker batting, making the lead 6-0 at the end of three innings.
Keller finally allowed an RBI single from Trey Martin to break Tennessee's silence in the fourth inning. He would go on to complete six innings, striking out a half dozen. A David Bote solo homer in the sixth was the only other damage that Keller allowed, walking just one.
Franco's third hit was the second half of back-to-back doubles to lead off the seventh inning, as Franco plated Jamie Westbrook for an 8-2 lead. The fourth and final hit for Franco was a one-out single in the eighth inning that got down in front of Tennessee center fielder Trey Martin. The quartet of hits was the first four-hit performance for Franco in affiliated baseball since May 6, 2015 as a member of the Texas League's Northwest Arkansas Naturals.
Left-hander Kirby Bellow debuted at Double-A with a scoreless seventh inning, recording two strikeouts. Gabe Speier pitched the eighth and ninth innings without allowing a run. Cron had a pair of hits and two runs scored while driving in his league-leading 71st run. Denker went 3-for-5 with a run scored and one batted in as well.
Jackson's ten-game homestand continues Tuesday with the third of five against division-rival Tennessee. Alex Young (7-6, 4.09 ERA) goes for the Generals, opposing righty Trevor Clifton (5-6, 4.45 ERA) for the Smokies. The action begins at 6:05 pm CT at The Ballpark at Jackson. Fans can follow along starting at 5:50 pm CT on Willie 94 FM & 1390 AM!
Bidding is open now for Jackson's special Shark Week jerseys that the team wore Saturday! Game-worn and signed jerseys are being auctioned off, with proceeds going to JACOA! Bid online at generals.milbauctions.com.
All five games against the Smokies start at 6:05 pm locally! The series wraps up with a Thrifty Thursday on August 3. Fans can get general admission tickets, hot dogs, popcorn, soda, beer, ice cream and access to the fun zone for $2 all night long! Reserved seats are just $6 as well!
Make sure to get your tickets now to see the 20th season of professional baseball in Jackson, and the first for the team as an affiliate of the Arizona Diamondbacks! Call the team at (731) 988.5299, stop by The Ballpark or go online to jacksongeneralsbaseball.com to secure your seats now!