Freaky Friday: Renegades drop 6-1 contest vs BK
Richardson slams third HR of season for lone run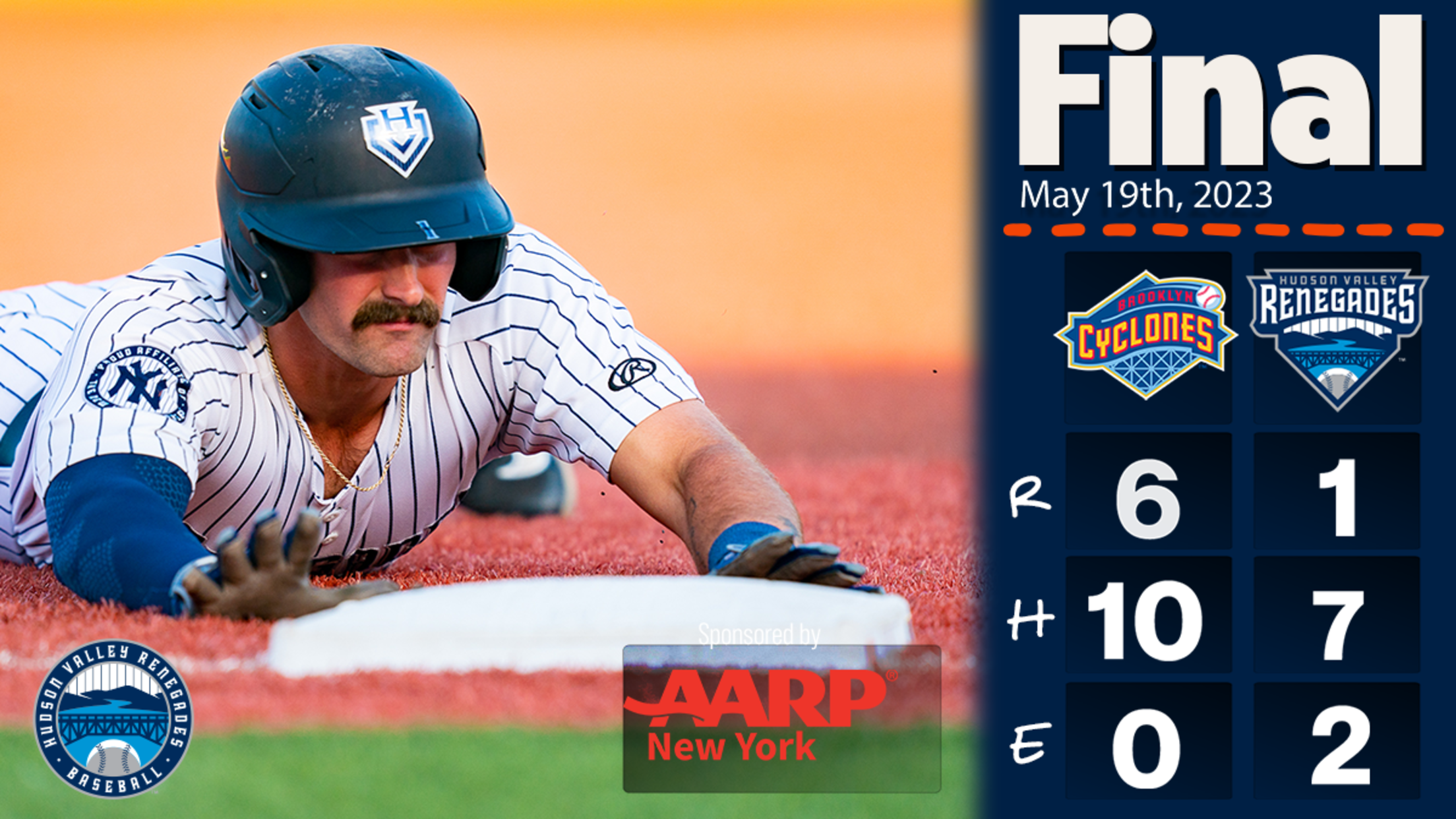 Aaron Palensky walks on Friday night. (Dave Janosz)
WAPPINGERS FALLS, N.Y. (May 19, 2023) — For the second straight night, the Brooklyn Cyclones downed the Hudson Valley Renegades 6-1 on Friday evening at Heritage Financial Park. After Juan Carela (1-2) stranded a pair of Cyclones in the first inning, Hudson Valley nearly jumped on the board in the
WAPPINGERS FALLS, N.Y. (May 19, 2023) — For the second straight night, the Brooklyn Cyclones downed the Hudson Valley Renegades 6-1 on Friday evening at Heritage Financial Park.
After Juan Carela (1-2) stranded a pair of Cyclones in the first inning, Hudson Valley nearly jumped on the board in the second. After Yoander Suárez (1-2) issued a one-out walk to Aaron Palensky, Grant Richardson singled to center to put runners on the corners with one out. However, Suárez induced Eduardo Torreabla to hit into an inning-ending double play to keep the 'Gades scoreless.
The game remained scoreless until the bottom of the fifth, when Richardson led off with a solo home run to left-center to put Hudson Valley up 1-0. It was the third round-tripper of the season for Richardson, who finished 2-for-4 with a home run, an RBI and a run scored.
Nothing like a G-Rich BOMB! 💣@Grantr_1 slams it out of the park!
1-0 Renegades pic.twitter.com/CXYzono1MW

— Hudson Valley Renegades (@HVRenegades) May 19, 2023
Brooklyn scored the game's final six runs beginning with a two-run sixth. Carela began the frame with the first three batters reaching. After Kevin Parada was hit by a pitch, Alex Ramirez doubled down the left field line to score Parada, and advanced to third on a throwing error by Alexander Vargas on the relay throw home. The next batter, Jaylen Palmer, lifted a sacrifice fly to put the Cyclones in front 2-1.
In the top of the seventh, Mateo Gil hit an RBI double off Enrique Santana and scored on a wild pitch thrown by Harrison Cohen. Parada capped off the three-run frame with an RBI single as the Cyclones extended their lead to 5-1. Brooklyn plated their final run with an RBI single in the ninth by Chase Estep off Ryan Anderson.
The 'Gades mounted a two-out rally in the eighth against Quinn Brodey, but stranded two on base. They did the same in the bottom of the ninth against, with Eduardo Torrealba and Cowles lacing back-to-back two-out singles to bring up Spencer Jones. Brodey struck out Jones on a 3-2 curveball to end the contest and hand Hudson Valley their third straight loss.
Rafael Flores finished 2-for-4 to extend his team-best hitting streak to nine straight games.
Hudson Valley will continue its six-game series against the Cyclones on Saturday night. First pitch is scheduled for 4:05 p.m. with coverage on the Renegades Baseball Network beginning at 3:45 p.m. The Renegades will send RHP Chase Hampton (1-0, 3.04) to the mound opposite of RHP Tyler Stuart (0-0, 1.40) for the Cyclones.