Fresno blanks Omaha 5-0 in series opener
Grizzlies remain in first place in PAC North with season-high nine strikeouts in 5.2 scoreless IP from Armenteros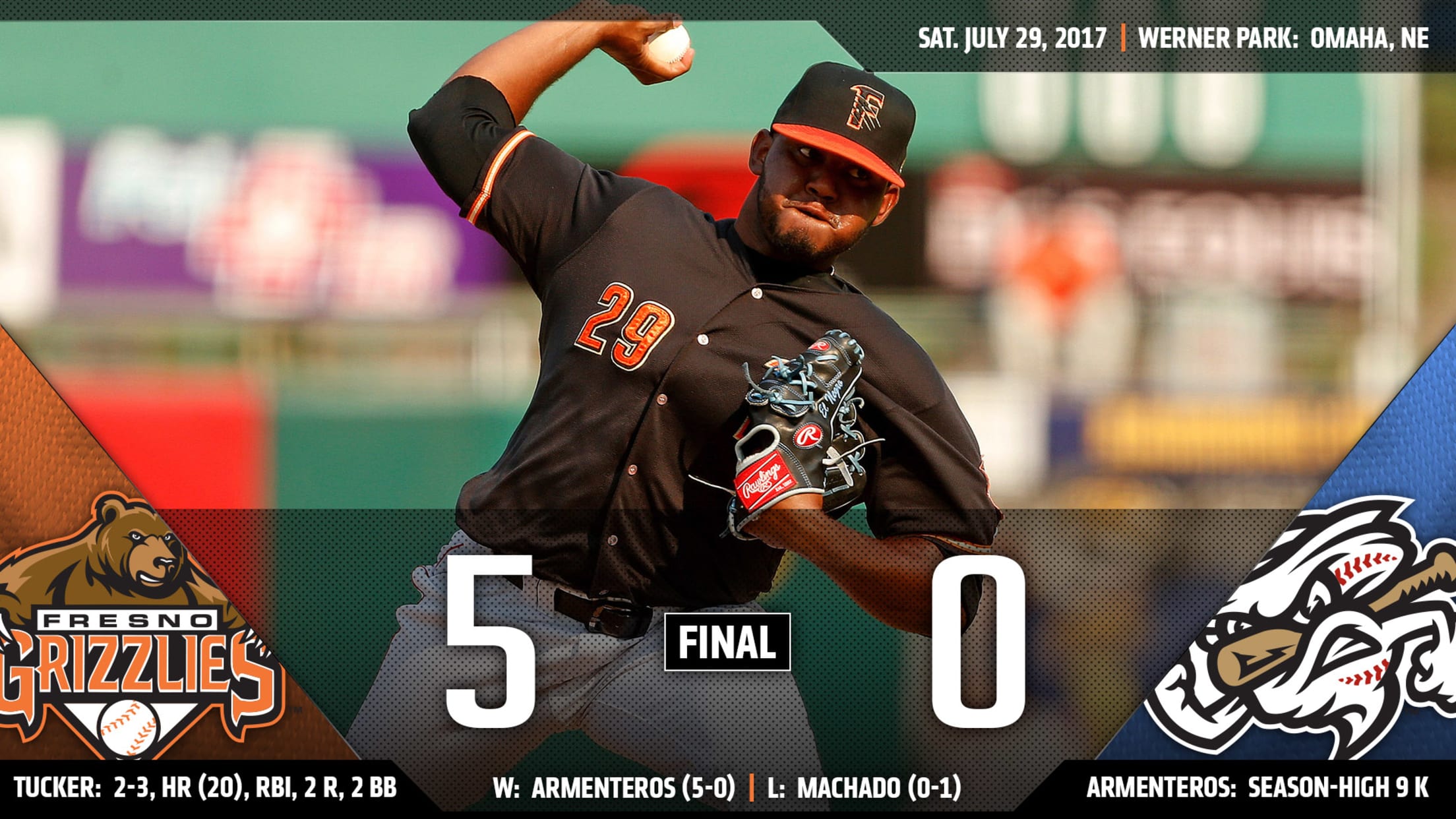 The Fresno Grizzlies (64-43) opened a four-game series against the Omaha Storm Chasers (48-57) on Saturday night at Werner Park, part of an eight-game road trip. The Grizzlies blanked the Storm Chasers 5-0 for their sixth shutout of the season, just the second on the road. Winners of their last
The Fresno Grizzlies (64-43) opened a four-game series against the Omaha Storm Chasers (48-57) on Saturday night at Werner Park, part of an eight-game road trip. The Grizzlies blanked the Storm Chasers 5-0 for their sixth shutout of the season, just the second on the road. Winners of their last 13 of 14 road games, Fresno remains in sole possession of first place in the Pacific North Division.
The Grizzlies took a 1-0 lead in the opening frame when Tony Kemp scored on a Teoscar Hernández (3-for-5) RBI double after leading off the game with a single. In the third, an A.J. Reed sacrifice fly scored Jack Mayfield who reached on an error. Preston Tucker (single, 2-for-3) then scored when J.D. Davis grounded out to make the score 3-0.
Tucker drilled his 20th home run of the season in the fourth. The solo shot to right increased the Fresno lead to 4-0. It was the Grizzlies' 169th homer of the season to lead all of professional baseball. The Grizzlies made it a 5-0 final in the fifth when Reid Brignac (2-for-4) hit a RBI double to score Jon Kemmer (2-for-3) who also doubled. Brignac is on a personal season-long nine-game hit streak.
Fresno starter Rogelio Armenteros (5-0) struck out a 2017 personal and club-high nine batters through 5.2 scoreless innings. He allowed five hits and just two walks in his fifth win of the season in just as many Triple-A appearances.
Omaha starter Andres Machado (0-1) suffered his first loss of the season through four innings. He allowed four runs (two earned) on six hits and four walks with three strikeouts.
The four-game series between the Grizzlies and the Storm Chasers continues on Sunday at 3:05 p.m. PT at Werner Park. Fresno RHP David Martinez (6-8, 4.48) will be on the mound to face Omaha LHP Onelki Garcia (3-2, 4.66).