Fresno crushes three homers in 7-4 loss at ABQ
Yordan Alvarez (3), Taylor Jones (4) and Jamie Ritchie (2) each go deep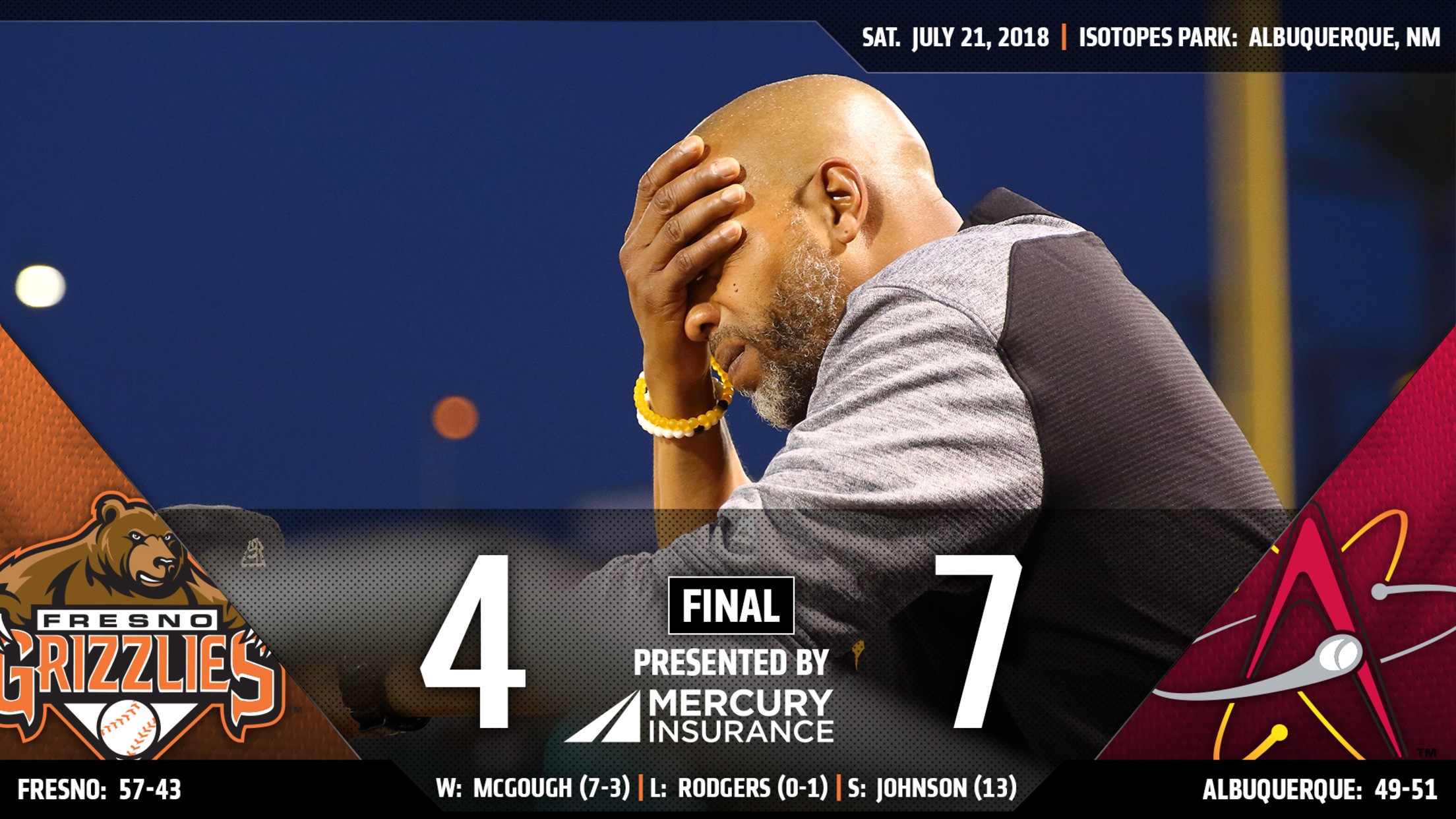 The Albuquerque Isotopes (49-51) defeated the Fresno Grizzlies (57-43) 7-4 in seven innings Saturday evening from Isotopes Park. In the 100th game of the year, Fresno dropped their first Saturday road game (7-1). Grizzlies starter Brady Rodgers (0-1) suffered the loss in his second Triple-A start since returning from Tommy
The Albuquerque Isotopes (49-51) defeated the Fresno Grizzlies (57-43) 7-4 in seven innings Saturday evening from Isotopes Park. In the 100th game of the year, Fresno dropped their first Saturday road game (7-1). Grizzlies starter Brady Rodgers (0-1) suffered the loss in his second Triple-A start since returning from Tommy John surgery. He lasted three and one-third frames, scattering seven hits, six runs (earned), two walks and three strikeouts.
Ryan McMahon (2-for-3) catapulted Albuquerque to a 3-0 advantage in the bottom of the first with a homer to right field. The three-run dinger was his 10th of the season. In 14 career games versus Fresno, he has gone deep nine times.
Yordan Alvarez (2-for-2) cut the deficit to one in the top of the second when he destroyed a pitch to center field. The two-run shot was his third in Triple-A and 15th overall.
A three-run bottom of the third made it 6-2 Isotopes. Elliot Soto grounded out to the pitcher, netting a run. Then, Ryan Metzler (2-for-3) chopped a single to right, plating a pair. That would be all the support for starter Chad Bettis (MLB rehab). He did not factor in the decision after four innings of work. He was charged with two runs (earned), on five hits and four punchouts.
Soto expanded the lead to 7-2 in the bottom of the fifth when he spanked a triple to center. McMahon hustled home on the play.
In the visitor's half of the sixth, the Grizzlies inched within three runs thanks to a pair of solo jacks. Taylor Jones launched his fourth clout of the year to left field. Jamie Ritchie (2-for-3) then matched Jones with a wallop also to left field. It was his second since joining Triple-A.
D.J. Johnson hammered down his 13th save of the season by fanning two for the 7-4 victory. Scott McGough (7-3) was given the win after two solid frames of relief.
Both squads finish the series Sunday night from Isotopes Park. First pitch is scheduled for 5:05 PT. Fresno RHP Trent Thornton (6-7, 4.03) and Albuquerque LHP Brett Oberholtzer (4-8, 6.28) are the probable matchup.