Fresno defeats Iowa 8-1 in series opener
Kemp goes 3-for-5, Kemmer blasts 2-run homer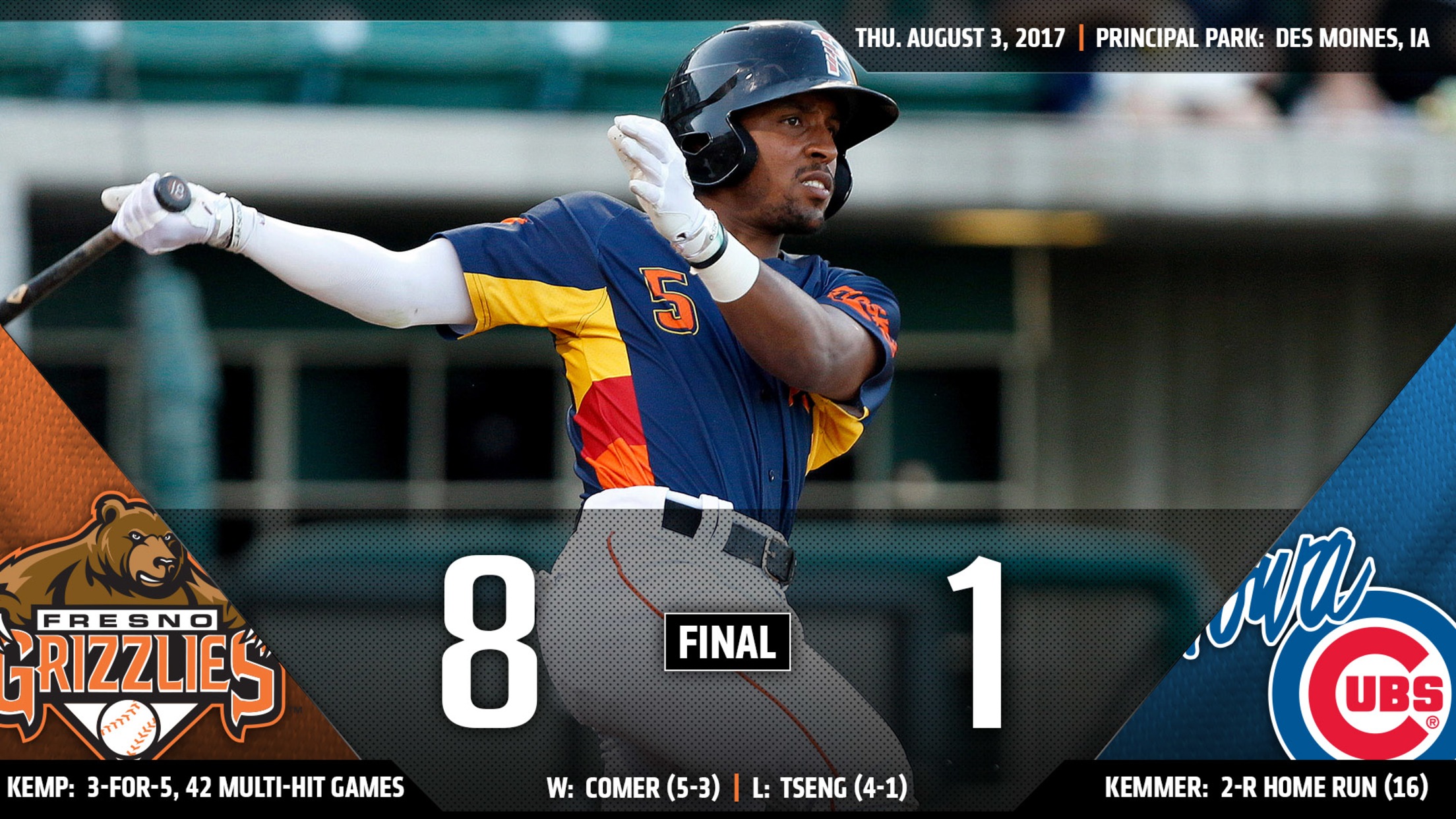 The Fresno Grizzlies (66-45) defeated the Iowa Cubs (50-58) 8-1 in the series opener of a four-game set on Thursday night at Principal Park. Two of the eight Fresno runs came from a home run. It was the Grizzlies' Minor League Baseball-leading 173rd homer of the season. Only the Houston
The Fresno Grizzlies (66-45) defeated the Iowa Cubs (50-58) 8-1 in the series opener of a four-game set on Thursday night at Principal Park. Two of the eight Fresno runs came from a home run. It was the Grizzlies' Minor League Baseball-leading 173rd homer of the season. Only the Houston Astros have more (175) to lead all of professional baseball.
Following four complete scoreless frames, a 10-batter fifth inning gave the Grizzlies a 6-0 lead. Drew Ferguson started the inning with a walk and scored on Tony Kemp's (3-for-5) third hit of the game, a RBI single. It was Kemp's club-leading 42nd multi-hit game. After Alejandro Garcia reached on an error, he then scored on a Jack Mayfield (2-for-5) RBI single. Kemp and Mayfield eventually came around to score on a Preston Tucker two-run double to make the score 4-0. It was Tucker's team-leading 80th RBI.
The top of the fifth continued for the Grizzlies when Tucker scored on a J.D. Davis (2-for-3) sacrifice fly. That was it for Iowa starter Jen-Ho Tseng (4-1) who went on to suffer the loss in 4.2 IP. He allowed the runs on six hits and two walks with four strikeouts. Fresno tacked on a final run in the frame to make the score 6-0 when Reid Brignac (2-for-5) hit a RBI single that scored Jon Kemmer after he had reached on an error.
Fresno starter Dean Deetz tossed 4.1 scoreless innings before reliever Kevin Comer (5-3) took the hill for the win. Deetz allowed just three hits and five walks with six strikeouts. Comer allowed the one Iowa run in the sixth when Elliot Soto knocked a RBI single to score Jacob Hannemann who walked to get on.
The Grizzlies completed the scoring in the seventh when Kemmer crushed a two-run home run to make the final score 8-1. Davis had doubled to get on before scoring on Kemmer's 16th long ball of the season.
The lone series of the season between the clubs continues on Friday night. First pitch is set for 5:08 p.m. PT at Principal Park. Probable starters are RHP Mike Hauschild (5-1, 4.60) for Fresno and RHP Aaron Brooks (5-8, 6.11) for Iowa.