Fresno Grizzlies win 9th in a row, have longest current win streak in pro baseball
8-1 win improves Fresno to 18-4 at Sacramento as a Houston affiliate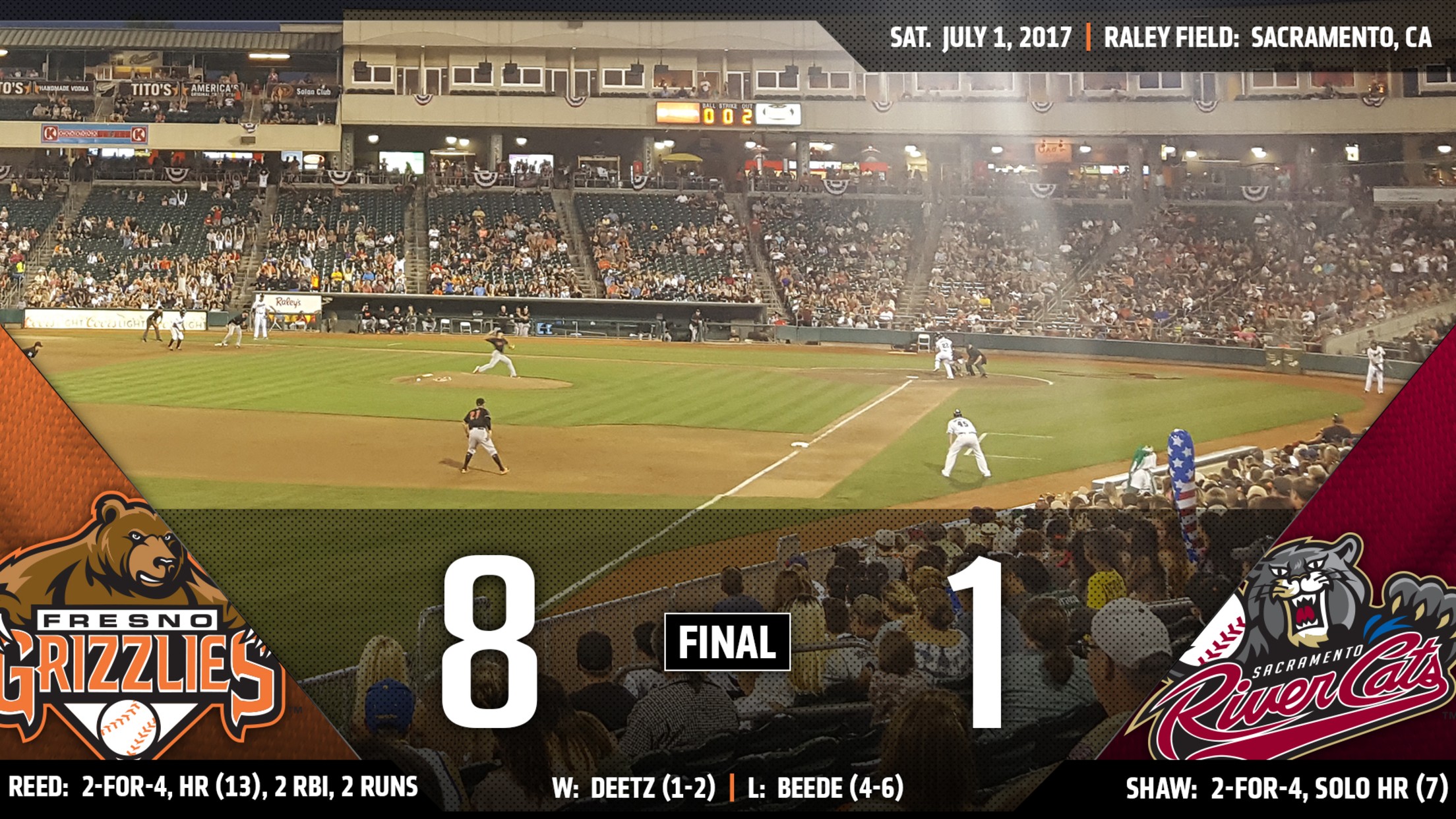 The Fresno Grizzlies (44-38) now enjoy the longest current win streak in all of North American professional baseball, as their 8-1 win over the Sacramento River Cats (32-48) on Saturday night was their ninth consecutive victory. In the Class A South Atlantic League, the Hagerstown Suns' (Washington Nationals) eight-game run
The Fresno Grizzlies (44-38) now enjoy the longest current win streak in all of North American professional baseball, as their 8-1 win over the Sacramento River Cats (32-48) on Saturday night was their ninth consecutive victory. In the Class A South Atlantic League, the Hagerstown Suns' (Washington Nationals) eight-game run was snapped by the Lakewood BlueClaws (Philadelphia Phillies) by an 8-1 final, making Fresno's streak the longest in Minor League Baseball and on the continent. (The longest current Major League win streak belongs to the Boston Red Sox, three games.) As a Houston Astros affiliate, the Grizzlies improved to 32-14 against Sacramento in three seasons, including 18-4 on the road at Raley Field (10-4 this season, 5-1 road).
Sacramento starter Tyler Beede had control problems early, walking four in the first two innings. Fresno scored twice in the second thanks to a Juan Centeno RBI fielder's choice, and A.J. Reed (2-for-4, 2 RBI) scrambled home on a wild pitch. It was 3-0 in the third after a Reed RBI single.
The Grizzlies scored twice more in the fourth; a Derek Fisher single scored both Jon Kemmer (walk) and Tony Kemp (single), who extended his current club high-hit streak to 10 games. Kemp (2-for-5) has a pair of 10-game streaks around one hitless game, and has now hit safely in 20 of 21. In the home half of the fourth, Chris Shaw (2-for-4) delivered the first hit and run of the evening off Fresno starter Dean Deetz, with a solo homer to center.
With two hits, Kemp enjoyed this third consecutive multi-hit game, and has eight hits in his last three games. Leading Fresno with 32 games this season with multiple hits, Kemp is collecting two or more hits in 49% of his 65 games played in 2017 (all starts).
Beede (4-6) would last just 3.2 innings, walking six. Four of his five runs allowed were earned on five hits, and he struck out five.
Leading 5-1 in the fifth Fresno tacked on two runs once again, Teoscar Hernández led the inning with a single and stole second, later scoring on a Centeno single. Kemp added his second hit with two outs, scoring Centeno. The tandem of RBI singles made it a 7-1 ballgame.
Deetz (1-2) enjoyed the best of his four career Triple-A starts so far to earn the winning decision. The right-hander went five innings for the victory, allowing just two hits and an earned run. Throwing 81 pitches he walked a pair and struck out six, personal Triple-A season highs in number of pitches and strikeouts.
Reed rounded out the scoring with a towering homer to right-center to lead off the top of the ninth, the first extra-base hit of the 12 knocks on the night for Fresno. Kemmer (3-for-3) had the only other for extra-bases on his third hit of the evening, a double in the ninth. With a pair of walks, Kemmer reached base in all five of his plate appearances.
Relievers Aaron West and Brendan McCurry each pitched two scoreless innings to finish off the victory. McCurry struck out three, as neither allowed a walk.
The win improved the Grizzlies to 26-9 in their last 35 games. Game three of the four game set will be Sunday at 1:05 p.m. Fresno starter David Martinez (4-7, 4.62) will be in search of his seventh quality start in his last eight games (minimum six innings pitched, three or fewer earned runs). Just two games remain this season between the Highway 99 rivals.