Fresno slips into first place tie after 14-9 loss to El Paso
Reno's 9-4 win at Las Vegas ties PAC North Division (66-49) with 27 to play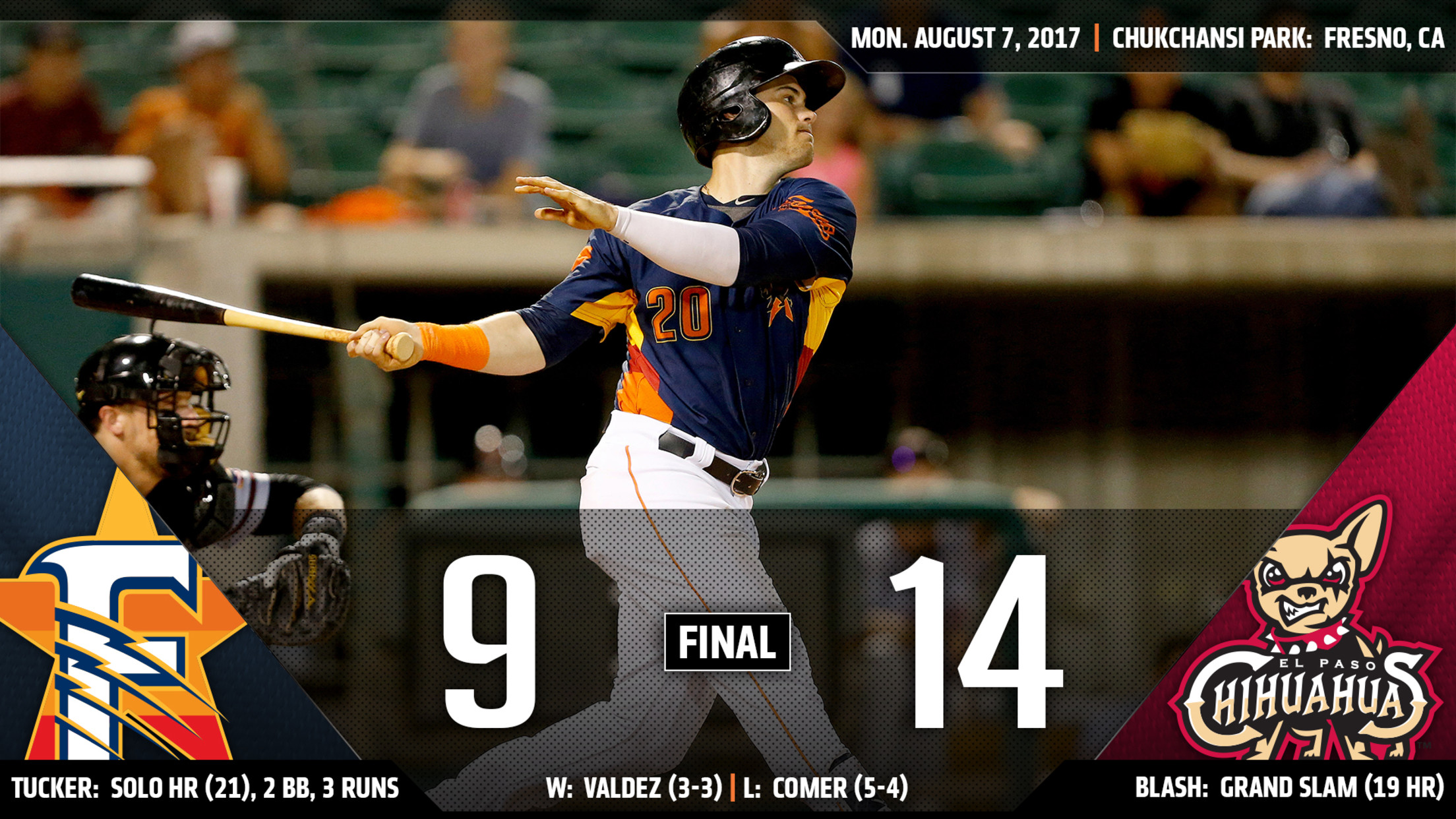 The Fresno Grizzlies (66-49) slipped into a tie for first place in the PCL's Pacific Northern Division on Monday night with a 14-8 loss to the El Paso Chihuahuas (55-60), in the opener of a four-game series at Chukchansi Park in Downtown Fresno. Coupled with Reno's 9-4 win at Las
The Fresno Grizzlies (66-49) slipped into a tie for first place in the PCL's Pacific Northern Division on Monday night with a 14-8 loss to the El Paso Chihuahuas (55-60), in the opener of a four-game series at Chukchansi Park in Downtown Fresno. Coupled with Reno's 9-4 win at Las Vegas, Reno and Fresno share the same record with 27 games to play in the regular season.
The Grizzlies jumped out to a 6-0 lead despite not registering a hit until the second inning. El Paso starter Michael Kelly put the first six men on with four walks and a hit batter. A.J. Reed, Jack Mayfield and Jon Kemmer each tallied RBI walks, while Garrett Stubbs drove in his first career Triple-A run with a fielder's choice. Kelly lasted just six batters and did not record an out, and was charged with five runs.
In the second, Reed (2 RBI) smashed the first Fresno hit of the game to the left field gap, scoring Preston Tucker with two out all the way from first following a walk. In the top of the third, it was a one-run game after Jabari Blash's 19th homer for El Paso, a grand slam to left. Three walks that half inning all scored, meaning through two and a half innings, 11 runs were scored on just three total base hits between the clubs. Franchy Cordero's RBI groundout accounted for the other El Paso run in the third.
Leading 6-5 in the home half of the third, Stubbs (2 RBI) singled home Kemmer (2-for-4) after a leadoff double to center, for his first Triple-A base knock. It was 7-7 midway through the fourth when El Paso added a Rocky Gale solo HR to left (2) and a Chase d'Arnaud sac fly. Fresno took another brief 8-7 lead in the fourth on Tucker's 21s homer, a solo shot to right. Tucker's 21 homers are second to A.J. Reed for the Fresno club lead. It was 8-8 in the fifth after a Blash (2-for-3, 4 RBI) one-out double that later scored on a Gale RBI fielder's choice.
Fresno starter Trent Thornton lasted four innings, allowing seven (earned) runs on five hits, with three walks and three strikeouts in a no-decision.
Two runs in the sixth made it 10-8 Chihuahuas (Ortega bases loaded HBP, Villanueva RBI single), and a Drew Ferguson RBI groundout (Mayfield double, wild pitch) shaved the score to 10-9 in the seventh. El Paso went up 14-9 in the eighth. Cordero (2-for-6, 2 RBI) homered (14) to leadoff the inning, before Christian Villanueva (single, 2-for-3) and Ryan Schimpf (walk) set the table for a three-run Rafael Ortega (2-for-4, 4 RBI) home run (6) to cap a four-run inning, rounding out the night's scoring.
Kevin Comer (5-4) was saddled with the loss in relief of Thornton, while Jose Valdez (3-3) notched the win by allowing just one run on two hits, with three strikeouts and no walks in innings five through seven. The defeat matched the largest blown lead in a loss for the Grizzlies this season (led 10-4 at Albuquerque on June 15, lost 12-11 in 10 innings.)
The series continues tomorrow at Chukchansi Park with game two. LHP Kent Emanuel (1-1, 7.23) will start for Fresno.