Fresno smothers Sacramento 9-2 in series opener
J.D. Davis (3-for-4, 3-run HR, BB) continues tear in latest homecoming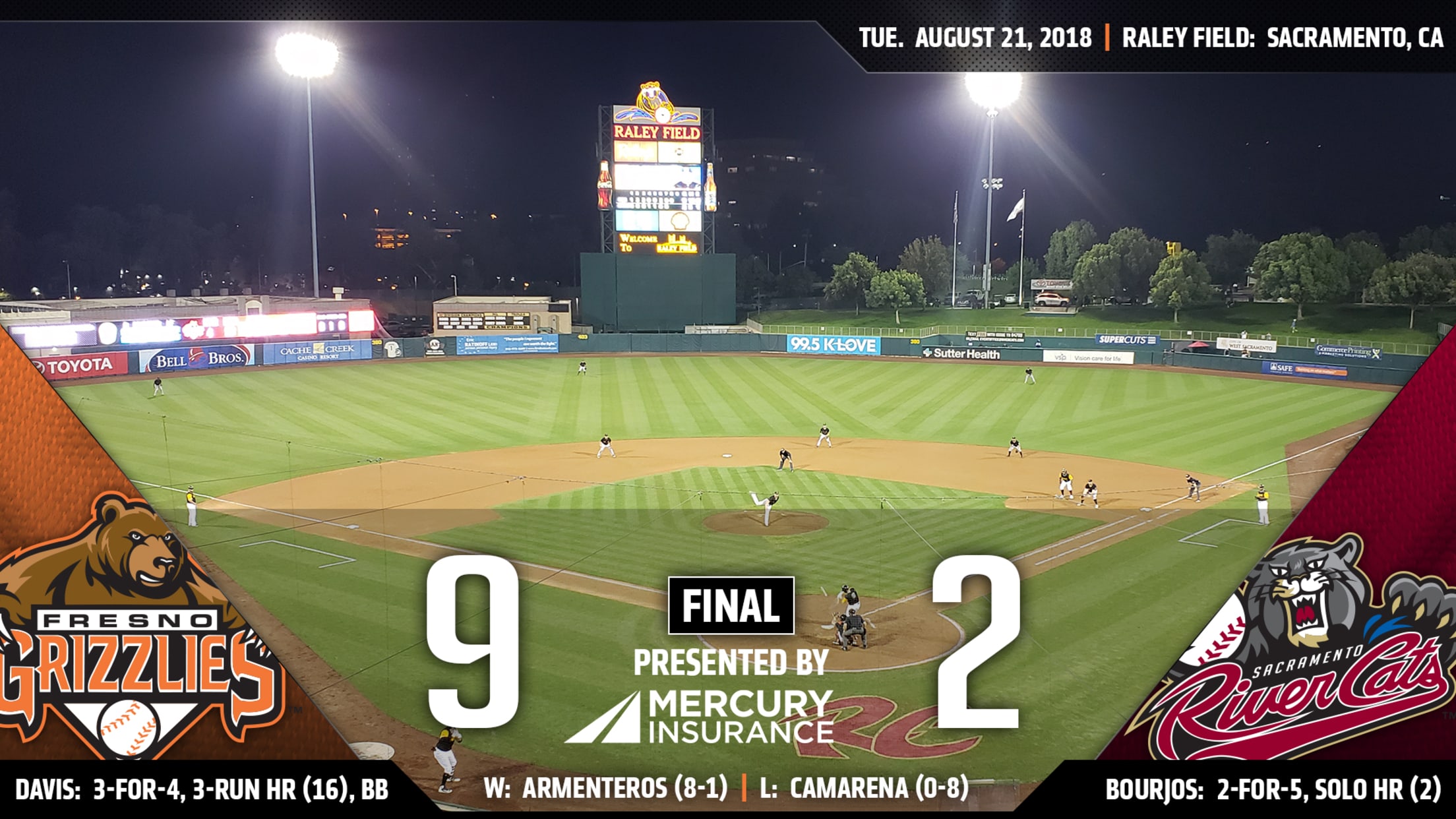 The Fresno Grizzlies (73-54) lowered their magic number to clinch the Pacific Northern Division to six on Tuesday evening, with a 9-2 road win over the Sacramento River Cats (50-77) at Raley Field. Fresno now owns a 23-7 record at Sacramento as a Houston Astros affiliate (since 2015). The Grizzlies
The Fresno Grizzlies (73-54) lowered their magic number to clinch the Pacific Northern Division to six on Tuesday evening, with a 9-2 road win over the Sacramento River Cats (50-77) at Raley Field. Fresno now owns a 23-7 record at Sacramento as a Houston Astros affiliate (since 2015). The Grizzlies are 40-22 against the River Cats overall in that time.
With Tuesday's victory, Fresno improved to 23-10 on the season in series-openers (11-6 road), and are 91-50 all-time as a Houston affiliate in the first game of series.
Fresno sprang out to a 1-0 lead in the first, when Jack Mayfield sent his 15th homer of the season over the left field wall, with two out on a 3-1 pitch. It was 4-0 Grizzlies after two innings, after J.D. Davis, Yordan Alvarez (2-for-5) and and Nick Tanielu loaded the bases with singles, all scoring on a Garrett Stubbs (2-for-3) sac fly, an Alex De Goti sac fly, and a Myles Straw RBI single.
J.D. Davis, the Sacramento-area native (Elk Grove, CA) who hit two homers on June 30 in a 4-3 Fresno win, his first career professional game at Raley Field, smacked a three-run homer to left in the third, making the score 7-0. Mayfield (walk) and AJ Reed (single) set the table. For Davis, it was his 16th homer of the season in Triple-A, his fifth homer in five games and his eighth homer since August 12 (nine games). 3-for-4 on Tuesday, he extended his current club-high hit streak to seven games, during which he's 15-for-27 (.556), with seven homers and 18 RBI.
SAC starter Daniel Camarena (0-8) lasted only three and a third innings, allowing seven (earned) runs on eight hits and two walks. The left-hander stuck out five.
Sacramento broke up the shutout with a run in the fourth (Ronnie Freeman RBI single) and another in the fifth (Peter Bourjos solo homer).
Leading 8-2 in the sixth, Reed lifted a sac fly into left field, scoring Straw. With 99 RBI, Reed leads all of Minor League Baseball, and will soon achieve his second 100-RBI season with Fresno, and the 10th such season in Grizzlies history (since 1998). Reed drove in 104 runs last season, equal to Matt Duffy's PCL MVP campaign in 2015, tied for the most runs driven in during Fresno's Triple-A history by an Astros-affiliated player. The club record for RBI in a single-season is 108 by Scott McClain in 2008; leaving Reed needing 10 RBI over the final 13 regular season games to set a new franchise mark. With 253 career RBI with the Grizzlies, Reed is fourth all-time in franchise history, approaching Damon Minor (259) for third.
Fresno starter Rogelio Armenteros (8-1) battled through 5.2 innings, allowing just two (earned) runs on four hits and five walks. The right-hander struck out seven, and the Grizzlies improved to 24-6 all-time during his starts; 9-1 last season beginning with his Triple-A debut at Sacramento on July 3, 2017, and 15-5 this season.
The three-game set will continue with the middle game on Wednesday. Fresno's starter is to be determined, while RHP Jordan Johnson (1-6, 5.36) is scheduled to start for Sacramento. First pitch will be at 7:05 p.m. at Raley Field. A win on Wednesday would move the Grizzlies to a season-high 20 games over .500.