Trevino feels at home at TL All-Star Game
Texas No. 6 prospect plays in fourth midsummer classic in a row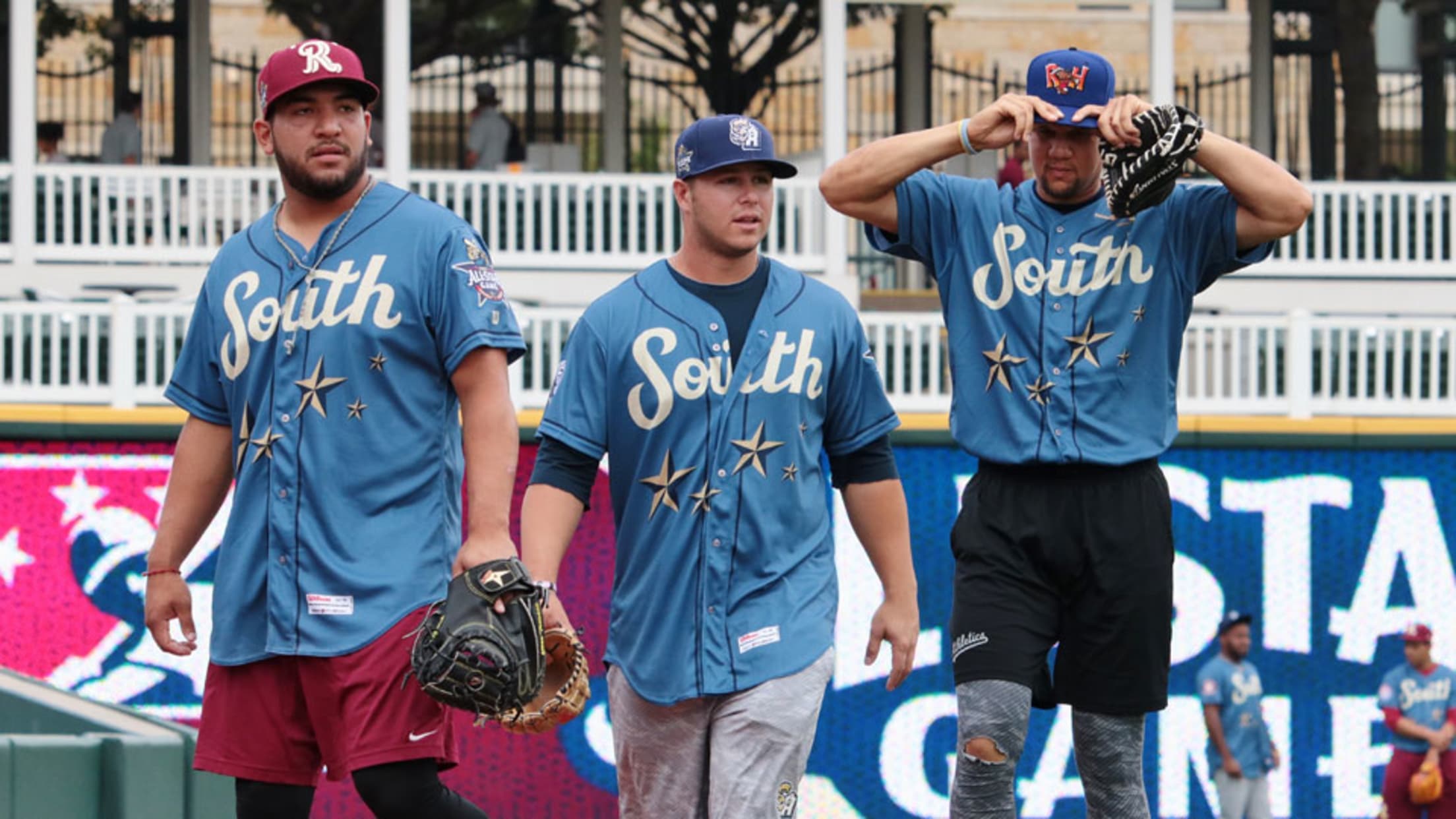 Jose Trevino, Ty France and Viosergy Rosa warm up before the midsummer classic. (Tammy Tucker/MiLB.com)
FRISCO, Texas -- Jose Trevino doesn't know anything about the "break" part of an All-Star break, and he wouldn't have it any other way.Texas' No. 6 prospect spent his All-Star break the same way he's spent the break in each of his four professional seasons -- playing in a midsummer
FRISCO, Texas -- Jose Trevino doesn't know anything about the "break" part of an All-Star break, and he wouldn't have it any other way.
Texas' No. 6 prospect spent his All-Star break the same way he's spent the break in each of his four professional seasons -- playing in a midsummer classic. The Double-A Frisco catcher suited up for the South team in the Texas League All-Star Game on Tuesday night at Dr Pepper Ballpark.
Trevino earned his All-Star nod after hitting .247 with three homers and 18 RBIs for the RoughRiders in the first half. The 24-year-old did that despite missing time after getting hit on the hand by a pitch and for a hamstring problem.
While the time off to rest up might be welcome to some, that's not the case for Trevino, who played in the Northwest League All-Star Game in 2014, the South Atlantic League All-Star Game in 2015 and the California League All-Star Game last year.
A's Boyd leads South Division to victory
"This is definitely the best one so far," he said. "The season's been OK. I've just been trying to stay healthy, stay on the field, catch my games and have fun doing it."
While the Corpus Christi, Texas native isn't hitting as well as he'd like, the Rangers have always focused on developing defense first when it comes to catchers. That hasn't been an issue for Trevino, who was Texas' Tom Grieve Minor League Player of the Year and won the Rawlings Minor League Gold Glove for being the top defensive catcher in the Minor Leagues in 2016.
His reward for a breakout season at Class A Advanced High Desert in 2016, when he compiled a slash line of .303/.342/.434, was his first invite to big league camp this spring. Texas' prized catching prospect hasn't let that impact the way he approaches his work. Trevino has thrown out the most baserunners in the Texas League (16).
"I got to believe he's met the expectations and there's room for improvement, no doubt," said Frisco manager Joe Mikulik, who managed an All-Star South squad that included seven RoughRiders. "He's been a leader and understood how to work with our pitching staff. He's trying to do the best he can to communicate with them the best he can and work with their strengths and weaknesses and make them better. That's what makes him better. He's very well prepared on a daily basis."
Trevino also blocks out distractions that come with being the organization's top-ranked catching prospect. He was elevated to that status in 2015 when the Rangers traded Jorge Alfaro to Philadelphia as part of the Cole Hamels deal. Instead of feeling added pressure after the deal, Trevino saw the move as an honor.
"I felt appreciated," he said. "It's like, 'We're giving this dude (Alfaro) away.' I didn't know I was going to be the guy everyone was talking about. I took it into my workouts and training that this organization trusts me that much to trade away a big-league catcher and have me, who hadn't played past (Class A) Hickory at that time, be the guy."
The midsummer classic proved once again that Trevino hasn't disappointed.
Anthony Andro is a contributor to MiLB.com.